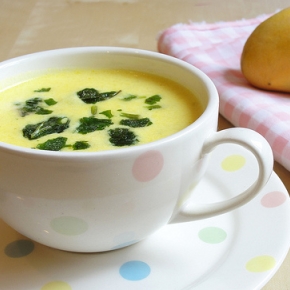 Summer may not have graced the UK yet, but it has made a secret appearance in my kitchen. Yesterday I was given a huge box of Alphonso mangoes which are now filling my house with a beautifully sweet and fruity aroma. So with mangoes abundant, what was I to cook? I was scouring my favourite blogs on a mission to seek out an innovative recipe using perfectly ripe mangoes. I was thrilled when I found a South Indian recipe for Mampazha Pulissery by Namitha from Collaborative Curry. Not only did the fruity recipe sound delicious, but the pictures were so striking that I had to rush to the kitchen and feed my curiosity more or less immediately.
I admit that I'm a bit of a recipe mutineer, and I almost never follow instructions to the letter *slaps wrist*. As mouth-watering as Namitha's recipe sounded, I had to incorporate aspects of the traditional Gujarati way of making Kadhi into the recipe. Kadhi is the Gujarati name for the almost-sacred buttermilk soup loved by every Gujarati I have ever met. It is similar to the South Indian soup Mor Kuzhambu, although the tempering process and ingredients usually differ significantly. You can find my recipe for Peas and Paneer Kadhi here. Kadhi is a versatile soup that is a great accompaniment to curries, chapattis and rice. Instead of making vegetable curries separately, I sometimes like to add a colourful array of vegetables to the Kadhi itself; the usual suspects are peas, sweetcorn, carrots, potatoes and onions. When served with rice, this can be a meal in itself. Gujaratis love plain, unadulterated Kadhi with Matar-Bhaat, which is a rice dish made by steaming rice with fresh green peas. I hope to bring you my recipe for Matar-Bhaat soon, along with a curry that pairs amazingly with Kadhi.
Kadhi is another one of those Gujarati dishes which screams to taste hot, sweet and sour, just like the recipe for Gujarati Toor Daal. Remember to use semi-sour yogurt, sugar (or jaggery- raw cane sugar) and chillies. I haven't added any garlic to this recipe, like I usually do in traditional Kadhi because I didn't want too many strong flavours overpowering the delicate fruitiness of the mangoes. Therefore, this recipe is suitable for those who have a strictly no-onions and no-garlic diet. I think the ginger and green chillies give the Kadhi the flavour-kick it needs without masking the taste of mango. I have added my mango pulp at the end in order to keep the mango flavour fresh and noticeable.
Ingredients
1 cup ripe mango, pureed
2 cups yogurt
1 ½ tbsp chickpea flour
5-6 cups cold water
2 medium hot green chillies, minced (or to taste)
1 tbsp ginger, minced
½ tsp turmeric
¼ cup coriander, chopped
Salt to taste
Sugar to taste (according to how sweet your mangoes are- remember that Gujarati Kadhi is supposed to be hot, sweet and sour)
To Temper
1 tbsp ghee
1 tsp cumin seeds
4-5 curry leaves (optional)
3-4 cloves
¼ tsp asafoetida
Method
1. Combine the yogurt, chickpea flour, water, chillies and ginger. Blend in a food processor or with an immersion blender. Set aside.
2. In a large pan, heat the ghee, cumin seeds, curry leaves, cloves and asafoetida. When aromatic, add the yogurt mixture and stir constantly until it comes to a gentle boil on a medium/low heat. This is to ensure that the mixture does not curdle.
3. When the mixture is gently simmering, add the turmeric, salt, mango puree and sugar. Adjust the consistency with water if you like, and simmer for a further 4-5 minutes. Taste to check for hot, sweet and sour.
4. Remove from the heat and stir in the chopped coriander.
Serve with hot basmati rice, chapattis and your favourite dry curry. In my next post I'll share my favourite dry curry recipe with you! It pairs wonderfully with this mango Kadhi.