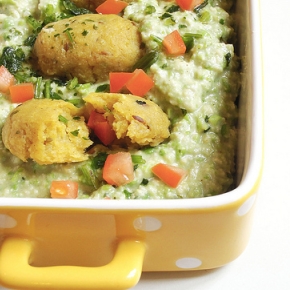 s
After falling in love with paneer kofta, I decided that I wanted everyone to be able to enjoy my recipe for soft, delicious kofta in that silky sauce- minus the paneer. I know that paneer isn't to everyone's liking due to its high fat content and trust me, you will never miss the paneer in this recipe. Those with high cholesterol should steer clear of saturated fats which is why I have used angelic olive oil in this recipe. Almonds, like all nuts contain natural oils (the good kind) which contribute to the sauce's rich and creamy consistency. I love using pureed nuts in place of cream in Indian sauces, as they deliver wonderful buttery textures and flavours. I like to call it 'cheating the system'. Having said this, it is also important to remember that if you have high cholesterol, to always eat these good fats in moderation.
I created this Springtime Kofta recipe with spiced green bananas in a beautifully silky pea and almond sauce for those who love rich foods, but cannot eat them as much as they would like. That includes me.
This recipe is perfect for the season, with its bright colours and fresh flavours. Peas are the epitome of Spring and when pureed, they bring a beautiful lightness to the dish. You can find a little more information about kofta and their origins here.
Springtime Kofta with Spiced Green Bananas and Pureed Pea and Almond Sauce
Serves 4
Ingredients
For the Kofta
1 ¼ cups boiled and mashed green bananas- That's around 7 small ones (Note: Always boil green bananas with the skins on, but pierce them a couple of times)
½ tbsp coarse cornmeal, soaked in ¼ cup warm water
¼ tsp cinnamon powder
1 tsp garlic, minced
2 tsp ginger, minced
1 tbsp onion, minced
1 ½ tsp whole cumin seeds
1 tbsp green mango, grated (optional)
2 medium hot green chillies (or to taste)
¼ tsp turmeric
1 tsp coriander seed powder
1 tbsp all purpose flour, plus extra for dusting
1 tsp baking powder
2 tbsp fresh coriander, chopped
Salt to taste
2 tbsp virgin olive oil (not extra virgin)
For the Pea and Almond Sauce
1 cup skinless whole almonds, blanched for 15 minutes (If you only have almonds with the skin on, blanching them for 15 minutes will allow the skins to slip off anyway- convenient, I know)
2 tsp garlic, minced and sautéd
½ cup onion, minced and sautéd
2 cups peas (I used frozen)
¼ tsp fennel powder
½ tsp cardamom powder
½ cup milk (use water for a vegan recipe)
2 medium hot green chillies (or to taste)
Salt to taste
1 tsp kasoori methi (optional)
¼ cup fresh coriander (to garnish)
½ cup chopped fresh tomatoes
2 cups water
Method
1. Combine all of the ingredients for the kofta, minus the cumin seeds, garlic, ginger, onions and chillies.
2. In a small pan heat 1 tbsp of oil and sauté the cumin seeds, garlic, ginger, onions and chillies. When this is aromatic remove it from the heat and add it to the rest of the kofta mixture.
3. Roll the kofta mixture into small oval shapes and place them on a plate dusted with flour. Refrigerate these for at least 30 minutes.
4. Brush the kofta with a little oil and place them in a preheated oven at 180 degrees Celsius, for 10 minutes. Note: Do not let them brown too much or they will begin to flatten too much. A little flattening at the bottom is normal, just re shape them a little when they've cooled down.
5. In a blender, puree the almonds, onions, garlic and chillies with 1 cup water.
6. Place the almond puree in a large pan and cook for around 10 minutes until it is creamy and aromatic.
7. In a blender, puree the peas with the milk and add this to the almond mixture.
8. Add around a cup of water to the sauce to adjust the consistency.
9. Add the fennel powder, cardamom powder, kasoori methi (crush this between your palms) and season with salt.
10. When you are ready to serve, assemble the dish no more than 5-10 minutes before and garnish with coriander and tomatoes.
Enjoy with naan, rice and plenty of fresh salad for a perfect springtime feast!