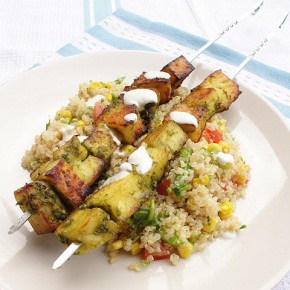 My Facebook fans wanted it, so my Facebook fans are getting it; introducing the KO Rasoi BBQ Season 2010. Over the next few posts I will be showcasing some of my very own delicious vegetarian barbecue ideas for these beautiful, long summer days.
Kicking off our series are recipes for Coriander and Lime Paneer Kebabs with a cooling Summer Quinoa Salad. Drool. Spicy, refreshing and full of punchy flavours, this tag-team delivers flavour combinations from barbecue heaven. Overreacting I am not.
A drizzle of yogurt is always good. Always.
This takes hardly and time to prepare and the recipe can easily be doubled or tripled according to how many guests you have over… Or indeed halved if you're planning to devour your barbecued deliciousness all by yourself.
So please, please get your barbecues out, slap on some sunscreen and cook with me during the KO Rasoi BBQ Season 2010!
Coriander and Lime Paneer Kebabs
(serves 4-5)
Ingredients
For the Marinade
Blend together:
160g/2 cups fresh coriander
Zest and juice of two zingy limes
5 green chillies (or to taste)
2 large cloves garlic
40g/¼ cup cashews, boiled
1 ½ tsp salt (or to taste)
2 tsp sugar
¼ cup olive oil
½ cup water
For the Paneer Kebabs
560g/2 cups paneer, cubed (you could also use tofu or soya chunks)
Tip: For a variation, try using firm vegetables like peppers, courgettes, cauliflower, squash or red onions.
Method
1. Boil the paneer in hot water for around 4 minutes. This will soften it up so it's not too chewy after being barbecued. Drain and place in a large bowl.
2. Add the marinade and combine. Allow to marinate for at least an hour, or preferably more. Note: You can do this the night before.
3. Push the paneer onto skewers (metal or pre-soaked wooden skewers). Note: Don't discard the marinade. It is an amazing dip/chutney for other barbecued delights!
4. Barbecue the paneer skewers until they are crispy and deliciously charred.
Summer Quinoa Salad
(serves 4-5)
Ingredients
1 cup quinoa
2 cups hot water
1/2 cup/140g sweetcorn
2 tomatoes, de-seeded and chopped
¼ cup fresh coriander, chopped
Salt to taste
3 tbsp olive oil
1 tsp black pepper
Zest and juice of 1 lime
Method
1. Place the hot water in a pan and bring to the boil. Add the quinoa and cover. Cook for 10 minutes, or until the germ ring is visible in the quinoa and the water has been absorbed. Allow to cool completely.
2. Add all of the other ingredients and combine. Refrigerate and serve when you're ready.
If you like this, you're going to LOVE tomorrow's post! Toodles!