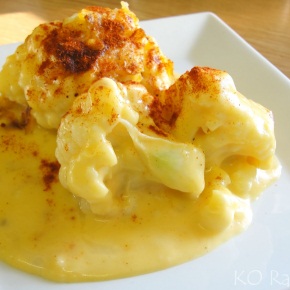 A quick and simple recipe for a long, elaborate week.
How are you all? I've been itching to get back to cooking and blogging after so much moving around from place to place, doing this, that and everything else in between. I hope you've all had a far more restful week. Okay, so I've done my spot of complaining. Perhaps I should fill you in on why there has been a certain lack of delicious recipes on KO Rasoi recently?
Or maybe I should stop stalling and get on with the hearty, comforting recipe?
I figured you'd want to know where I've been…
So here's today's recipe.
Piquant Cauliflower Cheese
(Serves 4-6)
Ingredients
2 medium sized heads cauliflower, broken into bite-sized florets and boiled in milk and water until al dente, then drained (the milk keeps the cauliflower deliciously snow white)
2 tbsp olive oil
½ cup plain flour
4 ½ cups semi-skimmed milk
3 cups mature cheddar cheese, grated
1 tbsp Dijon mustard
1 hot red chilli, chopped
2 tsp smoked paprika
1 tsp black pepper
Method
1. Arrange the cooked cauliflower florets in a large oven-proof tray.
2. For the roux (for the cheese sauce), heat the oil in a saucepan and add the flour. Cook on a medium heat until the flour becomes slightly darker and has a nutty aroma. Turn the heat off.
3. Slowly add the milk whisking the mixture as you add more liquid. The sauce will immediately begin to thicken, indicating that more liquid should be added.
4. When you have used up all of your milk and your sauce begins to look more like a sauce, add the cheese and keep whisking until it has melted. At this point you can turn the heat back on to low.
5. Add the mustard, chilli, paprika and back pepper. Stir well.
6. Pour the sauce over the cauliflower florets until they are well covered. Place the dish under the grill until the cauliflower cheese is golden brown.
Notes: You can use this cheese sauce base for any vegetable/pasta dishes you like. I love using it to make potato bakes, macaroni cheese and broccoli cheese. Get your creative thinking caps on!
You really think I'd sign off without telling you where I've been and what I've been doing?
Never.
I moved out of my house near University. Boo, hiss. I shall miss it there. I won't miss moving all of the junk out of there though. Who knew I had so much stuff?
I also bagged myself an internship. Great success.
Although, that means more moving. Moving my junk around, that is.
Oh, and I graduate tomorrow.
Shouldn't I be in bed by now?
Sleep tight, lovelies!