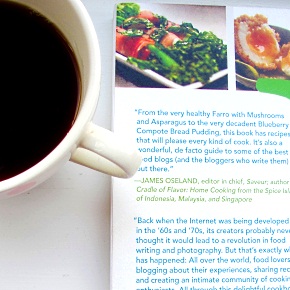 Sorry about the OMG. As a 'proper' food blogger (giggles), I wouldn't usually promote the use of such abbreviations, but there are times when the OMG and only the OMG will suffice. Except when it's obligatory to apply the ZOMG, of course.
For someone with such a passion for cooking and writing, being recognised for it and getting published is a big deal. One of the best feelings I've ever had was finding out a KO Rasoi recipe was going to be published in a cookbook.
Entries were voted for by Foodista users and of the 1,500+ entries, just 300 were cherry picked for the finals. Needless to say, I was shocked and rather critical of my chances at making the final winners list.
However, when I got an email confirming KO Rasoi's recipe had been selected to be featured in the Foodista Best of Food Blogs Cookbook I could hardly contain myself. The list of 100 winners was announced at the International Food Bloggers Conference, Seattle and I'd have loved to have been there. I found out the news at work and was so tempted to run around the building screaming and dancing like a gerbil on espresso con panna.
It's safe to say that seeing my name, words and photographs printed in a beautiful full-colour book among the likes of top food bloggers is utterly surreal – and also very humbling (bragging rights aside). I'd like to take this opportunity to say thank you to everyone who supported me throughout the selection process and believed in me. Who knows, maybe someday I'll see my name and recipes in print again. You'll definitely be the first to know.
Order your copy of the Foodista Best of Food Blogs Cookbook here or here if you live in the UK. Amazon stocks copies of the book and you can get it delivered no matter where you are in the world. Buy the Kindle edition here and I'll love you forever, I promise. Once it lands on your doorstep, grab a cuppa coffee and find me and my recipe on pages 94-95. There's also a little snap of my darling mug (not the one you drink out of) in the back pages among all the beautiful people.
Enjoy.