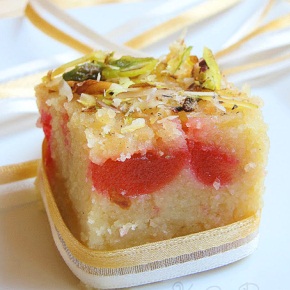 I'm snowed in. There's a party to get to and I'm snowed in. Thankfully the International Incident Colours Party hosted by Penny a.k.a Jeroxie is a kind of party immune to catastrophic weather.
The final month of 2010 should be filled with bright colours and big smiles – my recipe for Orange and Cardamom Scented Seeroh (pronounced how it's spelt) guarantees to make that happen. It's not too sweet, not too rich and is incredibly addictive. That's not to say you can chuck a whole load of them in your mouth one after another.
Just in case you do decide you want to finish off the whole lot in one go, I thoughtfully substituted a significant amount of sugar in this recipe with friendly agave nectar. You can thank me later.
Seeroh is essentially sweetened semolina (don't gag, it's nothing like 'school dinner' semolina). It can be flavoured anything you like – I try to stick to a couple of complimentary flavours that won't clash or overpower one another like orange and cardamom. You could also try lemon and saffron, rose and pistachio, or cinnamon and chocolate chip.
Note: It is with regret I believe one of the only times glace cherries are appropriate in cooking is during seeroh and burfi-making. If you disagree, please enlighten me.
Seeroh can be served loose, whilst warm or set in a tray and cut into cubes. It will set when cool anyway, so if you want to serve it loose at a later time you will need to reheat it and stir again. I prefer setting it straight away for the purpose of presentation but of course, this makes no difference to the taste.
You should always store seeroh in the fridge because it can spoil quickly at room temperature. This seeroh should keep well in the fridge for 2-4 days – whether it will last that long is another story.
These make gorgeous edible gifts (like my recipe for Eggless Christmas Cupcakes), especially when they're wrapped up tightly in clear plastic bags and tied with festive ribbons. Pack the bite-sized cubes into a pretty box, present to loved ones and bask in the glory of doing a fine deed.
Orange and Cardamom Scented Seeroh
Ingredients
500ml hot milk
140ml hot water
150ml agave nectar
60g sugar
140g butter
260g coarse semolina
Zest of 1 medium orange
½ tsp cardamom powder
2 tbsp glace cherries, quartered
Slivered almonds and pistachios to decorate
Sunflower oil to grease the tray for setting (if setting)
Method
1. Heat the butter in a large non-stick pan and add the semolina. Sauté on a low/medium heat for around 3 minutes or until golden and toasted.
2. Slowly add the hot milk and water, whisking all the time. The mixture should thicken as you whisk. Add the sugar and agave nectar.
3. Cook on a medium heat for around 8-10 minutes or until a buttery sheen becomes visible on the top and sides of the mixture. Keep stirring all the time.
4. Remove from the heat, add the orange zest, cardamom powder and glace cherries.
5. Grease a 6inchX8inch square tray with sunflower oil and pour in your seeroh mixture. Flatten the top, sprinkle with slivered nuts and allow to cool at room temperature. When cool, refrigerate for at least an hour, until you're ready to cut into cubes. Store in the fridge.
Serve as it is or hot with a colossal scoop of good vanilla ice cream.