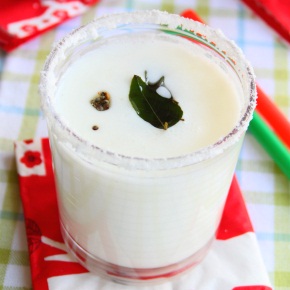 Last week I ordered a salted lassi at an Indian restaurant and got it in a pint glass. I didn't even get a straw. It was an entirely bizarre experience which I can't say I'd like to try again – lassi moustaches really don't suit me.

Forget beer and wine, I think nothing compliments an Indian meal better than lassi. It's a cooling, yogurt-based drink with palate cleansing properties that balance out a spicy Indian meal perfectly. You really couldn't get a more traditional drink.
The roots of lassi are firmly embedded in Punjabi cuisine from Northern India and parts of Pakistan. Many Indian and Pakistani regions have adapted the refreshing beverage to suit their individual cooking styles and tastes.
Tempered lassi with curry leaves and mustard seeds. A fragrant South Indian touch.
There are so many variations of lassi out there that I had to limit myself to just four versions of salted lassi. In case you hadn't noticed, I prefer salted over sweet. Sweet lassis are really popular equivalents to smoothies, in flavours ranging from mango to pistachio – delicious, but not as interesting as spiced, savoury versions.

A quick guide to lassi
As well as being popular in the Punjab, salted lassi (or chaas) is also the drink of choice to accompany the classic working mans lunch for the many farmers in Porbander (Gujarat). Chaas usually accompanies a lunch of buckwheat chapattis (rotla), rice and lentil stew (khichdi) and aubergine curry (oroh).
Chaas differs to lassi slightly in its consistency, which is made slightly thinner with water. Like salted lassi, it can be blended with various herbs and spices to create a cocktail of mouth-watering flavours.
Chilli and coriander lassi – for the brave. Add a dab of crushed garlic for an added kick.
Sweet lassi can be compared with its western counterpart – the smoothie. It's popularly made with fruits like strawberries, mangoes and pineapples. Rose lassi and saffron lassi are also popular choices, but can be somewhat of an acquired taste. Sometimes, cream or butter is added to sweet lassi to give it a richness which I'm not particularly crazy about together with the sourness of the yogurt.
Basic Salted Lassi
(serves 4)

Ingredients
7 tbsp Greek yogurt
650ml iced water
1 tsp salt
Method
1. Blend all of the ingredients together and pour into salt and sugar-rimmed glasses.
Toasted Cumin Lassi

Blend together:
1 x recipe for basic salted lassi
1 tsp toasted, ground cumin seeds
1/8 tsp black salt
1/8 tsp black pepper

Tempered Lassi with Curry Leaves

Temper 3 curry leaves, ½ tsp mustard seed and ¼ tsp asafoetida in 1 tsp oil until the mustard seeds pop. Pour over 1 x recipe for basic salted lassi.

Chilli and Coriander Lassi

Whisk

together:
1 x recipe basic salted lassi
2 tsp chopped coriander leaves
1 hot green chilli, chopped finely
Enjoy with spicy food on a hot day and don't forget your straw – unless you can really rock a lassi 'stache.