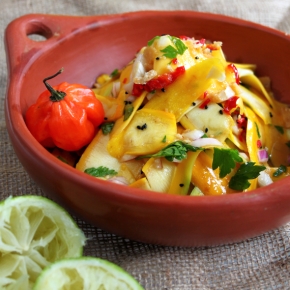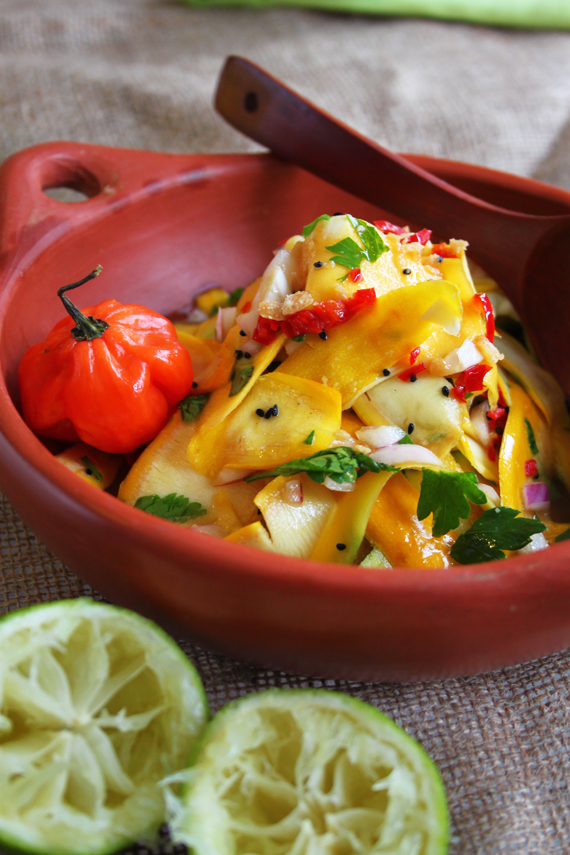 There are some ingredients in Indian cooking which attract gasps and sighs whenever they're mentioned. Take ghee for example; no, it's not good for you – but is a tablespoon of ghee in a curry for four really much worse than a dollop of butter on a jacket potato for lunch, or pouring cream over a freshly-baked crumble for dessert?
Taboo ingredients like ghee receive bad press even in Indian households, and with good reason. Although I do have one rule: both biryani and paratha are not complete without ghee. Just don't eat them every day.
Gettin' jaggery with it
Jaggery (gor/unrefined cane sugar) is another one of these ingredients. Just like putting too many sugars in your tea, using jaggery in everyday cooking isn't advisable. However when those hunger pangs hit, the deep, caramel flavour of this sugar is just.so.satisfying and an exciting treat once in a while.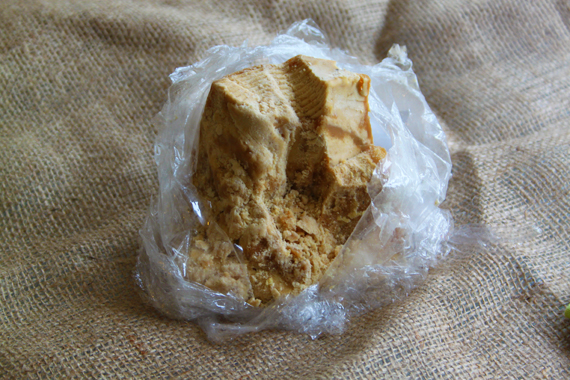 If you can't find jaggery in the shops, you can substitute it with palm sugar or dark brown sugar. However, if possible, try to bag yourself a block of jaggery – it lasts for ages when wrapped up tightly in cling film.
Have I justified my use of jaggery in this recipe by making a salad dressing out of it? I'm going to say yes, and so will you once you've tried this combination of flavours for yourself.
Let me describe it to you. Ribbons of slightly sweet, slightly sour mango and crunchy yellow courgette, a scattering of red onions, fresh coriander and red chillies make up the body of the salad. Next comes the warm sweet and sour jaggery-lime dressing, spiked with black kalonji seeds for a deep, peppery flavour. Toss it all together for a crisp, juicy salad with an Indian twist.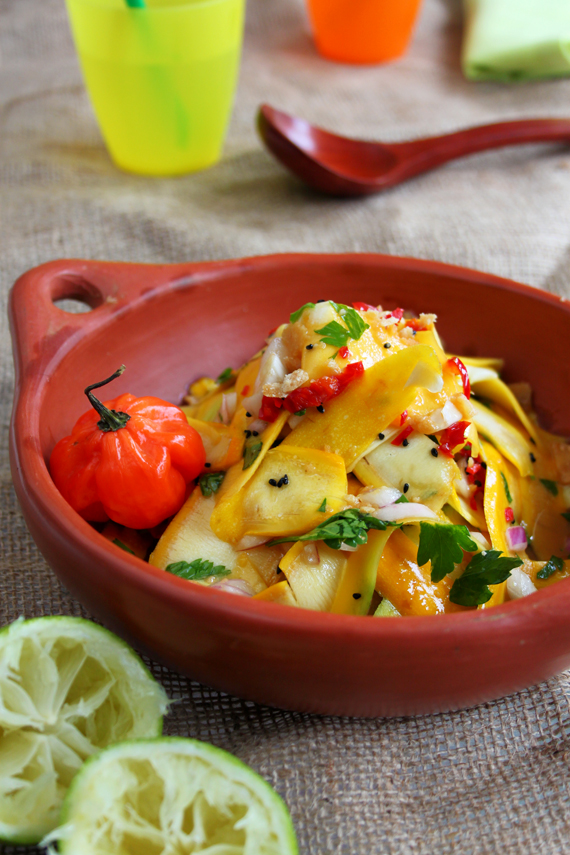 Mango and Courgette Salad with Jaggery-Lime Dressing
Serves 2 as a side
Ingredients:
1 green mango, peeled
1 large yellow courgette
½ red onion, peeled and finely chopped
2 tbsp fresh coriander, finely chopped
1 red chilli or 1/2 scotch bonnet, chopped
For the jaggery dressing:
80g jaggery, grated
Juice of 1 lime
½ tsp kalonji seeds (nigella)
Pinch sea salt
Method:
1. Using a vegetable peeler, shave ribbons from both the mango and the courgette. Add the finely chopped onion, fresh coriander and chilli. Toss together.
2. In a small saucepan, lightly toast the kalonji seeds until aromatic. Next, add the grated jaggery, lime juice and salt. Whisk with a fork until smooth and heated through. Allow to cool slightly.
3. Dress the salad just before serving.
Serve with Tandoori Paneer Kebabs and naan. Even if you're not vegetarian, I promise this will make a unique and exciting side to other barbecued/grilled main dishes.