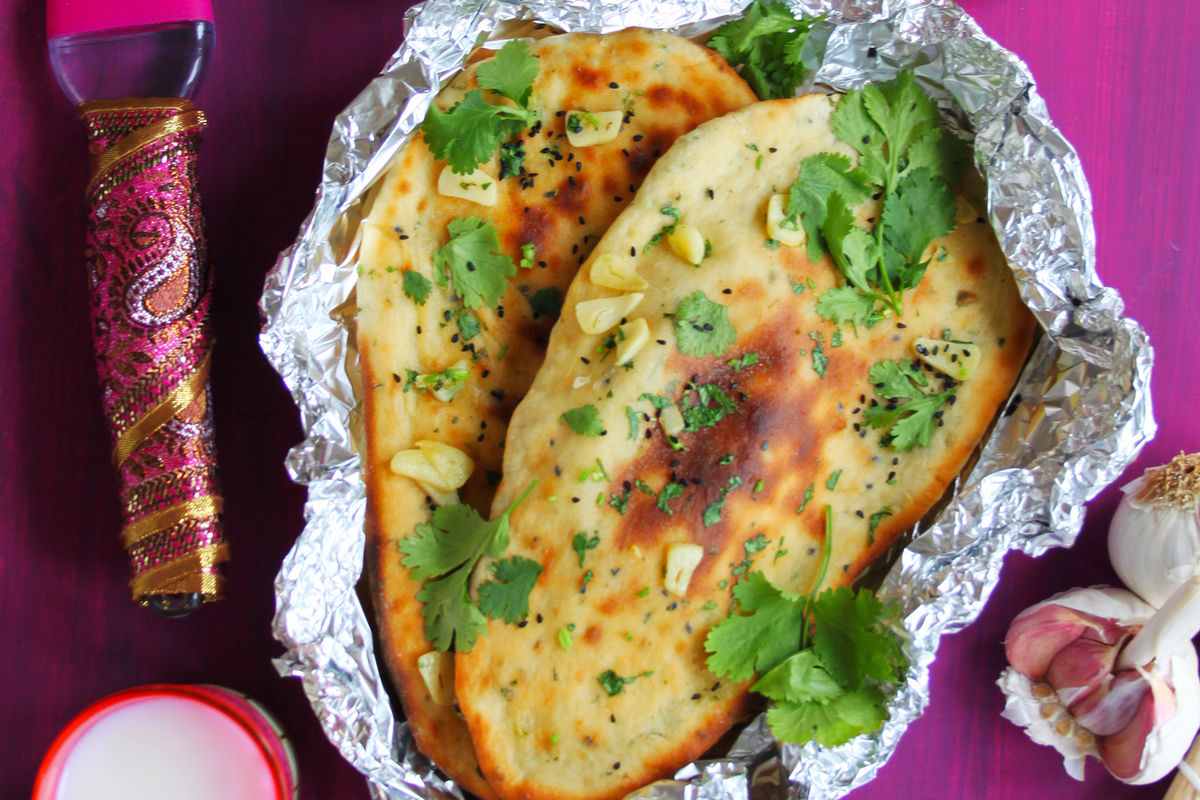 When it comes to guilty pleasures, along with paneer, naan is up there on my list. Brushed with the most flavoursome fresh garlic and coriander butter, these are so perfect for pairing with any Indian curry or daal. They're soft, slightly chewy and a little charred in places – this balance of textures is so characteristic of good naan.
Naan is one of India's most famous breads, and probably the most well-known in British Asian restaurants. Very rarely do I leave an Indian restaurant without having filled my belly with garlic and coriander naan – lest they just so happen to have garlic, coriander and chilli naan on the menu (in which case, I'll take two).
Whenever I'm making naan, I love to add kalonji (nigella) seeds – they impart that special flavour you definitely know, but somehow can never put your finger on. They're aromatic, slightly bitter, but have an incredibly delicious flavour which mellows out when baked into the bread.
Yeast and plain yoghurt help to leaven the naan whilst keeping them moist all the way through. I don't put eggs in my naan, nor do I understand why some people do. They're meant to be soft and chewy with little air pockets inside, rather than fluffy pancakes. Plus, instant yeast is so much easier.
Grilling naan at a really high temperature mimics the traditional method of cooking them in a tandoor (clay oven). It also helps to create an irresistible charred flavour and colour on the outside.
Garlic and Coriander Naan
(Makes 4)
Ingredients
310g strong, white bread flour
1 teaspoon dried fast action yeast
1 teaspoon sea salt
½ teaspoon sugar
¼ teaspoon kalonji (nigella) seeds
1 tablespoon fresh coriander, finely chopped
2 tablespoons sunflower oil
140ml warm water
2 teaspoons plain yoghurt
For the garlic and coriander butter:
50g salted butter
4 cloves garlic, finely sliced
1 tablespoon fresh coriander, chopped
Method
1. In a large bowl, combine the flour, yeast, salt, sugar, kalonji and 1 tablespoon finely chopped coriander. Make a well in the centre and add the oil, yoghurt and water. Using your hands, bring the dough together. Knead for 5 minutes. If the dough feels sticky, oil your hands and continue kneading.
2. Grease the bowl and cover with a damp tea towel. Leave the dough to prove in a warm place for one hour.
3. Meanwhile, melt the butter in a small pan and add the finely sliced garlic. Allow to fry until aromatic. Add the chopped coriander and set aside until needed.
4. Knock the air out of the naan dough and divide into four equal portions. Take one piece of dough, roll into a ball and using a rolling pin, roll your naan until it's around 1cm in thickness. Take one end and pull into a teardrop shape.
5. Place the dough on a piece of aluminium foil and grill for 1 minute on both sides. Remove from the grill and brush with the garlic butter. Alternatively, bake in a very hot oven until golden brown. Wrap in foil to keep warm but try to serve immediately.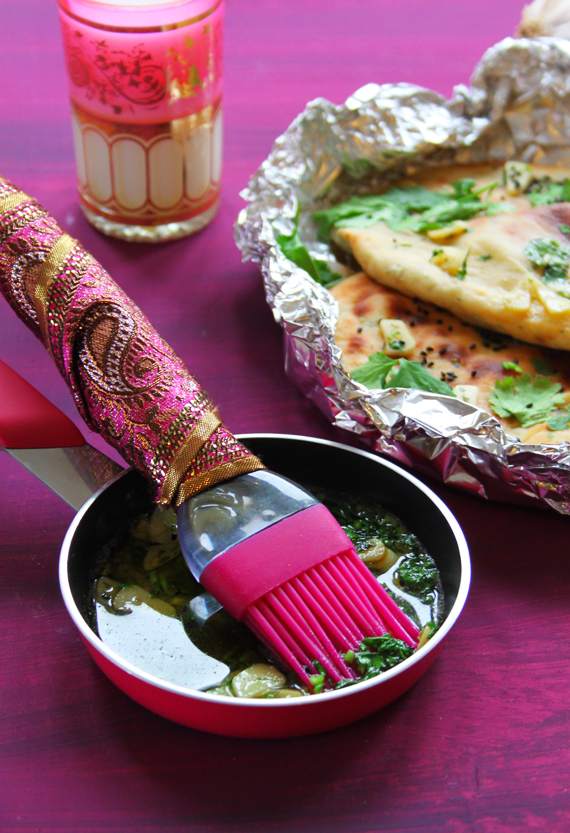 I like to serve these with Melt in the Mouth Paneer Kofta, Shahi Paneer Stuffed Okra, Vegetarian Tandoori Kebabs from Scratch or Kashmiri Dum Aloo. However, you could be far more experimental and make one of my favourite quick dinners in the world – naan pizza. I'll explain later.