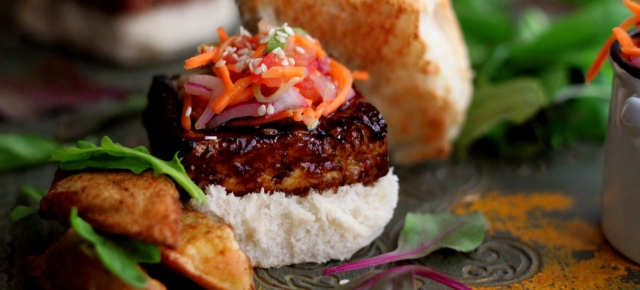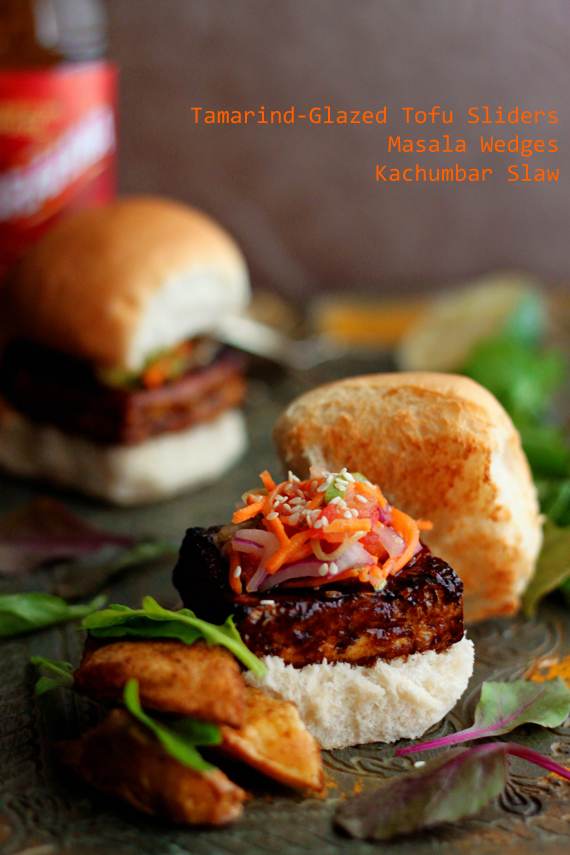 Yes, I'm back. After a week in Mombasa, six weeks of family time and a week of tech issues, I felt it was time I blogged again.
I offer you a summer spread of these mini burgers filled with tamarind-glazed grilled tofu, masala potato wedges and spicy Indian slaw (kachumbar). When I was young, my dad would call me from work at 6.30pm to ask me to quickly make his favourite kachumbar before he arrived home in time for one of mum's gorgeous home-cooked dinners. It was always a pleasure and allowed me to perfect the recipe – one which now has a very special place in my heart.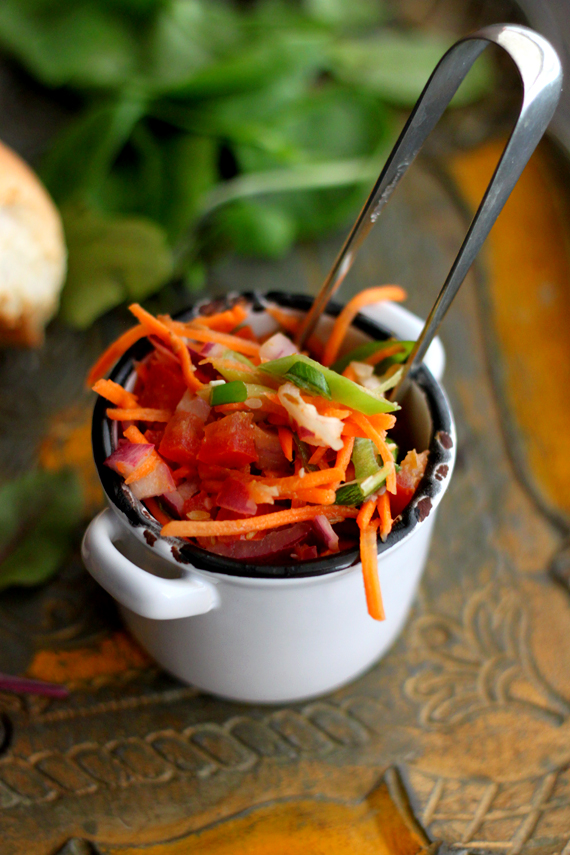 Even though kachumbar means 'cucumber' but I often make it without. I often just crave the simplicity of juicy tomatoes, red onions and mixed spices. For this recipe, I've added grated carrots, cucumbers and spring onions to create a kachumbar-inspired slaw to offer a delicious crunch to these tofu sliders.
Masala wedges are a staple at home and are usually made with either sweet potatoes or cassava – a tribute to our East African roots. Here, I've made them with Maris Pipers because that's what I had in the kitchen but you can use any floury potatoes you like. Toss them in oil, salt and your favourite garam masala, and then leave them to do their thing in the oven whilst you get on with the rest of the recipe.
Tamarind-Glazed Tofu Sliders with Kachumbar Slaw and Masala Wedges
Ingredients
6 slider buns
Mixed green salad
For the tofu:
600g firm tofu, pressed and cut into steaks
1 tbsp concentrated tamarind paste (I use shop-bought – life's too short!)
1 tbsp dark soy sauce
6 tbsp brown sugar
75ml water
1 tsp grated ginger
½ tsp ground fennel seeds
For the kachumbar slaw:
2 large carrots, grated
¼ small cucumber, seeds removed and grated
1 large red onion, diced finely
2 tomatoes, seeds removed and diced finely
3 spring onions, sliced finely
Juice of 1 lime
1 tbsp groundnut oil
½ tsp toasted cumin, ground
¼ tsp chilli powder
1 tsp sugar
1/2 tsp salt
2 tsp sesame seeds
For the masala wedges:
4 large potatoes, scrubbed clean
1 tbsp oil
2 tsp garam masala
½ tsp salt
Method
First, cut the potatoes into small wedges and toss with oil, garam masala and salt. Bake at 200C for 40 minutes or until golden and cooked through.
Next, make the slaw by combining together all the ingredients and mixing well. Allow to chill in the fridge until you're ready to serve the sliders.
Now, make the tamarind glaze by mixing together the tamarind paste, soy sauce, brown sugar, ginger and water. Bring to the boil and allow to reduce by half. Add the ground fennel and set aside.
Grill the tofu on both sides until a crisp skin forms on the outside. This will take about 10 minutes each side in a domestic oven – less on a barbecue. Remove from the oven and brush the glaze all over the tofu steaks. Return to the grill until just bubbling.
Slice the buns in half and toast. Build the sliders with the glazed tofu, chilled slaw and your favourite hot sauce. Serve with the masala wedges and a cold beer.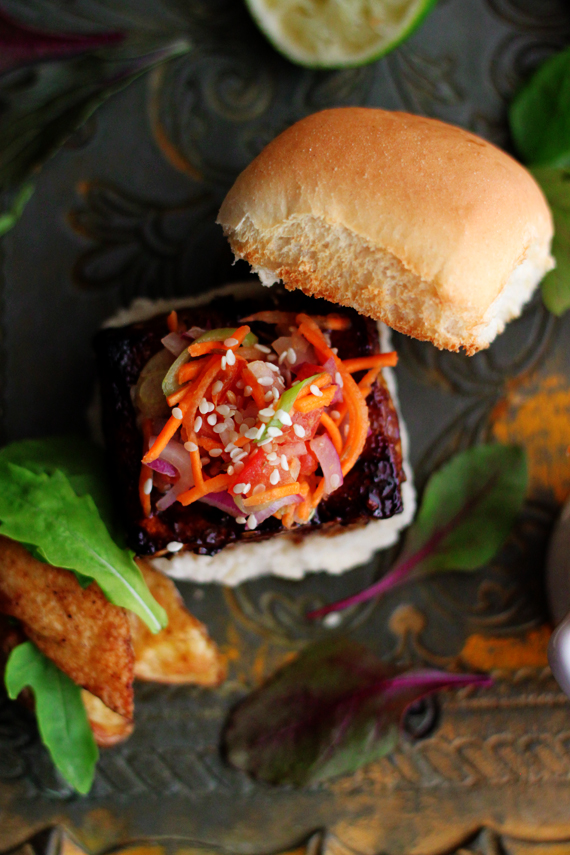 Love Sanjana