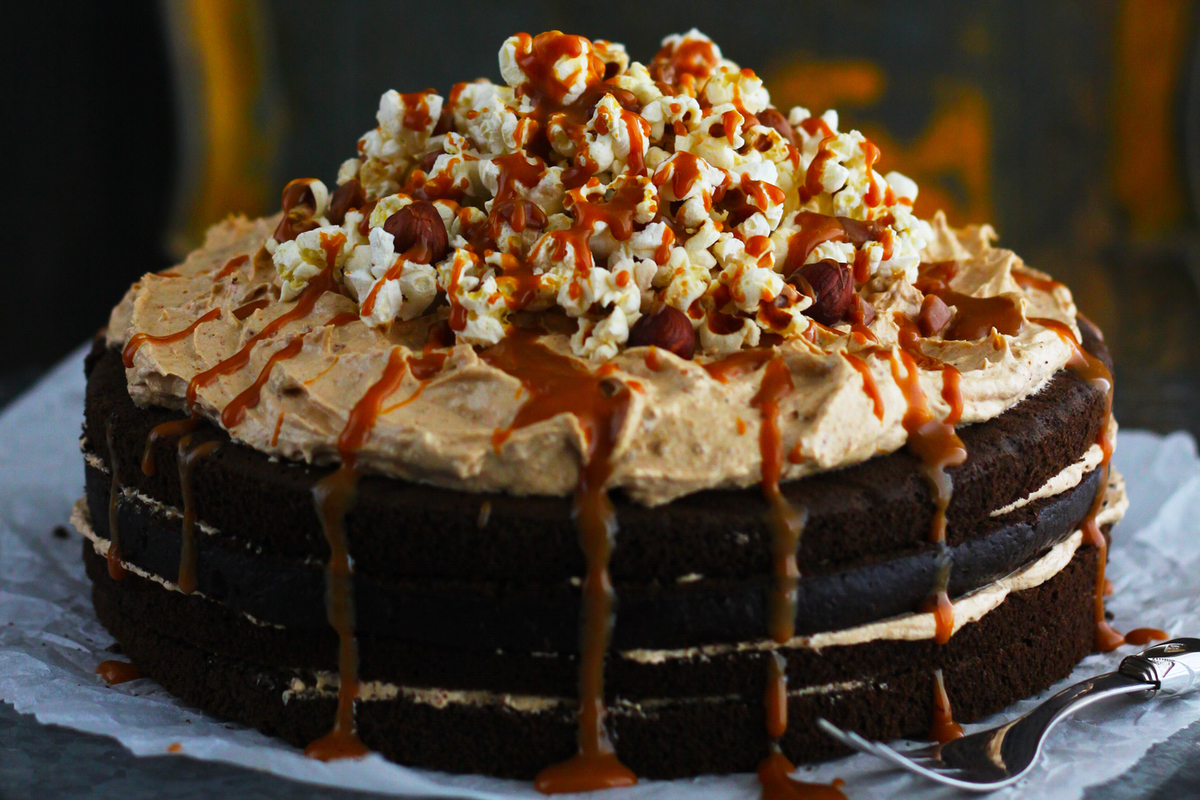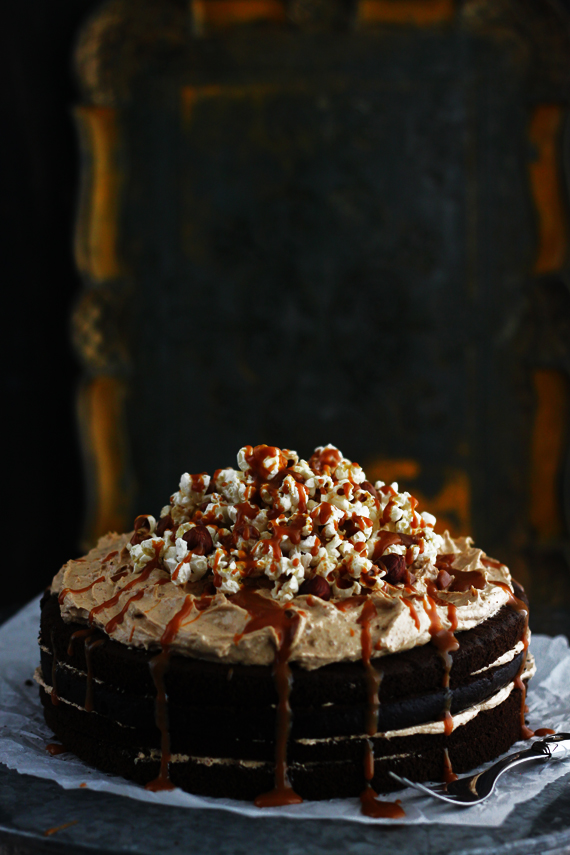 I remember being six years old and fascinated by cake. Today, I'm 26 and still obsessed with it. I once had a tragic experience with Death by Chocolate Cake. I begged and begged for it until my parents gave in, probably knowing I'd regret it the next day. Needless to say, it did exactly what it said on the box. I didn't look at another cake for a very long time.
These days, I prefer my cakes with far less sugar… but still packing heaps of chocolate.
There's nothing better than the marriage between intense chocolate sponge and subtle chai spices. This four-layer cake stays super moist because the sponge is soaked with a little bit of dark rum. If you don't want to use rum, you can use a bit of gingerbread syrup (like the kind you add to coffee) or just leave it out. As the layers are thin, the buttercream will do a great job of keeping it moist.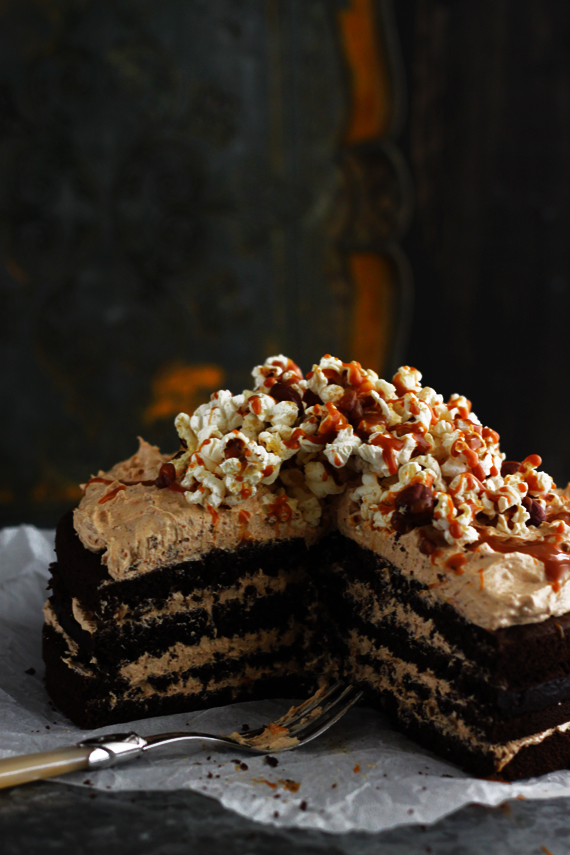 For a rich chocolate kick, two teaspoons of good-quality instant coffee works a treat. The slight bitter notes make the chocolate flavour big, punchy and powerful.
If you've never tried Biscoff… Well, where the hell have you been?! Essentially, it is crushed Speculoos (spiced) biscuits made into a creamy spread the consistency of Nutella. Spread it on toast, pancakes and use it to make the buttercrean for this cake. Btw, it's 100% vegan – magic!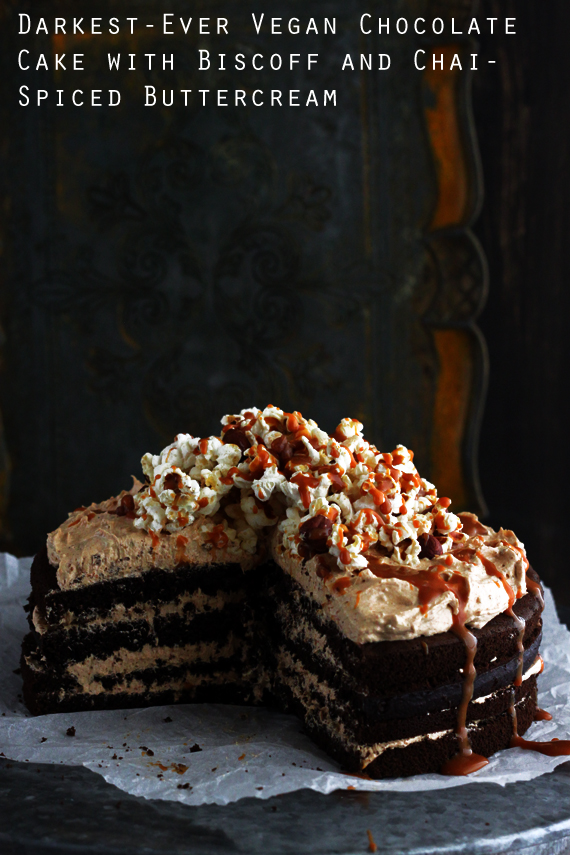 I've spent many years trying to perfect the vegan sponge and the only one I can say I'm truly proud of and can always depend on is this chocolate cake. The use of white vinegar, oil and cocoa powder creates an even lift and remains moist without the use of eggs.
With hundreds of books on French pâtisserie – my favourite subject after savoury vegetarian cooking, I've committed so many hours trying to replicate the classics without using eggs, butter, milk and cream. Sometimes it's with great success… but usually it ends in disaster. My vegan/eggless pastry chef life is sort of a work in progress I don't like to talk about too often – and with good reason.
Darkest Ever Vegan Chocolate Cake with Biscoff and Chai-Spiced Buttercream
Serves 10-12
Ingredients for the sponge:
450g plain flour
100g good-quality cocoa powder
2 tsp baking powder
1 tsp bicarbonate of soda
1 tsp salt
300g caster sugar
100ml vegetable or sunflower oil
500ml cold water
2 tsp instant coffee
2 tsp white vinegar
2 tbsp dark rum to soak the sponges (optional)
Ingredients for the buttercream:
250g soy margarine
300g crunchy Biscoff spread
2 tbsp icing sugar
2 tsp chai spice
Popcorn, toasted hazelnuts and Carnation Caramel (onit if vegan) to decorate
Method
1. Pre-heat the oven to 160 degrees C. Grease and line a 8-inch wide X 3-inch deep cake tin.
2. In a large bowl, sift together the flour, cocoa powder, baking powder, bicarbonate of soda and salt.
3. In a separate bowl or a stand mixer, whisk together the sugar, oil, water, coffee and vinegar until fully combined, about 5 minutes.
4. Gently fold in a third of the dry ingredients. Don't worry if there are a few lumps. Next, fold in the remaining two thirds of the dry ingredients. Beat with a whisk until very few lumps remain, about 1 minute. Do not over mix it.
5. Pour the cake mix into the cake tin and bang the bottom of the tin on a work surface to ensure any bubbles come to the surface. This will ensure an even rise.
6. Bake the cake in the oven for 50 minutes or until a skewer poked into the centre of the cake comes out clean. It's important you don't open the oven for the first 40 minutes of cooking.
7. Once baked, remove the cake from the oven and allow to cool in the tin for 10 minutes.
8. After 10 minutes, run a knife around the edge of the cake and carefully turn out onto a wire rack. Allow to cool fully, preferably overnight. Cover loosely.
9. To make the buttercream, beat the vegan margarine until light, pale and fluffy. Next, beat in the Biscoff, chai spices and icing sugar. Beat again until super fluffy. About 10 minutes.
10. To assemble to cake, remove the baking paper from under the cake and using a cake wire, cut the sponge into four even layers. At this point you can soak each sponge with dark rum, if using.
11. Place your first sponge on a cake plate and using an ice cream scoop, take four level scoops of your buttercream. Spread evenly and top with your next sponge. Repeat for all of the sponges and finally, top the cake with the remaining buttercream.
12. Scatter over the popcorn and caramel if using. If you don't want to use caramel, you can used melted dark chocolate.
13. Cut into slices and serve with a cuppa chai.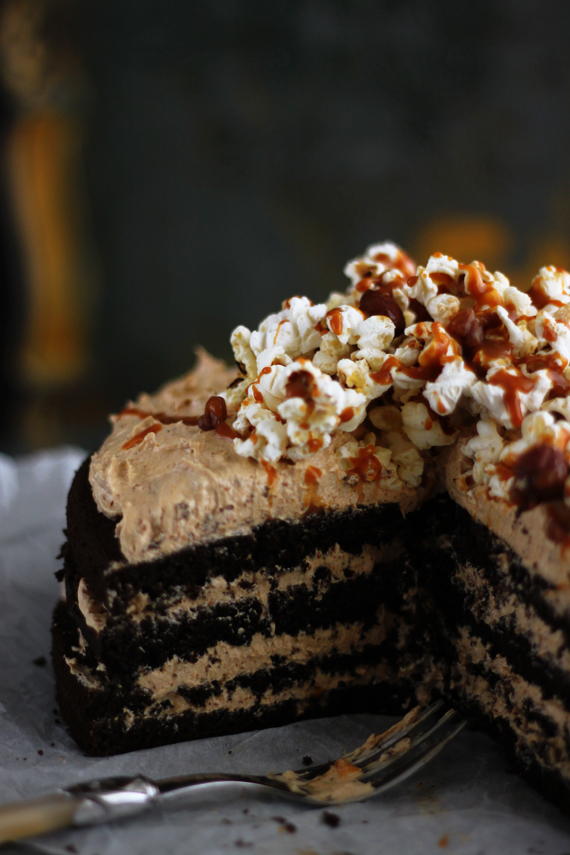 Who knows, maybe one day I'll have enough dough to bag a place at Le Cordon Bleu. In Paris. Learning how to make perfect madeleines, tarts, gâteau, and croissants.
Dreamy.
Love Sanjana