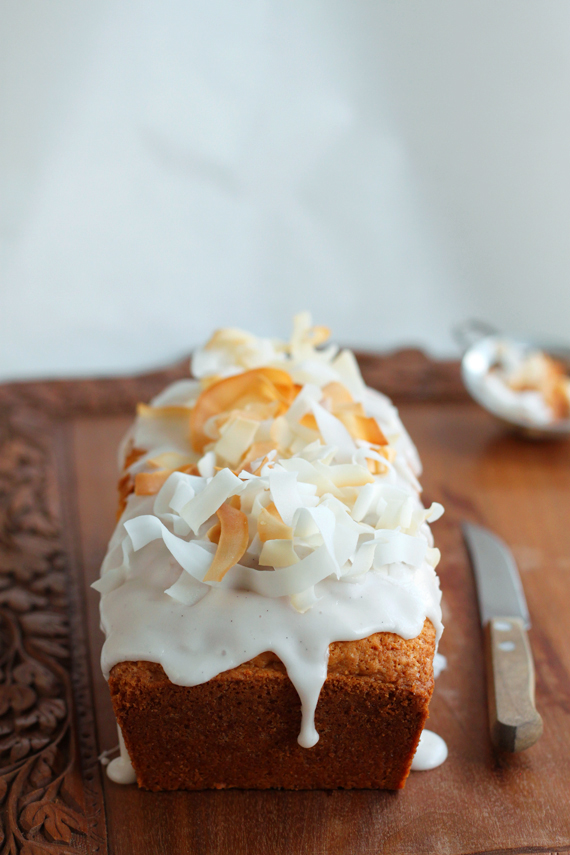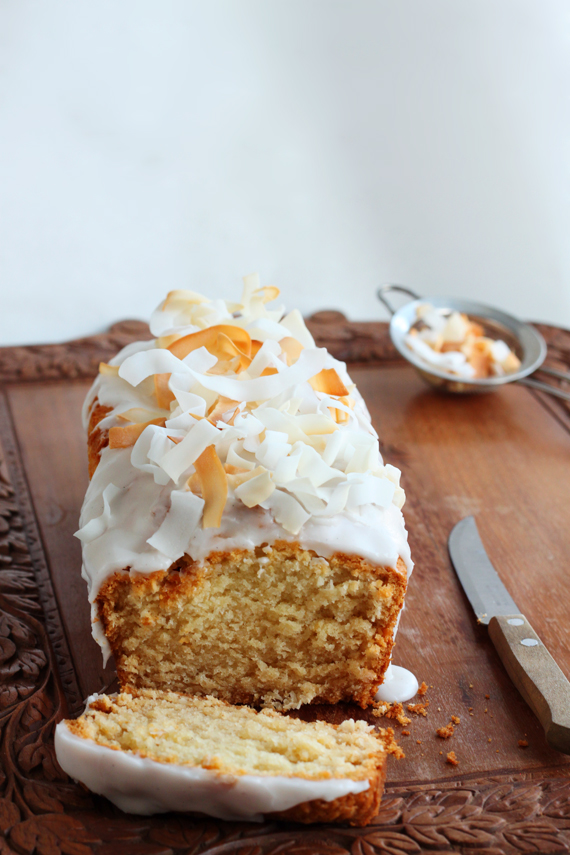 After a blissful late honeymoon in Phuket, Thailand, life in chilly England resumes. But thankfully I brought a few exotic Thai goodies back in my suitcase. Mango wafers, longan toffees, Thai honey and this gorgeous flaked coconut crowning my loaf cake.
Packed with coconut flavour, this eggless cake can be baked in a loaf tin or round cake tin. It's great sandwiched with raspberry jam and buttercream but today, I wanted an exotic cake that reminded me of the mouth-watering flavours of Thailand. If you have a large loaf tin (25cm in length), this will make one loaf. If not, two smaller tins will be perfect.
Greek yoghurt is the perfect way to ensure this cake stays fluffy and rich inside and of course, there's not a speck of butter in sight. Why use butter when coconut oil has so much more to give?
Cold-pressed coconut oil makes a wonderful loaf cake as it helps it retain its shape as well as keeping the cake fluffy and perfect inside as the coconut oil cools. It's also packed with sublime coconut flavour. A touch of vanilla extract will help bring this out.
I always make it at least a day ahead of serving. When it comes out of the baking tin, wrap the cake in cling film and leave to cool like this. It will keep the cake lovely and moist.
When toasting your coconut, keep an eye on it. It will scorch in the blink of an eye if you're not careful.
The icing is just a simple mix of icing sugar, coconut extract, vanilla extract and a few drops of water added just until you have a thick 'drizzleable' consistency. Is that a word? It is now.
I love this with a cup of hot, milky masala coffee.
Eggless Coconut Drizzle Cake
Serves 10
For the dry ingredients:
400g self-raising flour
2 tsp baking powder
1 tsp baking soda
1 tsp cornflour
100g desiccated coconut
For the wet ingredients:
200g coconut oil
350g caster sugar
200g Greek yoghurt
250ml coconut milk
2 tsp white vinegar
1 tsp vanilla extract
1 tsp coconut extract
For the icing:
200g icing sugar
1 tsp vanilla extract
½ tsp coconut extract
20-30ml water or enough to make a thick icing
20g coconut flakes, toasted in the oven, to decorate
Method
1. Grease and line a 25cm x 8cm oblong loaf tin. Pre-heat the oven to 160 C
2. Combine all the dry ingredients together in a large bowl.
3. In a stand mixer or large bowl, beat together the coconut oil and sugar for 5 minutes.
4. Add the rest of the wet ingredients and beat until well combined.
5. Gradually add in the dry ingredients, and beat until fully combines – no more than a minute.
6. Pour into the line baking tin and bake in the middle rack of the oven for 60 minutes or until a skewer poked through the middle comes out clean.
7. It's important not to open the oven for the first 40 minutes of baking.
8. Remove from the oven, run a knife around the sides of the cake to loosen it and turn out onto a wire rack. Wrap the cake in cling film and allow to cool completely.
9. To make the icing, beat together all the ingredients and drizzle over the top of the cooled cake. Scatter over the toasted coconut flakes and allow the icing to set at room temperature for an hour or so.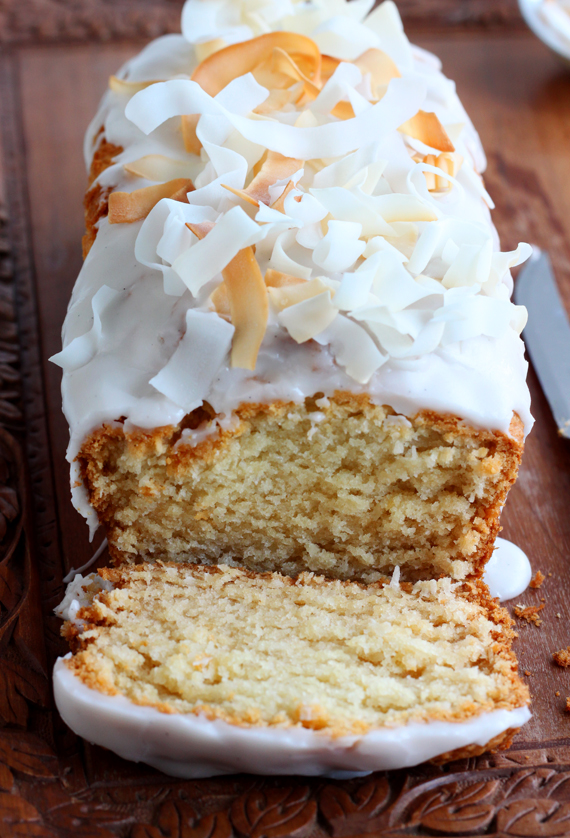 Enjoy with masala coffee on a chilly afternoon.
Love Sanjana