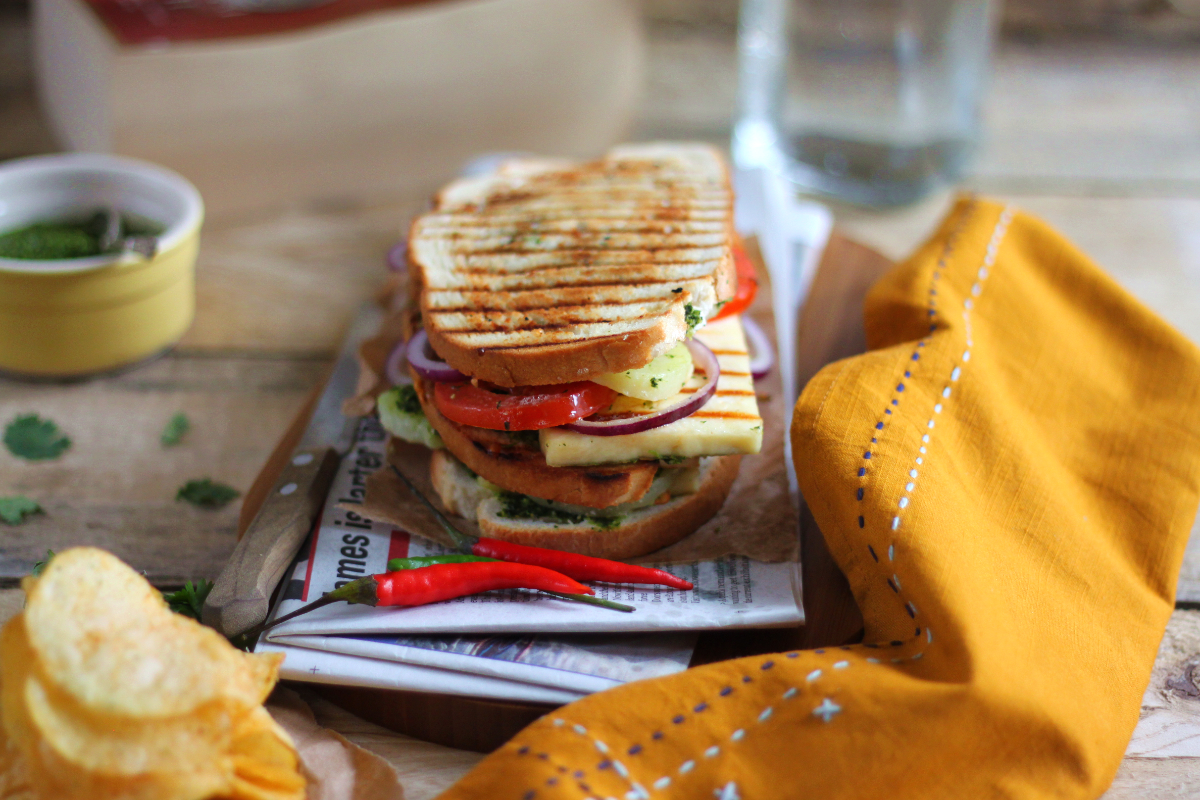 Triple-decker toasted sandwiches filled with potatoes, spicy coriander and mint chutney, red onions, grilled paneer and tomatoes are what makes these pimped-up Bombay sandwiches the ultimate Indian-inspired snack.
With Indian street food vendors popping up all over the UK, selling everything from Kati Rolls to Pau Bhaji, and Masala Dosa to Samosas, we're becoming accustomed to having delicious Indian street food on tap… and we want it fast. Not only that; but it better be damn perfect too. Believe it or not, but I've heard students in King's Cross complain there's far too much tadka on top of their dosa chutney and ajwain in their samosa pastry. We've become a nation of Indian street food connoisseurs and it's bloody brilliant.
Re-creating street food classics like these Bombay Sandwiches at home is so simple. Why wouldn't it be? It's a sandwich. But not just any sandwich. Traditional Bombay sandwiches consist of two pieces of bread with slices of boiled potato, mint and coriander chutney, onions, cucumber and tomatoes on sliced white bread, I've taken it a step further by adding a slice of flavour-packed toast slathered in green pistachio chutney to the middle, grilled paneer (because why the hell not), sliced gherkins (because I can't deal with warm cucumbers, sorry) and then griddled the whole thing. It's quite a mouthful but I reckon that's the beauty of it.
I've never met another Indian who hasn't used up leftover potato curry in toasted sandwiches the next day – it's a no brainer. I like to think of it as the ultimate 'Dad meal'. Quick, easy and perfect with green chutney on the inside or for dipping on the outside. Of course, a slice of cheese is optional but for me, that isn't even worth thinking about.
Trust me when I tell you this is three layers of awesome you don't want to miss out on.
Best Ever Bombay Sandwiches
Makes 2 sandwiches
6 slices bloomer bread – whole wheat or white
2 large potatoes, boiled, peeled and sliced thinly
2 x 60g paneer slices, try to cut them wide
2 red onions, thinly sliced
2 large tomatoes, thinly sliced
4 large pickled gherkins, thinly sliced
60g grated Cheddar
1 large avocado, sliced (optional)
Melted butter, for brushing the outsides of the bread
For the Coriander, Mint and Pistachio Chutney:
100g coriander
30g mint
2 small green chillies
6 shelled, unsalted pistachios
1 clove garlic
Juice of 1 lemon
½ tsp salt
3 tsp sugar
50ml groundnut oil
Method
1. Blitz all the ingredients for the chutney in a blender until smooth. Add a drop of water if necessary. The chutney should be the consistency of pesto.
2. Toast two slices of bread. Griddle the paneer on both sides.
3. Butter the outside of the bread and place buttered-side-down on a cold griddle. Spread some of the chutney on the top, lay over potato slices, red onions, tomatoes gherkins and a little bit of Cheddar.
4. Spread green chutney over both sides of one of the slices of toast. Place on top of your sandwich and repeat the layering process, this time adding the paneer. Take the final bread slice and spread green chutney on the inside and place chutney-side-down on the sandwich. Butter the outside of the top slice.
5. Repeat to make the other sandwich.
6. Griddle on both sides until golden, about 5 minutes.
Serve with crisps or masala chips, chai, limeade or beer and prepare to take the biggest bite of your life.
Love Sanjana