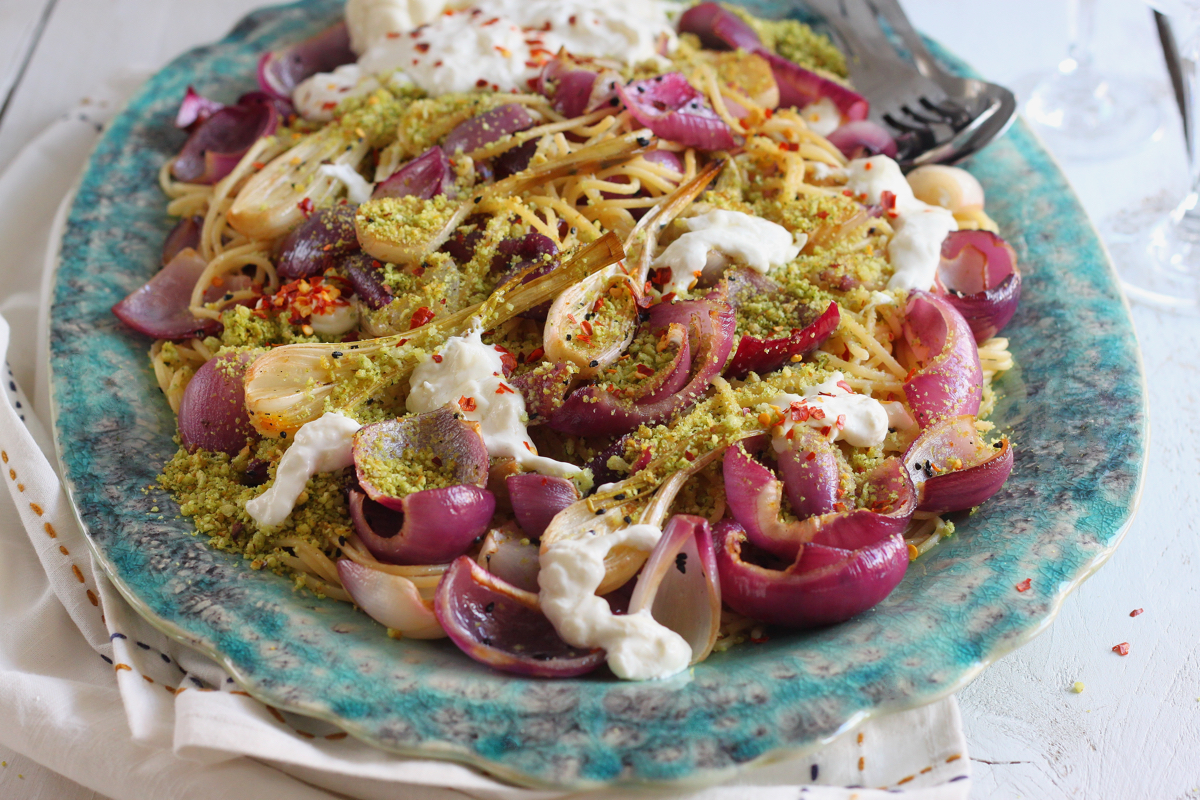 I fell in love with the creamy, stringy deliciousness of Burrata ever since I had my first bite of Yotam Ottolenghi's Burrata with Clementines and Coriander Seeds at Nopi in Soho, London. With just a hint of orange blossom water, this dish was sweet, fresh and beyond perfection. You could say it hit the spot but if I'm honest, it hit spots I didn't even know existed.
As a lover of fresh buffalo mozzarella, I wondered how it was possible that I'd been missing out on burrata my whole life. All of a sudden I had Boyz II Men's Pass You By on repeat ringing in my flippin' ears. Damn. If you haven't yet had the pleasure of sinking your teeth in to burrata, let me paint you a little picture… A lip-smacking mozzarella with a soft centre of hand-torn mozzarella and cream called stracciatella ("a little shred" in Italian). Cut it open and a river of the most unctuous cream filling you've ever seen oozes out like a molten lake of happiness. It's an unbelievably satisfying moment.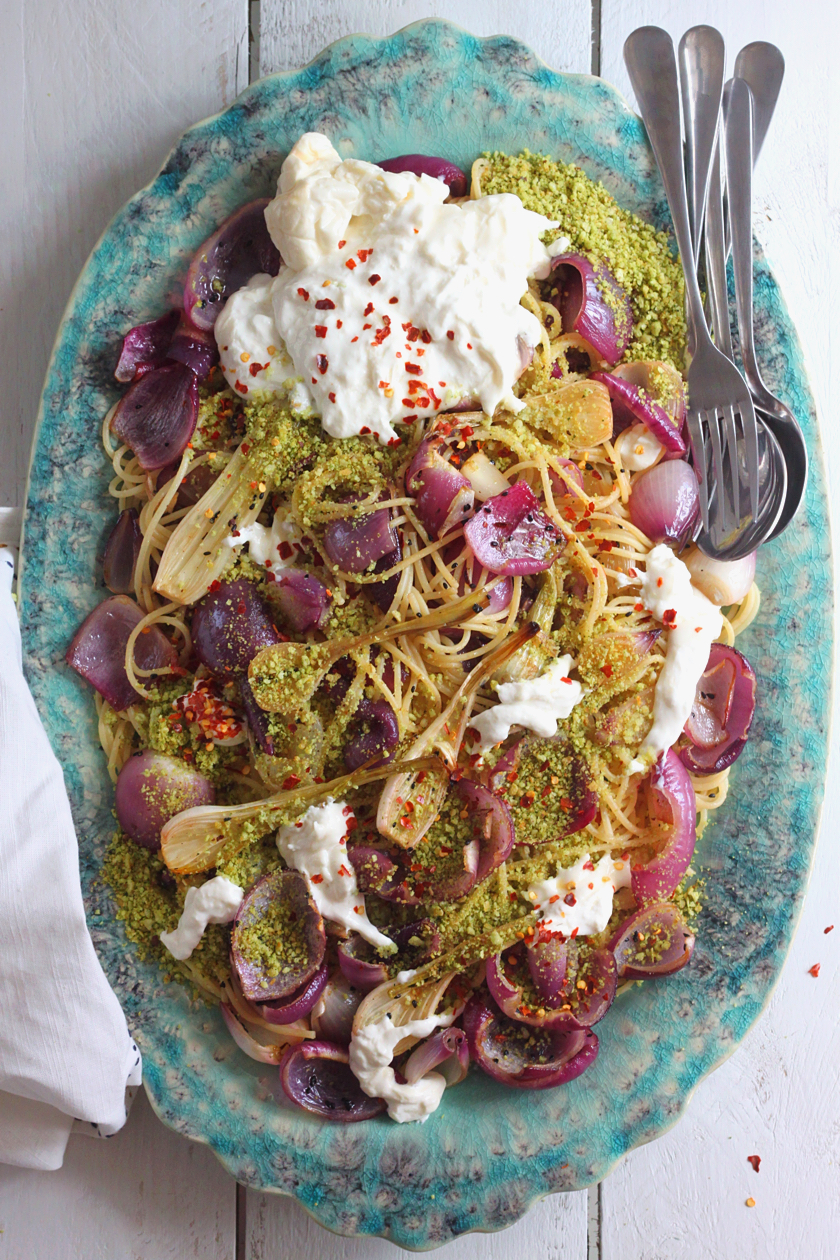 I picked up a couple of burrata in erm… Harrods (disclaimer: I'm not one to casually saunter in to Harrods on a Saturday afternoon and spend an hour in the Food Hall). This was actually only the second time I'd been there and a first for the man in my life. So you can imagine the mini heart attack I had when the lady at the cheese counter told me my burrata came to £33.30. I shit you not.
Of course, this cheese was the only thing we bought and we made a pact not to return for another year unless we got lucky on the Lotto.
I'm not going to lie, it was SO worth it when it came to this spaghetti, so much so that I made it from scratch two days in a row. Once with Saffron-Roasted Cauliflower and the second time with these Nigella-Roasted Onions. Both were awesome so I leave it up to you to pick your roasted veggies.
Although the burrata is shining star of this spaghetti dish, the breadcrumbs will leave a lasting impact. With every bite of spaghetti and creamy cheese, you get the glorious crunch of herby, garlicky breadcrumbs with just a touch of roasted hazelnuts. Another brilliant creation from beautiful Italy, Pangrattato (basically grated breadcrumbs) are a simple way of adding ridiculous stand-out texture to pasta and risotto. Once you've tried it, you'll want to sprinkle it on everything.
The contrast between the sweet roasted onions, aromatic nigella seeds, crunchy herb-laced breadcrumbs, soft creamy burrata and perfectly-cooked spaghetti will give your taste buds a very welcome and loving hug. You'll love it right back, I promise.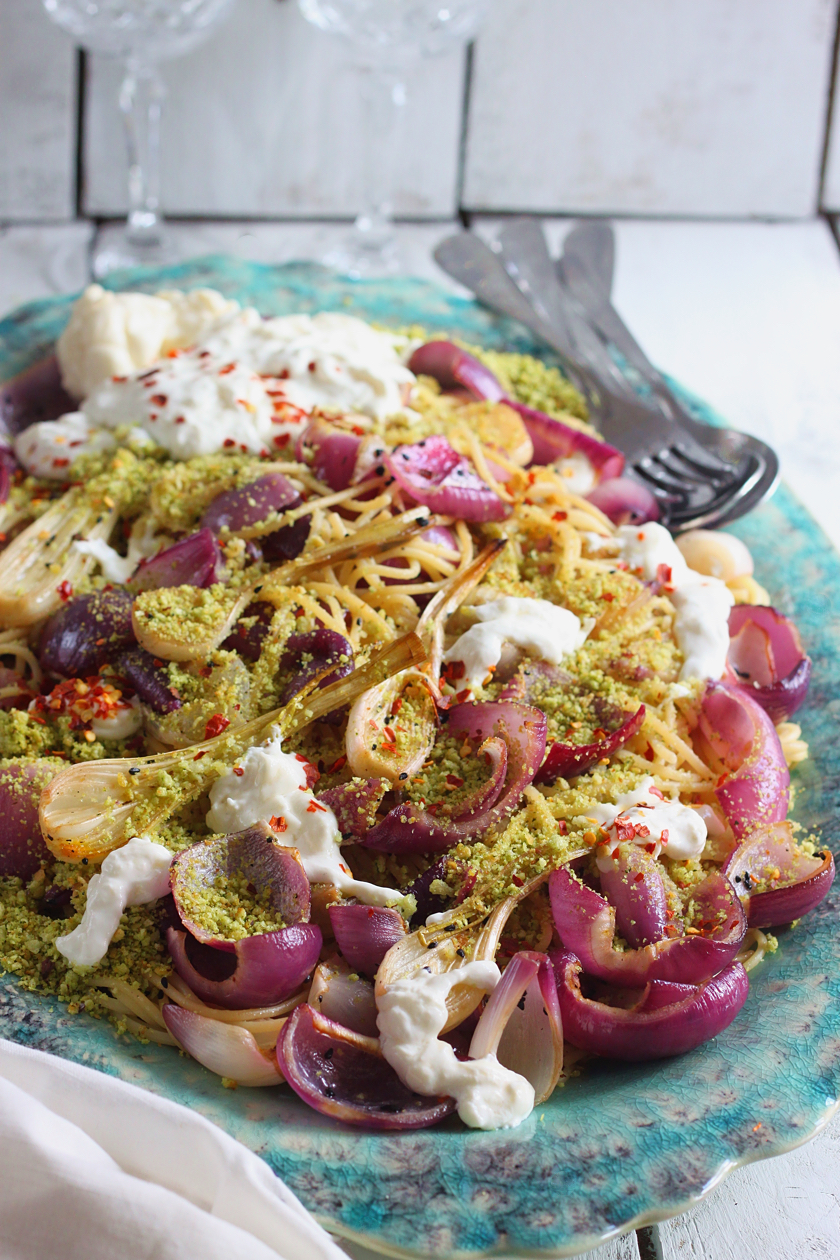 Spaghetti with Nigella-Roasted Onions, Herbed Breadcrumbs and Burrata
(Serves 6)
Ingredients
400g dried spaghetti
5 large red onions
6 large spring onions, trimmed
1 tbsp nigella seeds
Juice of one lemon
1 tsp sea salt
3 tbsp olive oil
1 tsp chilli flakes
3 fresh burrata or good-quality buffalo mozzarella if you can't find burrata
For the Herbed Breadcrumbs (Pangrattato):
80g stale sourdough loaf, cubed
10 whole roasted hazelnuts
1 clove garlic, peeled
4 tbsp fresh basil
Zest of one lemon (unwaxed)
Pinch of salt
Method
1. Pre heat the oven to 200C.
2. Trim both ends of the red onions, slice down the middle and peel each half. Separate the layers out and place in a large roasting tray. Repeat for all the red onions. Trim the spring onion roots and slice those down the middles, lengthways. Add to the roasting tray along with the olive oil, lemon juice, nigella seeds and salt. Roast in the oven for 30 minutes, shaking at the halfway point.
3. To make the herby breadcrumbs, whizz up all the ingredients in a food processor until fine. They should be a gorgeous green colour. Pour them in to a dry pan and cook on a medium heat, moving around constantly to ensure they don't catch on the bottom of the pan and burn, about 4 minutes or until lightly golden and crispy. Set aside.
4. Cook the spaghetti according to the packet instructions in plenty of salted boiling water.
5. Remove the onions from the oven, drain the pasta and add to the roasting tray. Toss until every strand of spaghetti is well coated with olive oil. Check the seasoning and add salt if necessary.
6. Pile the spaghetti on to a large serving platter and scatter over the breadcrumbs. Tear the burrata over the top, letting it ooze around the spaghetti and sprinkle with chilli flakes.
7. Serve immediately. As if you could wait anyway… 😉
Love Sanjana