I'm a sucker for something sweet after dinner. Like my dad, tell me you've got hot Gulab Jambu and ice cream for dessert and I'll be like putty in your hands.
This chocolate tart makes me feel that way too. A crumbly, sweet shortcrust pastry base (without eggs, might I add), ridiculously smooth and rich chocolate filling with the most incredible roasted white chocolate swirl which takes me back to the days of sitting on the steps of our family shop eating Caramacs… except there's loads more chocolate involved.
If you've never roasted your white chocolate, you've been missing out. Gone will be the days you insist dark chocolate is superior to white. This whole time you had forgotten one amazing detail… it is that white chocolate can be transformed into the most beautiful caramel you ever tasted.
Inspired by the baking guru that is David Lebovitz, I set to work making the roasted white chocolate, following his brilliant instructions to the letter – and you should too.

One tweak I made was that I added a small amount of coconut oil out of fear my chocolate would seize. It resulted in a super smooth caramelized white chocolate with a hint of exotic coconut that of course, was most welcome.
The dark chocolate filling is a glorious ganache which requires very little effort and no baking whatsoever. The best thing about the filling is that it sets so beautifully after a couple of hours in the fridge.
Cut yourself a piece and feel the cool chocolate filling melt in your mouth. I think it's time you had the recipe now.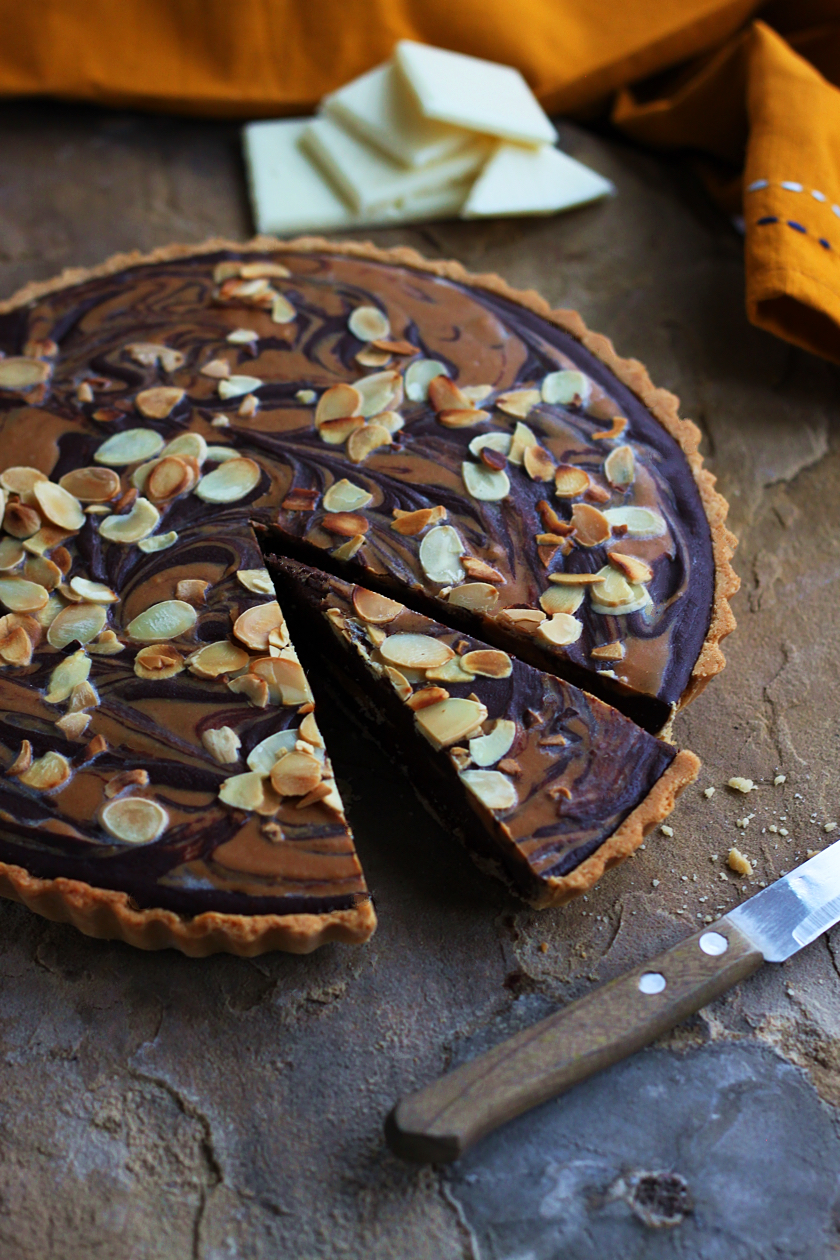 Eggless Dark Chocolate, Almond and Roasted White Chocolate Tart
(serves 8-10)
For the filling:
300g 70% cocoa dark chocolate
100g good-quality milk chocolate
400ml double cream
1 tbsp butter
2 tsp almond extract
For the Roasted White Chocolate Swirl:
300g good quality white chocolate, chopped into small pieces
2 tbsp coconut oil
1 tsp sea salt
For the pastry:
300g plain flour
125g unsalted butter, cold and cubed
1 tsp cornflour
2 tbsp icing sugar
3-4 tbsp buttermilk
Pinch of salt
Toasted flaked almonds, to garnish
Method
1. To make the roasted white chocolate, place the chocolate and coconut oil on an ovenproof tray. Place the tray in the oven and switch it on to 120C.
2. Allow to melt, stirring very gently every 10 minutes for around 60 minutes or until golden and caramel-like. Seriously, no matter how much you want to stick your finger in that melted chocolate – don't. Instead, sprinkle over the sea salt and set aside.
3. To make the pastry: In a food processor, pulse together the ingredients for the pastry until you have a rough dough. Using your hands, bring the dough together on a clean surface. Don't knead or handle it too much. Wrap the dough in cling film and place in the fridge for 30 minutes.
4. Lightly flour a large, clean surface and roll the pastry out until it's 5-6mm thick. Roll it around your rolling pin and line a 9inch fluted tart tin with a loose bottom. If your dough tears slightly, don't be afraid to patch it up. Leave some dough hanging over the edges. Place the tart on top of a flat baking sheet.
5. Place a large piece of food-safe cling film over the pastry and fill the top with flour. Pack it down slightly. This will ensure your pastry is beautifully even and doesn't rise in the oven. Bake at 160C for 30 minutes.
6. Remove the tart from the oven and set aside for 10 minutes. Carefully remove the cling film filled with flour. Use a fork to prick holes all over the bottom of the pastry and return to the oven for a further 10 minutes or until golden.
7. Remove from the oven and allow to cool completely.
8. To make the dark chocolate filling: Heat the cream on a low heat until hot but not boiling. Remove from the heat. Add the chopped dark and milk chocolate, almond extract and butter and stir very gently until you have a luxurious, even chocolate mixture.
9. Trim the sides of the tart case, cutting away the excess pastry. Fill the tart with the chocolate mixture. Take dollops of the melted white chocolate mixture and swirl into the tart – you'll need around half of it. Put the rest in a jar and use it to sandwich cakes and macarons or just spread it on toast.
10. Sprinkle over the toasted flaked almonds.
11. Place the tart in the fridge for 3-4 hours or overnight.
Love Sanjana