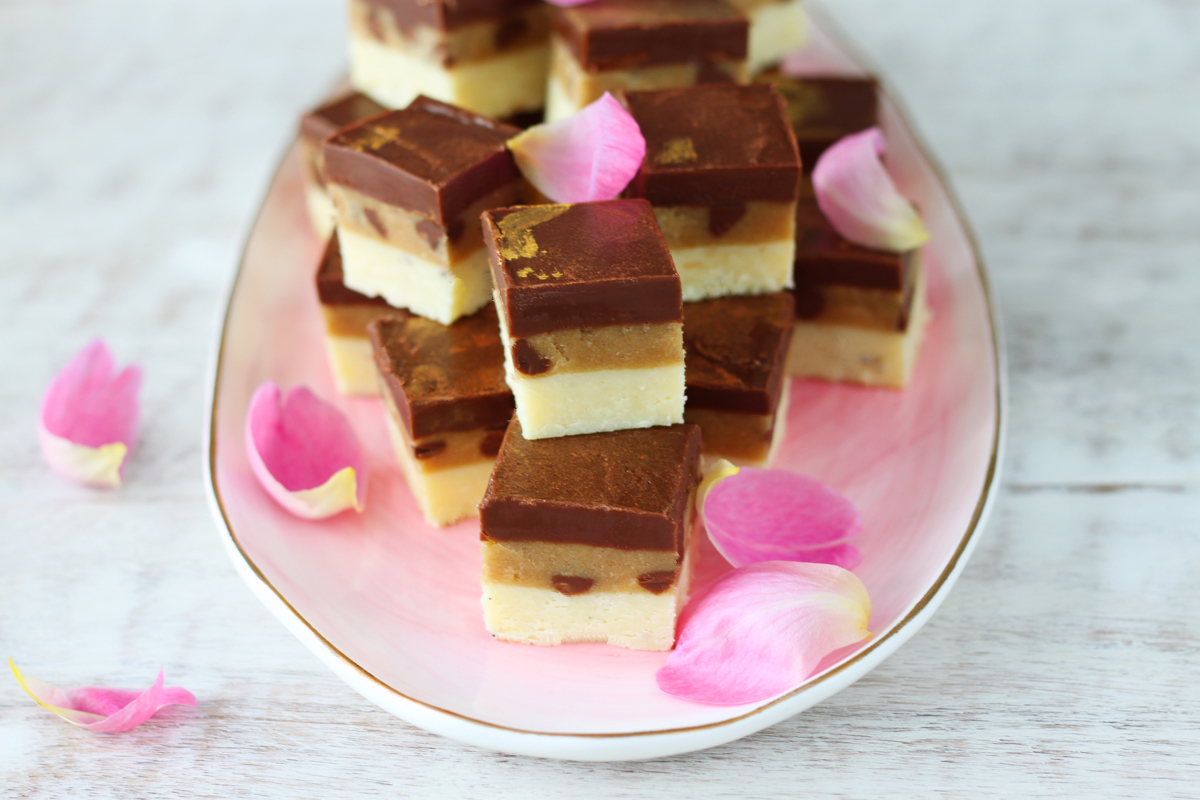 Ask any Indian to name their favourite sweets and I'm certain burfi will be on the list. This melt-in-the-mouth fudge is made with milk powder and condensed milk, and can be flavoured with pretty much anything that takes your fancy. Coconut, pistachio, rose, saffron, cardamom and chocolate are firm faves, with chocolate topping the list for kids.
In my family, I've been known as a burfi monster since I was a kid. I was gap toothed, chubby cheeked and all about the sweet stuff. My wonderful masi used to make sure she had a stash of chocolate burfi whenever I went to visit on special occasions – and still does to this day. And although I've learned to control myself over the years, I'll always be its' number one fan.
Diwali was always a special time in our home. It would warrant us going to Indian sweet shops to stock up on boxes of brightly-coloured treasures to share with family and friends. My dad's heart is as big as my appetite so he always made sure we nabbed one of everything. There'd be rows and rows of burfi, penda, mohanthal, halwa, laddoo, gulab jambu, kaju katli, pista rolls, soan papdi and jalebi, in every colour under the sun – an Aladdin's cave of milk-based sweets, topped with gold and silver leaf.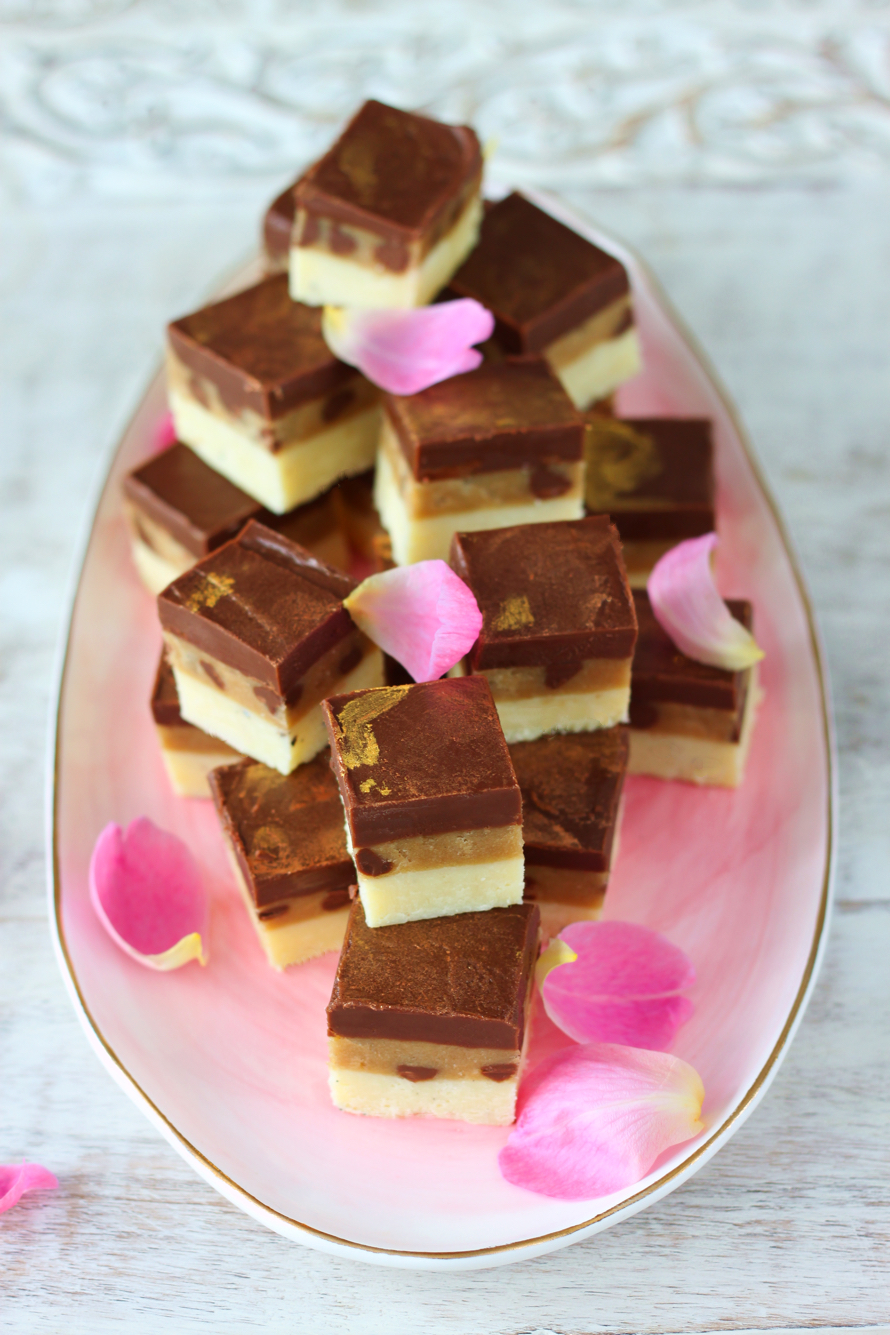 As they glimmered behind glass cases, I would stand there mesmerised by all the colours and textures. By the time dad had selected what would go in each box, he'd turn to me and ask what I like in my own special box of sweets. This was the moment I had been waiting for…
I'd choose coconut burfi, saffron penda, mawa penda, kaju katli, Bombay halwa – one pink and one green and of course, my beloved chocolate burfi. This still happens, BTW and it always takes me back to those happy times.
At home, I'd eat them as a mouse would eat a hamper of cheese – nibble a bit of each one, and then methodically determine the order in which I'd devour the sweets.
So what would you say if I told you that chocolate burfi + cookie dough had a party in my kitchen and things got pretty wild? Layers of cardamom burfi, classic chocolate chip cookie dough and milk chocolate combined to create the wickedest chocolate burfi you'll ever experience. Make it for Diwali, make it for your birthday, make it for any random Wednesday if you want, I promise you'll only ever want it this way from now on.
Fellow chocolate burfi monsters, I dedicate this one to you.
How to Make Cookie Dough Chocolate Burfi in the Microwave
Makes 24 pieces
Ingredients
For the burfi layer:
180g full-fat milk powder
1 x 397g tin sweetened condensed milk
Pinch of ground cardamom (seeds from about 3 pods, crushed)
For the cookie dough layer:
70g unsalted butter, softened
120g soft brown sugar
160g plain flour
¼ tsp baking powder
1 tsp vanilla extract
100g milk chocolate chips
Pinch of fine salt
For the chocolate layer:
250g milk chocolate, melted and cooled slightly
Method
1. Grease a 6-inch long X 9-inch wide X 3-inch deep tin with groundnut or sunflower oil. Cut a piece of greaseproof paper to fit in the bottom of the tin to make the burfi easier to lift out later. You could also use a 6-inch round tin, just make sure it has high sides.
2. First, combine the milk powder and condensed milk in a large, microwave-safe bowl.
3. Microwave on high power for one minute, remove from the microwave and stir well. Return to the microwave and repeat three more times, so you've cooked it for four minutes in total, stirring every minute. Doing it in bursts like this will ensure the mixture doesn't burn.
4. Add the ground cardamom and stir again before immediately spooning into the tin. Spread it out as evenly as you can and smooth it over. Press it in firmly to make sure your layers come out perfectly – you can use the base of a steel bowl or a cake smoother if you're looking for very even layers. If it starts sticking, apply a little oil to whatever you're using. Set aside and allow to cool.
5. To make the cookie dough layer, place the softened butter and sugar in a large bowl. Whip until fluffy and pale, about 3 minutes. Add the flour, baking powder and vanilla extract. Whip until it just comes together. Next, throw in the chocolate chips. Go in with your hands to gently bring it together and form a dough.
6. Place the cookie dough layer over the cooled burfi layer and repeat the smoothing over process as above. Try to get the layers even. Allow to cool.
7. Chop up the chocolate for the topping and place it in a microwave-safe bowl. Microwave it on a medium heat in 30-second bursts until fully melted. Don't stir it too much or the chocolate will seize. You want it to be shiny and perfect for pouring.
8. Pour the chocolate over the cookie dough layer, smoothing it out with the back of a spoon.
9. Allow to cool at room temperature for 30 minutes, and then refrigerate for at least 3 hours, or preferably overnight.
10, Run a knife around the edges of the tin and turn it out onto a board. This is where your greaseproof paper makes everything easier. Slice into pieces and devour. Decorate with gold lustre dust or leaf if you're feeling fancy.
Love Sanjana