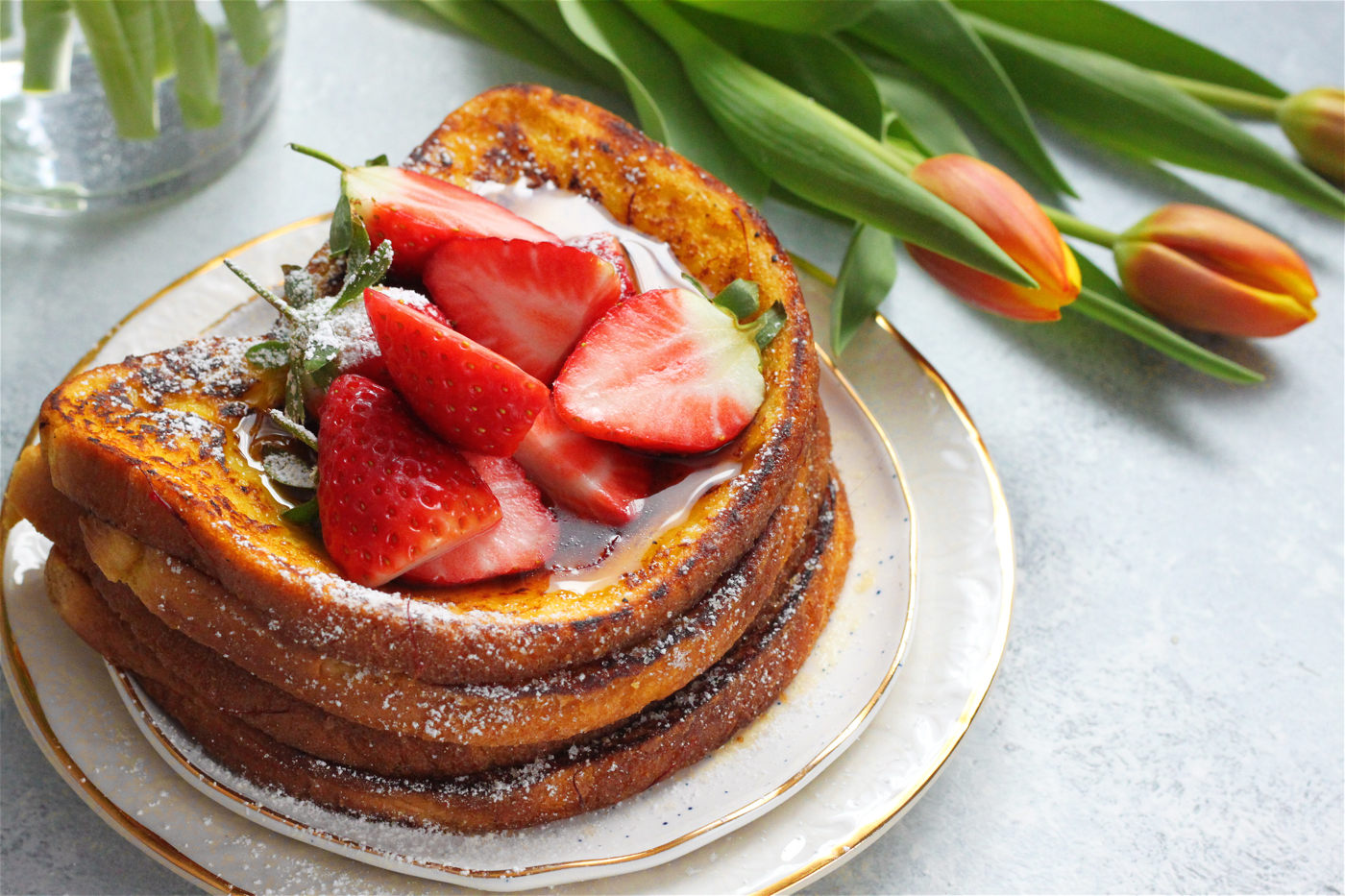 If I was only able to flavour my desserts with three things for the rest of my life, cardamom and saffron would be two of them. The third would be a toss up between vanilla and cinnamon, but thankfully such grand decisions don't have to be made.
I've been away for a little while, still here but not here if you know what I mean. If you follow me on Instagram, you'll know the story but if you don't, here's a really short round up. So for the last 6 months I've had this shooting pain across my right cheek. It's like an electric current and unspeakably painful, and in my teeth too. After going back and forth to the dentist and GP who both championed OTC painkillers (why do they do that?! They are not the answer to everything and can mask real underlying issues!) I went to see a neurologist who confirmed that I have Trigeminal Neuralgia (TN). It's a nerve disorder that causes facial pain and sometimes it gets really bad. Shitty, I know. If any of you have it, let's chat. On the brighter side, I'm glad I have an answer and a plan going forward. Clear cut plans always make bad things feel much better don't they?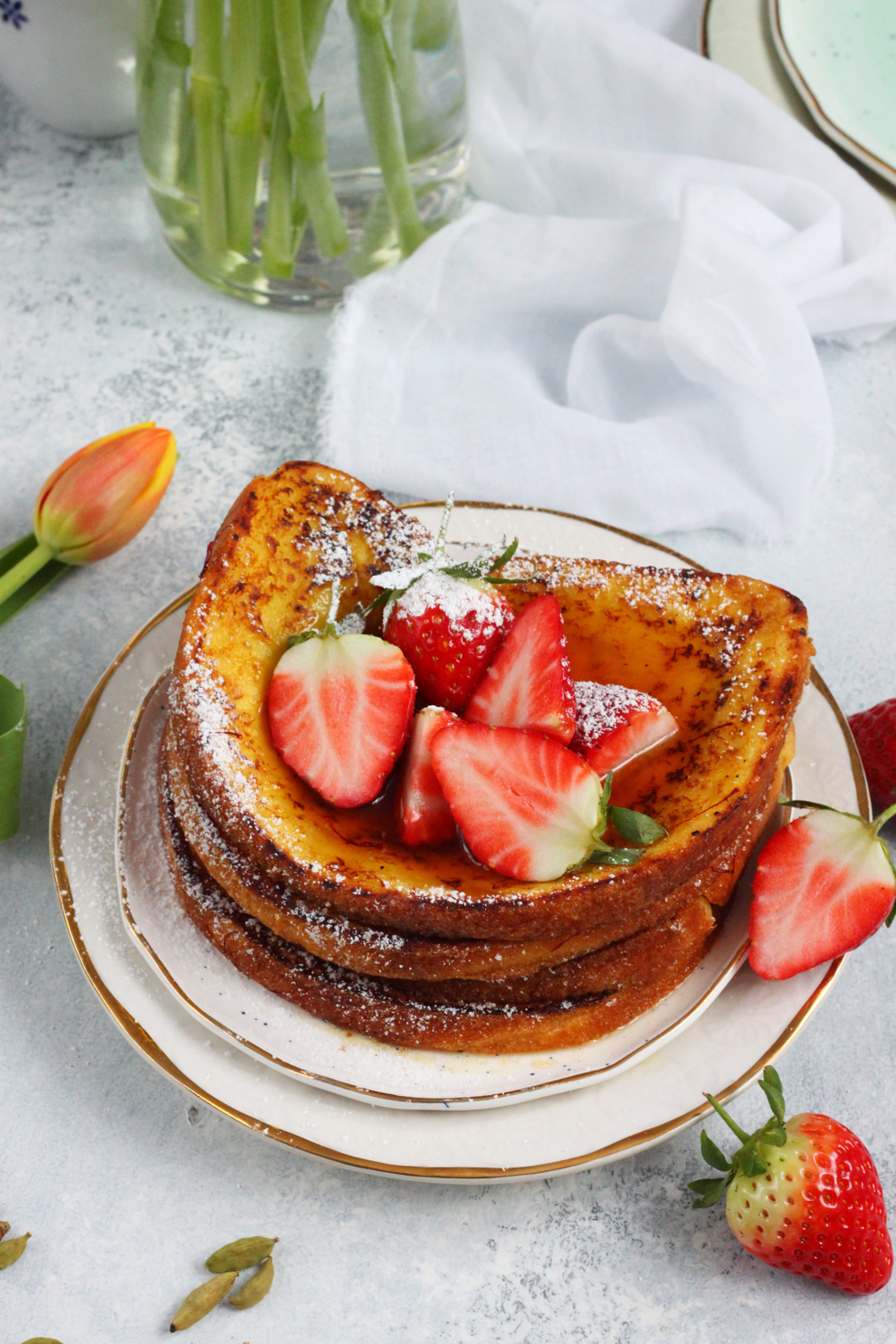 Another thing that makes bad things better is a great breakfast. Most of you will already know that the only reason I get out of bed before ‪10am on Sundays is to eat a great breakfast. My favourites include Masala Poori with Potato Curry and Sweet Semolina, as well as Stuffed Paratha or Thepla and Chai. When I'm seeking to start my day with something a little sweeter, I always look to my sweet spice tin. It's a box dedicated to the spices I use less often in making savoury dishes and one of the best things in my kitchen.
Inside, you'll find whole cardamom, red saffron threads in a little clear box etched with gold writing, fresh cinnamon, ground mace, vanilla in three forms: whole pods, bean extract ( a gorgeous sticky-sweet syrup peppered with thousands of beans from inside the pod) and basic vanilla extract for when a recipe calls for something simpler. In a cabinet reserved for sweet stuff, I also stash away almonds (whole, flaked, ground and shredded Indian style), cashews, pistachios, hazelnuts, mixed citrus peel, chocolate chips, and so many other treasures. Can you tell why it's the best spot in the house for me?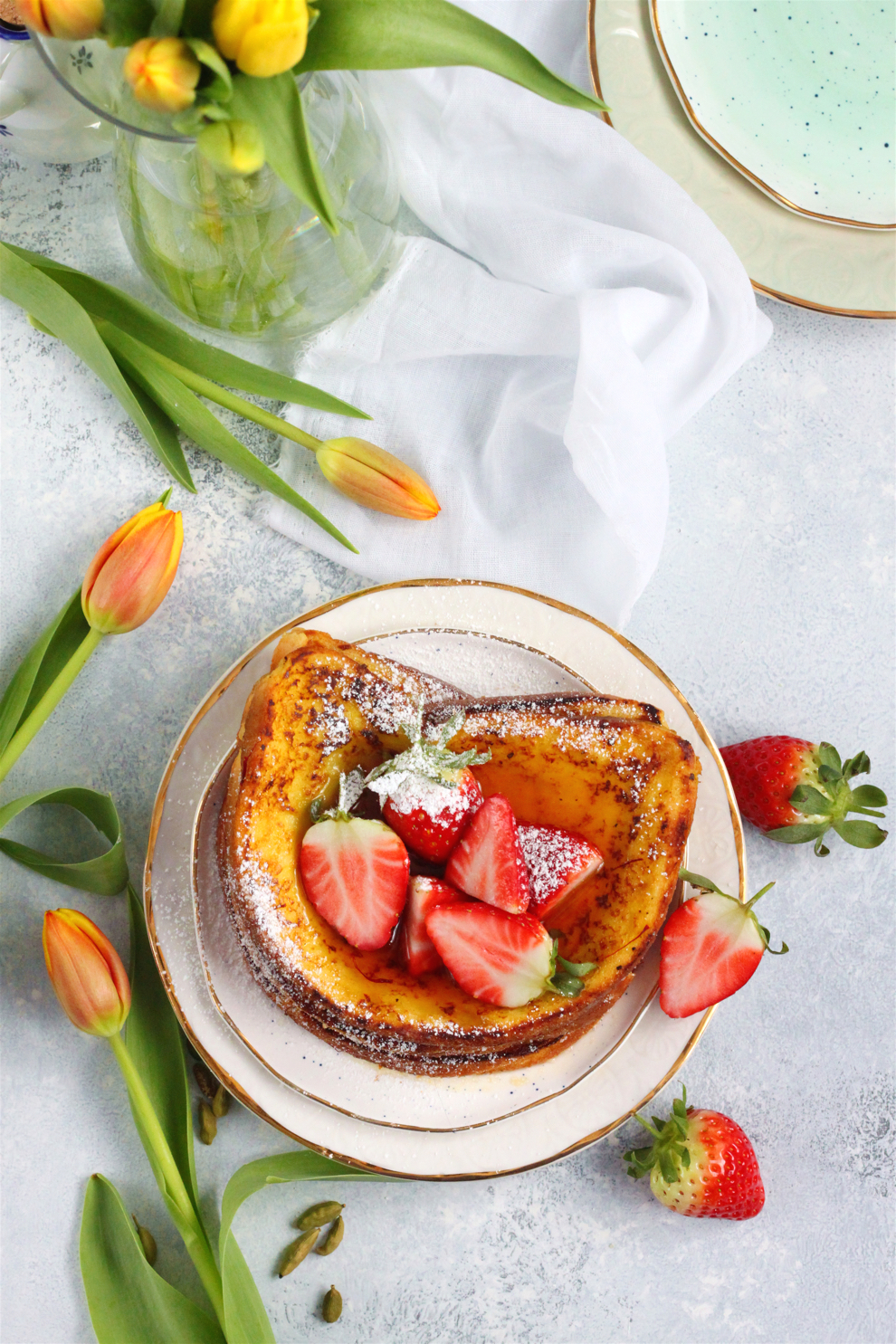 We had a cupboard like this in my family home when I was young and when I couldn't sleep, my mum would always go in there, grab a few things and make Sweet, Spiced Milk. It was just milk simmered with ground cardamom, saffron, a little bit of sugar and some shredded almonds. Simple but among my favourite memories because I can still *feel* it… if that even makes sense. A memory so vivid, I can still feel what I felt back then, still smell and taste the milk and each time, I smile the same smile.
I've used that sweet milk as inspiration for this delicious breakfast that would get me out of bed any day of the week. It's coconut milk infused with ground cardamom and saffron. A little bit of sugar is added before it's cooled and some flour is whisked in. Stale bread is our friend here because it's dunked in the spiced milk until soaked and pan-fried until golden on both sides. It's French toast without the eggs and it's so delicious! If you've ever eaten Shahi Tukra and love the sweet milk of Rasmalai, you'll like this… and this takes a fraction of the time cook. Not forgetting the deal breaker that is, YOU CAN EAT IT FOR BREAKFAST! We're all winners.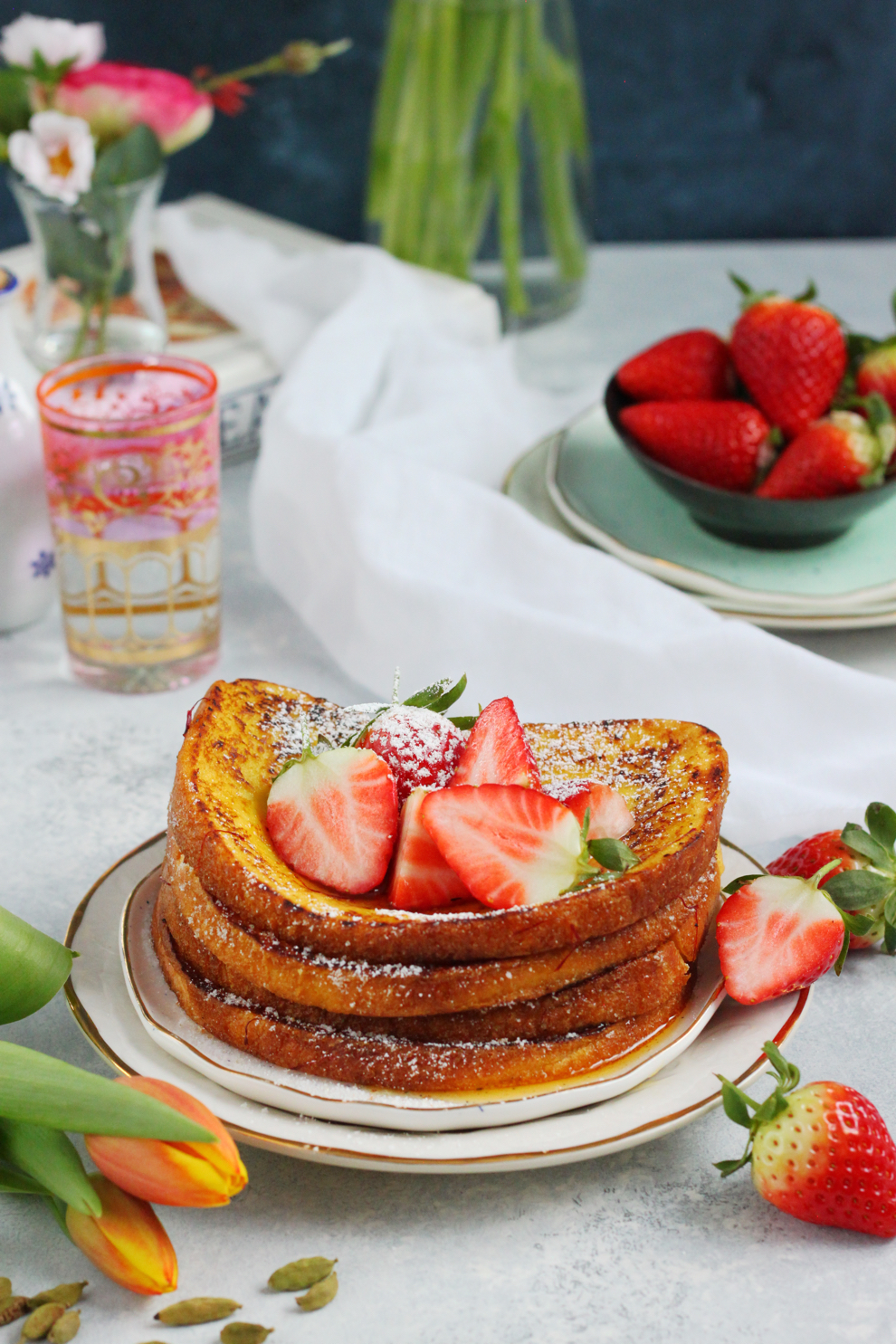 I love these topped with strawberries and maple syrup but you can add any toppings you like. Fruit is always a delicious choice but I won't tell if you scatter a few chocolate chips on top.
Vegan Cardamom and Saffron French Toast
Serves 4 (2 slices per serving)
Ingredients
400ml can coconut milk
4 cardamom pods, seeds ground
Big pinch of saffron
1 1/2 tablespoon sugar
Pinch of salt
1 tsp flour
8 slices of stale bread
Vegan butter or oil for the pan (coconut oil or sunflower oil are good options)
Toppings of your choice
I used:
Fresh strawberries
Icing sugar for dusting
Maple syrup
Method
1. Heat the coconut milk in a pan until hot but not boiling. Add the cardamom, saffron, sugar, and salt. Allow to sit until the milk cools to room temperature.
2. Whisk in the flour until there are no lumps. Pour the mixture in to a shallow tray. I used a large, wide baking dish.
3. Melt butter or heat a teaspoon full of oil in a non-stick frying pan.
4. Dunk a slice of bread in to the coconut milk mixture, both sides ensuring it soaks in a good amount. About 30-40 seconds should do the trick.
5. Place the bread in the pan and cook on both sides until golden brown. Repeat for the rest.
6. Serve with any toppings you like. I love these with strawberries and maple syrup. You could also dust with a snowstorm of icing sugar.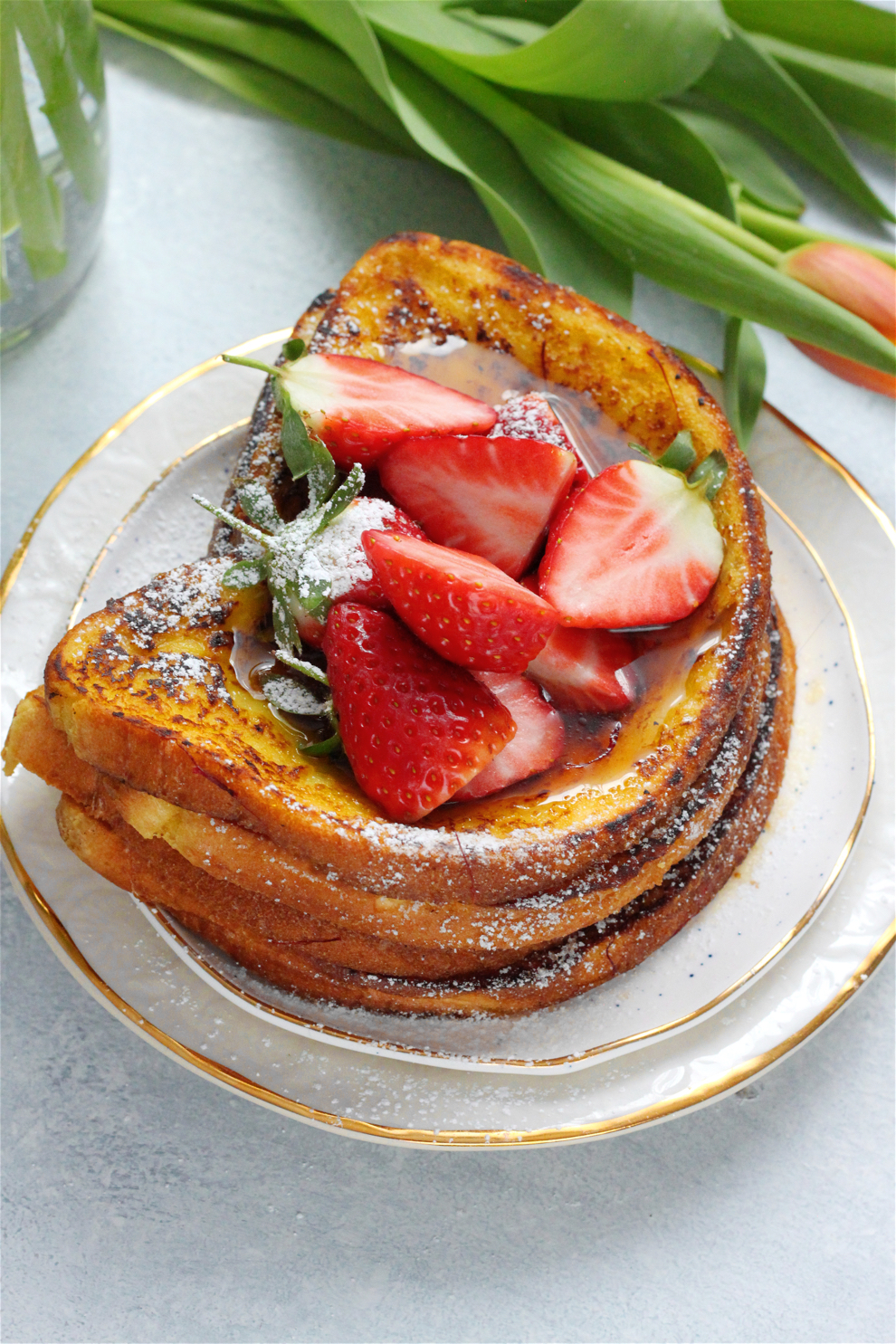 Enjoy you dessert for breakfast!
Love Sanjana