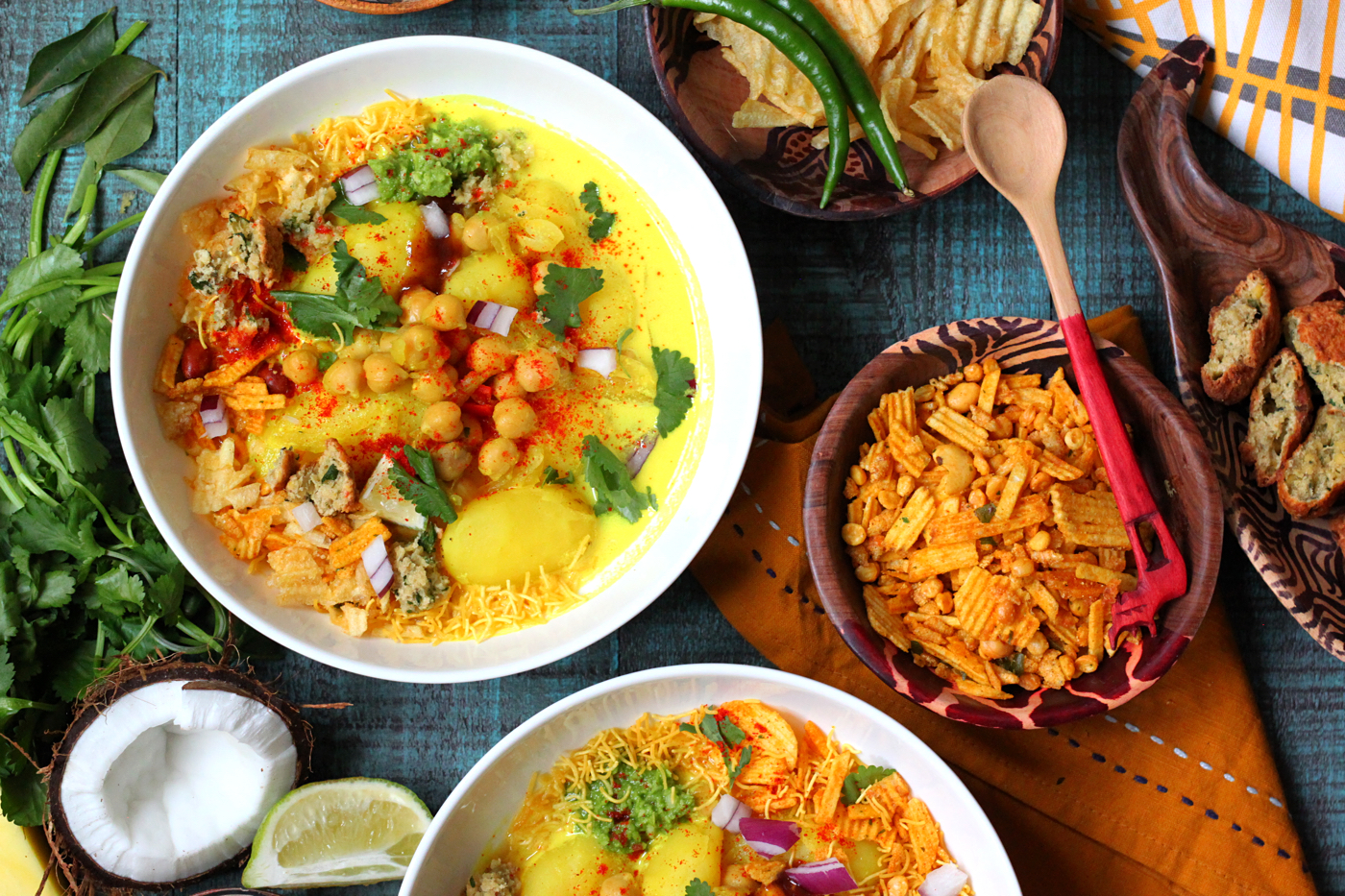 I had five new recipes lined up, ready to photograph and post but last week when I shared a photo of my dad's signature Channa Bateta, I was inundated with requests on Facebook and Instagram for the recipe. This made me super nostalgic, thinking back to the days when I'd come home from school and my dad would proudly say, "Jo, Ravi, Sanju, I've made Channa Bateta for you all." A large pot of simmering golden liquid would puff up steam that filled the kitchen and my nostrils with the aroma of fresh green chillies and turmeric. It was heaven. I'd be first in line, queuing up with my bowl to ladle in the potato and chickpea broth and subsequently hit up all the extra toppings laid out like a burger bar. The recipe here includes a range of topping options but how you customise your bowl is all down to your personal taste. I've often only topped this with coriander and crisps. If you only have the time and energy to pick one topping, choose the crisps. I promise you won't be disappointed.
Channa Bateta (or CBs as we called it as kids) was the simplest of dishes using very few ingredients, but dad would put his heart and soul into it. He's always been a well-seasoned cook and one that adds a fistful of this, a splash of that and a pinch of something else… and he makes cooking East African classics like Channa Bateta look so easy he could be doing it with his eyes shut. The son of two brilliant cooks, he acts as cool as cucumber raita about his mad skills and he nails flavour-packed East African dishes, chutneys and chaats every time. He's got "chatpata" (hot, sour and sweet) flavours down. What I owe him greatly for is his wonderful encouragement and support over the years with my cooking. I started out as a curious toddler with a taste for Doodh and Khichri (stewed rice and lentils with milk). It was my equivalent of porridge and I'd wolf it down as I watched my Mum roll rotlis, thinking I wanted to be just like her when I was big enough to reach the stove. She'd give me pieces of dough to practice rolling and I'd sit on the floor cross legged in the tiny kitchen above our shop and roll rotlis using my coveted kids chapatti set from Popat's, an Indian homeware store in Wembley. Needless to say, my rotlis totally sucked. They weren't soft round, they were chunky frisbees of play-doh which my mum would still pop on to the tawa and cook into a biscuitty puck. And it was dad who would eat them up and tell me how delicious they were. Everything I know is down to those "map-of-Britain" monstrosities that were only fit for the bin. If he hadn't have eaten them and told me they were great, I'd probably never have fallen in love with cooking and trying my absolute best in sharing that passion with others. So thank you Dad, you're the source of my motivation, determination and self belief.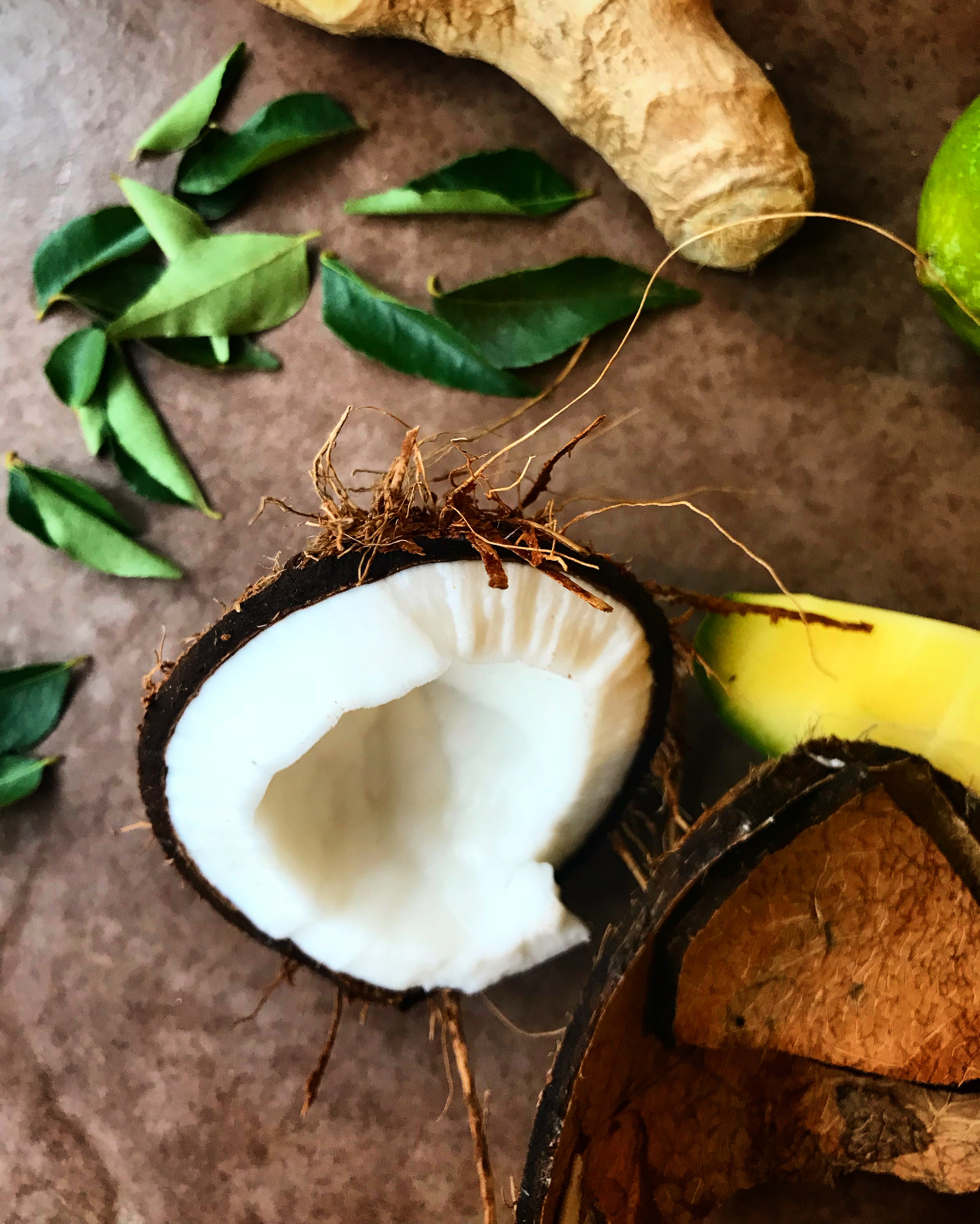 At home, if ever a bag of Seabrook Ready Salted crisps, Kenya Chevdo (a kind of potato-based trail mix) and lemon wedges were on the counter top and I instantly knew Channa Bateta was for dinner. You see, this dish is traditionally served with a crispy topping that comes in the form of said crisps, chevdo or even cassava crisps. A squeeze of lemon brings the whole thing together so what you're left with is an orchestra of tender potatoes and chickpeas, a spicy chilli-laced coconut broth, fresh and fragrant coriander, a crunchy potato chip topping and sour raw mango chutney that brings the entire thing to life. It's so balanced, filling and flavoursome… and all without trying too hard.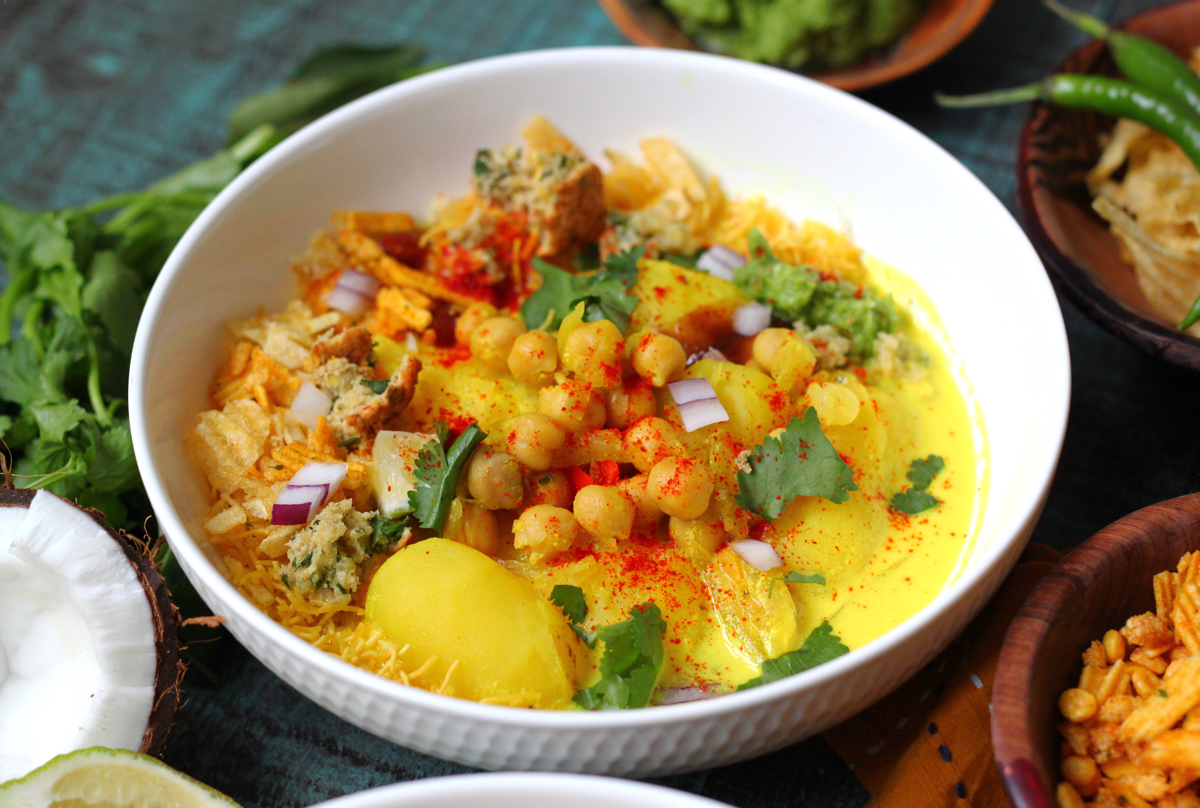 I posted a recipe for Mombasa-Style Kachri Bateta before which is a similar kind of thing but uses sour tamarind as the broth base. Channa Bateta is quicker and the heartier of the two. Filling carbs like potatoes, cassava and ugali are the essential sources of energy in East Africa. People work long hours, often have multiple jobs and of course, it's damn hot. Usually what's needed is a hearty, energy-rich bowl of stew or savoury porridge to keep bodies fuelled throughout the day.
I use tinned chickpeas because life is too short when you're just home from work and are in need of a quick-fix meal (and that's what this is). If you follow this recipe, it should take no longer than 20 minutes from start to finish. And that's not including time to do the washing up which, if you were really smart, you'd enlist a minion to do for you. You should then put your feet up and wait for this to bubble away, filling your home with the smell of the simplest Indian-African dish there ever was.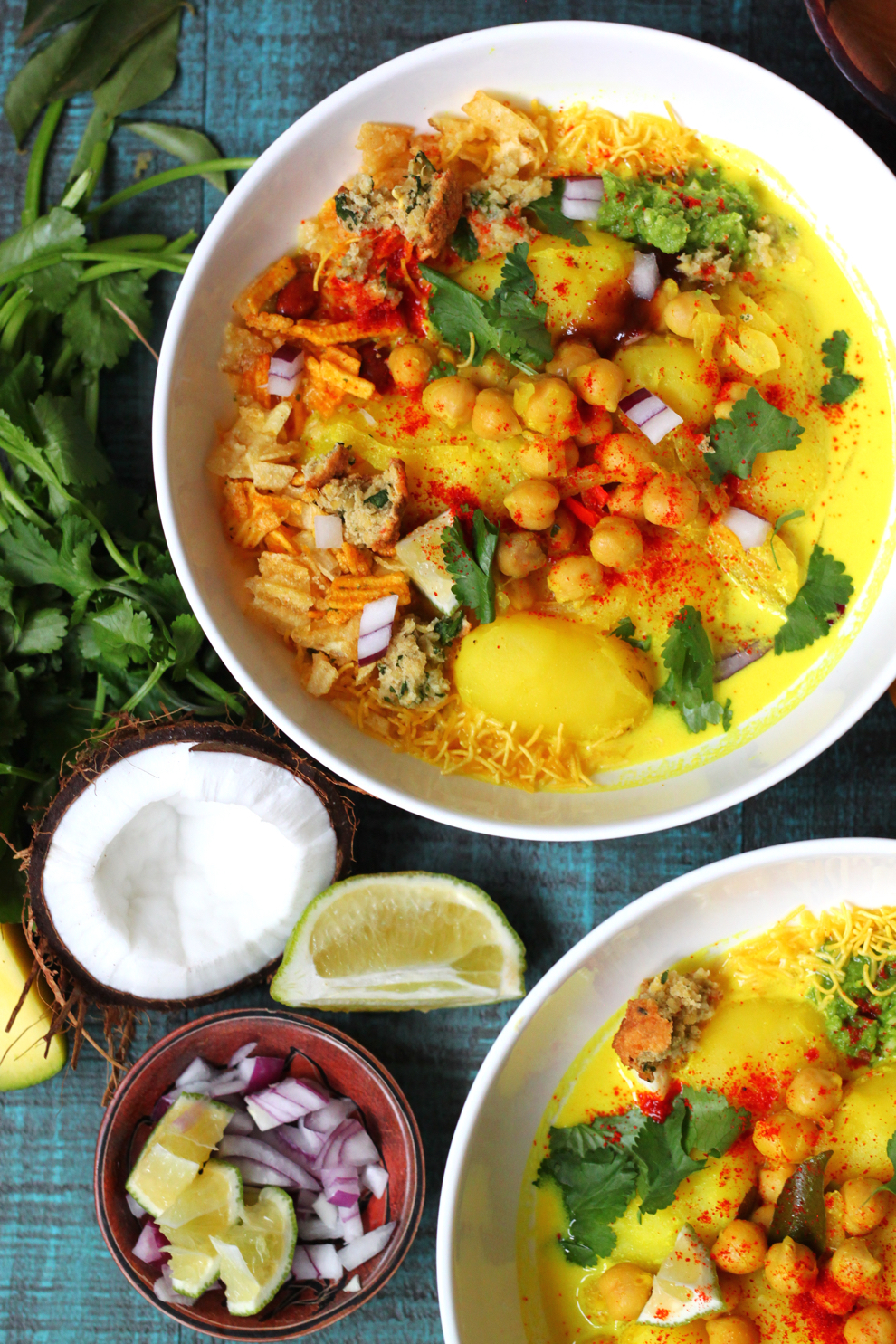 Dad's 20-Minute Channa Bateta (Kenyan Chickpeas and Potatoes in Coconut Broth)
Serves 4
Ingredients
1kg baby new potatoes, steamed and peeled
2 x 400g tins chickpeas (drained weight 480g in total)
8-10 curry leaves
400ml full-fat coconut milk
800ml hot water
2 tsp turmeric
Juice of 1 lemon
2 chillies, chopped (adjust to your taste)
1/2 raw green mango, peeled and grated
1 1/2 tsp salt
1 tsp sugar
For the Channa Bateta toppings bar
1 red onion, finely diced
2 tbsp chopped coriander
4 packs of salted crisps/potato chips, crushed (you could also use cassava chips)
4 tbsp Kenyan Chevdo and/or Jinni Sev (trail mix), optional – you can buy these in many Asian supermarkets
Green chutney, to taste (recipe below)
Tamarind chutney, optional
Daal vada, optional
Red chilli powder, optional
For the Raw Mango and Coconut Chutney
1/2 raw green mango, grated
1 whole fresh coconut, shelled, peeled and grated (the coconut water is the chef's treat)
100g fresh coriander
1 tsp salt
2 tsp sugar
Juice of 1/2 lemon
240ml cold water
Method
1. Pour the coconut milk and water into a large pan. Add the curry leaves, chopped chilli, turmeric, green mango, salt and sugar. Bring to the boil.
2. Add in the chickpeas and potatoes, along with the lemon juice.
3. Simmer on a medium/low heat for 15 minutes with the lid on.
4. Ladle into a bowl and customise with all your favourite toppings. Serve immediately.
5. To make the Raw Mango and Coconut Chutney: Blend all the ingredients in a food processor until you have a semi-coarse, bright green chutney.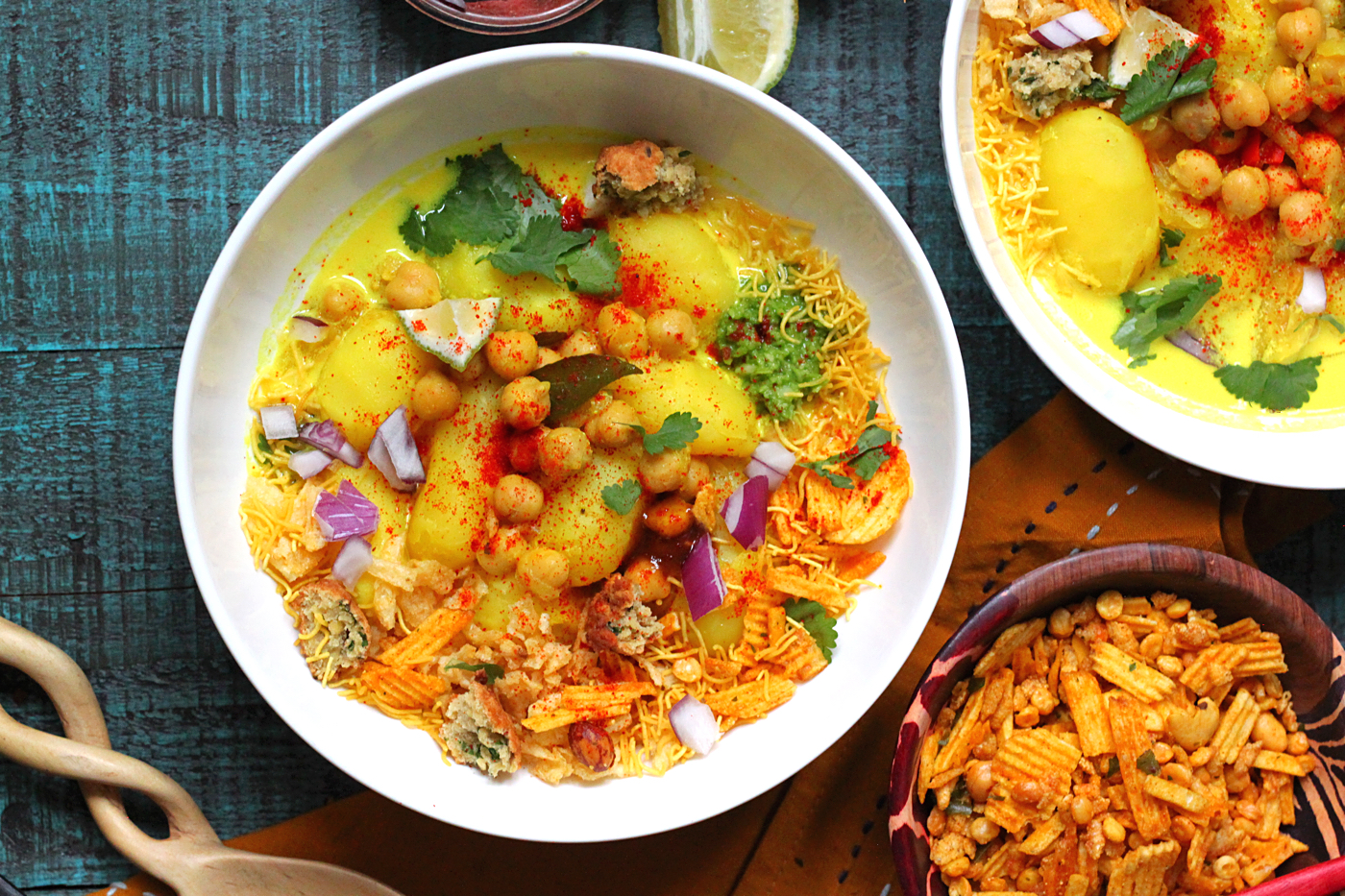 Love Sanjana