Easy Creamy Palak Paneer! I will always order Palak Paneer if it's on the menu in a restaurant. For me, a bowl of creamy spinach and cheese is mandatory. I could forgo rice and bread and quite simply eat a bowl of Palak Paneer with a spoon.
You can tell a good Indian restaurant from a bad one by the quality of their Palak Paneer.
Have they bothered to blend the sauce for a rich, luxurious finish? If it's left chunky with tomatoes, lots of turmeric and far too many spices, it might be the base for another dish on the menu, doubled up to be used for Palak Paneer too.
What is Palak Paneer / Saag Paneer?
It also shouldn't be labelled Saag Paneer on the menu. Saag Paneer is an entirely different dish made with a blend of seasonal greens. Usually it's peppery mustard greens but it can be a whole range of locally-grown leafy greens.
Saag Paneer shouldn't be confused with the milder-tasting Palak Paneer made purely with spinach.
How to make smooth and creamy Palak Paneer
It's delightful when restaurant Palak Paneer turns out to have a smooth and creamy blended spinach sauce with a bright green colour.
You can tell it's been made with care and attention. simple flavoured sauce paired with a big, bold and spicy tadka on top (but using very few ingredients).
Ginger, garlic & chilli: the big 3 Palak Paneer additions
You have to be able to taste the ginger, garlic and green chillies; they can't just be part of the background flavour. Bonus points for a little splash of cream on top to temper the heat of the green chillies.
What is Palak Paneer?
Palak Paneer is a stick-to-your-ribs North Indian treasure that was made to be a filling vegetarian option so please don't cut out the butter.
How to make vegan Palak Paneer
You can however, veganise this Palak Paneer easily by switching the paneer for pan-fried firm tofu, using a flavourless oil in place of ghee and butter and topping it off with a splash of coconut milk instead of cream.
For a true restaurant-style finish, I have some simple tips to share. These will ensure you have a smooth, bright green sauce, melt-in-the-mouth paneer chunks and a luscious tempering of garlic and chilli on top.
My tips for Easy Creamy Palak Paneer
1. Don't overcook the spinach
The trick to a super green sauce is to cook the spinach as little as possible. Just apply enough heat to wilt it at the beginning and heat the finished sauce just to warm all the ingredients through.
2. Soak the paneer in hot water (if using shop-bought paneer)
Soak the paneer in slightly-salted boiling water to soften it up and give it a bright white colour. You only need to do this if you're using shop-bought paneer. Fresh paneer will already be tender.
3. Top it with garlic tadka
I like to finish Palak Paneer off with a buttery garlic and chilli tadka (tempering). Only cook it up until the point that the garlic is blonde and crispy. Ensure the chillies are slit so that they don't burst in the oil.
4. Make the most of the spinach flavour
If there's excess water in your wilted spinach, use a slotted spoon to drain as much as you can from it before you blend the leaves.
Leave the cooking liquor in the pan and reduce it down to around 2 tbsp. This is full of flavour and goodness so you don't want to throw it away but you also don't want excess water blended into the sauce.
This will ensure you don't need to evaporate the water by simmering the finished sauce too long.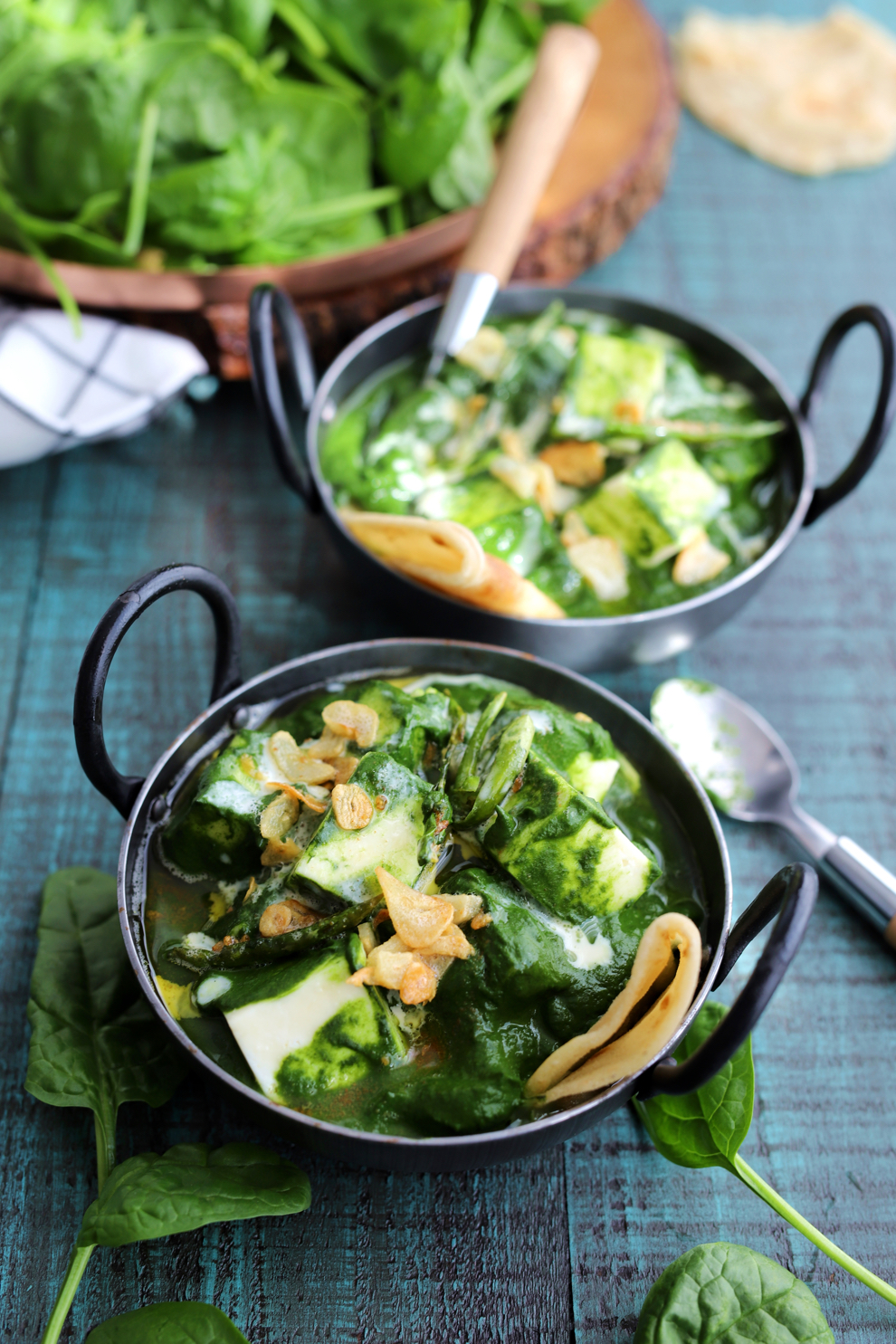 Ingredients
900

g

spinach leaves

washed and squeezed of any excess water

450

g

paneer

cubed

5

cloves

garlic

peeled and chopped

2-

inch

piece ginger

grated

2-3

green chillies

chopped

1

tbsp

melted ghee

2

tsp

cumin seeds

50

g

butter

1

tbsp

garam masala

2

tsp

salt

or to taste

2

tbsp

double cream

optional
For the crispy garlic tadka:
1

tbsp

oil

50

g

butter

2-4

green chillies

slit lengthways

3

large cloves garlic

sliced finely
Instructions
If you're using shop-bought paneer, place the cubes in a large bowl and cover with boiling water. You can add a pinch of salt to this if you like. This will soften them up and give them a beautiful white colour. Allow this to soak.

Place the ghee in a large pan and add the cumin seeds. Allow to sizzle for a moment before adding the ginger, garlic and chilli. Sauté for a minute or two before adding the spinach. Cover and allow the spinach to wilt, about 4-5 minutes. Remove from the heat and allow to cool slightly.

Transfer the spinach to a blender, along with the butter. If there's a lot of excess water in the pan (this depends on the spinach), remove as much of the spinach as you can and leave the water in the pan. Blend the spinach until totally smooth and creamy. The butter will help to emulsify the spinach and give the sauce a rich, silky finish. I use a Nutribullet to do this.

Simmer the excess water down over a medium heat until reduced to about 2 tbsp. This is full of flavour and you don't want to waste a drop.

Drain the paneer cubes of their soaking liquid.

Pour the sauce back into the pan and add the garam masala and salt. Stir to combine. Fold in the paneer pieces and simmer for 5 minutes. Remove from the heat. You want to cook this as little as possible to retain that beautiful green colour.
For the garlic and chilli tadka:
Heat the oil and butter in a small pan. Add the slit chillies and garlic slices. Sauté over a medium-low heat until lightly golden and crispy. Pour this over the Palak Paneer and garnish with the cream (optional).
Serve with paratha or naan. Or if you're anything like me, eat it straight up with a spoon.
Pin it for later!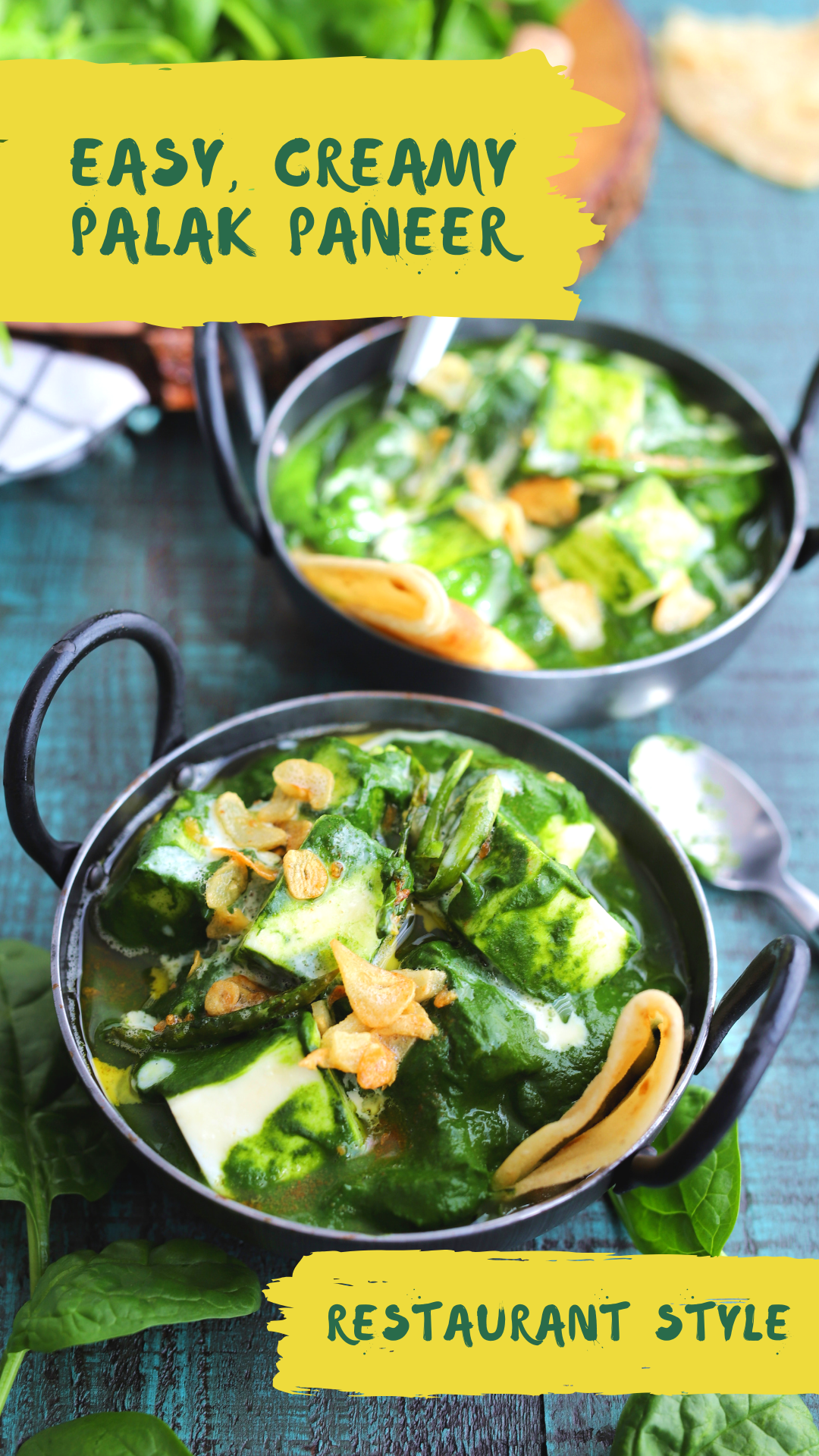 If you like this, you'll love my recipe for 30-Minute Saag Paneer
Love Sanjana