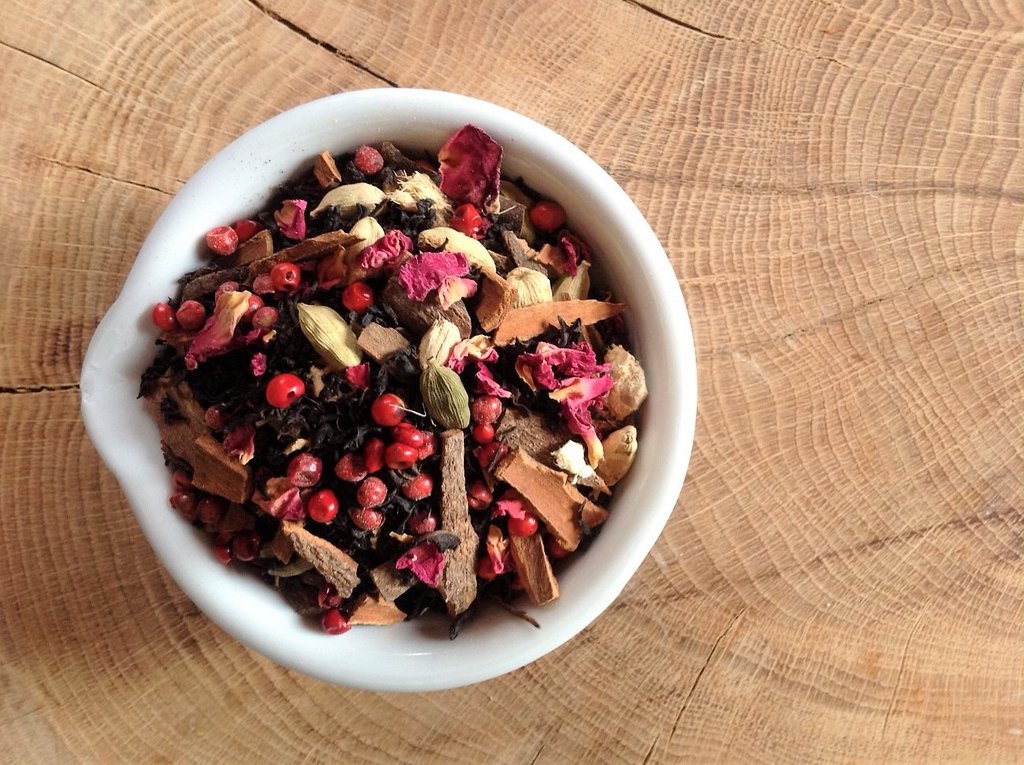 The sheer joy of unwrapping a Christmas present from someone who knows you to your very core is for me, one of the most exciting feelings ever. Give the Indian food lover in your life a gift they'll treasure this year with a little help from this guide to the ultimate vegetarian and vegan presents for spice lovers. I've handpicked some of my favourite ingredients, kitchen equipment, Indian treats and more to inspire you this festive season. Gift them to family, friends or to yourself and spread the love like melting butter on garam roti.

1. Vegan Orange Lassi Blonde Chocolate – Coco Caravan, £2.99
Nibble your way through a bar of orange chocolate inspired by India's favourite cold drink, Lassi. With notes of cardamom and coconut, this zesty slab of blonde chocolate is raw, vegan and free from refined sugar. I'll take three, please.
2. Christmas Stocking Spice Sprinkles – Cheeky Food Company, £12.00

Forget rainbow sprinkles, these aromatic superfood spice sprinkles are a must-have stocking filler for all Indian food lovers. Scatter them over the likes of cheese on toast, salads, stir-fries, scrambled tofu and whatever else takes your fancy. They come in four varieties: Pecky Peanut, Hot Chilli Hot, Silly Sesame and Nutter Coconut. There's a recipe book with lots of ideas included, too.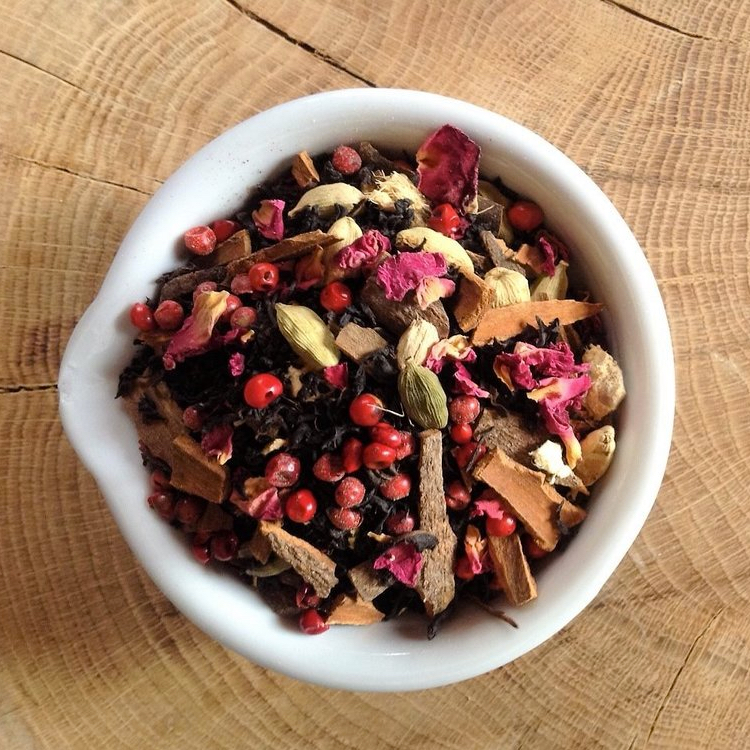 Tea lovers rejoice! This beautiful blend of black tea, rose petals, cinnamon, cardamom, pink peppercorns, ginger and vanilla is enough to make the masala chai lover in your life weak at the knees (and possibly buckle over with joy). Now put the kettle on, we're about to enjoy a sweet, floral, warming and uplifting cup.
4. Kashmiri Chilli Powder – Sous Chef, £2.95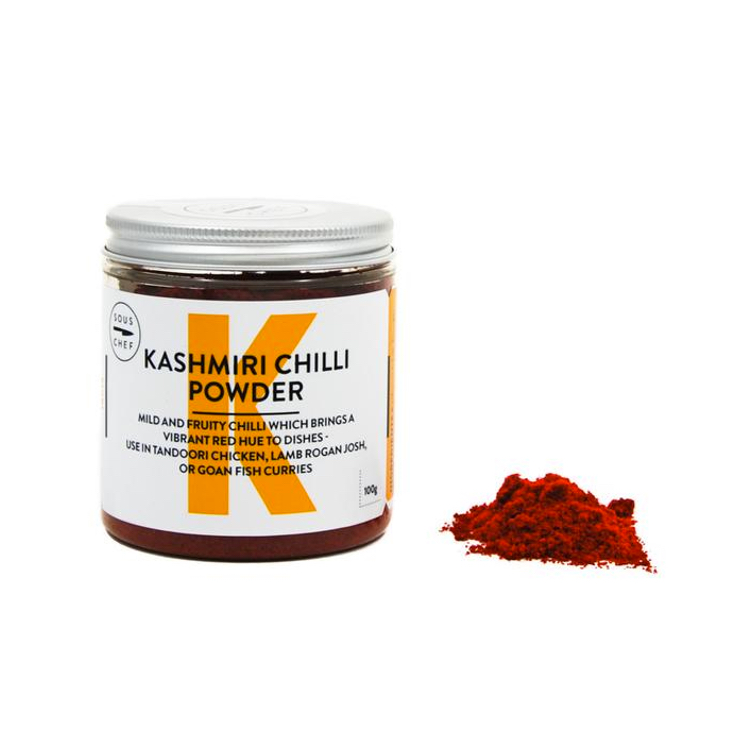 One of my favourite ingredients for curries, daals and Indian savouries is Kashmiri Chilli Powder. This magical crimson dust imparts a mellow chilli flavour with a delicate fruitiness whilst giving a dish the most wonderful colour. It's perfect for recipes like Matar Paneer and Gujarati Lasan ni Chutney.
5. Nankhatai Gift Set – Chins' Kitchen, £45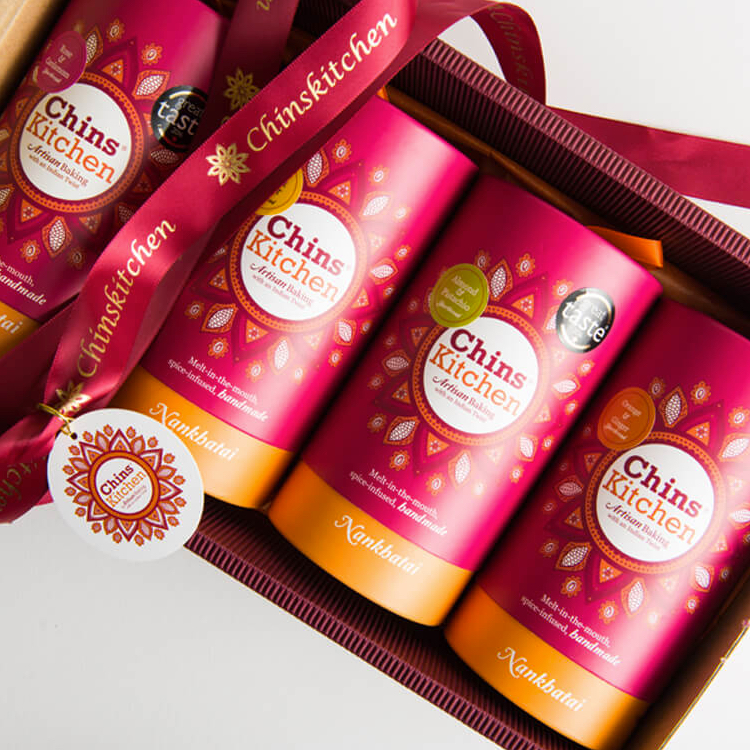 Swap your usual box of chocolates for this beautifully-packaged Nankhatai Gift Set this year. Chintal's buttery, crumbly shortbread-like Nankhatai are delightful. Each flavour is true to its name with the Rose and Cardamom box being full of sweet floral notes and the Orange and Ginger packing a zesty, gingery hit. Other flavours include Cocoa Vanilla, Cinnamon, Coconut and more. If you're feeling fancy, pop a packet of Kenyan Chai Masala into your basket to sip alongside these luxurious biscuits.
6. Aloo Paratha Print (Unframed) – Kushiya Designs, £9.45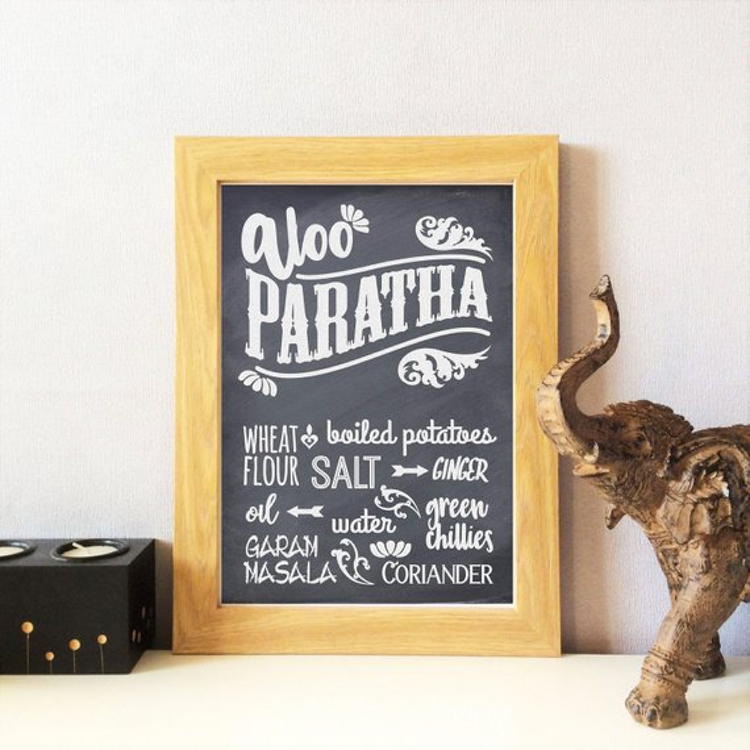 I'm currently obsessing over this quirky Aloo Paratha Chalkboard-Effect Print. The North Indian treasure of a dish is such a family staple, why not have a recipe reminder on the kitchen wall at all times? Nani would be most pleased, beta.
7. Nag Champa Handmade Soy Wax Candle – LucyFurr BrightStar, £4
Move over cinnamon and cranberries! Fill your home with the scent of magnolia and sandalwood this festive season. Run a bath and light up this candle to enjoy the fresh, woody and exotic aromas of Nag Champa. I've been using Nag Champa incense in my home for years and it's hands down one of my favourite scents (after the smell of biryani, of course!).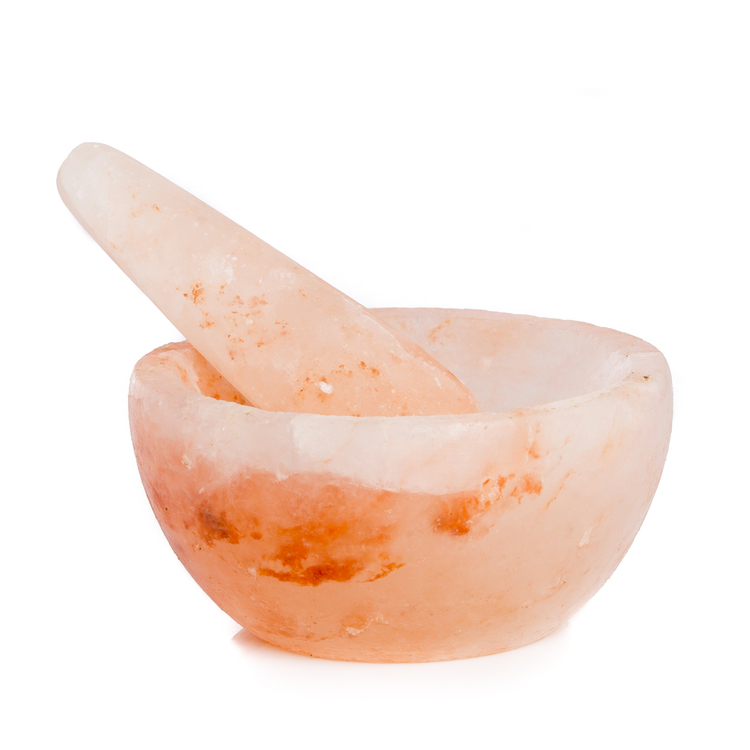 Not only is this pestle and mortar set a stunning piece of kitchenware, it also adds a hint of Himalayan Pink Salt to your freshly-ground spices and hand-pounded masala blends. Marble ain't got nothing on this blush coral beauty. Leave it as a decorative piece on the countertop and soak up the wave of "Ohhs" and "Ahhs" from guests.
9. Coconut Shell Bowl & Spoon Set – Three by One, £16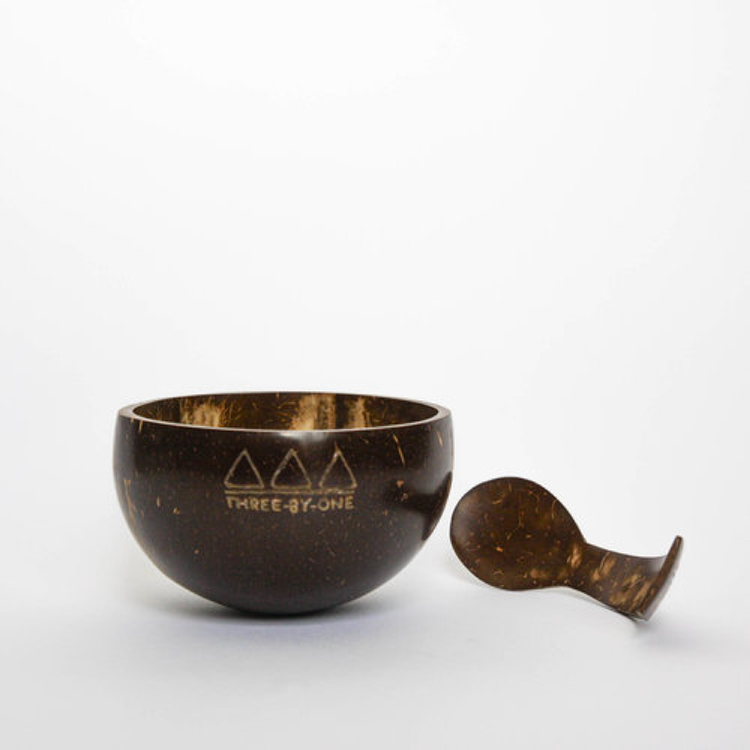 Specialists in ethically and sustainability sourced coconut products, Three by One ensure only organic coconut items are on your kitchen table. Each item is sourced from small scale farms in Sri Lanka. This unique coconut bowl and spoon set is made from leftover coconut shells destined to be burned as waste. Each one is cleaned, sanded and polished (using coconut oil) by hand. You can also buy them in sets of four.
10. Indian Spice Tin with 10 Spices – Spice Kitchen UK, £31.95
Spice tins (or masala dabhas) are a store cupboard staple for all Indian households. The beauty of having one is that all your frequently used spices are all in one place, ready to go. I don't know what I'd do without mine. This jam-packed tin will ensure your fellow spice lover is never short of masalas to sprinkle into Indian breakfasts, lunches and dinners. You can even choose to have it wrapped in pretty sari-style fabric for an elegant gift.
11. Steel Tawa – Sous Chef, £9.95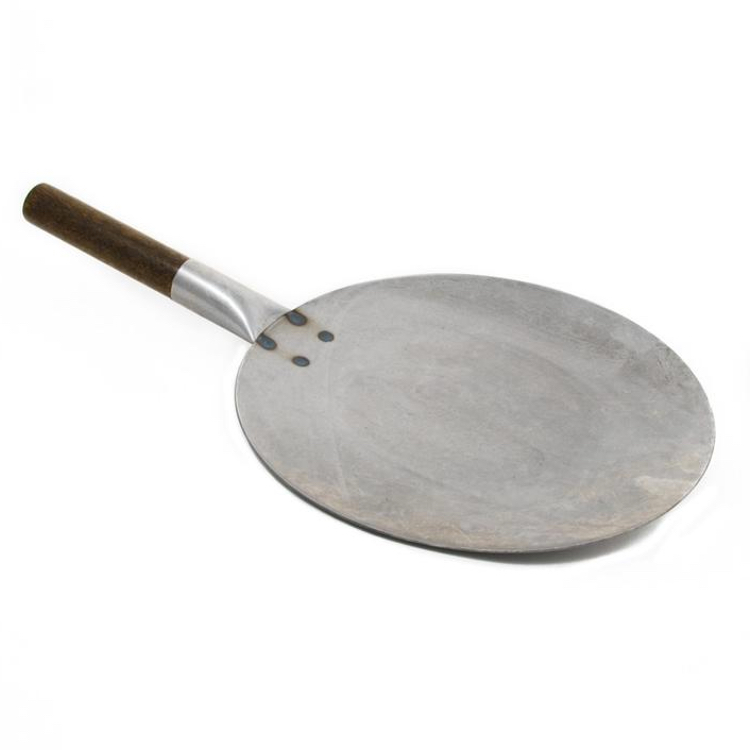 Okay, so admittedly this isn't the most beautiful gift but it's an absolute must-have if your passion is Indian breads like chapattis and parathas. You can also use them for cooking dosas and dry curries. When heated over a gas flame, the carbon steel plate imparts the most wonderful, smokey char to food. I use one almost every day when I make Homemade Chapattis – Gujarati Rotli.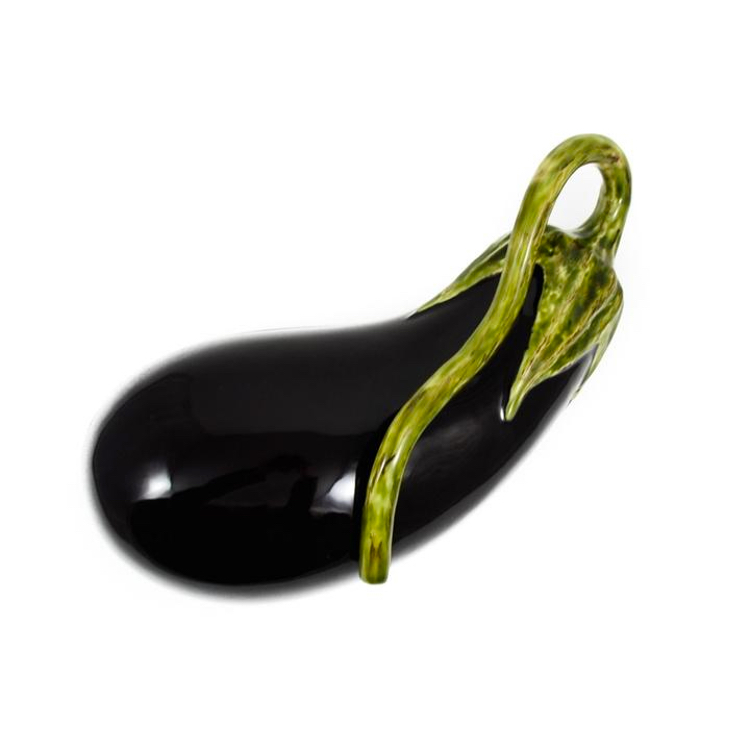 In the words of Nina Wadia in the 90s TV wonder that was Goodness Gracious Me, "All I need is a smaaall aubergine." This deep purple beauty will forever remind me of that comedy sketch. If you know an aubergine fanatic or lover of Baingan Bhartha, this Portuguese-made ceramic aubergine dish is the gift for them.
13. Non-Stick Appam/Paniyaram Pan – Popat Stores, £11.99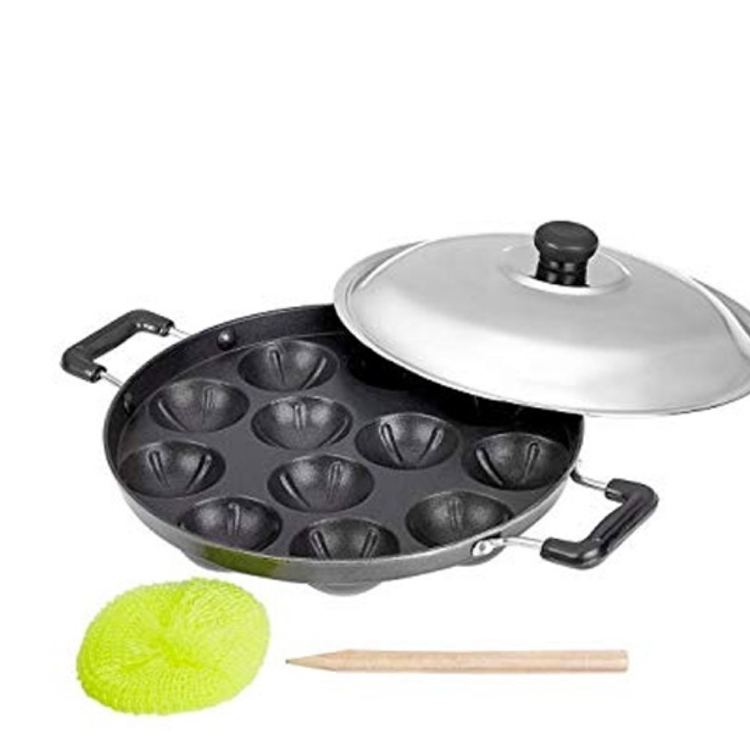 This clever little pan is great for making all kinds of things, both Indian and beyond. Traditionally it's used to cook South Indian Paniyaram, a rice flour breakfast dish often made with leftover fermented dosa batter but you can use it for so much more. Prepare Vitumbua – Tanzanian Breakfast Doughnuts or Æbleskiver (Danish Pancake Puffs) in this too.

14. Little Doodh Kids' Lightweight Hoodie – The Playful Indian, £14.99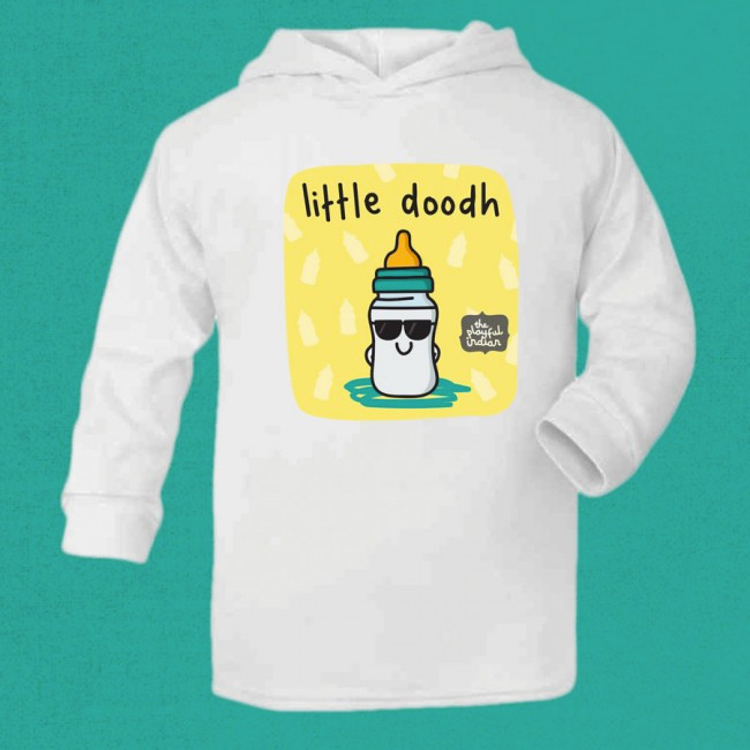 Keep little ones snug this festive season with this adorable hoodie. It has a super-soft feel and colourful illustration featuring a bottle of milk ("doodh" is the Hindi word for "milk"). Quite frankly that little pint of doodh looks cooler than Bollywood royalty, Amitabh Bachan in the 1978 version of Don.
15. Samosa N' Chutney Socks – Halal Socks, £9.99
Many of you are familiar with my love of samosas. Fill them, fry them and serve them with a chilli-laced chutney and I'll be like putty in your hands. Know someone who feels the same way about these pastry-wrapped pyramids of happiness? Buy them these socks.
16. Indian Cookery Masterclass Vouchers – The Spice Club, from £69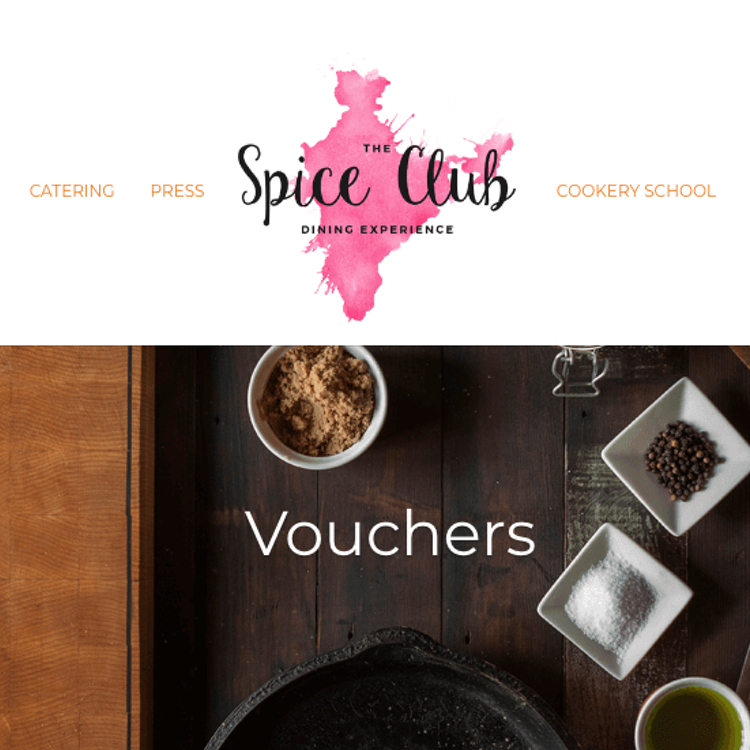 Give the gift of learning this Christmas with vouchers for an Indian cookery masterclass at The Spice Club. Based in Manchester and Birmingham, these cookery school classes are run by the ultra-talented Monica and her mum, Anita. Each dish is designed with passion and cooked with love. Think it's time to learn how to cook regional Indian dishes from the masters? Grab your vouchers now.
17. Six-Course Vegan Tasting Menu – Indian Accent London, £80
Indulge in inventive vegan Indian food at London's Indian Accent restaurant. With dishes like Jerusalem Artichoke Tikki Chaat and Spice Pear Tatin, Chef Manish Mehrotra reinterprets nostalgic Indian dishes with an openness towards global techniques and influences.
Pin it for later!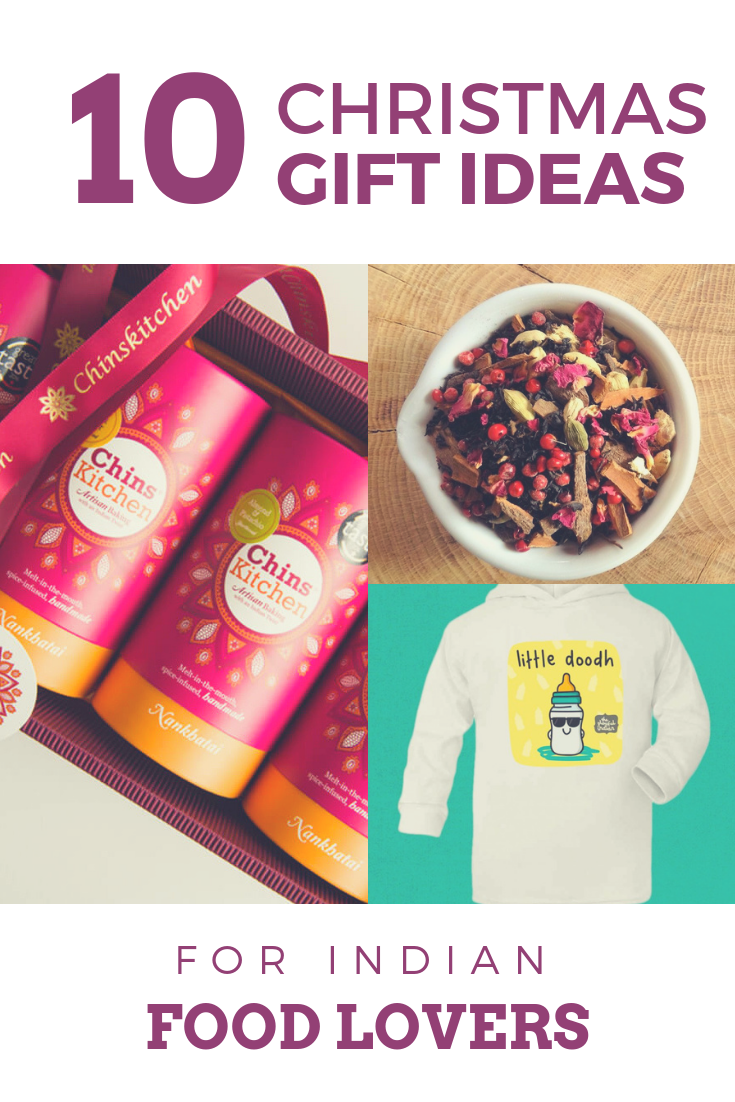 Love Sanjana