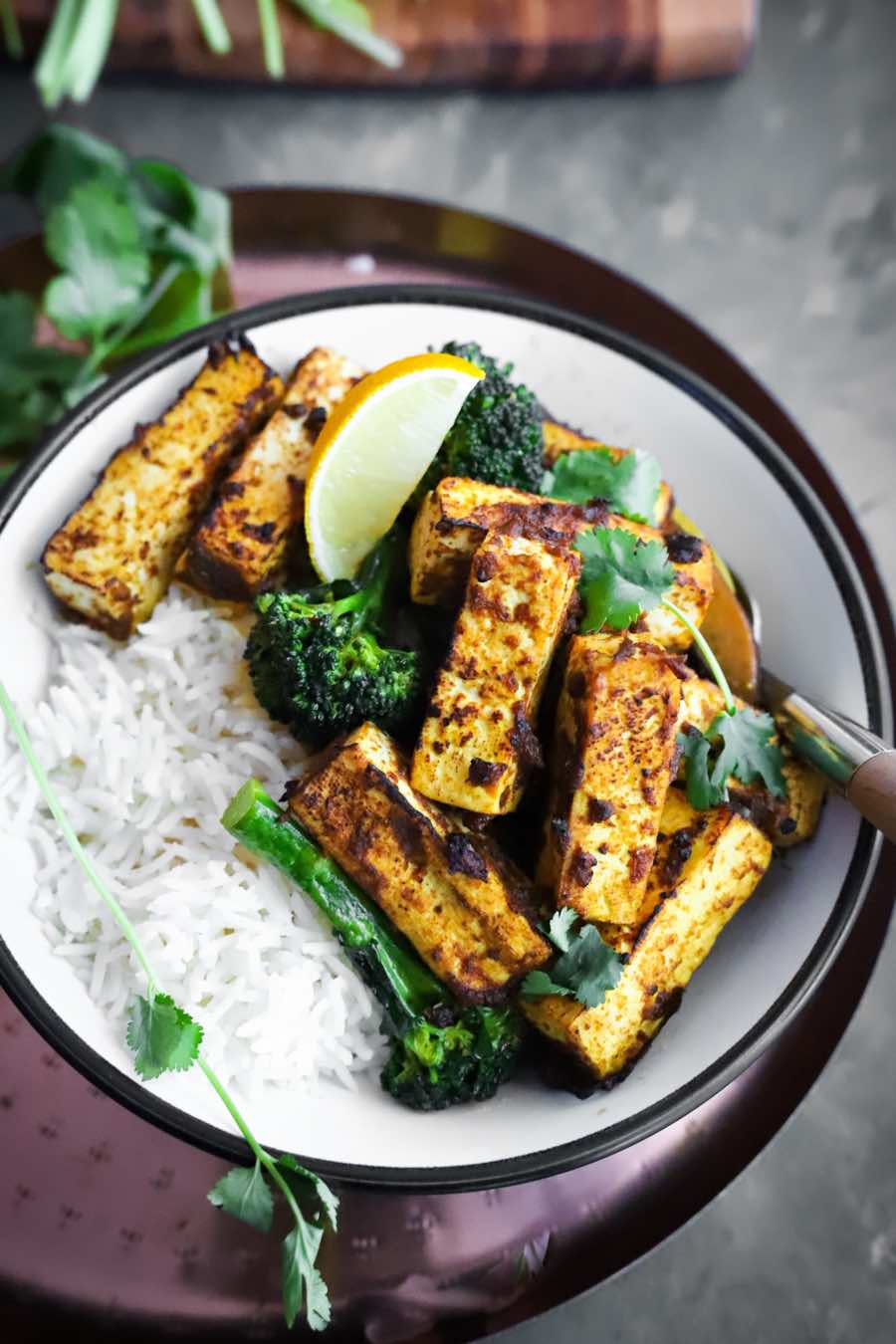 Easy Rendang Tofu & Broccoli Bowls are one of my favourite dinners! Did you know that an aromatic rending curry paste can be blitzed together in a matter of minutes? Throw everything into a blender and create a beautifully-fragrant curry paste. It brightens up anything from tofu and seitan, to veggies, rice and noodles.
Now that's what I look for in a delicious, comforting dinner. I mean, have you seen the Vegan Broth with Tofu Skin & Noodles I posted recently? It's LOADED with flavour.
Rendang is a fiery and richly-spiced Malaysian and Indonesian curry. Simmer it low and slow until the flavours come to life. As a result, it's packed with flavour! My version brings all the flavours I love about rendang such as sweet lime leaves, citrusy lemongrass and sour tamarind pulp together in a quick-fix marinade.

Cook all the spices and then whiz it up in a blender to save time. Let me tell you now, this marinade smells HEAVENLY! The tofu and broccoli get to bathe in the warm spice paste for a while before crisping up under the grill. You can also roast it in the oven but I love the smoky barbecue-style finish you get from grilling.
Tips for customising these Easy Rendang Tofu & Broccoli Bowls
MORE IDEAS: Transform this crispy tofu bowl into a luxurious and creamy curry by adding the cooked tofu and broccoli to a pan and pouring in a 400ml tin coconut milk + 250ml water. Bring to a boil and simmer for 5 minutes and serve.
Swap broccoli for sweet potato, cauliflower, French beans or even okra if you have those to hand. This is a great recipe for using up leftover veggies so go for a mix of veg if you like.
Serve with plain white rice (I like to use Jasmine rice for this) for a neutral filler to temper the heat of the curry paste.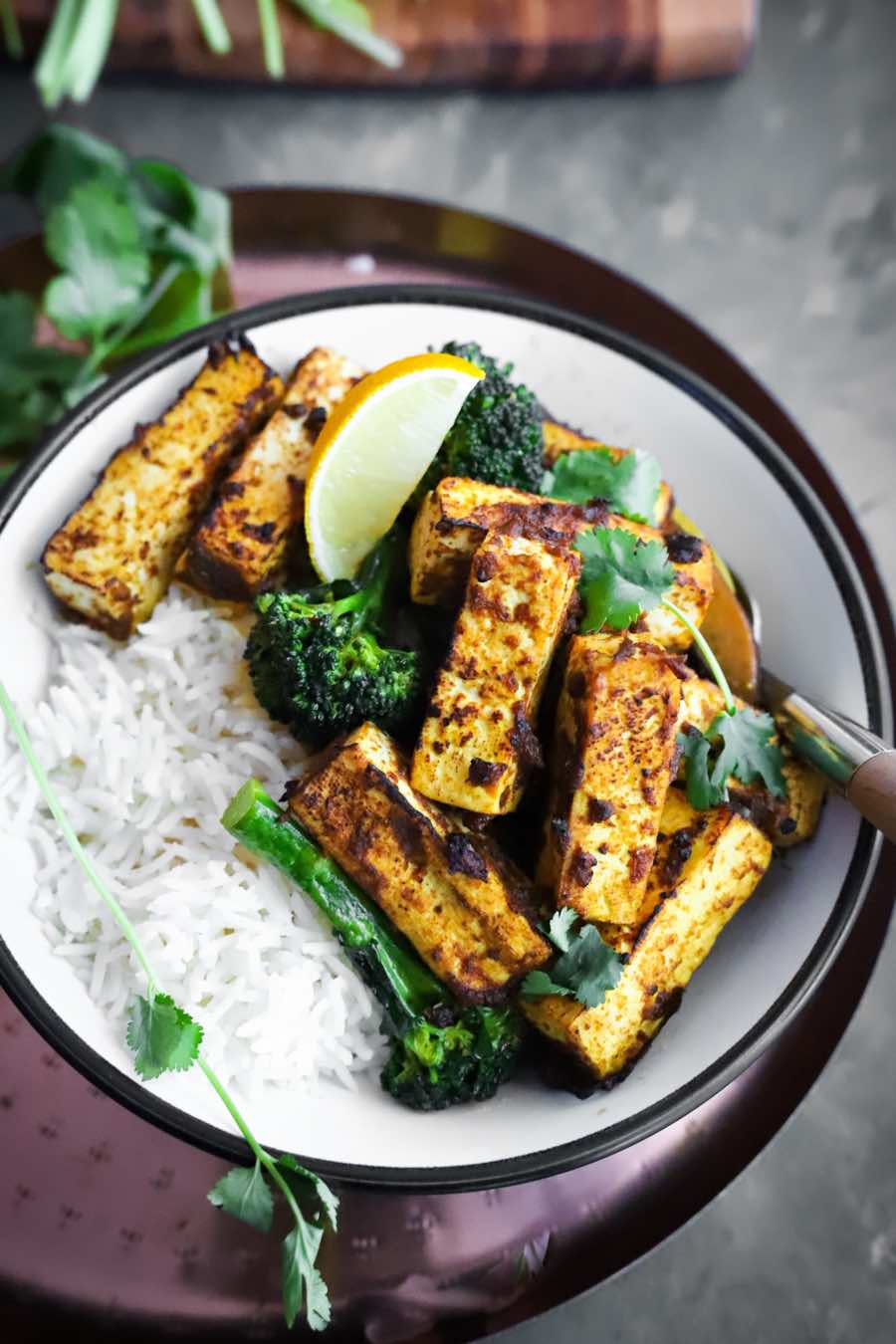 Ingredients
400

g

firm tofu

250

g

broccoli florets

blanched

2

shallots

peeled and chopped

4

cloves

garlic

peeled and chopped

1-

inch

ginger or galangal

peeled and grated

3

hot red chillies

chopped

1-

inch

piece cinnamon

2

tbsp

toasted coconut

fresh or desiccated

2

cloves

1

star anise

2

cardamom pods

1

stick lemongrass

bruised

6

kaffir lime leaves

2

tbsp

tamarind pulp

2

tbsp

oil

1

tbsp

dark brown sugar

1

tsp

salt

Boiled or steamed Jasmine rice

to serve
Instructions
Press the tofu between absorbent kitchen paper and weigh it down with something heavy for 30 minutes. I find a few tins of beans do the trick.

Heat the oil in a pan. Add the shallots, garlic, ginger and chillies. Sauté for 30 seconds. Next, add the all the remaining ingredients and cook on a low heat for 10 minutes.

Transfer to a blender and grind to a smooth paste.

Slice the tofu into batons or cubes.

Gently toss the tofu and broccoli in the spice paste and allow to marinate for 30 minutes or longer (you can keep it covered in the fridge for up to 2 days).

Arrange the tofu and broccoli on a roasting tray and grill until crispy and a little charred. Turn them over and repeat for the other side.

Serve with steamed or boiled rice and chopped coriander.
Sanjana's Notes
Marinate the tofu for at least 30 minutes, or longer if you have the time. Keep it marinating in the fridge for up to 2 days or alternatively, place into an air-tight container and freeze the tofu in the marinade for 3 months. Defrost at room temperature before cooking as per instructions above.