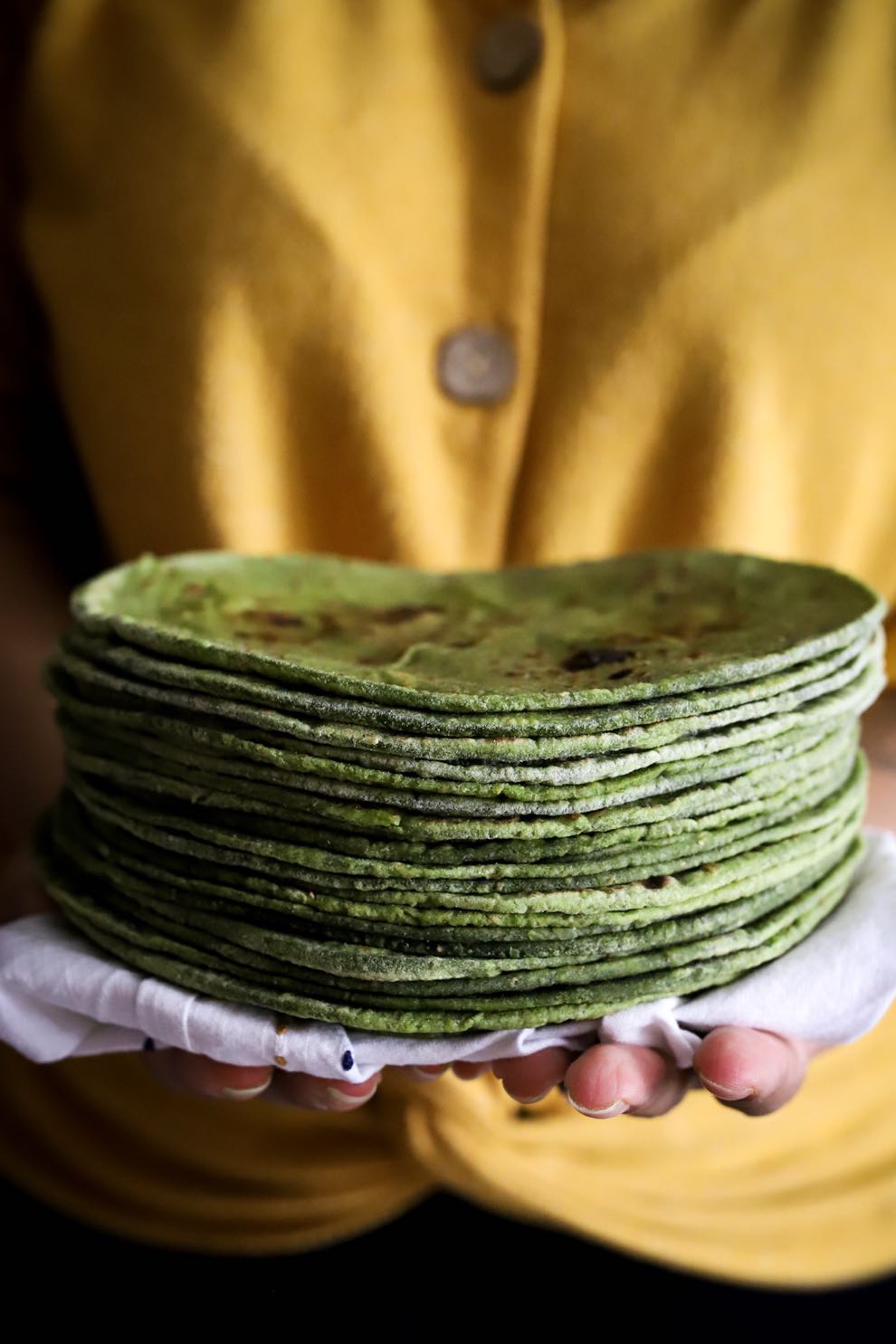 Can you believe the dough for my Soft Spinach Roti (chapati) is enriched with a whole bag of spinach? Popeye would be proud! Pack a healthy portion of leafy greens into your meal with this easy recipe the whole family will love.
Every bit of colour in these Soft Spinach Roti (chapati) comes from the fresh spinach leaves, so there's not a drop of food colour in sight. Serve them hot from the pan as they are, or slather them with butter.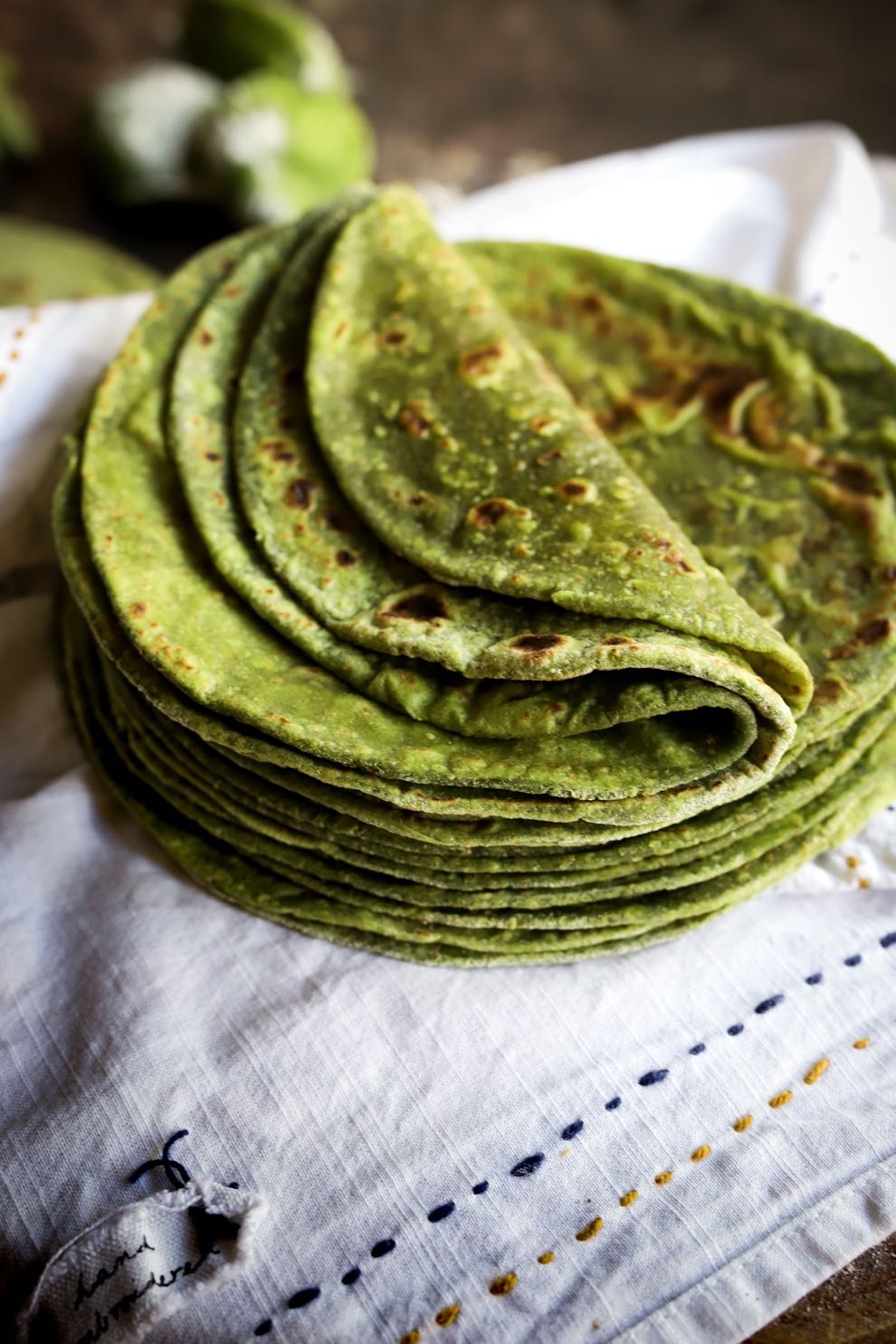 Fold them in half, roll into cigars or use them as wraps. Either way, they're perfect with spicy curries or your favourite sandwich fillings. I like my chapatis small and soft, not big, chewy and dry like tandoori rotis. This is because I grew up in a Gujarati home. Gujaratis adore tender, melt-in-the mouth chapatis. Our way of making chapatis (we call them rotli) is different to how they're made in other parts of India. If you prefer tandoori-style rotis, reduce the amount of oil in the recipe by half and use warm water instead of hot water to bind the dough.
Roll the Soft Spinach Roti a little bigger and cook as per the recipe below for chewier, restaurant-style rotis.
What are chapatis?
Softer and smaller than your average Punjabi or Pakistani chapatis (commonly known as Roti), these Gujarati-style spinach chapatis have oil in the dough. They are also cooked on a super-hot steel or iron tawa (pan), leaving them delicious and toasty. I don't cook my chapatis over an open flame because they're so soft, they'd just break. However, many people do choose to cook their chapatis this way. They still puff up like hot air balloons as they cook, don't worry.
If you're planning on cooking rotis over an open flame, pop a trivet or wire rack over the flame for stability first. Only cook the roti over the open flame upon the third flip (the first two turns should still be on the tawa). Use tongs to remove it from the flame and be very careful of the hot steam inside the rotis.
How to make great chapatis
The gold standard for me has to be a round roti that's double layered from rising that happens during cooking. If your chapati has been rolled evenly, it will puff up upon the third flip on the tawa (or over the open flame). This is important because chapatis are inherently an unleavened bread so the rising all comes from the rolling technique. It's certainly an art. The surface of the roti should be leopard-spotted and the texture soft.
How do I make my rotis rise?
Make sure the dough is soft and smooth. I use a combination of oil and hot water for my dough. This allows for easier rolling. My mother showed me an amazing trick to create a double layer. It's done by rolling a piece of dough to a couple of inches in diameter, sprinkling over some flour and then pinching to close before rolling the roti. The roti rises perfectly because of the pocket created by the flour and folding. Find the full instructions in the recipe below.
How do I roll round rotis?
Round chapatis were something I was utterly fascinated by as a child. The first thing I ever 'cooked' were raggedy, uneven rotlis using my mini rotli-making set my masi bought me when I was five. I'd peer over our cooker wide-eyed at the hot air balloon show my mum told me was happening. The suspense that built up as they rose from flatbreads to footballs was inexplicably exciting for a little girl obsessed with eating. I would roll out the same piece of dough over and over again and by the end of it, my poor dad would have to eat the splat-shaped biscuit thing I had presented him with such pride. He'd tell me it was delicious that and I was getting better and better.
Thanks Dad.
My point is that practice makes perfect so start off with a simple recipe that yields a soft dough like the one I'm sharing below. Use extra flour to dust your board enough so that the dough doesn't stick but not so much that the surface becomes chalky. Roll and spin if you can. But if not, roll and turn the roti dough 90•degrees before rolling again. After six or seven turns you'll have something round-ish. Strive for an even surface. The perfect round shape will come with practice.
What's the best pan for making rotis?
A traditional Indian tawa made from steel or iron are the best pans for making rotis. Non-stick frying pans aren't ideal because they don't get hot enough. A non-stick pan will still work, but the smoky flavour won't be as pronounced (I think this is the key to good chapatis). Get a tawa from your nearest Indian cookware store. Larger Indian grocery stores may also stock them. You could also buy one online. What's the best flour for making rotis? Wholewheat chapati flour, also known as "atta". It's pale brown in colour and slightly gritty in texture, depending on how finely milled you like it. Most brands offer 2-3 different mills ranging from fine white to medium and brown. You can even buy newer styles such as multigrain and gluten-free chapati atta in the shops now.
How to make delicious Soft Spinach Roti (chapati)
Step 1
First, make the dough using chapati flour, oil and hot water. I add the blended spinach to the dough in my recipe here but you can also omit for plain rotis. Stir with a spoon and when cool enough to handle, knead the dough until soft and smooth, about 5 minutes.
Step 2
Portion the dough into small balls and cover with a damp tea towel. Heat up the tawa for a good 5 minutes. Roll the dough on a clean work surface or chapati board (chakli/patlo).
Step 3
Use some extra chapati flour to stop it from sticking. First roll to a few inches in diameter, sprinkle the dough with a pinch of flour, spread and then pinch the dough to close. Press with your palm to flatten and seal.
Step 4
Turn the dough over so it's seal-side down and roll the roti to 17cm (7-inches) in diameter. Dust off any excess flour and slap the roti on to the hit tawa. As soon as small bubbles appear on the surface, flip it using a metal spatula (tavitho).
Step 5
Cook on the other side for 30 seconds until it looks evenly leopard spotted. Flip again.
Step 6
You can transfer to a trivet over an open flame at this point if you like or continue cooking it on the tawa. I cook the chapati on the tawa the whole time because it's easier and just as delicious. This third side is the rising side. Cook for 20 seconds or so.
Step 7
Don't worry if it doesn't rise the first few times. It will come with practice. Once patchy charred marks appear, the roti is done.
Step 8
Remove from the tawa and stack with the dark patchy side (from the third rise) facing upwards. Spread with butter if you like.
Step 9
Repeat for the remaining dough balls.
How to serve Soft Spinach Roti (Chapati)
Serve the Soft Spinach Roti (chapati) with your favourite curry. You could also use them as wraps and fill with your favourite sandwich fillings. I love them filled with succulent tandoori paneer pieces.
For plain chapatis, try my Gujarati Rotli recipe.
How do I store Soft Spinach Roti (chapati)?
I avoid refrigeration when it comes to rotis, it dries them out and they go stale pretty quickly. Keep them in an airtight container at room temperature and eat within 24 hours. Alternatively, you can freeze them well wrapped in an airtight container with pieces of baking parchment between each roti. Defrost at room temperature and reheat on a hot tawa.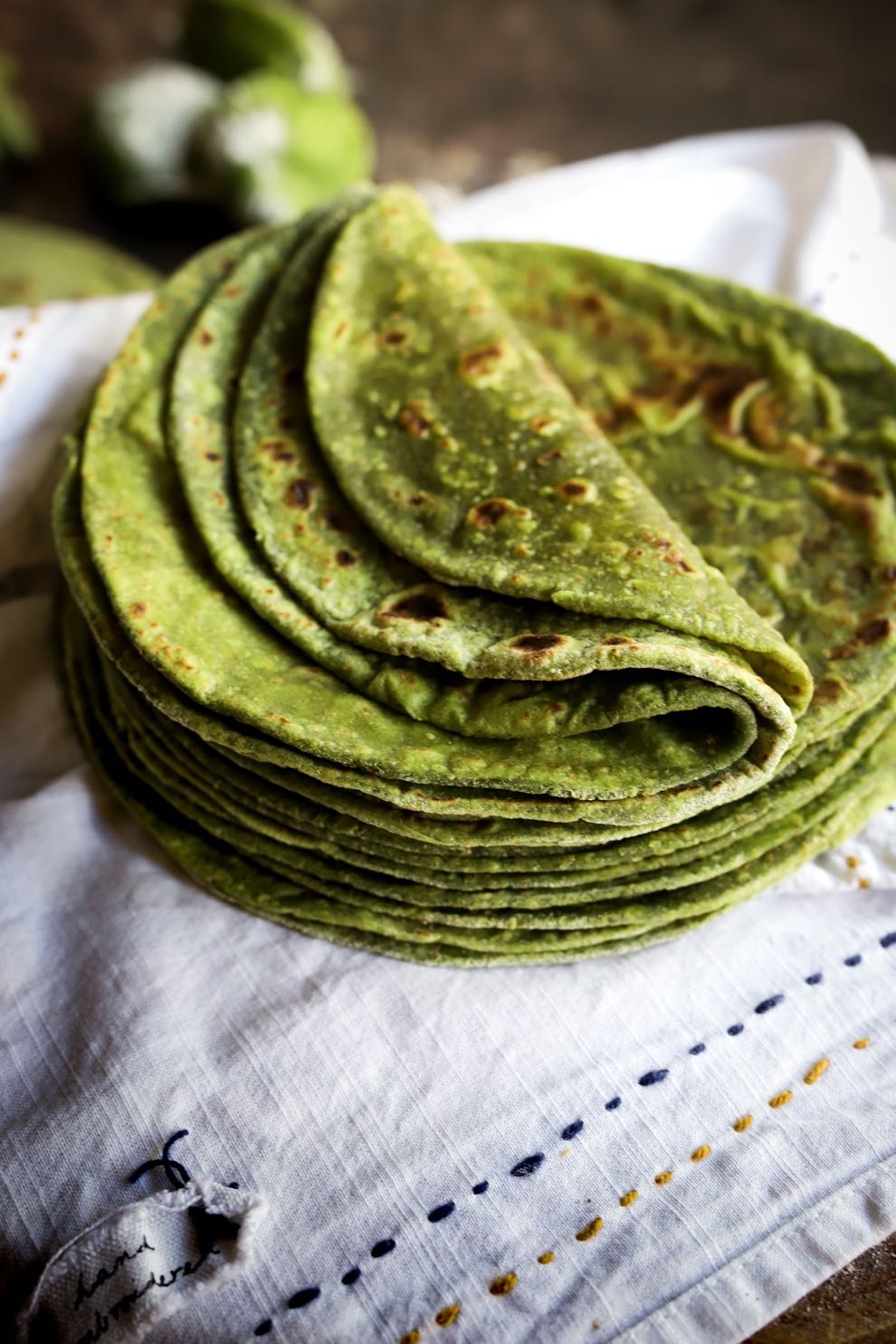 Equipment
Steel or iron tawa

Rolling pin

Clean work surface or chapati board

Metal spatula (tavitho)

Blender
Ingredients
500

g

chapatti flour

plus more for rolling

260

g

spinach leaves

washed

80

ml

sunflower oil

260

ml

water
Instructions
Place the water in a large saucepan and bring to the boil. Add the spinach and cook uncovered for 4-5 minutes until wilted. Allow to cool to hot but not boiling.

Transfer the spinach to a blender and purée until smooth. Open carefully to allow steam to escape.

Add the flour to a large bowl and make a well in the middle.

Pour the oil into the well and top up with the blended spinach water.

Use a spoon to mix the dough. Use your hands to bring the dough together until shaggy. Knead for 5 minutes until the dough is smooth and soft.

Make small golf ball-sized pieces with the dough. Keep some flour on a plate for rolling.

Line another plate with kitchen paper and keep some butter handy.

Place the tawa (steel or irohot plate or a frying pan on a medium heat. Leave it for 5 minutes so it's very hot.

Get your rolling board and rolling pin ready. Keep a wet sponge under the board so it doesn't move.

To start rolling, take a piece of dough and roll it between your palms, flattening it slightly. Dip each side in flour.

Roll it once up and down with the rolling pin and then take a pinch of flour. Place it in the middle of the dough and then use your index fingers and thumb to pinch it closed, starting from the outer edges. This step isn't something everyone traditionally does but is what my mum taught me for soft rotli that rise.

Next, flatten the dough using your palm and again, dip each side in flour. Now, begin rolling the dough in a circular motion, teasing the dough to move around with your rolling. If you can't do this, pick the roti up with one hand and move it around yourself. The aim is to create a perfectly round, even surface and a flatbread that's around 2mm in thickness and 6-7-inches in diameter.

Place the roti on the cast iron hotplate and cook until little bubbles appear on the surface – around 10 seconds. Flip it.

Cook it on the second side until small, even brown spots appear all over the bottom of the rotli – around 30 seconds. Flip it.

Now, this is the rising side. Don't worry if your rotis don't rise the first few times you try it. It comes with practice. They'll still taste delicious. Cook until darker, less evenly-spread patches appear on the bottom. Around 15-20 seconds. Flip it and place it this side up on your kitchen paper-lined plate. Butter it.

Repeat this process for all of your roti until you have a beautiful, buttery stack.
Sanjana's Notes
I avoid refrigeration when it comes to rotis, it dries them out and they go stale pretty quickly. Keep them in an airtight container at room temperature and eat within 24 hours.
Alternatively, you can freeze them well wrapped in an airtight container with pieces of baking parchment between each roti. Defrost at room temperature and reheat on a hot tawa.
Pin This Soft Spinach Roti (Chapati) Recipe for Later!
Did you make this recipe?
Follow me on social media to tell me how you liked this recipe + get extra recipes!
Instagram – https://www.instagram.com/sanjana.feasts
Facebook- https://www.facebook.com/sanjanafeasts

Join my exclusive private Facebook group to get lots of recipe tips and to talk about all things Asian vegetarian food https://www.facebook.com/groups/2625129724379123/
Love Sanjana