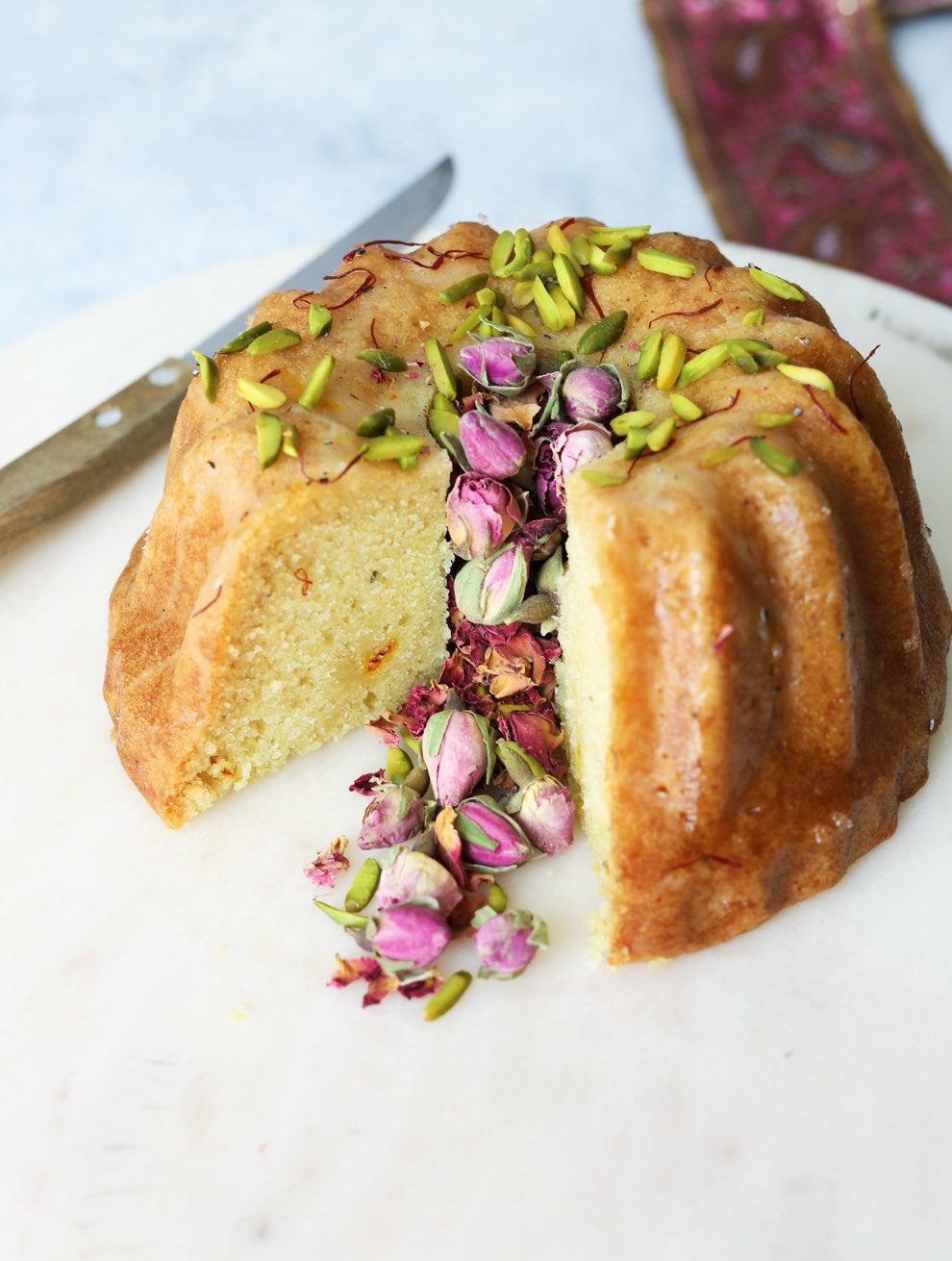 Say hello to EGGLESS GULAB JAMUN CAKE! Majestic, isn't she? Inspired by arguably one of the best Indian sweets of all time, this super moist saffron and cardamom cake is finished with a liberal lick of rosewater syrup.
I think this cake is my spirit animal.
What are Gulab Jamuns?
If you've never had them, traditional Gulab Jamuns are basically doughnut holes on crack. They get their signature burnished bronze exterior from a high milk solids content that caramelises as it fries.
Yes, like any dessert worth its salt (or should that be sugar?), Gulab Jamuns are deep fried before being dunked in a bath of rose-scented syrup.
Here's my mum's annual batch of Gulab Jamuns for the Hindu festival, Diwali. They're amazing and she is the master!
When do people eat them?
They're the original "golden balls" (sorry Mr. Beckham) and an iconic dessert at weddings. No religious festival would be complete without a bowl of a hundred sticky Gulab Jamuns either.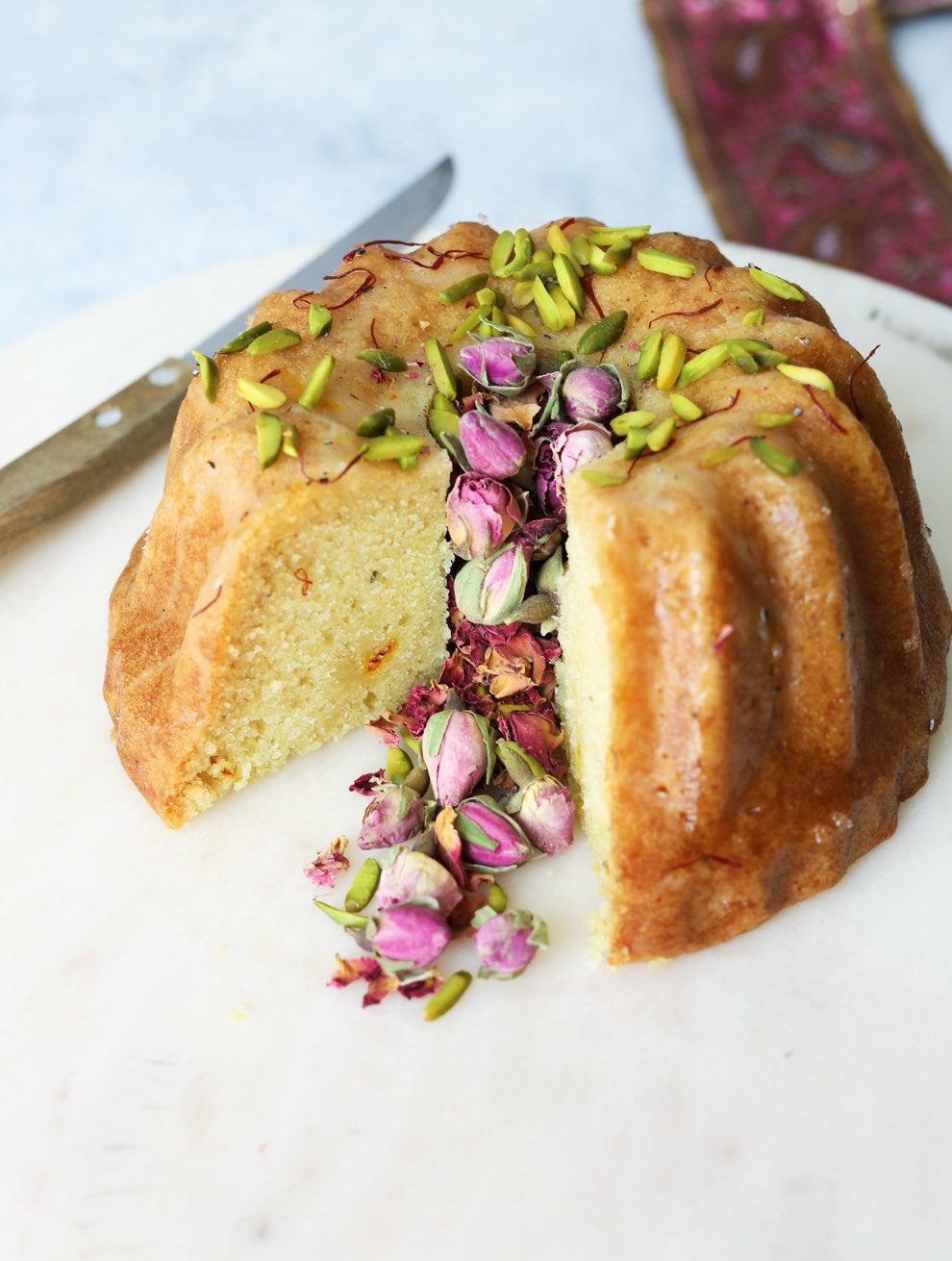 Sweet memories
As a child, I would snaffle down a minimum of three at any sitting. Each jamun is basically a carrier for an outrageous volume of rosy-cardamom syrup.
For the uninitiated, they can cause quite the sugar rush. Some go a step further and serve them warm with ice cream. Too far?
Sadly, I no longer have the metabolism of an eight-year, but I do need my Gulab Jamun fix once in a while.
Gulab Jamuns, reinvented: The Eggless Gulab Jamun Cake
Enter, the Gulab Jamun Cake. This is one recipe I've gently modified to preserve all the things I love about the original dish.
Ultimately, the cake has all the treasured flavours of classic Gulab Jamun without the deep frying or long soak in sugar syrup. What's not to love?
How can this Gulab Jamun Cake be Eggless?
Yes, my recipe is made without eggs so is suitable for lacto vegetarians or anyone with an egg allergy.
Is this Gulab Jamun Cake vegan?
No. I developed my recipe to pay homage to the rich, milky flavour of traditional Gulab Jamun. I use full-fat milk powder to enrich the cake batter with a subtle creaminess reminiscent of the Gulab Jamuns I ate growing up.
A note on milk powder
Classic Gulab Jamun recipes feature grated milk solids (mawa). Having said this, milk powder is a more readily-available substitute. It works beautifully in this recipe. If you'd like to have a go at making a vegan version, you can try swapping this for soy milk powder, for example.
How to serve Eggless Gulab Jamun Cake
Ultimately, you want to serve it with ice cream for a truly royal pudding. You could also enjoy a naked piece with masala chai.
Ingredients you'll need to make this Gulab Jamun Cake
Here's a list of ingredients you need to make this recipe. You can find exact measurements in the printable recipe card below.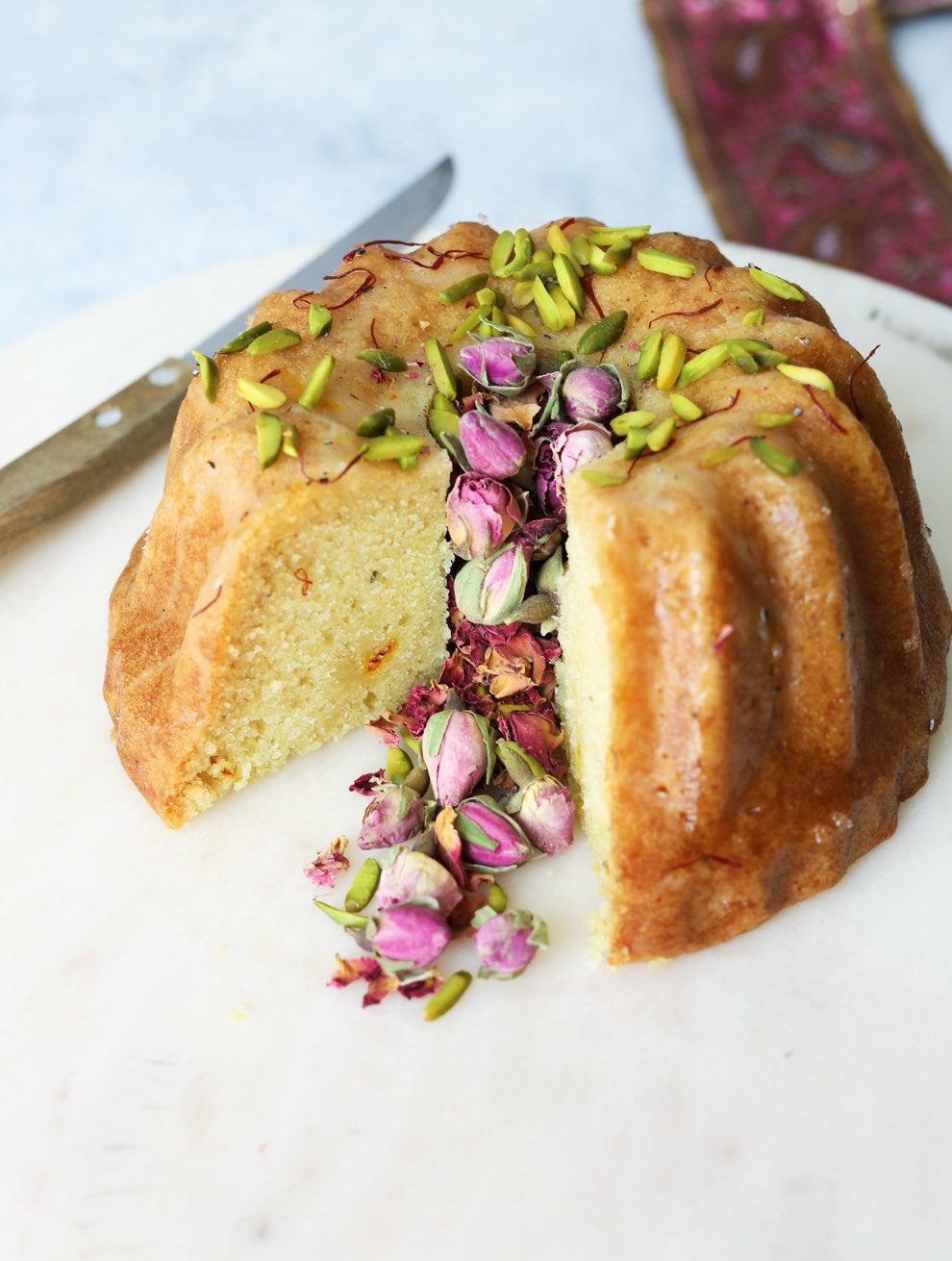 Plain flour (all-purpose flour or maida)
Coarse semolina
Caster sugar
Full-fat milk powder (whole milk powder)
Cornflour (cornstarch)
Baking powder
Baking soda (bicarbonate of soda)
Fine salt (table salt)
Full-fat milk (whole milk)
Lemon juice
Rosewater
Almond oil (or any flavourless oil of your choice)
Saffron strands
Green cardamom pods
Water
Dried petals and/or rosebuds (optional)
Slivered or chopped pistachios
How to make Gulab Jamun Cake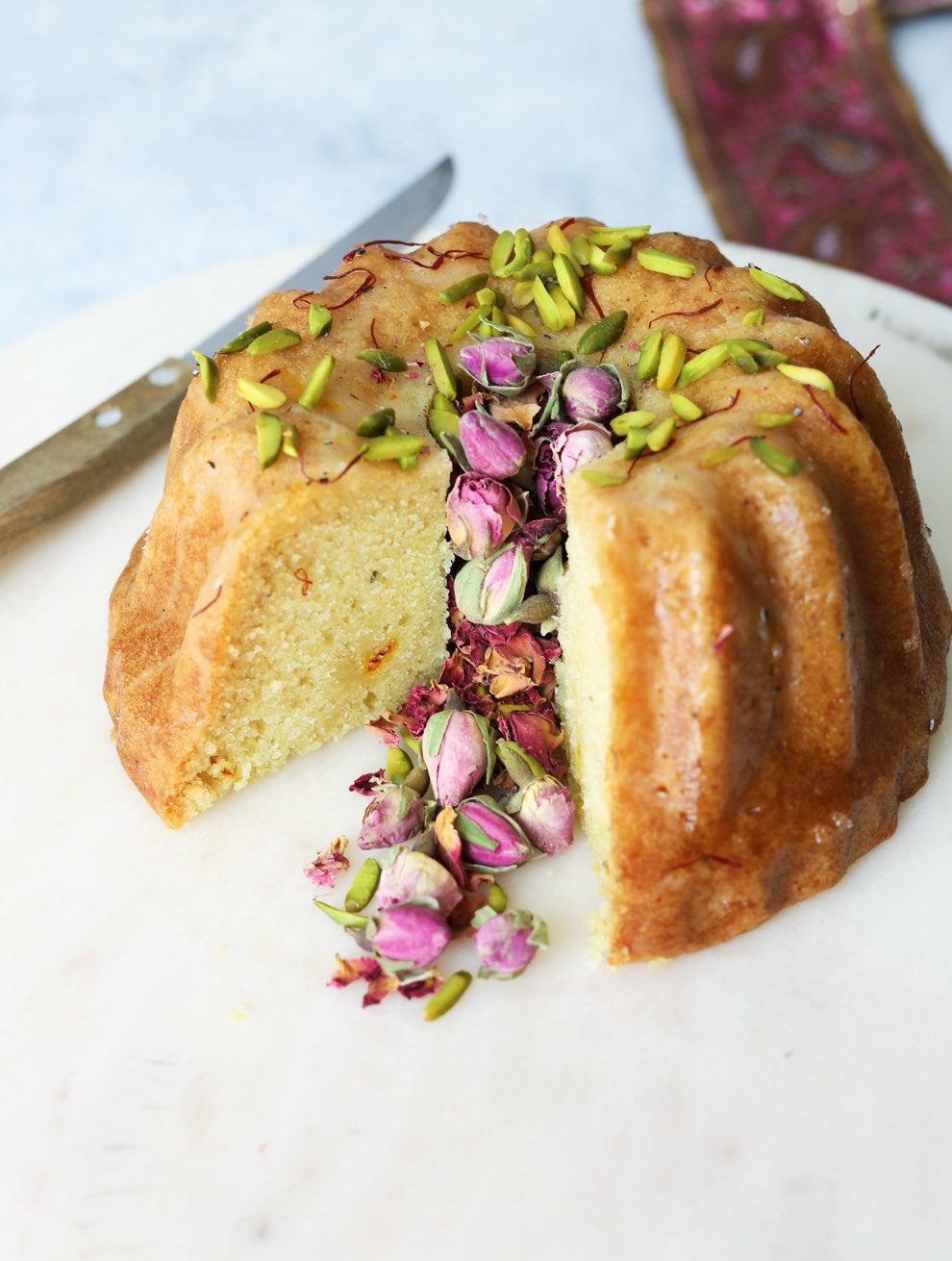 Equipment
18cm Dia. x 8.5cm small ring cake/bundt tin

Sugar thermometer/candy thermometer
Ingredients
For the cake:
250

g

plain flour

40

g

full-fat milk powder

50

g

coarse semolina

20

g

cornflour

125

g

caster sugar

1

tsp

baking powder

1

tsp

baking soda

1/4

tsp

fine salt

420

ml

whole milk

room temperature

1

tbsp

lemon juice

1

tsp

rosewater

(I used Nielsen-Massey)

125

ml

any flavourless oil of your choice

8-10

saffron strands

4

cardamom pods

seeds removed and crushed
For the syrup:
80

g

sugar

50

ml

water

1

tbsp

lemon juice

1

tsp

rosewater

8-10

saffron strands

2

cardamom pods

seeds removed and crushed
To grease the cake tin:
1

tsp

any flavourless oil of your choice

1

tbsp

plain flour
To decorate:
Dried rose petals/rosebuds

Slivered or chopped pistachios
Instructions
For the sponge:
Pre-heat the oven to 160°C/320°F. Grease the cake tin with 1 tsp oil and dust with 1 tbsp plain flour. Set aside.

In a jug, mix together the whole milk and lemon juice. Set aside for 10 minutes until slightly thickened. Whisk in the oil and rosewater.

In a large bowl, whisk together the flour, milk powder, semolina, cornflour, sugar, baking powder, baking soda, salt, cardamom and saffron.

Gradually whisk in the milk mixture and beat briefly until smooth, about a minute. Don't overwork the batter but be sure to get all the lumps out.

Pour the cake batter into the greased and floured tin. Bang the tin on the work top 3-4 times to remove any unwanted air bubbles.

Bake for 55-60 minutes, or until a skewer inserted into the cake comes out clean. Do not open the oven door in the first 40 minutes of cooking. This can cause the cake to collapse.

Remove the cake from the oven and allow to cool for 15 minutes. Invert the cake onto a wire rack. It should come away from the tin easily since it was greased and floured. You might need to give it a gentle wiggle. Allow to cool slightly while you prepare the sugar syrup.
For the sugar syrup:
In a small saucepan, mix together the sugar, water, lemon juice, rosewater, cardamom and saffron. Bring to the boil and simmer until it reaches 104°C (119°F) on a sugar/candy thermometer. It should be ever so slightly sticky. The lemon juice will stop the syrup crystallising.

Set the warm cake (on the wire rack) over a roasting tray or oven tray to catch the excess syrup as it falls. You may need to set this over a heatproof mat to protect your work surface. Carefully drizzle the syrup over the cake. Repeat, transferring the cake to another roasting tray or oven tray and drizzle over the syrup from the first tin. Keep doing this until all the syrup is used up. I repeated this step 4-5 times.

Decorate with pistachios. Allow the cake to cool completely at room temperature.

Optional: Fill the centre of the bundt with dried rose petals and rosebuds for a show-stopping finish. Slice and serve.
Sanjana's Notes
Leftover cake can be stored in an airtight container at room temperature for up to 48 hours.
Refrigerating the Gulab Jamun Cake will cause it to harden and dry out.
Serve the cake as it is, with masala chai or warm with a scoop of vanilla ice cream.
This cake can be baked into cupcakes. It will make around 18 small cupcakes. Bake at 175

°

C/350

°

F for 18-20 minutes. The tops will turn slightly golden.
You can also bake this cake in a 25cm x 4cm (10-inch x 1.5-inch) round cake tin. Bake at

160

°

C/320

°

F for 45-50 minutes.
Pin it for later!
Finally, if you like this cake, you'll love these Rum-Soaked Kala Jamun
Love Sanjana