Bengali sweets will always have a special place in my heart and this Vanilla Rasmalai is my favourite kind. Much like the Gujarati enthusiasm for savoury snacks, the culture for sweet-making in West Bengal is vast. With dozens of varieties of (mostly) dairy-based desserts, the selection is rich as the creamy Rasmalai (Rassomalai) and spongy Gulab Jamuns treasured across India.
What is Rasmalai?
Rasmalai is one of the most famous of Bengal's desserts. Made from pieces of chhena (another name for soft, homemade paneer), you knead it until smooth, divide into balls, boil in sugar syrup and then finally, soak in saffron and cardamom milk (masala doodh). Wanna hear why it's so magical? Without any additional ingredients or raising agents, the chhena balls inflate to double their original size and take on a ridiculous, puffy, spongy texture. They are made to soak up sweet masala doodh.
Vanilla Rasmalai
Vanilla Rasmalai are soft, spongy cheese dumplings soaked in sweet vanilla, cardamom and saffron milk. Inspired by the classic Bengali dessert, this version is served chilled and the flavours are reminiscent of the Indian ice cream, kulfi.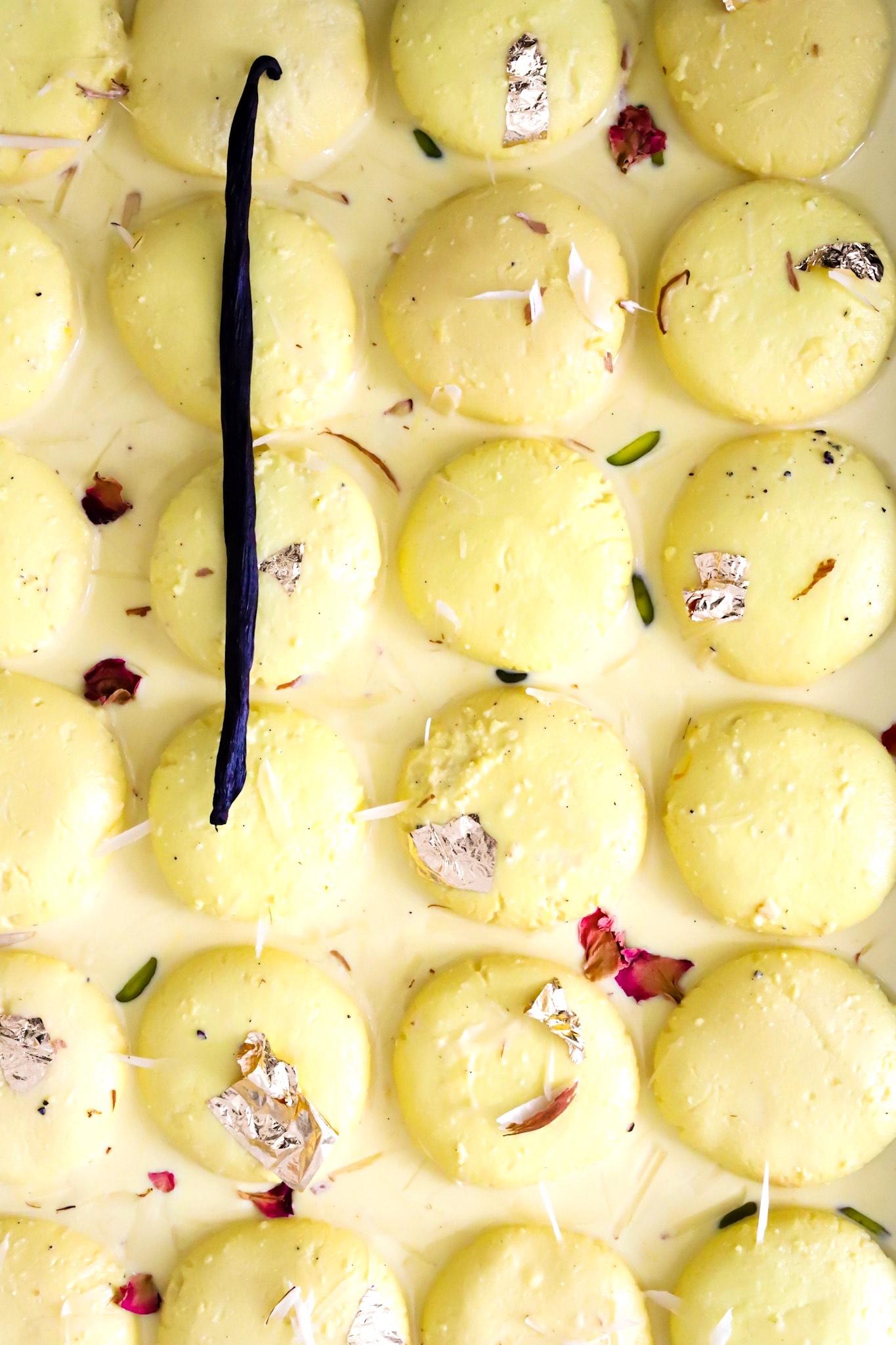 Like many, I grew up eating ready-made Rasmalai from a box. The mere thought of making my own cheese, boiling it in sugar syrup and then leaving it to soak for eight hours seemed like an impossible task. When I was 12, I had my first taste of my mother's Rasmalai recipe she learned from her father. Many of you will know that he was a confectioner and made incredible versions of all the classic Indian sweets. I quickly fell in love with her liberal use of vanilla.
Why vanilla?
These homemade Rasmalais have a beautifully-scented masala doodh. Together, they taste like if my favourite vanilla ice cream and kulfi had a Rasmalai-shaped baby! Since then, homemade Rasmalai has always won over the watered-down shop-bought version.
Tips and tricks for making perfect Rasmalai
What kind of milk should I use for making Rasmalai?
Full fat cow's milk (4%). The chhena requires the fat for binding. Using milk lower in fat will result in hard, crumbly Rasmalai. Using higher-fat milk (such a gold top or buffalo milk) will make the chhena release too much fat during kneading and the malai pieces will become greasy. I don't recommend using nut milks or soy milk for making this Rasmalai. I have not tried making it with lactose-free milk or cow's milk alternatives such as goat's milk or sheep's milk so cannot comment on how these would work.
Can I use milk powder for making Rasmalai?
Yes, but it must be full-fat cow's milk powder. Reconstitute 600g milk powder with 400ml cold water and then boil as directed in the steps for making the chhena.
Can I use shop-bought paneer for making Rasmalai?
No. This dessert is a labour of love and requires the chhena to be made from full-fat milk, boiled and then separated using a form of acid. My recipe uses lemon juice but you can also use distilled vinegar or citric acid dissolved in water.
How long should I press the chhena for?
Once the curds have separated from the whey, the curds must be rinsed well to remove any acidic flavour. Next, the (now) chhena should be pressed for around 30 minutes using a cheese press or a few cans of beans. You can also use a saucepan of water.
How long should I knead the chhena for?
Once pressed, use absorbent kitchen roll to pat the chhena dry. It then should be kneaded on a clean surface using the heel of your palm until completely smooth. This will take 10-12 minutes. Take your time and do not rush this step or take any shortcuts.
Can the Chenna be kneaded in a mixer or food processor?
No. The chhena must be kneaded by hand when making Rasmalai. Using a food processor will overwork the chhena and could cause fat to be released. In the event this happens, the chhena will feel extremely greasy and will not come together in a cohesive mass. Once the fat is released, the chhena cannot be used for making Rasmalai. Kneading with your hands and feeling the smoothness of the chhena is one of my favourite parts of this recipe and a great skill that can also be applied to the art of making Rasgulla and Cham Cham.
Can I leave the vanilla out of this recipe?
Of course. Simply omit the vanilla pod from this recipe to make classic Rasmalai.
What kind of vanilla should I use for Vanilla Rasmalai?
I used a whole vanilla pod. The seeds are scraped and added to the masala doodh, along with the whole pod to extract as much flavour as possible. If you don't have a vanilla pod, you can also use 2 tsp pure vanilla extract or vanilla bean paste. Don't use artificial vanilla flavouring for this Rasmalai — it doesn't taste great. If you can't get good quality vanilla, leave it out.
Can this recipe be used to make vegan Rasmalai?
Making a vegan Rasmalai would require a very different set of ingredients and directions. Therefore, this recipe wouldn't be suited to directly swapping ingredients for vegan alternatives. I'm working on a vegan Rasmalai recipe and will share it once it is throughly tested.
How do I ensure my sugar syrup is the right temperature and consistency for making Vanilla Rasmalai?
Use a sugar thermometer. Unless you are a pro confectioner and making Indian sweets every day, the traditional "tar" method (which is basically eyeballing it/testing using the "string" method), simply will not be accurate. Halwais can use this method because they are working with sugar syrup all the time. They are accustomed to the various stages of cooking sugar syrup and what each stage looks like. A sugar thermometer will ensure your syrup is perfect.
Why do I need a sugar thermometer?
I get dozens of messages from people asking why their mithai is the wrong texture and 99% of the time it's due to inaccurate sugar syrup temperatures. Eyeballing sugar syrup or using the traditional Indian "tar" method if you're a home cook isn't an accurate way of cooking, even when following a recipe that calls for this method to be used. I always use a sugar thermometer because I don't work with sugar syrup every day and am not a pro confectioner. You can buy sugar thermometers online — they don't have to be super expensive.
Why do I need to add cornflour to the sugar syrup?
I add a slurry of cornflour (cornstarch) and water to the boiling sugar syrup to ensure each chhena piece cooks evenly and keeps a uniform shape.
Why are the chhena pieces not doubling in size?
This could be due to a number of reasons. The most likely cause for them not expanding is that the sugar syrup is too concentrated. Thin it out with more hot water and test another piece. Ensure the syrup is boiling hard and the lid used to cover the pan is a tight-fitting one.
Why do my chhena pieces break?
Again, broken pieces of chhena or broken finished rasmalai could be down to a number of reasons. Primarily, the issue could be due to the moisture content and texture of the raw chhena. If the chhena is too dry, your cooked rasgullas will be hard and crumbly. However, if your chhena is too moist, it will be too sticky to form into balls and will mean the cooked rasgullas are too soft.
What if my chhena is too dry and crumbly?
It was pressed for too long. Add a few drops of water and knead again.
What if my chhena is too wet?
This one is trickier to fix, especially if you're working in a humid environment. If you haven't yet kneaded the chhena, press it again. If you have already kneaded the chhena, you need to let the excess water evaporate away. Spread it thinly on the work surface to expose as much surface area as possible now either place a fan directly beside it and let it run for 15 minutes, or use the cool (COOL not hot — important!) setting on a hairdryer to blast it for 5 minutes before testing again to see if it rolls (I'm serious). If it doesn't, keep doing it until it does. The chhena will need a good final knead.
What if my chhena for making Rasmalai is greasy?
Make the chhena again. The greasy one can be used for another recipe, or for adding richness to paratha fillings or malai kofta.
How long can I store Vanilla Rasmalai?
This Rasmalai will keep well for a week, refrigerated in an airtight container.
Can I freeze Rasmalai?
This Rasmalai is not suitable for freezing.
How to serve Vanilla Rasmalai
Chill the Rasmalai in the fridge for 8-10 hours. This is because resting will give the flavours a chance to develop and the chhena patties to absorb the masala doodh. The result will be spongy, soft Rasmalai that keeps its' shape beautifully.
Serve the Rasmalai cold, straight from the fridge for a gorgeous dessert following an Indian meal. This is a popular choice at Indian wedding banquets.
Allergies
This Rasmalai is suitable for those with gluten-free diets. However, many commercial brands of milk powder are manufactured alongside wheat and other flours in flour mills, so please check packaging if you are using milk powder and/or are preparing this for someone with a severe wheat or gluten allergy. Similarly, this applies for those with a soy or nut allergy.
Ingredients you'll need to make Vanilla Rasmalai
Full-fat milk
Double cream
Granulated sugar
Vanilla pod
Green cardamom pods
Saffron
Lemon juice
Water
Ice
Cornflour (cornstarch), not cornmeal
Almonds
Pistachios
Dried rose petals (optional)
Edible gold/silver (optional)
Any flavourless oil
Special equipment
Finally, my recipe requires the use of a sugar thermometer. I use this one, however you can use any that gives an accurate reading for your sugar syrup.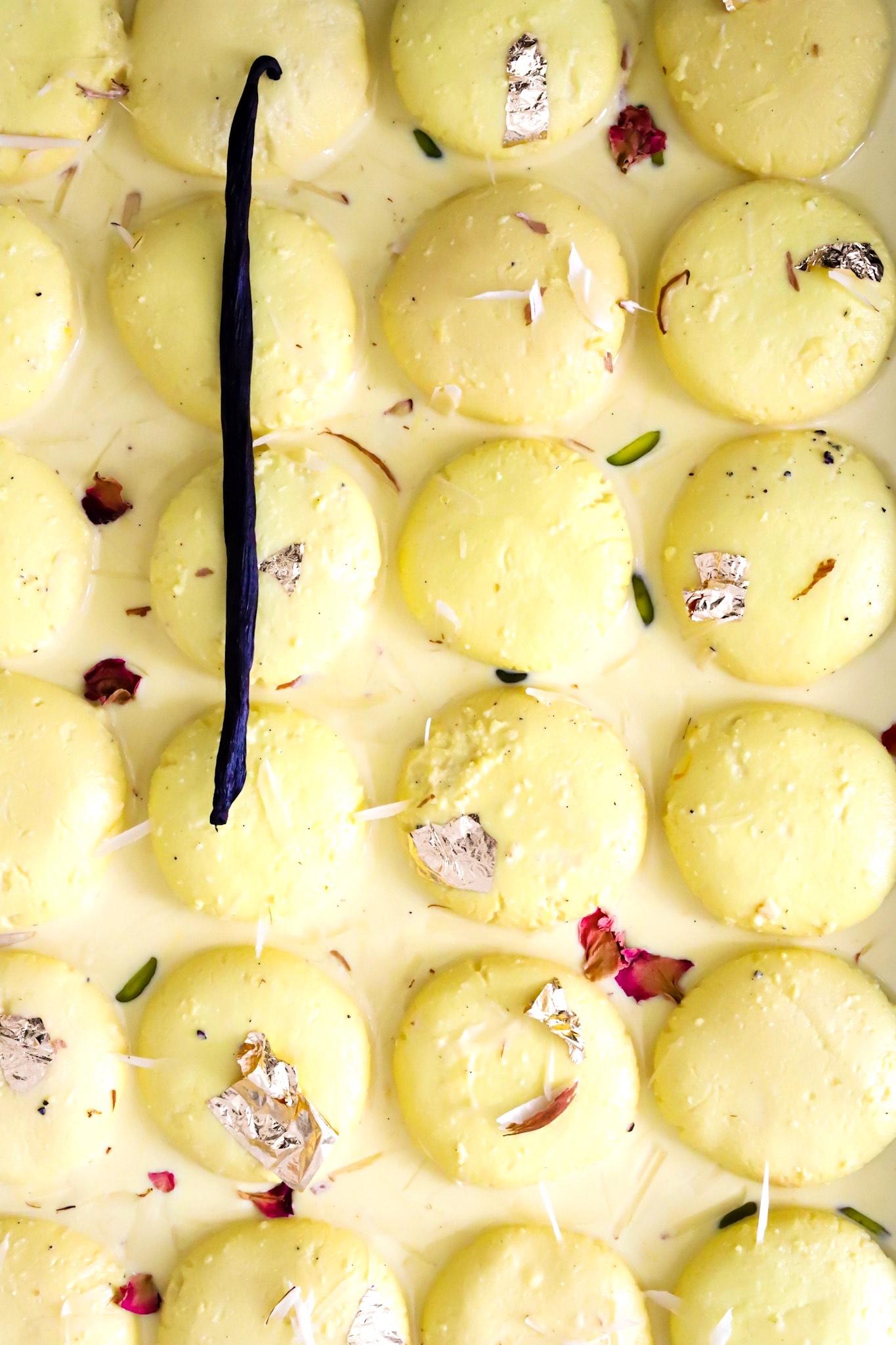 Equipment
Cheesecloth or muslin

Colander

Sugar thermometer or food thermometer

3 x large saucepans

Sieve

Weights, cans or cheese press

Slotted spoon
Ingredients
For the masala doodh:
1

L

full-fat milk

300

ml

double cream

40

g

granulated sugar

1

whole vanilla pod

split and scraped (reserve the pod)

4

green cardamom pods

seeds crushed

1

small pinch saffron

8-10 strands
For the chhena:
2

L

full-fat milk

2

tbsp

lemon juice mixed with 1 tbsp water

1

L

ice water
For the sugar syrup:
2

L

water

500

g

granulated sugar

1

tsp

lemon juice

2

tsp

cornflour mixed with 2 tbsp cold water
You will also need:
1

L

ice water

1

tbsp

slivered almonds

1

tbsp

slivered pistachios

8-10

dried rose petals

to garnish (optional)

Edible gold/silver

to garnish (optional)

1/2

tsp

oil for greasing the base of the pan used for boiling the milk for malai pieces
Instructions
For the masala doodh:
Pour the milk and cream into a large, heavy-based saucepan and bring to a gentle simmer. Add the sugar, vanilla beans and pod, saffron and ground cardamom seeds. Bring to a boil and turn the heat down to low.

Allow to simmer, uncovered until reduced by half, about 40 minutes. Stir often to avoid the milk burning on the base of the pan. Once reduced, remove from the heat, cover with a lid and set aside.

When cool, strain the masala doodh to remove any skin that may have formed during the boiling process and the vanilla pod. You can pop any saffron back into the milk. Stir in the almonds and pistachios. This step might seem over the top but I promise it will make a huge difference to the finished dessert. Those excess pieces of malai from boiling the milk can really affect the finish of the Rasmalai.
For the chhena:
Rub the base of a large, heavy-based pan with 1/2 tsp oil. This makes cleaning up much easier later on. Pour the milk into the pan and bring to a full boil.

Switch the heat off and add the lemon and water mixture a tablespoon at a time, stirring briefly between each addition until the milk curdles. Once the curds have separated from the whey, add the ice water to stop the cooking process. Allow to stand for 5 minutes.

Line a colander with muslin or cheesecloth and place it in the sink. If you'd like to reserve the whey for another recipe later, you can place the colander in a large bowl to catch the drained liquid. Alternatively, let it drain away.

Carefully pour the mixture into the lined colander. Remove the bowl from under the colander (if using). Rinse the curds under cold, running water to remove any sourness from the vinegar.

Gather the corners of the cloth and twist to enclose the curds. Gently twist the cloth to remove excess moisture. Place the bundle back inside the colander resting on a plate or bowl. Apply approximately 1kg of pressure on top of bundle. You can use 3-4 tins of beans or a pan of water. Anything stable that will be heavy enough to press out excess whey. Allow to press for 30 minutes.

NOTE: Because you rubbed the base of the pan with oil prior to starting, any milk that settled and burned on the base of the pan will lift away easily so you don't have to spend ages scrubbing it.
For the sugar syrup:
In a large, deep saucepan combine the water, sugar and lemon juice. Bring to a boil. Clip a sugar thermometer to the side to the saucepan. Allow to boil until the syrup reaches "thread" consistency (105C/220F). Turn the heat down to very low and cover with a lid.
To make the malai pieces (rasgulla) from chhena:
Remove the weights from on top of the chenna bundle and unwrap. Place the chenna onto a large, clean work surface. Dab with paper towels to remove any excess moisture.

Break the chenna into rough pieces and begin to knead it with your hand. Use the heel of your palm to spread the chenna as thinly as possible against the work surface, using a long, sliding motion. Apply pressure to press out all graininess and gather the mixture together again. Repeat this action 40-50 times until all traces of graininess have disappeared and the chenna is smooth. It should take 10-12 minutes. It should be soft and smooth, not grainy or greasy.

Divide the chenna into 24 pieces. Lightly oil your hands and roll into balls, pressing against your palms to ensure the ball is smooth and crack free. Lightly press to form a disc or patty, about 3cm in diameter. Repeat for all the pieces.
To cook the malai pieces:
Bring the syrup back to a rolling boil. Add the cornflour and water slurry and stir briefly. Next, carefully drop 6 malai discs into the hot syrup. Don't overcrowd the pan as the pieces will inflate (double or triple in size during the cooking process). Place the lid back on and return the lid to the pan.

Boil hard for 15 minutes until the malai pieces have doubled in size. Keep a kettle or separate pan of hot water aside and ladle hot water into the pan every 5 minutes during cooking. This will ensure the sugar syrup remains at the same consistency. If the malai pieces are turning dark, the syrup is too concentrated. Add hot water and bring it back to the correct temperature.

Once 15 minutes are up, turn the heat down and remove the cooked rasgullas with a slotted spoon and drain excess syrup. Place it in a bowl of ice water immediately to stop the cooking process. Allow to sit in the water for 3 minutes and then very gently, press each piece between your palms to remove excess liquid and to flatten it very slightly.

Slide each rasgulla into the masala doodh. They are now Rasmalai.

Repeat the process above for the remaining three batches of malai. Ensure the sugar syrup is the correct consistency throughout by adding more water at regular 5 minute intervals during the boiling process. Use a timer!

Once all the pieces have been added to the masala doodh, cover the pan and refrigerate for 8-10 hours for the malai pieces to absorb the masala doodh. Garnish with the optional dried rose petals and edible gold/silver leaf.
Sanjana's Notes
The Rasmalai can be kept in the fridge for up to a week.
This Rasmalai is not suitable for freezing.
Pin it for later!
If you like Vanilla Rasmalai, you'll love this Pistachio Burfi
Love Sanjana