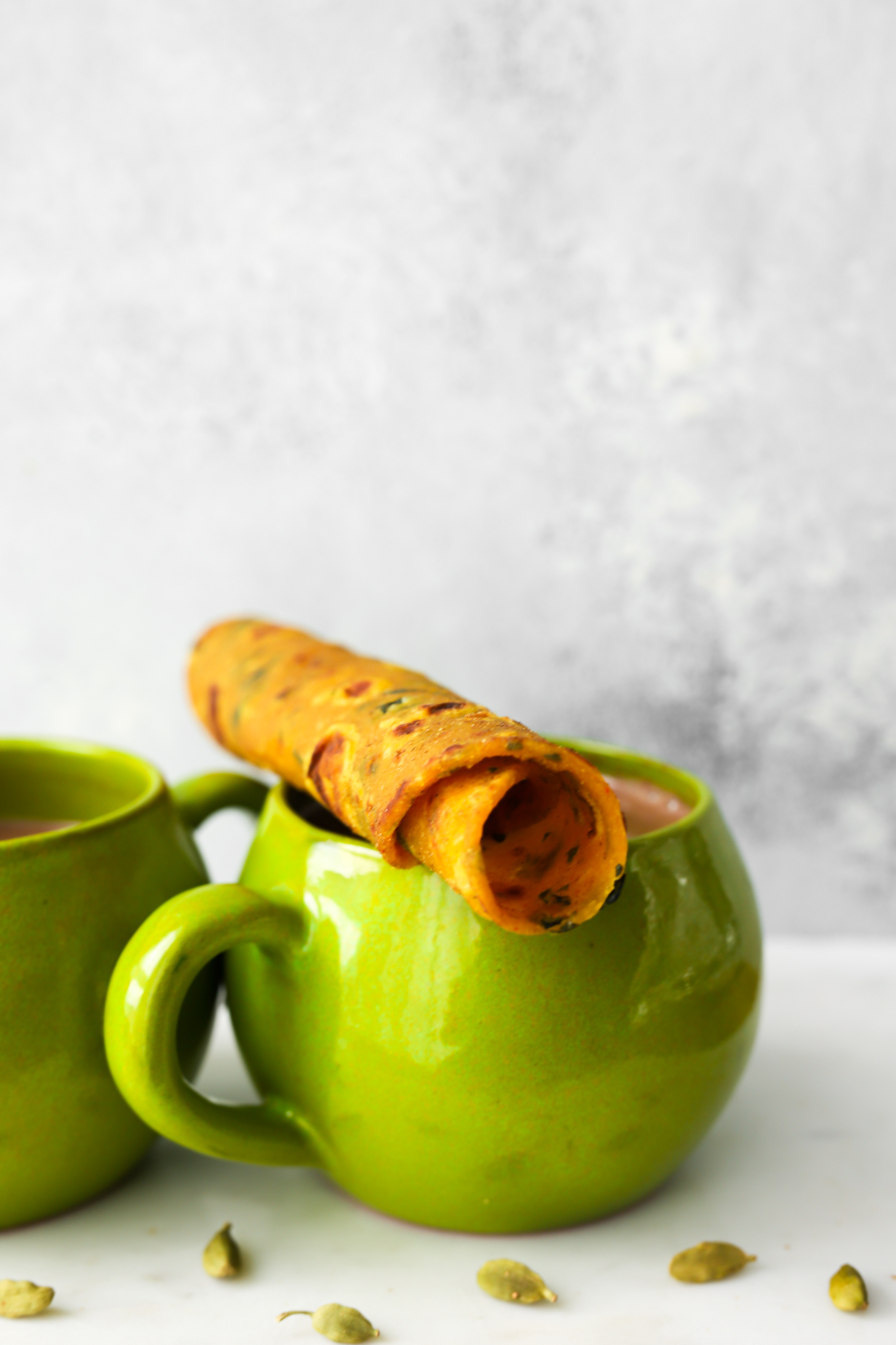 Soft Gujarati Thepla are a staple any-time-of-the-day flatbread in Indian homes. Fresh fenugreek leaves give them their signature bitter caramel flavour. Paired with a handful of ground spices like turmeric and chilli powder takes them from everyday roti to a masala-rich paradise.
I have the best memories of waking up to the smell of Theplas at my husband's home. Whenever would visit, my father-in-law would wake up early to make them, along with crispy Bateta Vada and sweet chai. It was the best breakfast and something I miss dearly.
What are Thepla?
Thepla are traditionally bound into a soft dough which is then roasted on a hot tawa or frying pan. During the cooking process, the Thepla are brushed with oil to help them achieve a leopard-spotted finish all over the surface. It's this oil that ensures the Thepla remain soft and delicious for days.
What should I serve Thepla with?
Thepla can be served a number of different ways; the most popular being with masala chai, potato curry (bateta nu shaak) or simply with your favourite achar and plain yoghurt. As they are a common breakfast or lunch dish, it's not uncommon to enjoy them with sweet masala chai and nothing else.
How to make soft Thepla
The key thing to remember when making Soft Gujarati Thepla at home is that the dough must be soft. Unlike poori making, the Thepla dough needs to be bound with sufficient water and oil. Some cooks also add plain yoghurt (dahi) to the dough for added richness.
Tips for making the softest Gujarati Thepla
I like to use a combination of warm water and warm almond milk to bind my dough. This is not traditional but my way of ensuring my Thepla are super soft and delicious. Using almond milk also means these Thepla are vegan due to the lack of yoghurt used to bind the dough.
Another ingredient I like to add to help achieve this is chickpea flour. Once roasted, the chickpea flour also gives these Thepla an incredible toasty flavour.
Can I use dried methi to make Thepla?
Of course. However they will lack the beautiful green-speckled surface achieved when making them with fresh fenugreek leaves. While kasoori methi is fine to use, remember that the flavour is incredibly strong in comparison to fresh methi leaves so you will need to use much less of it.
I'd recommend using 1 tbsp dried methi in this recipe, ground finely between your palms. Remove any sharp, dried stalks as they will affect the way the Thepla roll. Reconstitute the methi in 1 tbsp hot water and allow to stand for 5 minutes before adding it to the dough. For a burst of green colour, you can also add a handful of freshly-chopped spinach leaves or fresh coriander leaves. Ensure any leaves are very finely chopped.
Ingredients you'll need to make Soft Gujarati Thepla
Wholewheat chapati flour (roti atta)
Fresh fenugreek leaves
Chickpea flour
Garlic
Jaggery (gor) or brown sugar
Sesame seeds
Turmeric
Chilli powder
Salt
Almond milk
Water
Oil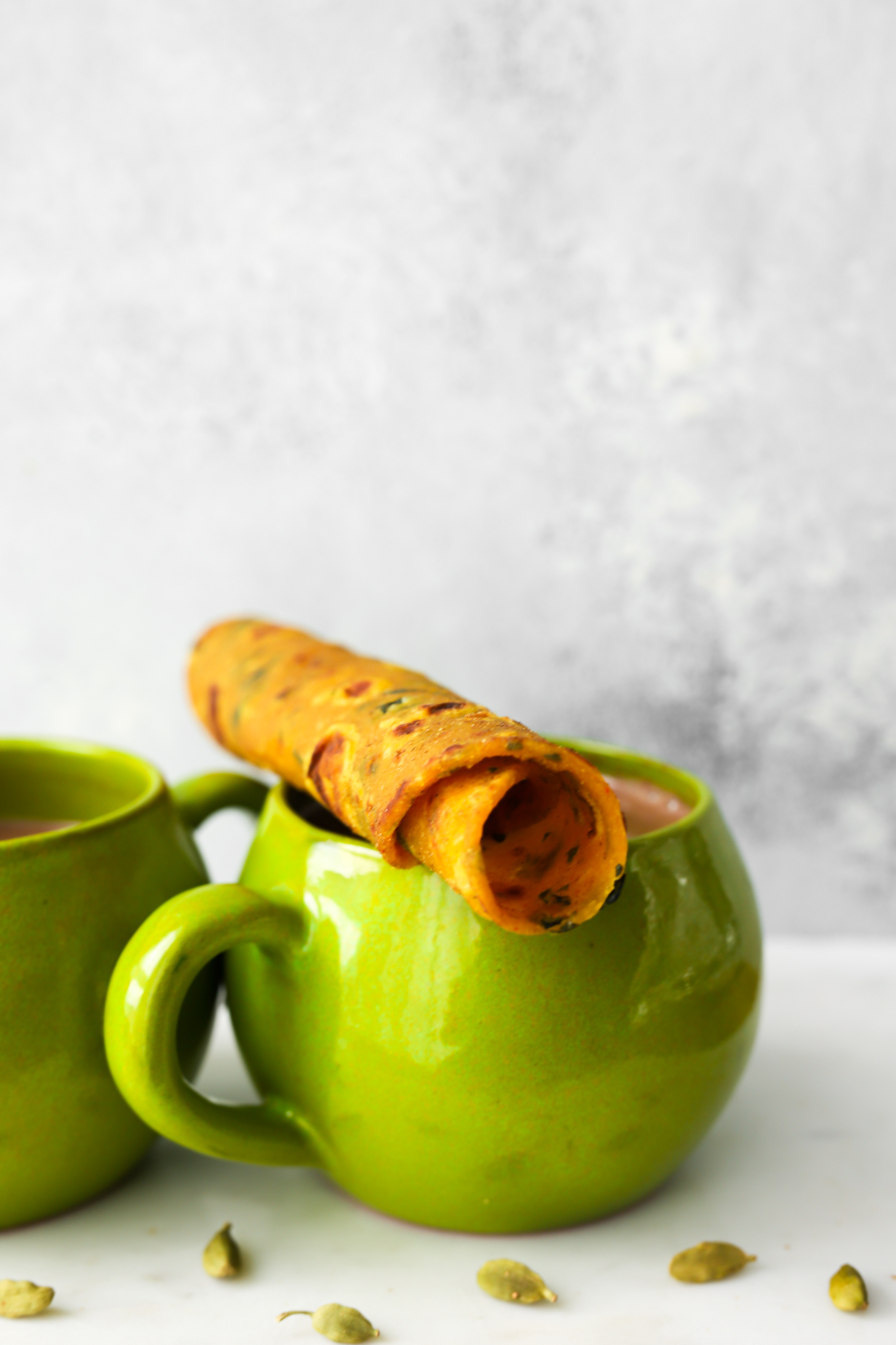 Ingredients
500

g

wholewheat chapati flour

I use Pilsbury Chakki Atta

75

g

fresh fenugreek leaves

very finely chopped

2

tbsp

chickpea flour

1

clove

garlic

crushed

2

tbsp

sesame seeds

1

tbsp

jaggery

1 1/4

tsp

turmeric

1 1/2

tsp

chilli powder

1 1/2

tsp

salt

150

ml

almond milk

warm

275

ml

hot water

3

tbsp

oil

+ more for cooking
Instructions
Mix together the chapati flour, chickpea flour, sesame seeds, garlic, chilli powder, methi leaves and salt.

In a separate jug, stir together the hot water and jaggery until completely dissolved.

Make a well in the centre of the flour and add the jaggery water and almond milk. Stir with a spoon to combine. Once cool enough to handle knead to form a smooth dough, about 5 minutes. Add the 3 tbsp oil and knead for a further 3-4 minutes. Cover with a damp tea towel and rest for 15-20 minutes.

Make golf ball-sized pieces with the dough. Keep some flour on a plate for rolling.

Get another plate lined with kitchen paper.

Place a steel tawa or a frying pan over a medium heat. Leave it for 5 minutes.

To start rolling, take a piece of dough and roll it between your palms, flattening it slightly. Dip each side in flour. Roll to about 6cm in diameter, place a pinch of flour in the centre and spread it around a little. Starting from the outermost edges, pinch the dough to the centre, covering the flour. Flatten with your palm. This will ensure the edges of the Thepla are perfectly smooth.

Roll out into a large circle, about 20cm (8") in diameter.

Cook on the preheated tawa until bubbles appear on the surface (5 seconds), Spread a small amount of oil over the surface and then flip and cook until small brown spots appear on the base (20 seconds). Flip again and spread oil on the second side. Cook until larger brown spots (like what you see on a super ripe banana) appear on the surface. Transfer to a lined plate and repeat for the remaining Thepla.
Recipe Video
Sanjana's Notes
To ensure the Thepla remain soft, keep them in an insulated container for up to 12 hours. If you're eating the Theplas the next day, wrap them in foil and keep them in the fridge for up to 4 days. To reheat, microwave the stack for 30 seconds. Individual Theplas will only take 10 seconds.
To freeze, place sheets of baking parchment between each one and wrap well in foil. Freeze for up to 1 month. Defrost before reheating.
Pin it for later!
If you like these, you'll love my Soft Spinach Roti recipe