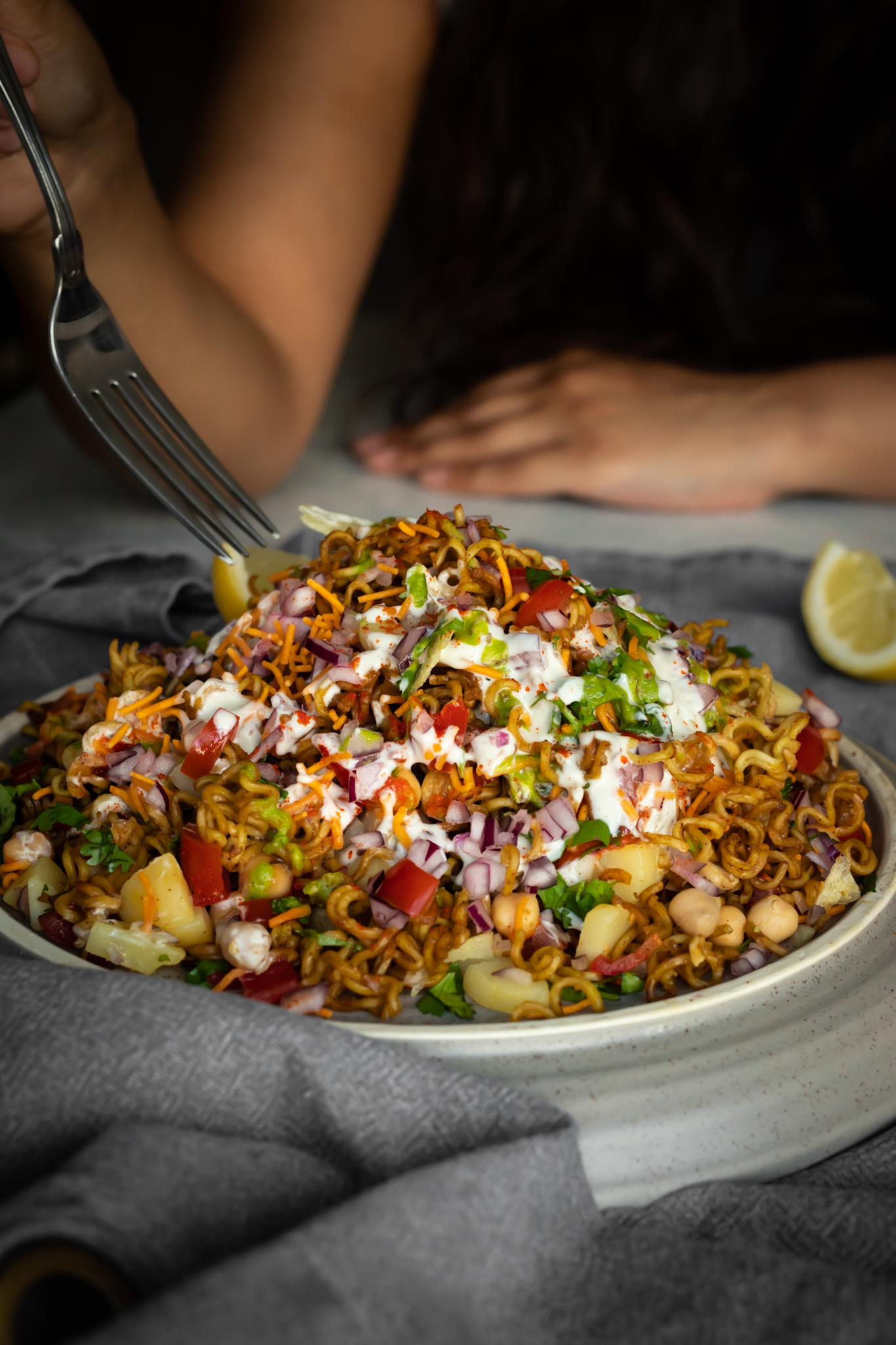 May I present to you this mountain of Maggi Noodles Chaat. My go-to midnight snack is a pack of instant noodles. I am currently obsessed with Samyang Yukgaejang Hot Mushroom Flavour Ramyun which will both fill your belly and blow your taste buds to smithereens with chilli heat.
Maggi Masala Magic is great option for those days when you don't fancy eye-watering spice.
In any case, my favourite thing to do is dress up my instant noodles with add-ins. In the case of those dynamite Korean noodles, I slice up medium-firm tofu into cubes, pop it into double the amount of water stated on the pack, add a liberal heap of kimchi and a handful of grated carrots along with the seasoning packs included.
The result is a shockingly-inauthentic attempt at Kimchi-jjigae. I apologise to Korean grandmothers everywhere. However, my midnight bowl is both fast and satisfying.
So what's Maggi Noodles Chaat?
Seems pretty self explanatory but let me break it down for you; First, you take a packet or two of India's favourite instant noodle, Maggi Masala Magic.
Break them up into smaller pieces, saute in oil until slightly golden, add the masala magic packet, and just a splash of water (not the whole amount). Cover and cook for 2 minutes.
Thow in some boiled potatoes and chickpeas. Stir and heat through. A handful of chopped red onions, tomatoes and fresh coriander go in. Toss. Pile inelegantly onto a plate.
Top with a mountain of Indian chaat favourites like crunchy sev, masala yoghurt, more onions, tomatoes, chaat masala and three kinds of chutney. I won't even tell if you choose to sprinkle in some crushed crisps. Dig in fast so you don't have to share. Leave no clues of your midnight feast.
Or, of course, you can make it as a legit day time snack and share it with everyone. Either way, I promise it will smash your chaat cravings like a flavour whack-a-mole.
My Secret Snack List (contains affliate links)
Check out what's in my snack cupboard 24/7. I never run out of these things! Includes what I eat to feed my noodle obsession, broth cravings, savoury snacks and sweet treats.
Troubleshooting: Maggi Noodles Chaat
Can I make this with other types of noodles?
Yes. I use Maggi Masala Magic because of the curry powder in gives somewhat of an Indian flavour. This is a no-rules recipe though so go wild and use whatever you like.
Why do you break the noodles up?
Because it makes the whole chaat easier to eat. Lazy midnight snacks and sharing plates call for easy eating.
Wht do you toast the noodles first?
A quick stir-fry in hot oil gives the noodles a wheaty, delicious aroma and flavour. It's just another building block of flavour.
Why don't you add the full amount of water?
It will turn to mush. Take the noodles off the heat while they are still have a little bite to them as they will continue to cook even after they come off the heat. It's just better when they're firm but again, this is your dish so you do you.
Can I add other toppings and chutneys?
Absolutely. Get creative and add whatever chaat toppings you like to this.
Can I make this ahead of time?
You can prep all the toppings but I wouldn't cook anything until you're ready to eat. If you do, things may end up going a bit stale and dry.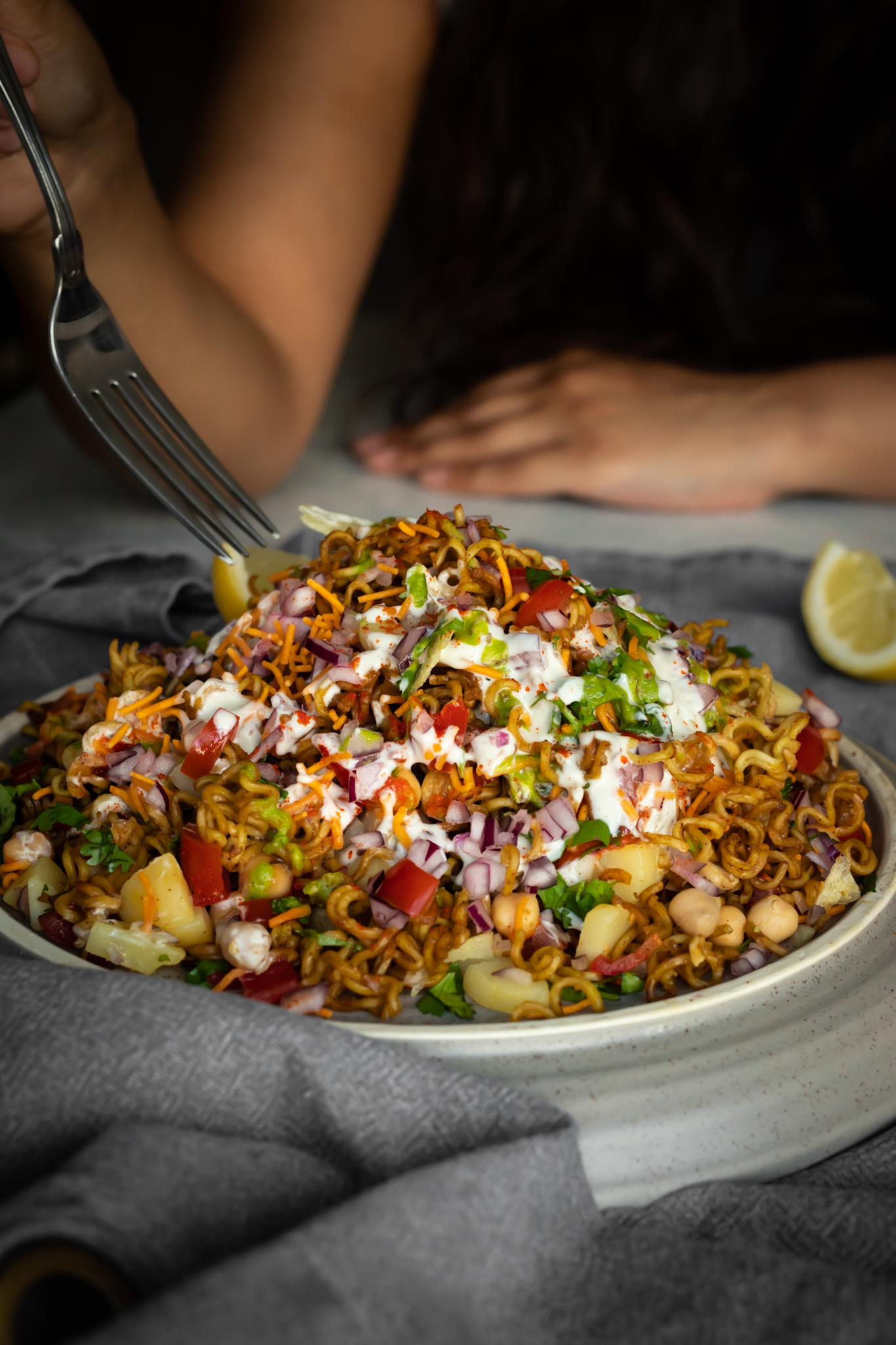 Ingredients
2

packs of Maggi masala magic

1

tbsp

cooking oil

I used rice bran oil

150

ml

water

120

g

cooked chickpeas

cold

200

g

potatoes

boiled in their skins, peeled and then diced

1

small

red onion

finely diced

1

tomato

finely diced
For the masala yoghurt:
150

g

plain yoghurt

1

tsp

roasted cumin seeds

ground

2

tsp

sugar

1/2

tsp

black salt
For the green chutney:
50

g

fresh coriander

including stalks

10-15

fresh mint leaves

25

cashews

soaked in hot water for 30 minutes and then drained

2

green chillies or to taste

1

clove

garlic

2

tbsp

lemon juice

1/2

tsp

salt

2

tsp

sugar

2

tbsp

water
For the chaat toppings:
2

tbsp

fresh coriander leaves

2

tbsp

sev or bhujia

1/4

tsp

chaat masala

1/4

tsp

chilli powder

Lemon wedges

to serve

2

tbsp

your favourite tamarind chutney

2

tbsp

your favourite red chutney

I used a red chilli chutney
Instructions
To make the green chutney:
Add all the ingredients to a small blender and blend to a smooth purée. Refrigerate until needed.
To make the masala yoghurt:
Mix all the ingredients together in a bowl and refrigerate until needed.
To cook the noodles:
Place a pan over a medium heat. Break the noodle cakes up with your hands. Add the oil and saute the noodles of a medium heat for 90 seconds or so.

Add the packets of magic masala that come in the Maggi packets, along with 150ml water.

Place a lid on the pan and cook over a moderately low heat for 2 minutes. Remove the lid and stir well.

Add the chickpeas, potatoes, onions and tomatoes. Stir to combine and allow to cool for 10 minutes or so. It shouldn't be super hot when you put the toppings on, unless you prefer it like that of course.

Pile the noodles onto a plate and top with the green chutney, masala yoghurt and remaining chaat toppings (fresh coriander, tamarind chutney, red chutney, sev or bhujia, chilli powder, chaat masala and lemon wedges). Go wild and add as much or as little of everything as you like.
Recipe Video
Sanjana's Notes
This chaat is best eaten as soon as the toppings have gone on.
My recipe serves 4 as part of a larger meal or two hungry people as a snack.
Pin it for later!
If you like this, you'll love my recipe for Veg Hakka Noodles