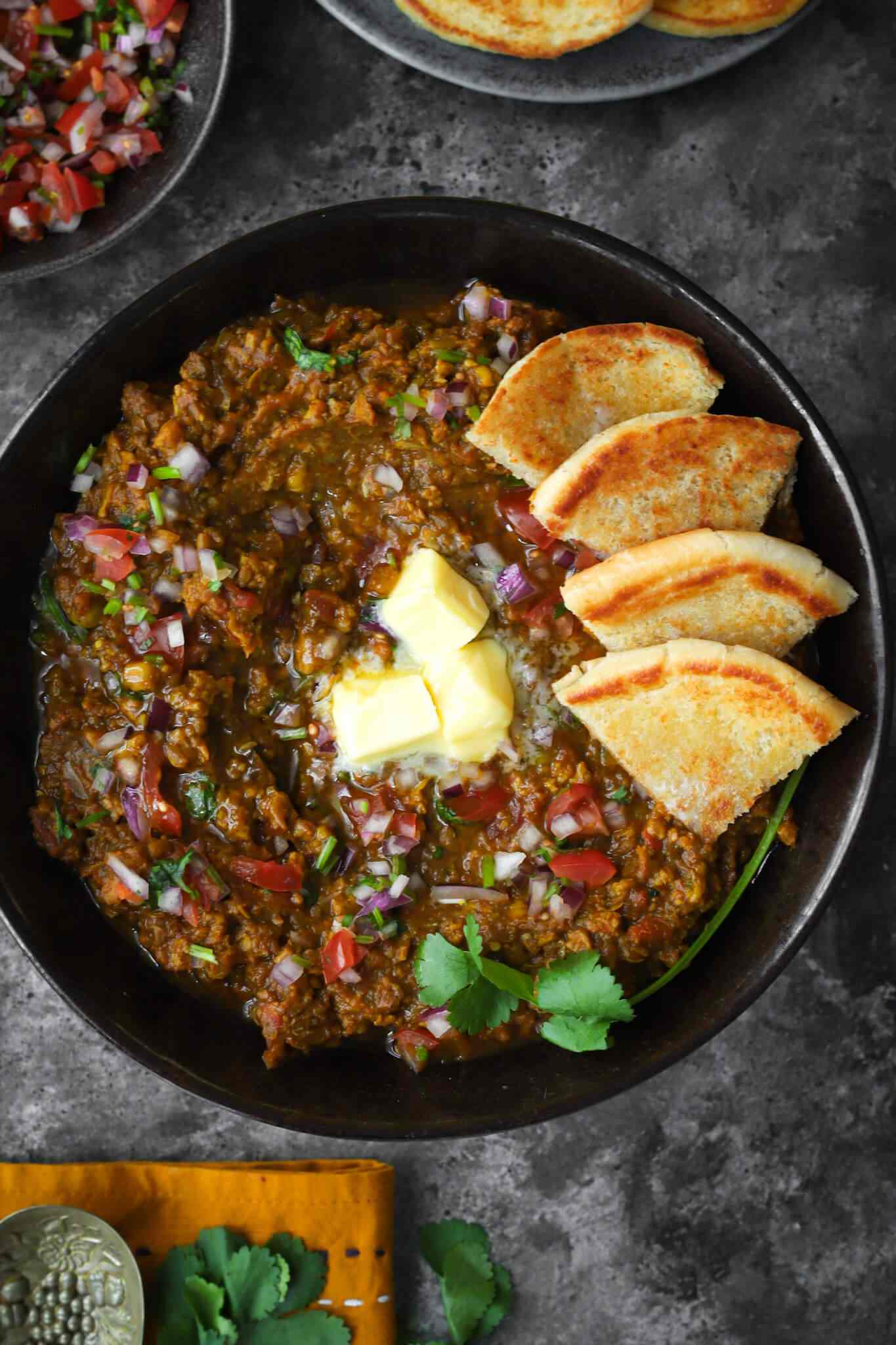 Bodhi's Keema Pau Bhaji (Vegan). A complete meal and super nutritious for the whole family. Don't be fooled though, this buttery, curried veg and soya medley packs a huge flavour punch. It's so moreish.
When my son Bodhi asks me for "Paabhaji", I know he means this vegan Keema Pau Bhaji. It's a combination of 7 vegetables and plant-based soy mince served with fluffy bread buns, or Pau.
Homemade Pau Bhaji Masala vs. Shop Bought
I like to make my own homemade Pau Bhaji Masala instead of shop bought. It makes a huge difference! I have included my recipe for both the Keema Pau Bhaji and Masala below.
If you're super short of time, shop-bought Pau Bhaji Masala will work just fine. However, if you do have time, I recommend trying this homemade Pau Bhaji Masala recipe. It's so beautifully aromatic.
What kind of vegetables can I use for Bodhi's Keema Pau Bhaji (Vegan)
There is no definitive answer! Throw in every last vegetable scrap you have because it's going to get mashed into a delicious buttery lava anyway. My favourite additions include (but are not limited to): Cauliflower, peas, sweet potato, carrots, red peppers, onions and tomatoes.
Having said this, you can also add any of the following: Aubergine, green beans, potatoes, turnips, broccoli, squash, corn and leafy greens. Use what you have or what's in season.
Why isn't my Pau Bhaji red in colour?
I typically add in some sweet potatoes for colour and sweetness without having to add sugar or food colouring. It's very common for some street vendors to add red food colouring to their Bhaji for a rich appearance.
You can add it if you like but I think the colour of the sweet potatoes and tomatoes does a good enough job. The choice is yours.
How to serve this Vegan Keema Pau Bhaji
This is one of those dishes where the garnishes are as important as the main component of the food itself. Don't skip the lemon wedges, finely diced red onions, tomatoes and coriander topping. And don't skip the extra butter on top either. It adds the special touch. Even Bodhi knows when the garnishes are missing and he's only two!
What kind of bread should I use?
Finally, the bread rolls (pau/pav/pão) must be soft, white and most importantly, cheap. Don't get fancy with artisan rolls from a French bakery. If you must, your regular sliced white is better than the posh, crusty stuff.
In the end, the bread is a crispy carrier for spicy, melt-in-the-mouth vegetable and soy mince curry.
How to make Bodhi's Keema Pau Bhaji (Vegan)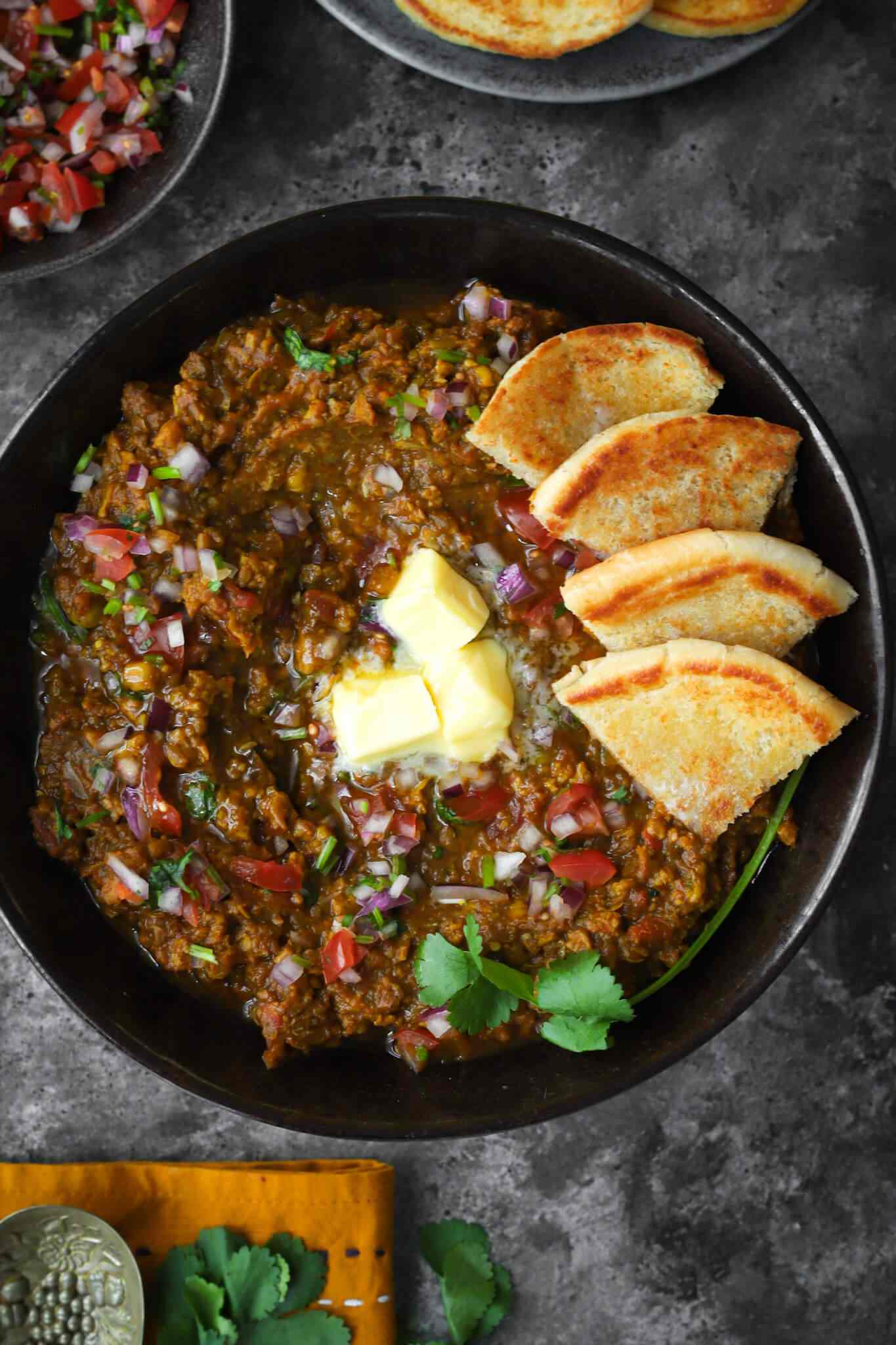 Ingredients
For the bhaji:
400

g

frozen soy mince

or reconstituted from dried

200

g

peas

frozen is fine

200

g

sweet potatoes

peeled and diced

150

g

cauliflower

finely chopped

150

g

carrot

peeled and finely diced

150

g

red peppers

finely diced

400

g

tomatoes

diced

100

g

vegan butter

1

large red onion

finely diced

4

large cloves garlic

peeled and finely chopped

5

cm

piece ginger

peeled and grated

300

ml

water

Salt to taste
For the pau bhaji masala:
1

tbsp

garam masala

2

tsp

Kashmiri chilli powder

1

tsp

ground cinnamon

1

tsp

ground coriander

1

tsp

ground cumin seeds

1

tsp

ground turmeric

2

cardamom pods

seeds crushed

1/2

tsp

amchur

dried mango powder
To garnish:
1

red onion

finely diced

2

large vine tomatoes

finely diced

50

g

fresh coriander

chopped

Lemon wedges

for serving

25

g

vegan butter
For the pau:
12

soft white bread rolls

100

g

vegan butter

softened
Instructions
For the bhaji:
In a small bowl, mix together all the ingredients for the pau bhaji masala. It will look like a lot but you will need to use it all, trust me.

Melt the 100g butter in a large, heavy-based pan. Add the onions, bay leaves and salt and sauté until slightly browned, about 10 minutes. The salt will draw out moisture from the onions and help them to brown quickly.

Add the garlic and sauté briefly, about 30 seconds. Next, add in the soy mince and sauté for 5 minutes until slightly browned. Add the tinned tomatoes, cauliflower, sweet potatoes, carrots, peas, peppers, pau bhaji masala and water. Give everything a good stir and cover with a lid. Cook over a medium heat for 20 minutes, stirring frequently. If it starts to dry out, add more water and continue to cook until everything is very tender.

Switch the heat off and allow to cool for 5 minutes. Now, add the reserved 50g of vegan butter, grab a potato masher and give everything a good mash until it resembles a coarse purée. Adjust the consistency by adding more water if necessary. It should be slightly runny, like lava. Add salt and continue to mash until well incorporated.

Return the pan to the heat with the lid on and simmer over a low heat for 15-20 minutes.
To prepare the pau:
Slather both sides of the rolls with butter and toast in a frying pan until golden all over.
To serve:
Sprinkle the onions, tomatoes and coriander over the top of the pau bhaji. Serve with more onion, tomato and coriander, as well as extra butter, lemon wedges and the toasted pau. Chilli lovers can also top with chopped fresh chillies if they dare.
Sanjana's Notes
This is a great make-ahead dish. Keep it covered in the refrigerator for up to 3 days.
Freeze in a freezer-safe container for up to 6 months. Defrost at room temperature and reheat thoroughly before serving.
You can make this ahead of the time and keep warm in a slow cooker for up to 12 hours. The flavours will be incredible.
Pin it for later!
If you like this, you'll love this recipe for Tofu Tikka Masala
Love Sanjana