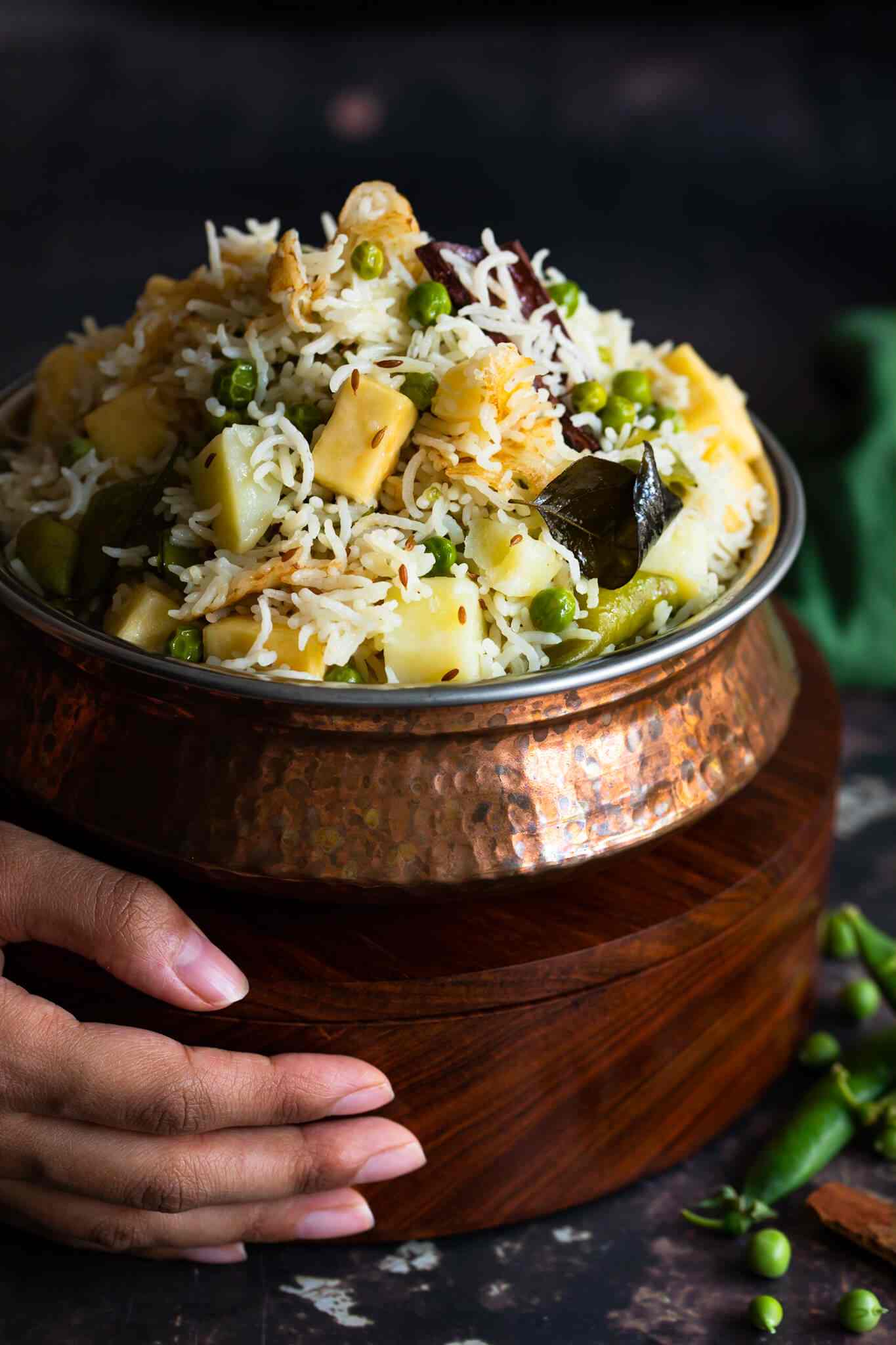 My special version of Gujarati-Style Matar Bhaat with fluffy rice, fresh peas, potatoes and paneer. Serve it with Kadhi or as part of a larger thali.
This Indian rice dish is simple, comforting and utterly delicious. If you're looking for something a little more traditional, skip the paneer.
You'll need 10 ingredients. The dish is gluten free, vegetarian and so easy to veganise. What's not to love?
Wait, what's the difference between Gujarati-Style Matar Bhaat and Pulao?
Think of it this way: Pulao is the Hindi word for a rice dish in which you sauté rice in fat with spices, then add vegetables (or any protein of your choice). You then cover it with water and a lid. Finally, cook it until all the ingredients are fragrant and tender.
Gujarati-Style Matar Bhaat adopts this very same process. You could say it's a type of pulao — just one that has its' own name, history and repertoire in Gujarati cuisine. It's a Gujarati treasure. We eat it with Kadhi (buttermilk cooked with spices and gram flour) and not much else.
How to serve Matar-Bhaat
You can enjoy it the Gujarati way — drowned in Kadhi, with a side of Khichiya Papad and raw onions. Or serve it as part of a large, thali-style meal. It's a wonderful alternative to Jeera Rice when peas are in season.
Do I have to add peas?
Yes. It's not Matar Bhaat without the matar (peas). You can opt for raw or frozen peas. If tender fresh peas in their pods are available, use them. There's nothing quite like Matar Bhaat made with peas and their pods.
Do I have to add potatoes and paneer?
Not at all. If you'd like something more traditional, leave the potatoes and paneer out and add in more peas. I usually serve my Matar Bhaat with Kadhi as a one-bowl dinner which is why I like to bulk it out with some extras. Feel free to add any vegetables or protein you like.
What other vegetables can I add to Matar Bhaat?
Cauliflower, mushrooms, onions, peppers, courgettes and carrots are all great vegetable-based add ins.
How can I make a vegan version of this Gujarati-Style Matar Bhaat?
Simply replace the paneer for firm tofu (press it to drain excess water and pan-fry first). In place of tofu, you can also add cashews or peanuts. Swap the ghee for oil or your favourite plant-based butter.
Why do you add so few spices?
So here's the key difference between Gujarati-Style Matar Bhaat and your average Pulao. Gujarati-Style Matar Bhaat is very delicate in flavour. It's designed to carry the flavours of the sharp and tangy Kadhi you ladle on top.
Steaming hot, the two dishes eaten together are harmoniously sour, sweet, spicy and comforting. You'll notice the absence of ginger, garlic, onions and chilli in this recipe — that's because those ingredients would typically be in the dish you pair with the Gujarati-Style Matar Bhaat.
Let the flavour of the peas, and the fragrance of the Basmati rice shine.
My essentials for this recipe
Amazon Affiliate links. These are all products I have purchased of my own accord and ones that I use myself. None of the products mentioned have been gifted to me. By using an affiliate link, I receive a small commission at no expense to you. This commission helps to support this blog. Thanks in advance if you choose to make a purchase through these links!
Ingredients
225

g

long-grain basmati rice

250

g

young peas in their pods

(or peas without the pods)

225

g

paneer

diced (2cm cubes)

125

g

potatoes

peeled and diced (2cm cubes)

50

g

ghee

2

tsp

cumin seeds

5

cm

stick cassia bark

(or cinnamon)

10

curry leaves

1 1/2

tsp

salt

550

ml

hot water
Instructions
Place the rice in a bowl. Wash it in plenty of cold water by gently swishing it with your hand. Be careful not to break the grains. Tip the water away and repeat another 2-3 times. This will clean the rice and also remove any excess starch for fluffy, separate grains.

After the last drain, fill the bowl of rice with water once more. Add enough so the water level is 5cm above the surface of the rice. Allow to soak for 30 minutes.

While the rice is soaking, prepare the peas, potatoes and paneer.

To prepare the peas, top and tail them, also removing the long, stringy membrane that runs down the length (on both sides). Pop the pods open and remove the peas inside. Snap the top and pull downwards to remove the tough membrane from inside the pods. Do this for both halves. The pods and peas are now ready to cook.

Peel and dice the potatoes in 1-2cm cubes (according to your preference). Place in a bowl and cover with plenty of cold water. Make sure they're all fully submerged. This will prevent the potatoes oxidising and turning brown. You can keep the skins on if you like.

If you're using shop-bought paneer, cut it into 1-2cm cubes (according to your preference) and place it in a bowl. Pour hot water directly over the paneer until it's fully submerged. This will soften the paneer up beautifully. Skip this step if you're using homemade paneer.

After the paneer has soaked for 10 minutes, you can drain it well (along with the potatoes) and fry them in oil or ghee if you like. However, I prefer not to brown the paneer or potatoes in this recipe.

Melt the ghee in a large non-stick pan that has a tight-fitting lid. Once melted, add the cumin seeds, cassia bark and curry leaves. Sauté over a medium-low heat for 2-3 minutes to infuse the ghee with the delicate aromas of the spices.

Drain the soaked rice well and add it to the pan. Sauté over a medium-high heat for 3-4 minutes. Fold the rice using a large spatula to ensure the delicate grains do not break. Once the rice is coated in ghee and very lightly toasted, add the paneer, potatoes and peas.

Very gently combine the rice, vegetables and paneer. Season with salt.

Pour in 550ml boiling water and give everything a final mix. Bring to the boil.

Cover the top of the pan with a piece of aluminium foil – it shouldn't be touching the rice. Place the pan lid on top of the foil and press it down to seal the pot completely.

Leave the pan over a moderate heat and cook for 5 minutes exactly. Once 5 minutes has elapsed, switch the heat off and leave the pan as it is for 20 minutes. Don't uncover it, not even for a second.

After 20 minutes, remove the lid and carefully remove the foil to allow the steam to escape. Place the heat back on high and cook for 3-4 minutes. This will crisp up the bottom beautifully.

The final step is to give the rice a final toss and fluff up with a fork. You can check the potatoes are cooked through by piercing them with a fork. They should be tender.

Serve immediately with Gujarati-style Kadhi or in place of jeera rice alongside your favourite curry or daal.
Sanjana's Notes
Pack leftovers away in an air-tight container. Store in the fridge for up to 48 hours. Reheat thoroughly before serving.
Pin it for later!
If you like this, you'll love my recipe for Ruffled Vegetable Biryani
Love Sanjana