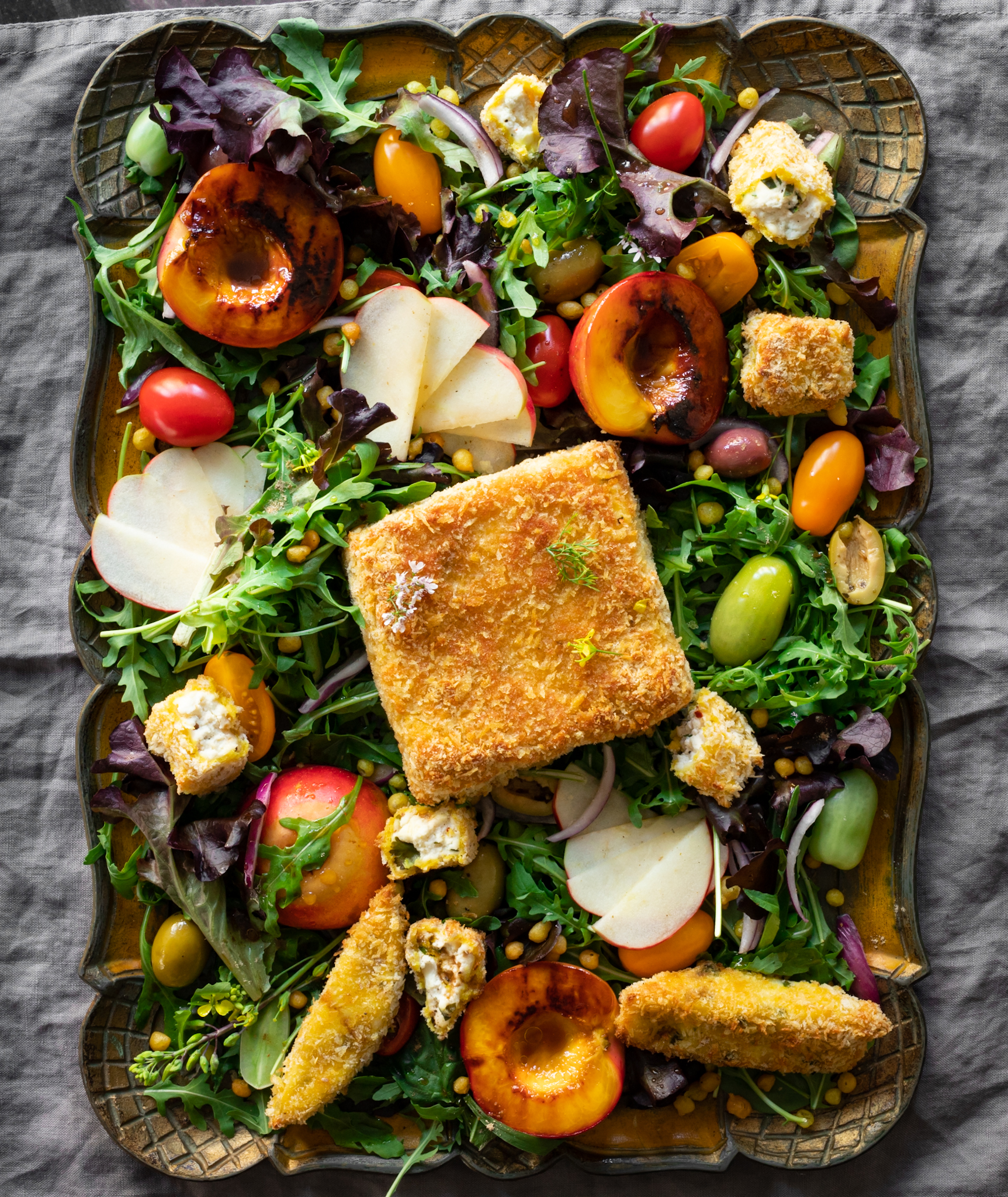 Crispy Paneer & Grilled Nectarine Salad is a fresh vegetarian meal or side. The baked Masala Paneer is amazing with juicy grilled nectarines, leafy greens and pearls of fried boondi.
If you're after a sharing platter worthy of your Instagram grid, this is the salad for you. I use my Homemade Masala Paneer recipe to give the salad a central focus; it's crispy, spicy and creamy all at once.
Watch the full recipe video: Crispy Paneer & Grilled Nectarine Salad
The nectarines offset the richness of the paneer and peppery greens like rocket and watercress provide a luscious bed for the salad to lay atop.
What is Masala Paneer?
Masala Paneer is a fresh, unripened cheese from India. It's similar to farmer's cheese, also known as Indian cottage cheese. The core ingredients of paneer are cow's milk and a coagulant like lemon juice, vinegar, citric acid or sour curd (yoghurt).
Having said this, paneer is significantly different in texture and taste to the western concept of cottage cheese.
My simple recipe for Homemade Masala Paneer features a basic paneer combined with black pepper, ginger, cumin seeds, chilli flakes, fresh coriander and salt. It's then pressed to form a block.
Cube it, slice it, scramble it or create something entirely new with it. I love to use this flavoursome paneer in Parathas. Feel free to experiment with seasonings to create your own special Masala Paneer.
This is such an excellent summer dish. For a festive feel at Christmas time, replace the nectarines with sliced figs. A year-round crowd pleaser!
How to serve this Crispy Paneer & Grilled Nectarine Salad
I like to do it in stages. I start with the leafy greens, then add apple slices, tomatoes, olives, red onions and grilled nectarines (glazed with honey). Next, I add the warm, panko-crusted Masala Paneer.
The final touches are boondi (crisp chickpea flour sprinkles) and tamarind dressing. Choose the largest platter you have and dig in immediately.
This Crispy Paneer & Grilled Nectarine Salad is great as a standalone dish. Or pair it with other Indian nibbles. I love to eat this with my favourite Indian barbecue dishes. For example, these Meatless Seekh Kebabs or Achaari Mushroom Kebabs are perfect partners.
My essentials for this recipe
This post contains Amazon Affiliate links. These are all products I have purchased of my own accord and ones that I use myself. None of the products mentioned have been gifted to me. By using an affiliate link, I receive a small commission at no expense to you. This commission helps to support this blog. Thanks in advance if you choose to make a purchase through these links!
How to make Crispy Paneer & Nectarine Salad
Ingredients
100

g

mixed green salad leaves

(pea shoots, watercress, rocket, etc)

40

g

cherry or baby plum tomatoes

(I used multi-coloured)

1

small

red onion

finely sliced

40

g

mixed olives

1

Pink Lady apple

2

semi-ripe nectarines

1

tbsp

honey or agave

(warm)

2

tbsp

boondi (friend chickpea flour pearls)

I used shop bought (optional)

1/4

tsp

chaat masala
For the crispy paneer:
200

g

masala paneer

(recipe linked below)

100g

g

panko breadcrumbs

100

g

chickpea flour

3

tbsp

vegan mayo or unsweetened yoghurt

80

ml

water
For the tamarind & date dressing:
25

g

tamarind and date chutney

(recipe linked below)

20

ml

extra-virgin olive oil
Instructions
For the coated paneer:
Preheat the oven to 200ºC/400ºF.

Stir together the chickpea flour (besan), salt, ground turmeric, vegan mayo (or plain yoghurt) and water. Whisk well to form a smooth batter.

Cut the cold, pressed masala paneer into pieces. You can be as uneven and as rustic as you like with this. I like some cut into cubes, some in fingers and one large piece people can cut at the table. It makes for interesting eating.

Place the panko breadcrumbs on a large plate. Dip the paneer into the wet mixture and then into the panko breadcrumbs. Be sure to coat the paneer evenly. If you like, you can repeat the wet mix and breadcrumb dip to create a thicker layer of breadcrumbs. Coat all the paneer in this way.

Arrange the paneer on an oven-safe tray lined with baking parchment. Spray liberally with oil. Bake in the preheated oven for 18-20 minutes. Turn the paneer half way through cooking time and spray the reverse with oil. The paneer is ready when it's crispy and golden all over.
For the grilled nectarines:
While the paneer is in the oven, halve the nectarines around the stone and twist to open. Remove the stones and brush them with warm honey or agave nectar.

Flace the nectarine halves face down on a preheated griddle pan. Press them down gently to ensure good contact with the griddle pan bars. Cook over a moderate heat for 2-3 minutes. Don't move them around at this point.

Turn the nectarine halves over and cook on the other side for a further 2 minutes. You can brush them with more agave or honey if you like.
For the dressing:
Whisk together the tamarind and date chutney and olive oil. Add a splash of water if necessary.
To build the salad:
Arrange your favourite mix of salad leaves on a large platter.

Top with cherry tomatoes (some halved, some whole), red onion slices, olives, the warm grilled nectarines, crispy baked paneer (warm), slices of apple, boondi, tamarind dressing and a sprinkle of chaat masala.

Take the platter to the table immediately and let everyone help themselves.
Sanjana's Notes
The masala paneer used in this recipe can be made up to 48 hours in advance. Store in the fridge until ready to breadcrumb and bake. I recommend breadcrumbing only up to 24 hours in advance. Bake the paneer just before serving.
Shop-bought paneer can be used in a pinch. Be sure it's a soft variety.
Plain paneer can be used in lieu of masala paneer but of course, it won't be as delicious. The joy of this salad is the contrast of spicy, sweet and tangy flavours.
Get my Homemade Masala Paneer Recipe
Homemade Masala Paneer
The Homemade Masala Paneer. Soft and squidgy homemade masala paneer for curries, paratha fillings, chilli paneer, samosas and more. This simple recipe includes tips for making fresh masala paneer that tastes like it just came from the dairywala.
Check out this recipe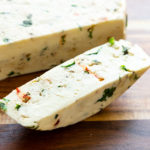 How to Make the Tamarind & Date Chutney I use in this recipe
Tamarind & Date Chutney
Learn how to make sweet and sour tamarind and date chutney from scratch! No Indian chaat is complete without a drizzle of this mouth-puckering fruity chutney.
Check out this recipe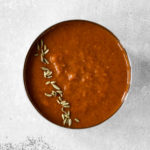 Pin this recipe for later!
If you like this, you'll love my recipe for my Palak Patta Chaat
Love Sanjana