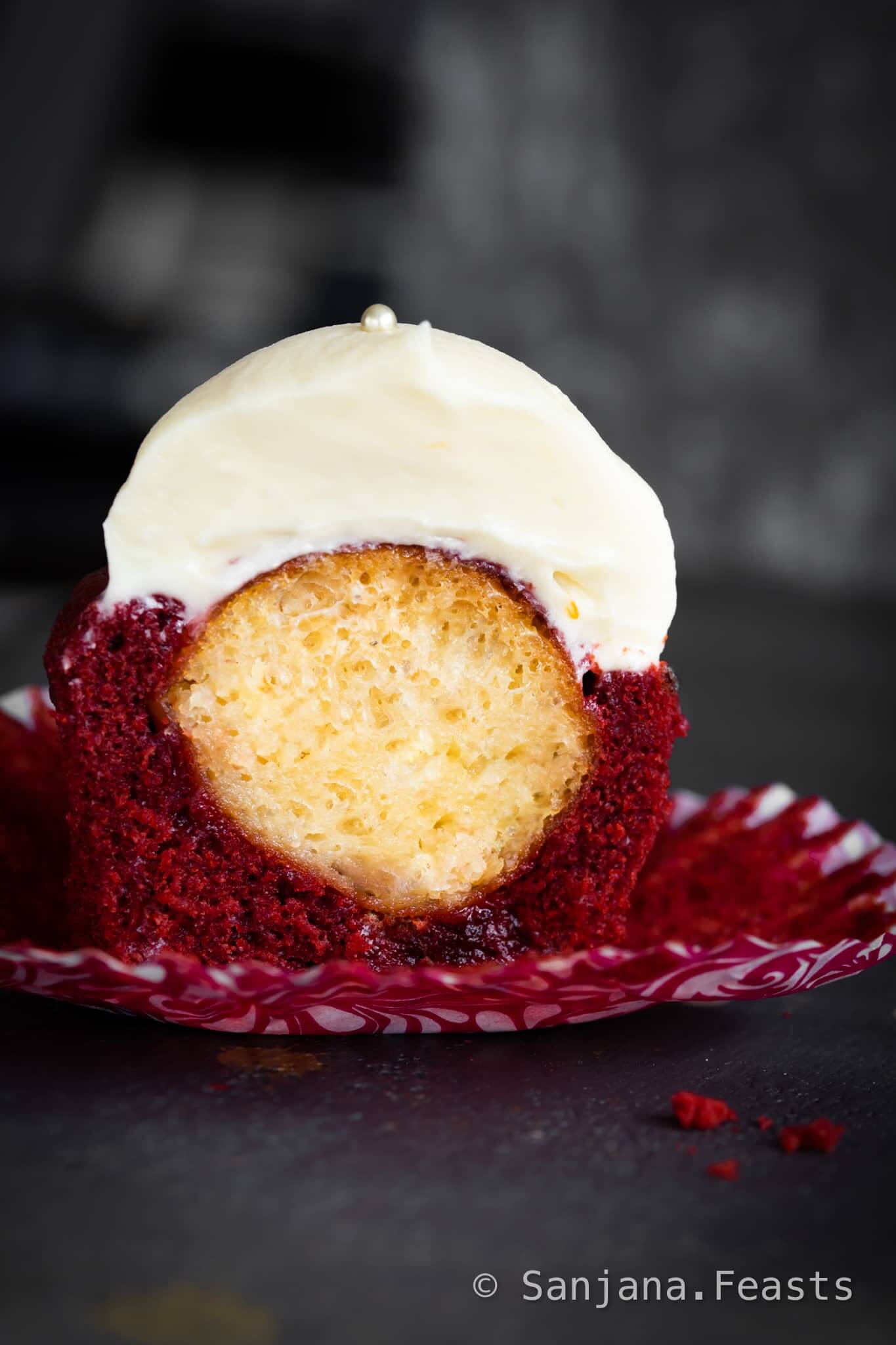 If you think Eggless Gulab Jamun-Stuffed Red Velvet Cupcakes is a bit of a mouthful to say, just wait until you eat one. They're perfect for celebrations!
There's a soft and juicy gulab jamun surprise hidden inside this fluffy eggless red velvet cupcake.
Use either shop-bought Gulab Jamuns or make your own. I have a video tutorial and recipe for Perfect Gulab Jamun here. There's nothing quite as satisfying as making gulab jamun at home.
Can I bake these eggless red velvet cupcakes without the gulab jamuns?
I know you're thinking it. Of course you can bake these cupcakes without the Gulab Jamuns.
Be sure to fill the cases 3/4 way up and bake at 170°C/340°F for 22 minutes. This recipe calls for standard-sized cupcake cases (not fairy cakes and not muffins, somewhere in between).
Note: Smaller cupcakes will take less time at the same temperature. Larger muffin-sized cakes will take longer at a slightly reduced temperature.
How to make Gulab Jamun-Stuffed Cupcakes
1. Make the eggless red velvet cupcake batter
2. Fill the cupcake cases and add your surprise inside
3. Frost and serve!
Eggless cupcake FAQs
Q. Is there a single egg replacer that works for all baking recipes?
A. There's not a one-size-fits-all answer as the techniques and make-up of different bakes all require different approaches and ingredients.
E.g. Mashed banana, flax eggs and applesauce are fine for eggless bakes like banana cake, dense muffins and crumb cake but they don't work so well in red velvet cakes.
The eggless cake would end up tasting of those ingredients rather than having the light, white, fluffy texture we all want in a good red velvet cake.
Q. Can I swap the sugar in the recipe for a sugar alternative?
A. No. Sugar helps proteins bind and form a good structure in cakes. In the absence of eggs, sugar plays a vital role in binding proteins, forming a good crumb and holding the cake together.
Using liquid-based ingredients like honey will change the texture of final cake.
Coconut sugar and sweetener have a different make-up to regular sugar too and swapping them in place of sugar will also change the final result of the eggless cake.
Q. My eggless cupcakes are tough. Where did I go wrong?
A. Overworked batter can produce a dense, tough cake. This is the case with all cakes, not just the eggless kind. If you overbeat cake batter, the in the flour gluten develops and this results in tough, stodgy eggless cupcakes.
Q. Can I veganise these eggless cakes?
A. Yes, you can but again, the texture and flavour of the finished cake may vary slightly.
Increase the amount flour by 1 tbsp (8g) and switch the milk for unsweetened almond milk (at room temperature).
Do not add the gulab jamuns unless you happen to have vegan gulab jamuns to hand.
The butter in the frosting can be swapped with your favourite vegan spread. Use your favourite plant-based cream cheese.
Q. What type of food colour should I use?
I recommend using a gel-based red food colour, such as Wilton or Americolor for the best results. Liquid food colours can affect batter consistency when we add larger amounts.
Q. Can I use normal self-raising flour?
You can use either regular self-raising flour or cake/sponge flour. Note that sponge flour has a lower gluten content which will result in a lighter cake. Normal self-raising flour is fine to use, but your cake won't be as light.
Handy equipment & tools for this recipe
If you make this recipe, please consider leaving a review and comment below.
Eggless Gulab Jamun-Stuffed Red Velvet Cupcakes recipe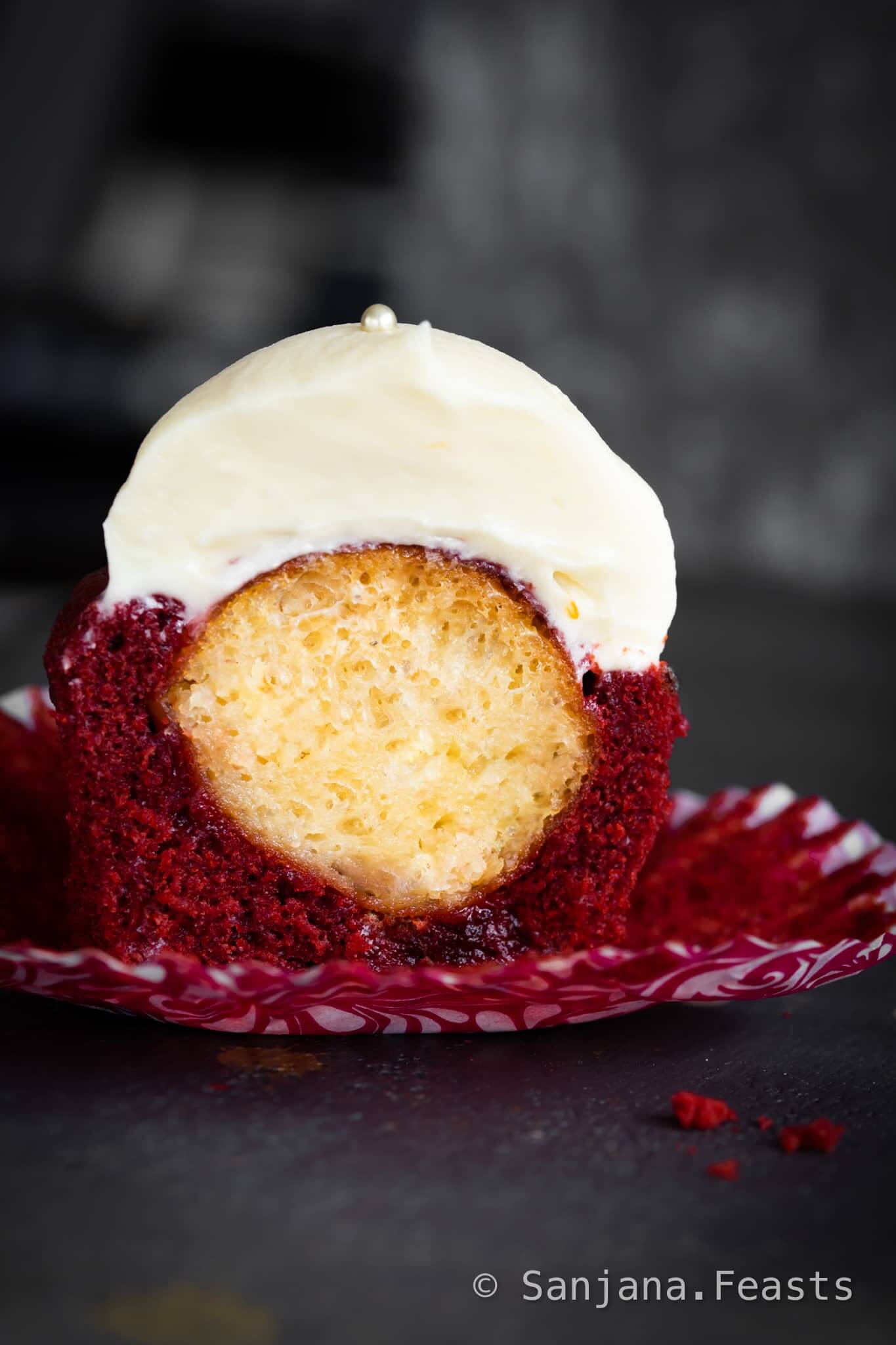 Ingredients
For the gulab jamun-stuffed red velvet cupcakes:
180

g

extra-fine self-raising cake flour

20

g

cocoa powder

150

g

caster sugar

1

tbsp

cornflour

1

tbsp

skimmed milk powder

1/4

tsp

baking powder

1/8

tsp

fine salt

240

ml

milk

room temperature

2

tsp

vanilla extract

2

tsp

apple cider vinegar

100

ml

oil

any flavourless oil of your choice

1

tsp

red gel food colour

12

gulab jamuns
For the cream cheese frosting:
180

g

unsalted butter

180

g

cream cheese

125

g

icing sugar

2

tbsp

skimmed milk powder

1

tbsp

reserved gulab jamun syrup

2

tsp

vanilla extract

1/8

tsp

salt

12

gold dragees to decorate

(optional)
Instructions
Preheat the oven to 170°C/340°F. Line a 12-hole cupcake tin with cupcake cases.

Gently press each gulab jamun between your fingers to remove excess syrup. Don't squeeze them too hard or they will break. Reserve 1 tbsp gulab jamun syrup for the frosting.

In a jug or glass, mix together the milk and apple cider vinegar. Set aside for 5 minutes, undisturbed. After 5 minutes, add the oil and vanilla extract and give it a brief whisk.

In a large bowl, sift together the flour, cocoa powder, milk powder, cornflour, baking powder, sugar and salt.

Add the milk mixture to the dry ingredients and gently whisk for 40-60 seconds until smooth. Add the red food colour and mix well until incorporated. Don't overbeat the cake batter or you could end up with tough cupcakes.

Pour the batter into the paper cases, about halfway full. Place a gulab jamun in the centre of each case. Top with more cake batter, about 3/4 way up the case and so that the gulab jamuns are covered. Bake the cupcakes for 18-20 minutes. It's okay if some of the tops crack a bit where they gulab jamuns are.

Remove from the oven and allow the cupcakes to cool in the tin. Ensure they're completely cool before adding the frosting.
For the frosting:
To make the frosting, mix together the milk powder and 1 tbsp reserved gulab jamun syrup. Mix well until smooth.

Beat the butter until pale. Add the milk powder mixture and vanilla extract. Beat briefly. Next, the icing sugar. Beat until light and fluffy, about 5 minutes.

Add the cream cheese and continue to beat until smooth. Refrigerate until cold, about 2-3 hours and whip once more. The cream cheese frosting ready to use when it's thick and can hold a stiff peak.

Frost the cooled cupcakes however you like. I often use the Wilton 1M tip fitted in a piping bag for cute ruffles and rosettes. You can also just use an ice cream scoop to heap the frosting on. This time I liked the idea of a chubby blob piped with a simple large, round piping tip to reflect the roundness of the gulab jamuns. Add a gold dragee for sparkle.
Sanjana's Notes
The unfrosted cupcakes can be made up to 24 hours in advance. Cover well and store at room temperature. Frost immediately before serving.
Make frosting ahead of time and store in an airtight container in the fridge for up to 1 week.
Frosted cupcakes are best eaten on the day. Refrigerated cupcakes may dry out.
Pin this recipe for later!
If you like this, you'll love my recipe for Vegan Lemon Meringue Cupcakes
Subscribe to my YouTube channel
Love Sanjana