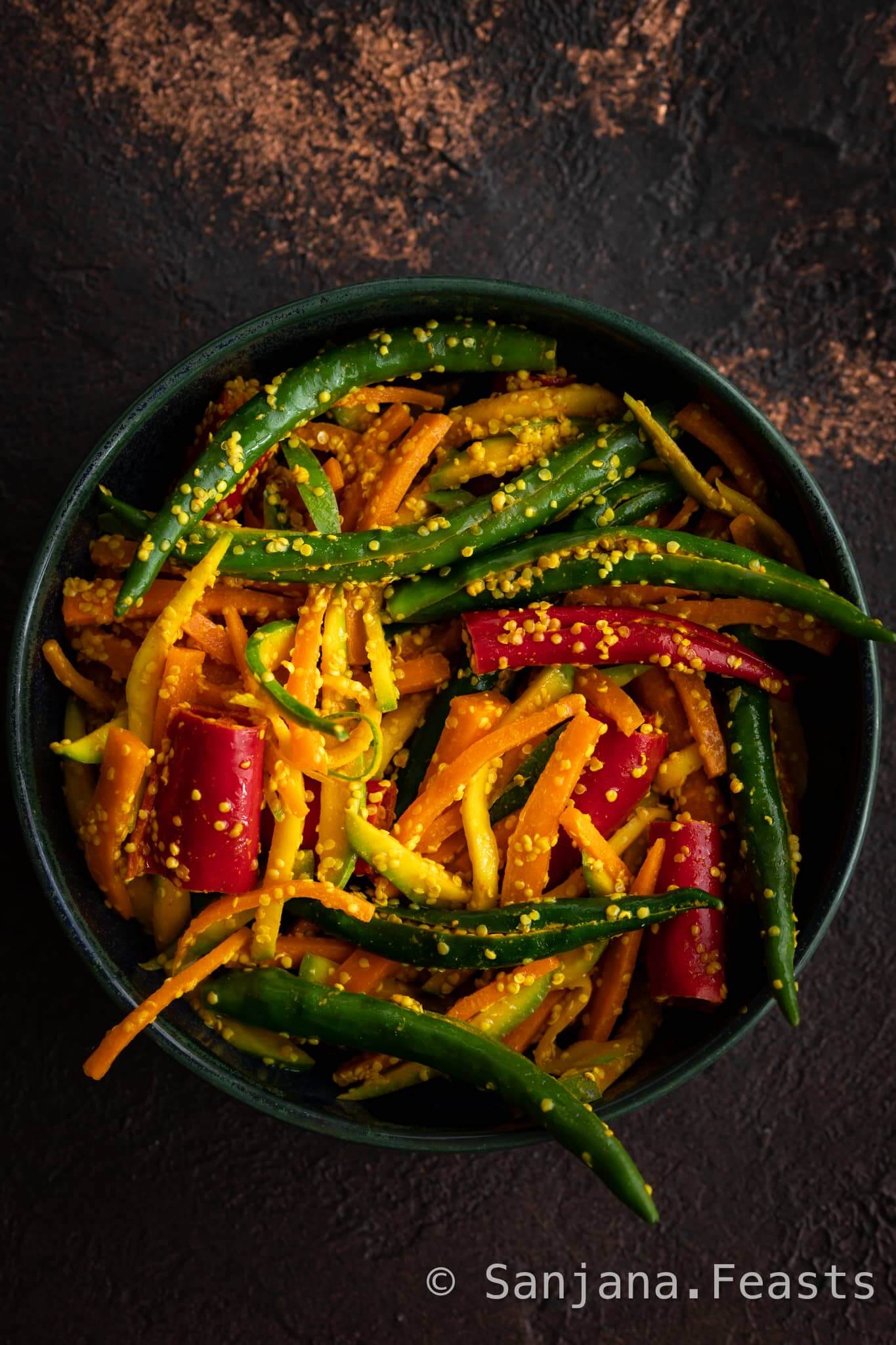 Athela Marcha (Instant Chilli Pickle) is a Gujarati-style Indian chilli pickle. Fresh green and red chillies, carrot strips and raw mango make for an amazing condiment.
This instant chilli pickle will forever be "Gujarati wedding pickle" in my eyes. The mustard seed-flecked chillies and carrots always have a place at the dinner table.
How to serve Athela Marcha (Instant Chilli Pickle)
This fresh and crunchy pickle is delicious as part of a larger Indian meal. At home, we serve it with daily vegetable curries, rotli and plain yoghurt.
On Sunday mornings I love it with a stack of freshly-made Gujarati Thepla and Masala Chai. Style it out and make a Thepla and Athela Marcha rollup, wrap style. It's a snackable cigar of crunch and happiness!
How to prepare chillies for Athela Marcha
What are some other names for Athela Marcha?
Depending on your location, language and family preferences, you might know this pickle by different names. Some might include:
Raiwala marcha
Rai vara marcha
Athela rai gajar
Mirchi ki achar
This is by no means an extensive list. If you know this pickle by a different name, let me know in the comments below. I'd love to learn about your version!
The best chilli pickle with mustard seeds
Mustard seeds are a key ingredient in this recipe for Athela Marcha. They provide deep, warming heat and aroma.
What type of mustard seeds should I use Athela Marcha (Instant Chilli Pickle)?
Athela Marcha call for split, skinned mustard seeds, also known as rai kuria. They are available in most Indian food shops or online.
Rai Kuria, also known as Rai dal is mustard seeds with the skin removed, then split. Rai kuria are the main ingredient in making many Indian pickles.
To add mango or not to add mango?
My recipe for Athela Marcha includes raw green mango. My family's East Africa ties have lead us to create a version of this Gujarati pickle with sour raw mango.
The combination of spicy chilli, crunchy carrot and mouth-puckering mango is simply irresistible.
If you're not a fan of raw mango, simply add more carrots or chillies instead.
How to store Indian chilli pickle
Almost every ingredient in this pickle serve to aid preservation. Salt, turmeric, citric acid and oil being the core natural preservatives.
Once mixed, pile your instant chilli pickle into a sterilised jar and store it in the fridge. It keeps well for up to 3 weeks.
What can I use instead of citric acid?
Unless you cook Indian food or make a lot of your own preserves, I understand that citric acid might not be a usual store cupboard ingredient for you.
If you don't have citric acid, don't buy a whole bag just for the small amount needed in this recipe. Simply replace the citric acid in this recipe with the juice of 2 large lemons.
Subscribe to my YouTube channel!
In my experience, citric acid keeps the carrots and chillies crunchier for much longer than chilli pickle made with lemon juice.
Athela Marcha (Instant Chilli Pickle) recipe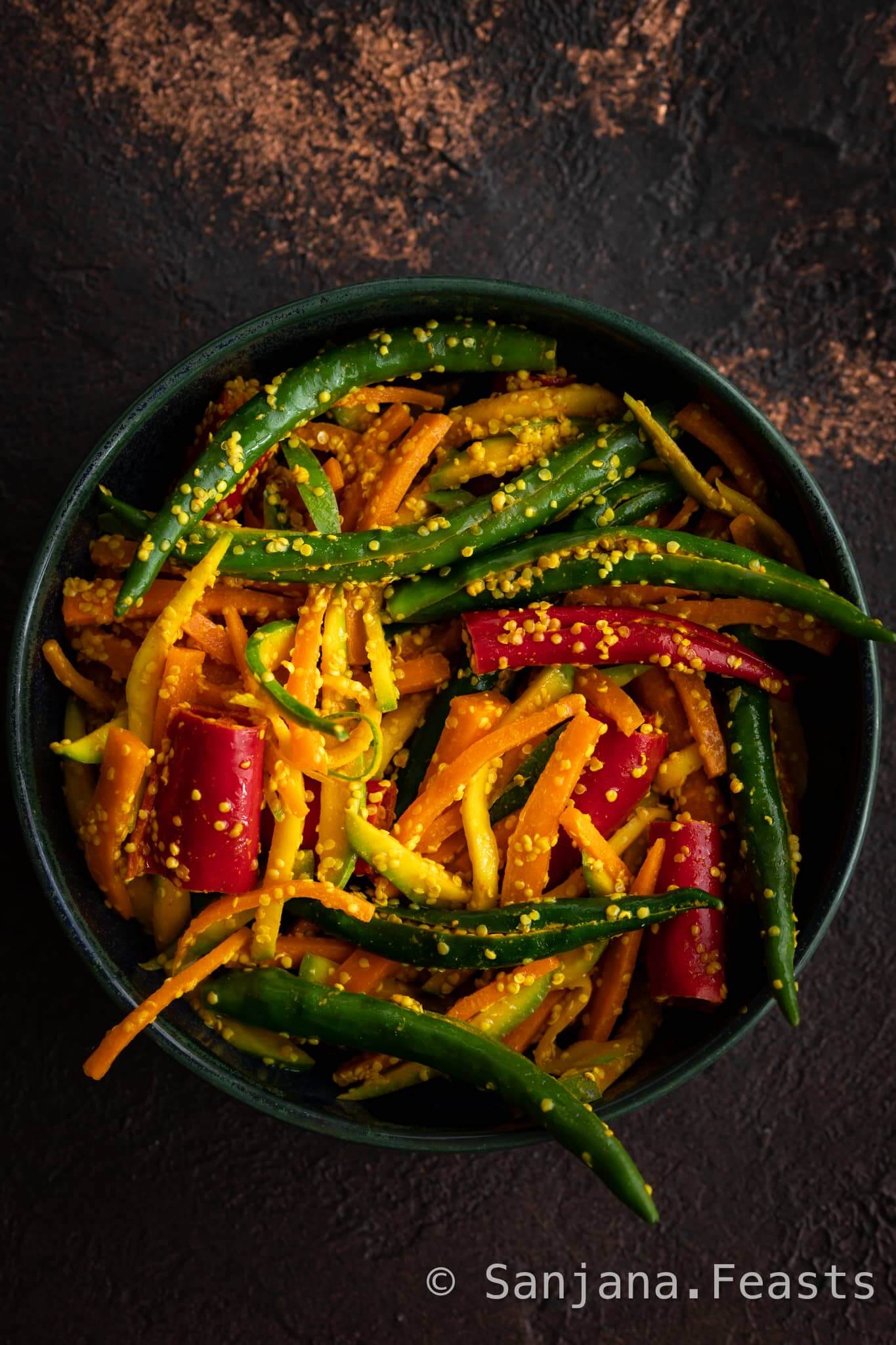 Ingredients
3

medium-sized carrots

peeled and cut into batons

2

small

raw green mangos

cut into batons

15-20

mixed green and red chillies

40

g

skinless split mustard seeds

(rai kuria)

1/2

tsp

asafoetida

2

tsp

ground turmeric

75

ml

oil

any flavourless

1/2

tsp

citric acid

1

1/2

tsp salt
Instructions
Heat the oil until it's smoking hot. Allow to cool completely.

In a large bowl, mix together the carrots and raw mango batons.

Cut the stalks off the chillies. Slit the chillies lengthways down the centre but don't cut all the way through. If your chillies are large or thick, cut them into smaller pieces and then split lengthways. You can wear gloves if you like.

Mix together the mustard seeds, turmeric, asafoetida, salt and citric acid.

Fill the split chillies with the dry mustard seed masala. I use gloves so my nails don't stain.

Add any leftover mustard seed masala, along with the filled chillies to the cut carrots and mango.

Pour the cooled oil into the pickle. Use your hands to toss everything well.

Pile the Athela Marcha (Instant Chilli Pickle) into a clean, sterilised jar. Cover with a tight-fitting lid. Refrigerate and enjoy within 3 weeks.
Pin this recipe for later!
Love Sanjana