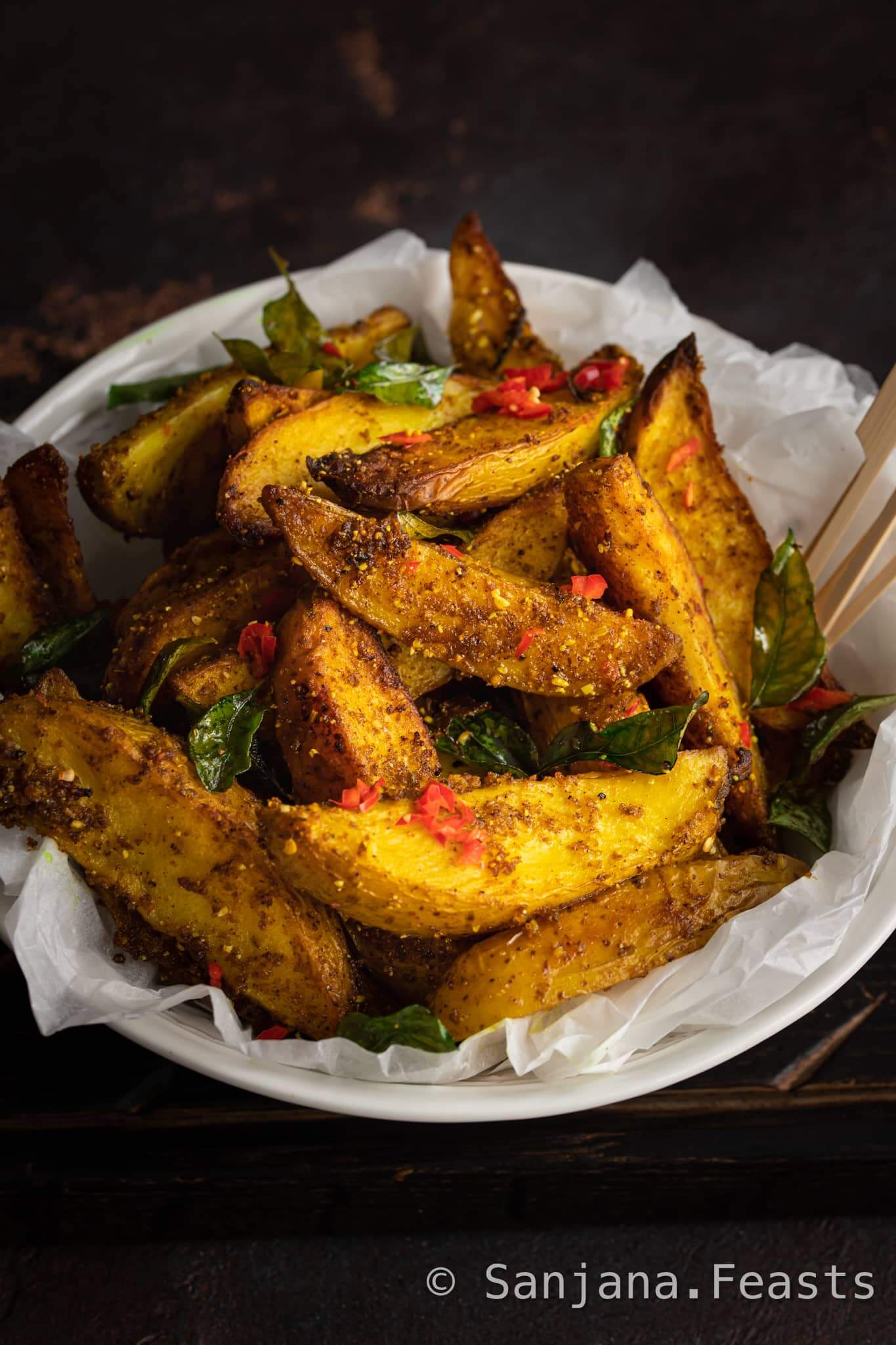 XXL Sri Lankan-Style Potato Wedges with a crispy spice and rice coating. Serve these vegan, curry leaf-topped potato wedges with your favourite dips.
A fast and easy side dish to serve alongside your favourite burgers, pasta dishes and pizza.
What's in the Sri Lankan-style spice mix?
The whole affair of making your own Sri Lankan roasted curry powder is heady and delectable. Traditional blends are made up of whole spices which are dry roasted until toasty. Sometimes toasted raw rice is goes in for amazing depth of flavour.
Indeed, each recipe will vary from home to home but the process is very much the same. My recipe includes: mustard seeds, fennel seeds, cloves, peppercorns, coriander seeds, fenugreek seeds, cinnamon, turmeric, dried chilli and roasted rice.
I call these wedges "Sri Lankan-style" because they're inspired by the flavours of Sri Lankan curry powder but I do not roast the spices prior to grinding them. The reason for this so the spices do not burn in the very hot oven we require to produce crispy wedges.
This is very much an inauthentic dish but delicious nevertheless! Our staple Saturday night sort of fare alongside a big salad.
How to make crispy potato wedges: add toasted raw rice!
Following the rules of Sri Lankan curry powder, I add toasted raw rice for delicious flavour. Incidentally, the ground toasted rice also creates a perfectly crispy coating for each potato wedge. I'll never make wedges without ground rice again!
What's the best potato to use for wedges?
Any variety of potato with floury flesh is ideal for potato wedges (what you'd use for a baked potato). In the UK, you can use both King Edward and Maris Piper potatoes. For my US readers, Russet potatoes (Idaho potatoes) are ideal.
In any case, choose spuds with a dry, mealy texture as opposed to waxy as these make for the fluffiest wedges.
How to cut potato wedges
I like my potato wedges big. I choose the largest baking potatoes I can find and scrub them clean. It's best to keep the skins on.
Cut each potato in half lengthways. Each half needs to be halved and then halved again lengthways to create a wedge-like shape.
How to cook potato wedges in the oven
Grab a large baking tray (non-stick is handy and prevents the potatoes from sticking). Be sure to give the potato wedges enough room so they can brown nicely. If they're piled on top of each other, they'll just get soggy.
When I prepare potato wedges for 4 people, I find around 700g potatoes makes for generous side portions. Pre-heat the oven to 200°C/400°F (fan assisted), at least 30 minutes before you start.
Mix in your seasonings and make sure the potatoes are coated in a layer of oil.
Bake the potatoes in a single layer for 40-45 minutes. Toss them around at the halfway mark to make sure they're cooking and browning evenly.
Subscribe to my YouTube channel!
Why do my potato wedges stick?
There could be several reasons why your potato wedges stick to the pan. Here are some of them.
There's not enough oil on the potatoes. Add more.
The tray might not be ideal. Try a non-stick one.
There may be excess starch in the potatoes. Wash and soak the cut wedges in cold water for 10 minutes before you season them. Be sure to dry them off in a clean tea towel after soaking.
Can I fry these potato wedges?
No, I don't recommend you fry these potato wedges. The recipe has been developed for oven baking. The seasoning is likely to fall off in the oil if you try to deep fry them.
Are these potato wedges gluten free?
Yes. The seasoning is made with toasted raw rice which gives them a delicious crunch.
Are these potato wedges vegan?
Yes, this recipe for Sri Lankan-Style Potato Wedges is suitable for vegetarians and vegans.
What to serve with potato wedges
Serve these crispy Sri Lankan-style Potato Wedges with your favourite dips (sriracha mayo, tamarind chutney, hot sauce and ranch are all super tasty!).
Other delicious partners for these wedges include burgers, sandwiches, toasties, pizza, pasta, baked beans and salad.
I love to serve my potato wedges with:
Sri Lankan-Style Potato Wedges recipe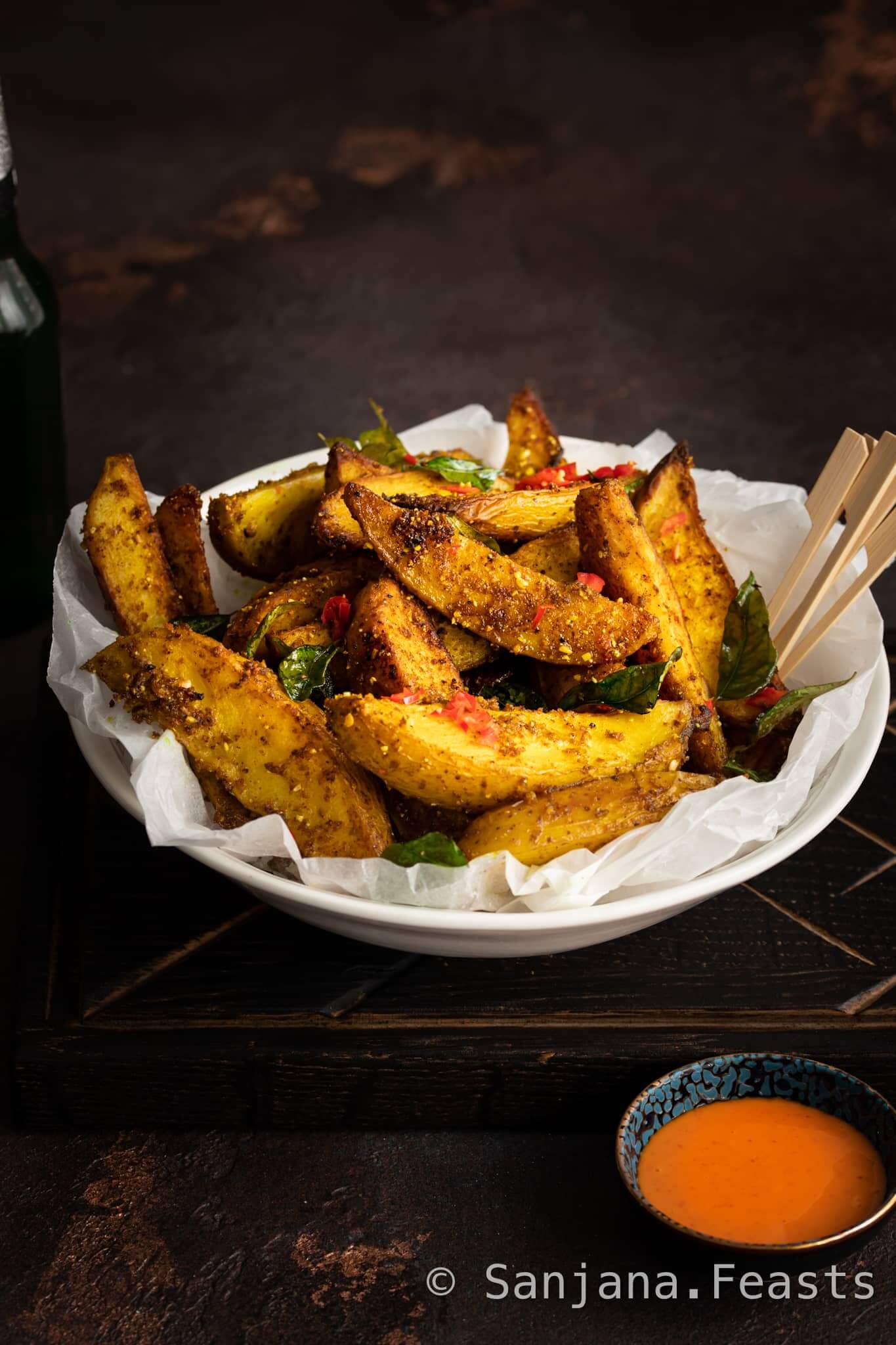 Equipment
Large baking tray

Pestle and mortar or spice grinder
Ingredients
30

curry leaves

1/2

tsp

mustard seeds

1/2

tsp

fennel seeds

2

cloves

1

tsp

black peppercorns

2

dried red chillies

1/4

tsp

coriander seeds

1/4

tsp

fenugreek seeds

2

green cardamom pods

skins removed

1/4

tsp

ground cinnamon

1

tsp

ground turmeric

2

tsp

rice

lightly toasted in a dry frying pan

700

g

potatoes

scrubbed clean

3

tbsp

oil + more to fry half of the curry leaves at the end

any flavourless

2

large cloves garlic

crushed

2

chopped fresh red chillies

to garnish
Instructions
Pre-heat an oven to 200°C/400°F.

Place the mustard seeds, fennel seeds, cloves, peppercorns, dried chillies, coriander seeds, fenugreek seeds, cardamom seeds, cinnamon, turmeric and toasted rice in a pestle and mortar or the jar of a spice grinder. Pound or grind to a fine powder. It's okay if some of the rice still feels a little coarse.

Cut the potatoes into large wedges. Place them on a large baking tray. Drizzle over the oil and then add half of the curry leaves, crushed garlic and spice mix. Toss with your hands to coat all the wedges.

Bake in a pre-heated oven for 40-45 minutes, tossing the potatoes halfway to ensure they brown evenly. The rice will ensure they're deliciously crispy on the outside.

Fry the remaining curry leaves in hot oil until crispy. Scatter these, along with the chillies on top.

Serve with your favourite dip. This Tamarind Chutney is delicious with them, but equally, I love these wedges with some vegan Sriracha mayo.
Pin this recipe for later! Sri Lankan-Style Potato Wedges
If you like this, you'll love my recipe for Masala Chips
Love Sanjana