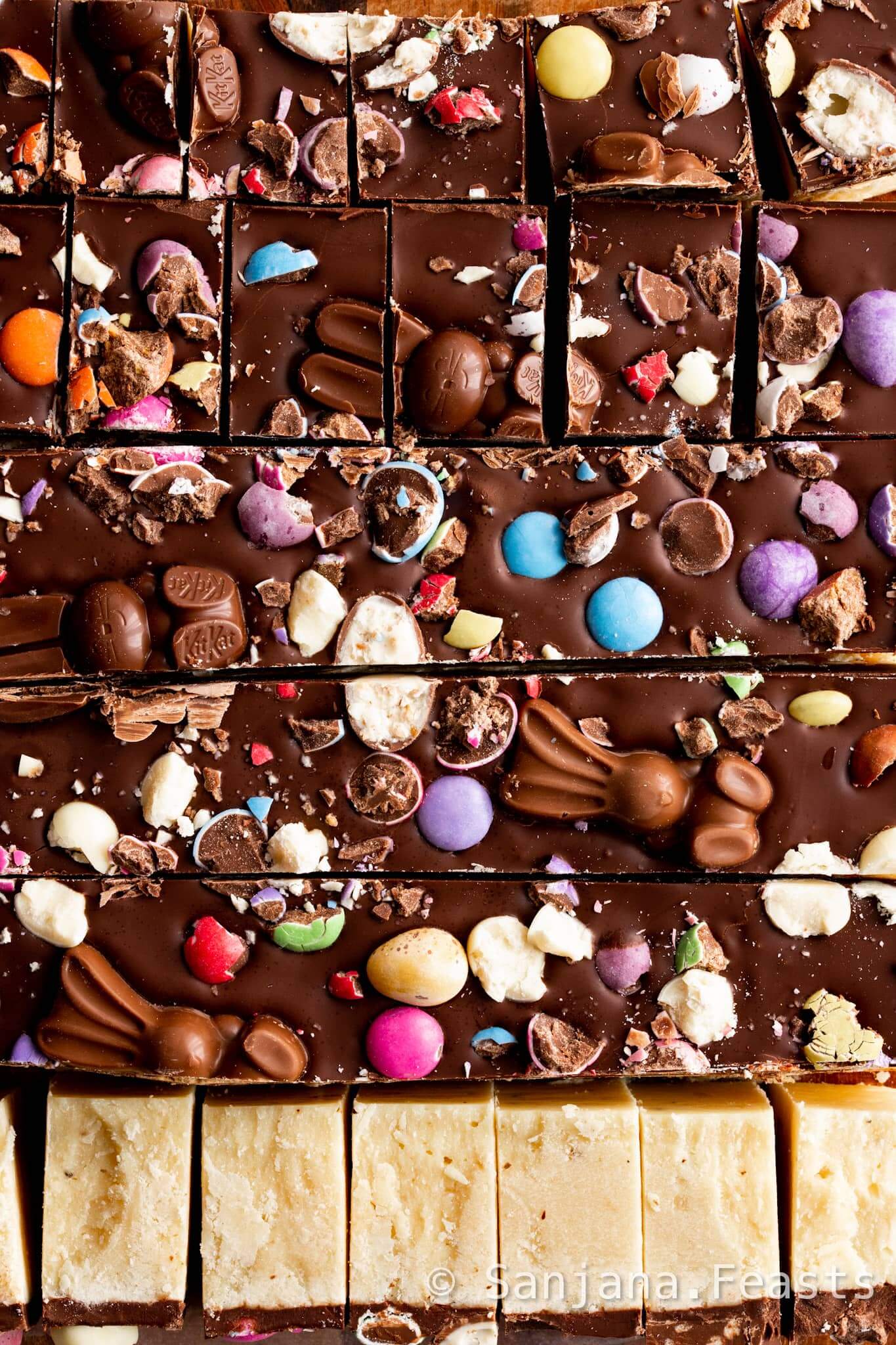 This super-duper chocolatey take on Indian Burfi puts Easter chocolate to work for a totally cute springtime sweet! It's so easy and quick to make.
It is adapted from my Perfect Plain White Burfi recipe and it's completely foolproof. Each square of burfi is perfectly crumbly and melts in the mouth. Indian sweets have never been so simple!
Easter Chocolate Burfi: The perfect kids Easter project!
If you have a glut of leftover Easter chocolate to use up, or want to make something fun for Easter with kids, this is the ideal recipe. Little ones will love decorating the slab of chocolate burfi. My little one loves adding chocolate bunnies.
What type of chocolate to use for chocolate burfi
I use milk chocolate Easter eggs for the shiny chocolate topping. Mix it with a small amount of butter to ensure it melts nicely and cuts without snapping or breaking. Be sure to use a sharp knife to cut your burfi into squares.
If you like, you can use regular chocolate bars mixed with butter, or even easier is to use cooking chocolate. This already has fat added so the chocolate burfi cuts perfectly. Indian sweet shops traditionally use cooking chocolate for their chocolate burfi. It's pretty cheap stuff but I think it's all part of the charm!
What does Burfi mean?
The word burfi or barfi is a Hindi word which stems from the Persian barfī, which literally means 'icy' or 'snowy'. Baraf is the Hindi word for 'ice'.
This traditional Indian sweet carries the name Burfi because of it's cool, melt-in-the mouth texture. If you've ever tried the western retro sweet, coconut ice, you'll be familiar with this concept.
How to make Burfi with milk powder
My recipe here calls for milk powder. In many cases, people use mawa (milk solids) which you can make by reducing full-fat milk. Indeed, you can also buy mawa in many South Asian food shops.
I like to use full-fat milk powder because it is readily available in most shops or online.
What if I can't find full-fat milk powder?
If full-fat milk powder proves to be elusive, you can use skimmed milk powder and simply replace the milk in this recipe with an equal measure of double (full-fat) cream. This simple switch will produce a delicious, creamy Burfi.
Subscribe to my YouTube Channel!
Other types of Burfi to make
Why won't my Burfi set?
If you undercook Burfi, it will not set. Watch my step-by-step recipe video to see what the Burfi mixture should look like before you place it in the tin. If the mixture is too runny, the Burfi won't set and the texture will be sticky to eat.
Why is my Burfi chewy?
Burfi can turn chewy if you overcook it. Be sure to cook the Burfi mixture over a very low heat. Stir constantly without stopping. Keep an eye on the texture. It is ready when the mixture forms a cohesive mass that comes away from the sides of the pan. It should look a bit like mashed potato!
Easter Chocolate Burfi recipe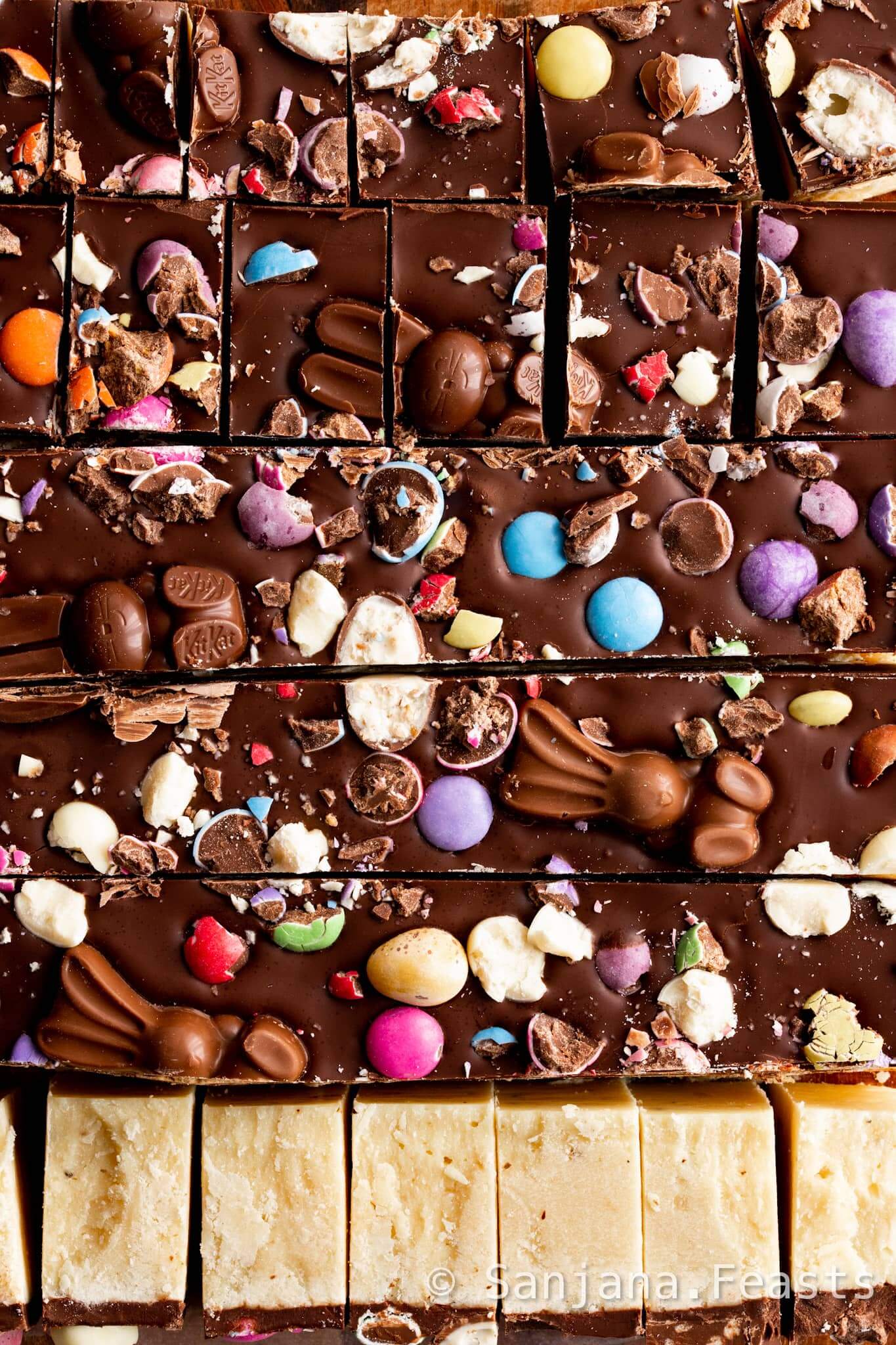 Equipment
L30 x W20 x D5cm (13"x9") rectangular traybake pan
Ingredients
240

g

sugar

300

ml

whole milk

130

g

salted butter

595

g

full-fat milk powder

1

tsp

ground cardamom seeds

12-15

saffron strands

1

tsp

vanilla extract

1

tsp

lemon juice
For the chocolate topping:
250

g

chocolate

I used Easter eggs

50

g

salted butter

100

g

your favourite Easter chocolate, to decorate

I used Mini Eggs, Malteaser bunnies, KitKat bunnies, Smarties, Milkybar and Kinder eggs
Instructions
Line a L30 x W20 x D5cm (13"x9") rectangular traybake pan with baking parchment.

Heat the milk in a large, non-stick pan. Add the butter and allow it to melt.

Add the sugar and stir until it has completely melted and you can no longer feel the crystals at the base of the pan.

Tip in the milk powder and stir well to combine. The mixture will become thick, like mashed potato in appearance.

Cook the mixture over a very low heat, stirring all the time to ensure it doesn't catch and burn on the base of the pan.

Once the burfi mixture begins to come away from the sides, at about the 5 minute mark, add the lemon juice, vanilla extract, cardamom and saffron. Continue to stir for a further 2 minutes.

Around the 8 minute mark, the burfi mixture should be thick. Once it forms a soft mass that comes away from the sides of the pan and into a ball, it is ready.

Spoon the mixture into the prepared tin lined with baking parchment and pistachios. Press the mixture in with a rubber spatula, ensuring the surface is as even as you can get it. Allow to cool to room temperature.

Break the chocolate into small pieces and microwave in short bursts, stirring gently in between until the chocolate has fully melted. I did 4-5 20-30 second bursts. Pour the chocolate over the burfi and spread into an even layer. Top with your Easter chocolate decorations. Allow to set in the fridge for 30 minutes.

Cut into squares using a sharp knife and serve at room temperature.
Sanjana's Notes
If your burfi begins to develop brown spots in places, it means either the heat is too high or you're not stirring it enough. Keep it moving all the time to prevent burnt milk flecks.
This burfi keeps well in an airtight container for up to a week. Keep refrigerated and allow to come to room temperature before serving.
Burfi served cold from the fridge will be much firmer in texture.
If you like this, you'll love my recipe for Hot Cross Bun Mac & Cheese!
Love Sanjana