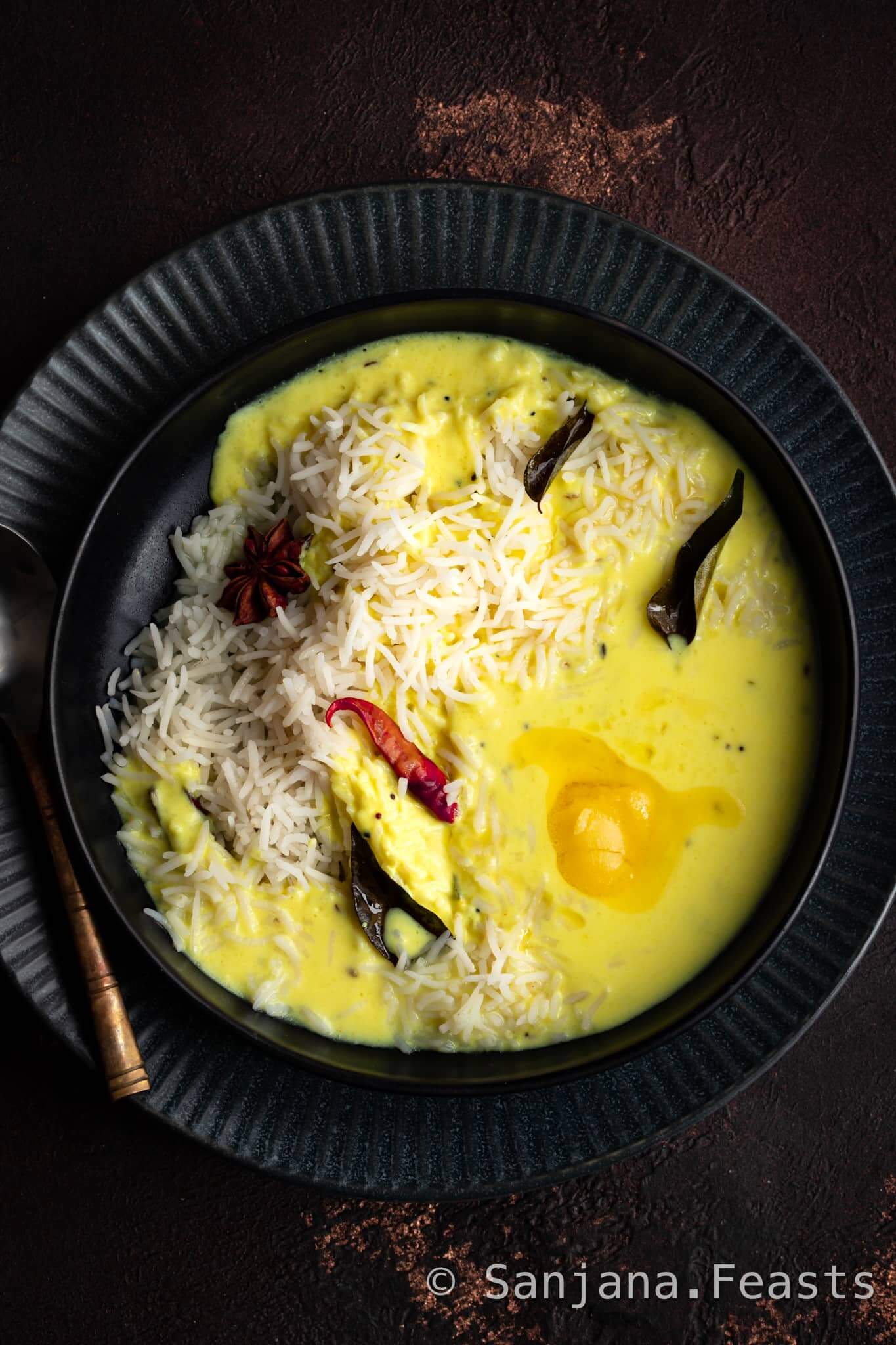 Gujarati Kadhi is a belly-warming concoction of spiced yoghurt and gram flour. It's light comfort food typical of this coastal region of India, although many regions have unique takes on the dish.
My favourite version of Kadhi is hot, sour and slightly sweet. Traditionally, we eat Kadhi with rice, khichdi or rotli. It can be a one-bowl meal you enjoy with a spoon and nothing more.
Where does Kadhi come from?
Kadhi is a dish with roots and shoots in multiple South Asian cultures. Across India it is prepared in many regions. Each take has its' own unique nuances specific to the land and local tastes.
The dish almost always contains gram flour (besan or chickpea flour) as a thickening agent. Many versions use yoghurt, but not all. Spices and additional ingredients also vary from region to region. Let's explore some of these.
Note that within regions, there are a number of variations of Kadhi. Below is simply a high-level exploration of some popular variants.
Gujarati Kadhi
Sour, spicy, sweet and usually very fluid in consistency. This is the Kadhi we will make today. It's the version I've grown up with. This version of Kadhi is prepared with a sour yoghurt and chickpea flour base. The spices, of which there are many, are aromatic but added in moderation.
We typically eat this Kadhi with rice, rotli or khichdi. It's often a thali addition, as well as popular on wedding menus.
In Gujarat, a variation of Kadhi called Fajeto is prepared with fresh mango for a fruity take on the dish. Bhinda (okra) ni Kadhi is a popular style in Gujarat, too.
Punjabi Kadhi
Often thick in comparison to the Gujarati counterpart, Punjabi Kadhi is soul in a bowl. It's traditional to serve this type of buttermilk-based Kadhi with Pakoda; these are fried besan dumplings which fill out the Kadhi beautifully. A side of rice is not uncommon either.
The spices in Punjabi Kadhi usually include (but are not limited to): Cumin, black peppercorn, red chilli, fenugreek and turmeric. The Pakoda often contain onions, methi and other spices so this style of Kadhi certainly does not lack in the flavour department.
Sindhi Kadhi
A vegetable-packed flavour ride. Sindhi Kadhi requires you to first roast the besan for glorious nutty notes. A concoction of tamarind pulp, curry leaves, jaggery, spices and an array of vegetables then go in. Serve hot and sour Sindhi Kadhi with rice and maybe some papad for a balanced one-bowl meal you'll crave often.
Vegetables in Sindhi Kadhi often include potatoes, drumsticks, okra and cluster beans.
Rajasthani Kadhi
Rajasthani Kadhi is yet another delicious style of Kadhi. The tempering (tadka) is usually left until the end and then poured on top once the gram flour and sour yoghurt mixture is ready. Serve it plain with rice, with Pakoda or with gatte (boiled gram flour dumplings) or millet roti for a filling meal.
Other Rajasthani Kadhi recipes call for whey in place of yoghurt. This style of Kadhi is thinner and lighter in appearance. The hot and sour flavours of this nutritious version shine.
Maharashtrian Kadhi (Takachi Kadhi)
Takachi Kadhi is a sour yoghurt and gram flour Kadhi, usually without Pakode. Indeed, it resembles the Gujarati style of Kadhi I grew up eating most closely. Hot and sour flavours and a side of rice complete the meal.
Solkadhi is a yoghurt/buttermilk preparation from the Konkan region which stretches from Goa to Maharashtra. It's typically a refreshing summer drink with the addition of kokum (sour dried mangosteen). It has a beautiful blush hue from the kokum and this ingredient also ensures this style of Kadhi boasts lip-smacking tangy flavours.
Haryanvi Hara Choley Kadhi
A style of Kadhi rich with ghee and/or homemade butter. Haryana Hara Choley Kadhi includes raw green chickpeas, seasonal greens like melon or bathua (goosefoot). The latter is a speciality of northern India and Pakistan and a common ingredient in Saag.
Serve this version of Kadhi with Pakode, roti or a side of rice.
The list goes on. There's no shortage of unique and delicious takes on Kadhi. Indeed, I'm yet to explore the varieties of Kadhi from Pakistan.
What are the ingredients for Gujarati Kadhi?
Sour plain yoghurt, chickpea flour (gram flour/besan), garlic, ginger, chillies, ghee, mustard seeds, cumin seeds, fenugreek seeds, asafoetida, cloves, cinnamon, dried red chillies, curry leaves. turmeric, sugar, salt, fresh coriander, water.
Why does Kadhi split?
Upon contact with heat, yoghurt can often split or curdle. To prevent this, ensure you don't heat the Kadhi too quickly. Whisk or stir the mixture all the time for even heating. Constant agitation will also mean the ingredients have time to emulsify and thicken properly.
The chickpea flour (besan) will also help to stabilise the Kadhi mixture and prevent splitting. Some say salt can cause Kadhi to curdle but this is something I am yet to experience.
Split Kadhi will look like small flecks of white yoghurt and a watery liquid, similar to what you may see in cheese making. Cooking the Kadhi too quickly can cause the fats to over-heat and separate.
What to do if Kadhi splits
It can be saved! If your Kadhi splits, add 4-5 ice cubes and wait for the Kadhi to cool down. Remove the whole cloves and cinnamon. Transfer the split Kadhi mixture to a blender and add a tablespoon of chickpea flour (besan). Blend until smooth and return to the pan.
Next, cook the mixture stirring all the time until smooth and creamy. Simmer for 15 minutes or so to cook the additional besan out. The blending will mean some spices are ground into the Kadhi but that beats a split Kadhi in my opinion! You can always do another tempering on top if you like.
How to make Kadhi sour
Please do your utmost to find the most sour yoghurt possible. It makes all the difference. I find my local South Asian shop stocks 'desi' style yoghurt which is a set, plain yoghurt and extremely sour. It's perfect for Kadhi.
Of course, this may not be possible for you. The next best thing to use is Ayran or doogh (plain, still) from Middle Eastern shops. This is a savoury yogurt-based drink. It's so delicious and makes for amazing Kadhi.
If you can't find any of the above, feel free to add the juice of a large lemon to your yoghurt.
More recipes you may like
How to make vegan Kadhi
For a dairy-free Kadhi, swap plain yoghurt for soy or coconut yoghurt. These products are not nearly sour enough for Kadhi so you may find you need to add lots of lemon juice. The yoghurt should have a seriously sharp tang before you use it.
Temper the spices in oil in place of ghee. Easy!
Is Kadhi gluten free?
Yes, this recipe for Kadhi is naturally free from gluten. Be sure any asafoetida you use is free from gluten. Most compounded asafoetida contains wheat flour so use a brand with rice flour or pure asafoetida.
How to serve Kadhi
Every regional variation of Kadhi will be served in its' own unique way. Kadhi-Chawal (kadhi and rice) being the most common. This Gujarati-style Kadhi is typically accompanied by rice (bhaat), a simple curry like dry mung beans or okra. Khichdi is also a common side dish alongside Gujarati Kadhi.
My favourite ways to eat Kadhi are with Matar Bhaat or simply with Soft Gujarati Rotli.
Subscribe to my YouTube channel
Gujarati Kadhi recipe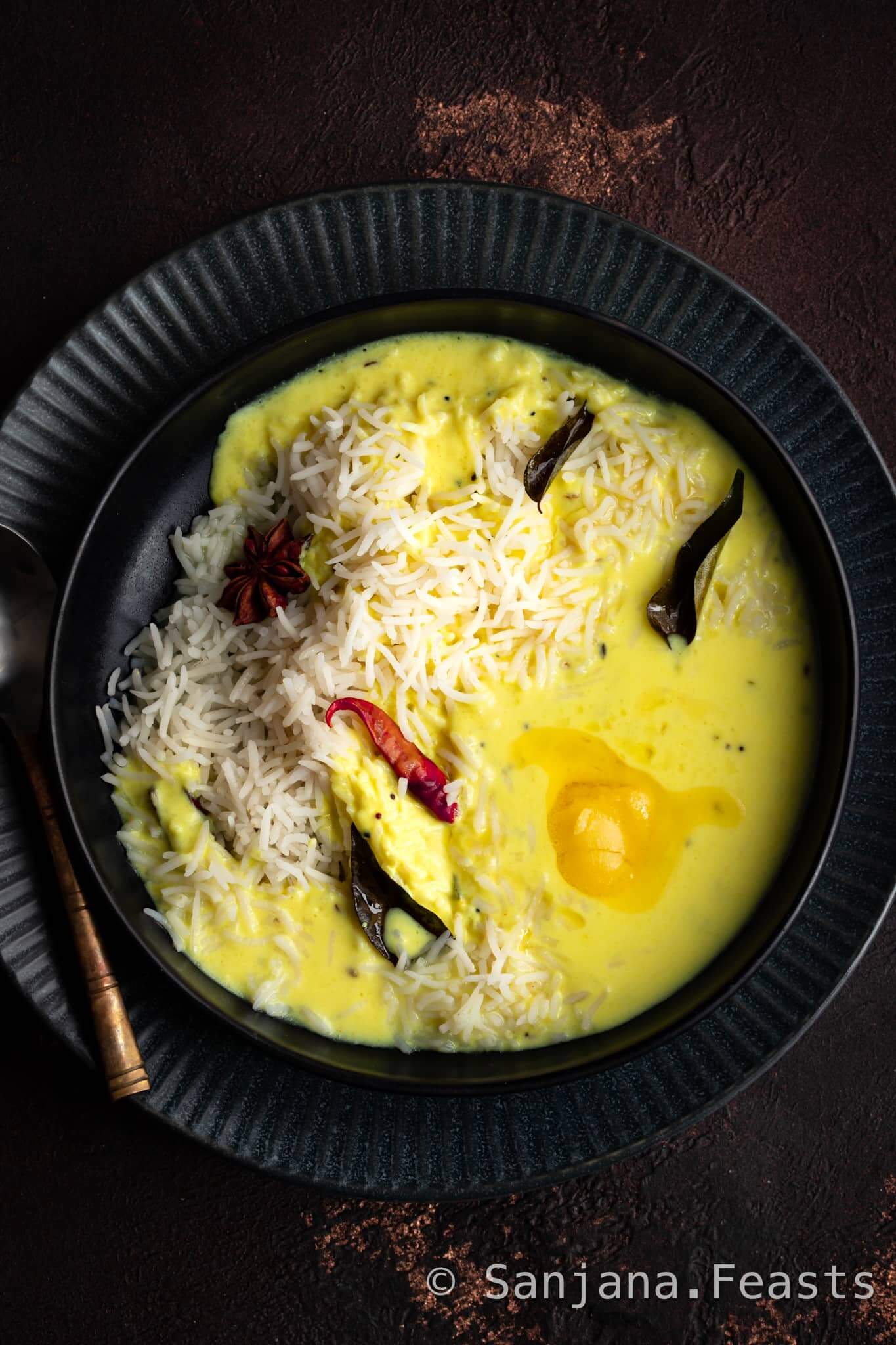 Ingredients
350

g

sour plain yoghurt

40

g

chickpea flour

(gram flour/besan)

2

large cloves garlic

crushed

2.5

cm

piece ginger

grated

1-2

hot green chillies

minced

1

tbsp

ghee

1/2

tsp

mustard seeds

1/2

tsp

cumin seeds

1/4

tsp

fenugreek seeds

1/4

tsp

asafoetida

2

cloves

2.5

cm

stick cinnamon or cassia

2

dried red chillies

whole

12

curry leaves

1/2

tsp

ground turmeric

1

tbsp

+ 1 tsp sugar

1

tsp

salt

1.4

L

water

2

tbsp

fresh coriander

to garnish
Instructions
Place the yoghurt in a large bowl. Add the chickpea flour and whisk until smooth. Gradually add half of the water, whisking all the time to ensure lumps don't form.

Heat the ghee in a large pan. Once hot, add mustard seeds and wait for them to finish crackling. Next, add the following ingredients in quick succession: cumin seeds, fenugreek seeds, asafoetida, cloves, cinnamon or cassia, dried red chillies and curry leaves. Cook them very briefly and don't let them burn.

Add ginger, garlic and green chillies. Sauté for a further 30-40 seconds.

Pour in the yoghurt mixture and stir well. Next, add the ground turmeric, sugar, salt and remaining water. Now keep this over a medium heat, stirring all the time until it comes to a boil. It will thicken as it cooks. Be sure to stir constantly until it reaches boiling point, or the Kadhi may curdle.

Once the Kadhi comes to a boil, turn the heat down low and allow to simmer gently for 15 minutes. This will give the spices time to infuse.

Switch the heat off, garnish with fresh coriander leaves and serve with rice, khichdi or rotli.
Sanjana's Notes
If you're making the Kadhi ahead of time, you may find it thickens as it cools. Feel free to adjust the consistency to your liking by adding additional water.
This style of Kadhi should be sour, hot and slightly sweet. The balance of these three flavour profiles is essential in Gujarati Kadhi.
The Kadhi will keep in the fridge for up to 3 days. Store in an airtight container and heat thoroughly before serving.
Kadhi freezes particularly well. Pack into a freezer-safe container and store for up to 3 months. Defrost at room temperature. Ensure Kadhi is piping hot before you serve.
Foolproof Indian Boiled Rice recipe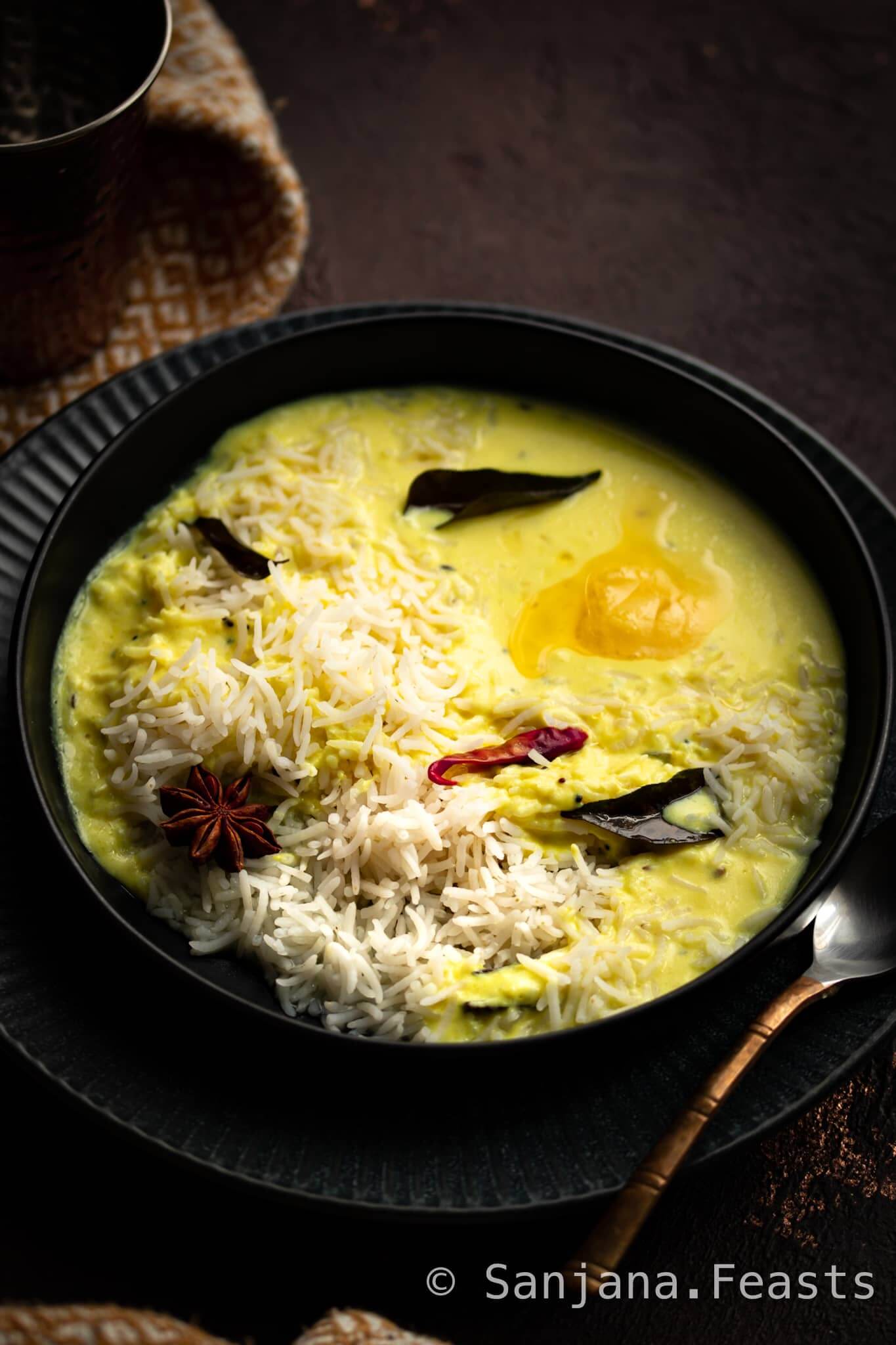 Ingredients
225

g

long-grain Basmati rice

1

L

hot water

2

cm

stick cinnamon or cassia bark

2

cloves

1

greed cardamom pod

1

star anise

1

tsp

salt
Instructions
Wash the rice in cold water three times. Discard the starchy water after each round of washing.

Soak the rice in cold water and set aside for 30 minutes.

Bring 1L water to the boil in a large pan. Add the cinnamon, cardamom, star anise, cloves and salt.

Drain the soaked rice and add them to the boiling water. Boil for 5-6 minutes or until cooked but still a little on the firm side.

Drain the rice in a colander and set aside for 10 minutes for the steam to evaporate. Fluff the grains up with a fork and serve.
Pin this recipe for later! Gujarati Kadhi
If you like this, you'll love my recipe for Matar Bhaat
Love Sanjana