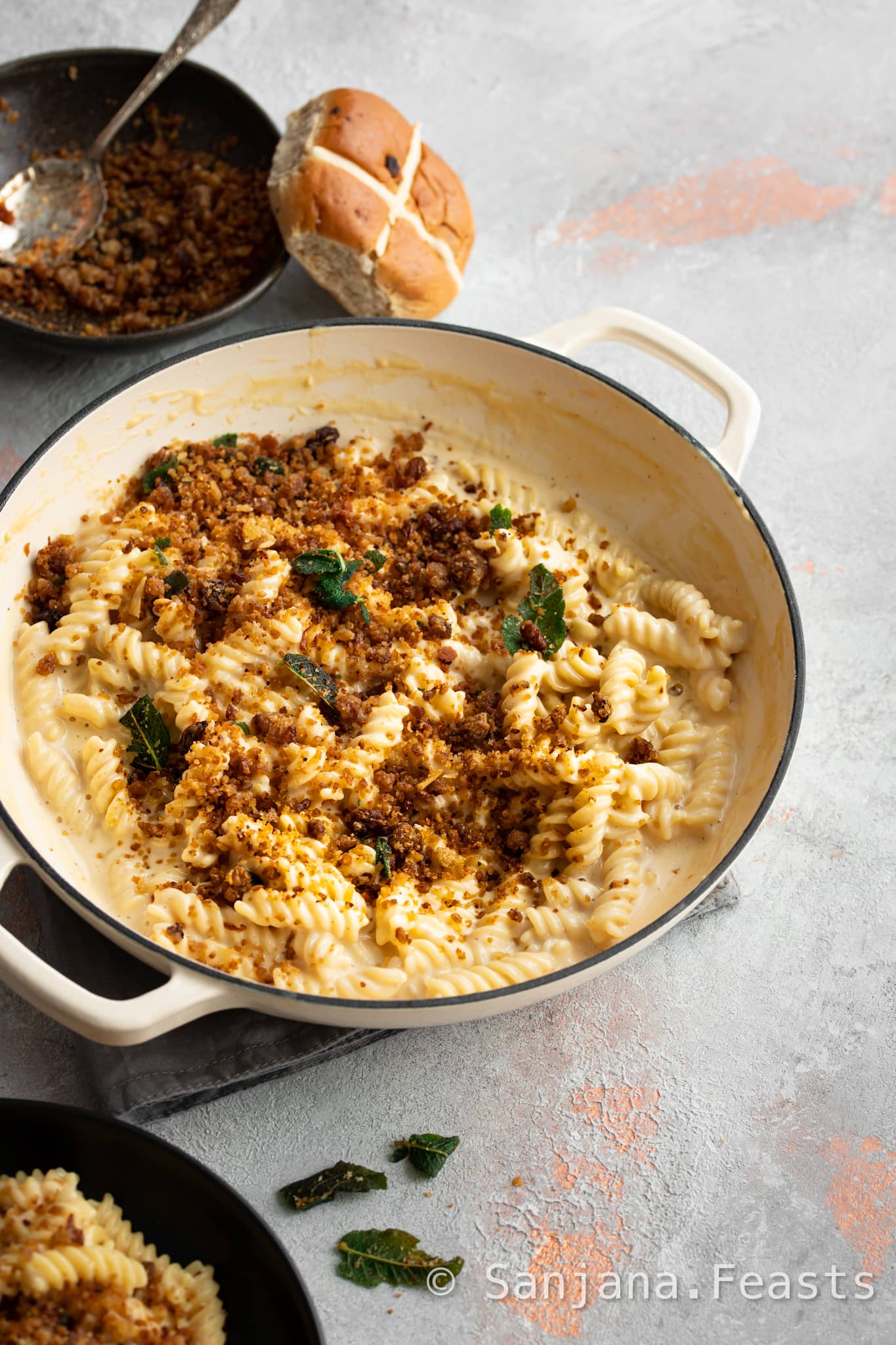 Hot Cross Crumb Mac & Cheese is The ultimate luxury macaroni cheese for hot cross bun lovers! Fold pasta into this impossibly creamy cheese sauce and top off with crispy hot cross bun crumbs.
Fans of savoury and sweet combos will find this rich and comforting pasta dinner irresistible.
An unexpected twist on classic creamy mac and cheese
Spring means the arrival of Easter favourite, hot cross buns in the shops (well, from January actually!). There are few dinners I make on consistent rotation but recently, this has become one dish I crave solidly.
Hot Cross Crumb Mac & Cheese comes from my deep love of Cheddar cheese sandwiched between warm, toasted hot cross buns. It's a classic sweet and savoury snack combination I couldn't help but make a meal of.
The fact of the matter is that nothing bulks out a dish better than pasta. Enter Hot Cross Crumb Mac & Cheese. Here, I fold short pasta like fusilli, macaroni, conchiglie (shells), penne or even rigatoni into rich and creamy mature Cheddar sauce.
The ultimate Mac and Cheese with breadcrumbs
Golden hot cross bun crumbs with crispy sage leaves top the dish off. I love the contrast of lightly-spiced crumbs and sweet raisins against the deeply savoury cheese. The whole affair is a celebration of textures and flavours.
A combination you'll either love or hate
Hot Cross Crumb Mac & Cheese reminds me a bit of fruity Wensleydale with cranberries and apricots at Christmas. Or cheese and mango chutney sandwiches. It feels 50 shades of wrong but when you eat it, it the flavours just work.
This being said, if sweet and savoury dishes aren't your cup of tea, it's best to skip the hot cross crumbs with this recipe. Ultimately, this mac and cheese recipe alone still makes for a delicious stove-top meal.
Make Hot Cross Crumb Cauliflower Cheese for a lower carb option
Although my passion for pasta runs deep, you might find it useful to know that you can easily swap cooked pasta for roasted cauliflower florets. A cheeky riff on cauliflower cheese, so to speak. This would make for a great lower carb option or side dish.
Mac & Cheese tips & tricks
Why is my Mac and Cheese grainy?
Cheese sauce can curdle slightly if the cheese is added to a hot milk mixture too quickly. There are a few things you can do to eliminate this.

1. Use evaporated milk. I like to use evaporated milk from a tin for my mac and cheese. It's been heat-treated so is more stable. As a result, it produces a smoother sauce without as much risk of curdling on contact with the cheese. I also love the flavour and creaminess of cheese sauce made with evaporated milk.

2. Remove the sauce from the heat before adding the cheese.

3. Whisk the cheese in quickly and throughly.
Can Mac and Cheese be frozen?
Yes! Leave the sauce a little on the runnier side to ensure it reheats well without becoming dry. Add a little more milk or pasta cooking water. Allow the cooked mac and cheese to cool and then pack it into a freezer-safe container. Finally, freeze for up to 3 months.

To reheat, defrost the Mac and Cheese at room temperature, transfer to a pan or oven dish for reheating on the stove-top or in a pre-heated oven. Above all, ensure the mac and cheese is piping hot before serving.
Is Mac and Cheese vegetarian?
Provided the cheese you use is labelled suitable for vegetarians, yes. Check the packaging if you're not sure.
How do I make vegan Mac and Cheese?
This recipe is heavy on the dairy but there are some simple substitutions you can make to make a vegan version. Swap the butter for vegan butter or olive oil. Similarly, use an unsweetened plant milk like oat milk or almond milk for the sauce. Add your favourite melting dairy-free cheese in place of the Cheddar and finally, ensure any hot cross buns you use are vegan.
Why is my Mac and Cheese dry?
There's not enough liquid in your sauce, the sauce has been cooked too long or you've added too much flour when making the sauce. It's important to remember that pasta will absorb moisture the longer it sits. Finally, if you're making this to eat later, keep the sauce on the runnier side and undercook the pasta slightly so it reheats better later.
How to reheat Mac and Cheese
My method of choice is to microwave in 1-minute bursts until piping hot but you can also reheat this in the oven or on the stove top. However, you may need to add a small amount of water if it's looking particularly dry.
What pasta should I use for Mac & Cheese?
Anything short is the short answer. Macaroni, fusilli, shells, penne, rigatoni, for instance. Try to avoid long pasta like spaghetti or tagliatelle or anything too small — they'll get lost in the creamy sauce.
Subscribe to my YouTube Channel
Hot Cross Crumb Mac & Cheese recipe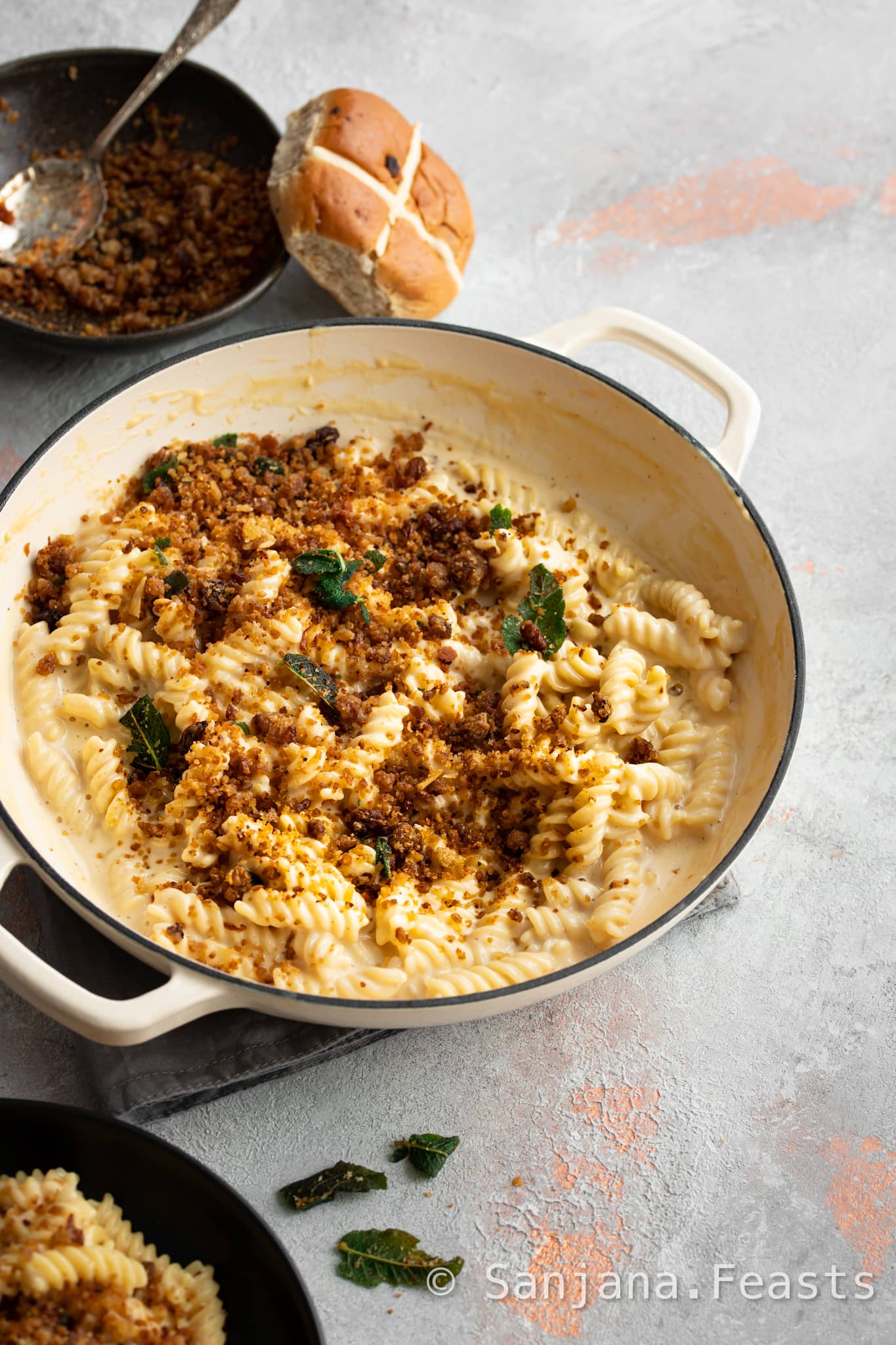 Equipment
Blender or food processor

Whisk
Ingredients
350

g

fusilli or other short pasta of your choice

2

tbsp

plain flour

600

ml

evaporated milk

or whole (full-fat) milk

2

tbsp

butter

1

tsp

dried garlic

or 2 large cloves garlic, peeled and crushed

225

g

extra-mature Cheddar

grated

1

tsp

English mustard powder

or Dijon mustard

1/4

tsp

ground nutmeg

2

tsp

cornflour

(cornstarch)

1/4

tsp

salt

or to taste
For the hot cross crumbs:
3

shop-bought hot cross buns

3

tbsp

olive oil

or butter

10-15

sage leaves

or 1-2 sprigs rosemary
Instructions
To make the hot cross crumbs
Break the hot cross buns up into rough chunks. Place them in to the jar of a blender or food processor. Pulse or blend until you have medium-coarse crumbs.

Heat the olive oil or butter in a pan set over a medium-low heat. Add the sage leaves or sprigs of rosemary. Sauté for a minute or two until the leaves begin to crisp up. A low heat will help release the natural aromas from the herbs.

Add the hot cross bun crumbs and continue to sauté over a medium-low heat until golden and crispy, about 5 minutes. Stir all the time to ensure the crumbs toast evenly and don't burn. You'll be able to hear when they're ready — a crispy clattering sound as you mix. Remove from the heat and transfer to a plate to cool.
For the mac and cheese
Toss the grated cheese with cornflour, English mustard powder, garlic and nutmeg.

Melt the butter in a large, heavy-based pan. Add the plain flour and cook, stirring all the time until it releases a slightly nutty aroma (don't let it brown), this should take about 2 minutes over a medium heat. Remove from the heat.

Whisk in the milk a little at a time until you have a smooth, lump-free mixture. It won't immediately look thick. Return to the heat and cook for 4-5 minutes, whisking all the time until slightly thickened. Once it comes to a very gentle simmer, switch the heat off again.

Add the cheese mixture and whisk continuously until the cheese melts and the sauce thickens further and becomes smooth and glossy. Taste and season with salt if necessary. How much salt you add depends on how salty your cheese is and your personal taste.

Cook the pasta in plenty of salted water, according to the packet instructions or until al dente (it should still have a little bite to it).

Fold the cooked pasta into the sauce. If it feels a bit too thick, add a little bit of the pasta cooking water to adjust the consistency.

Serve immediately topped with the crispy hot cross crumbs.
Sanjana's Notes
I like to use evaporated milk from a tin for my mac and cheese. It's been heat-treated so is more stable and produces a smoother sauce without as much risk of curdling on contact with the cheese. I also love the flavour and creaminess of cheese sauce made with evaporated milk.
Cornflour gives the mac and cheese a lovely glossy finish, as well as ensures the dish reheats better than if it were made with plain flour alone.
Toss the cornflour with the cheese for even distribution into the sauce. It's easier to add all the seasonings into the cheese mixture beforehand so you can just dump and go when making the sauce, too.
If using fresh garlic, add it to the plain flour and butter mixture. Cook it out before adding the milk.
If using Dijon mustard, whisk it in at the end, right before adding the pasta.
This Hot Cross Crumb Mac & Cheese reheats beautifully in the microwave. Keep the macaroni cheese and crumbs separate until you're ready to serve so the crumbs remain crunchy.
Pin this recipe for later! Hot Cross Crumb Mac & Cheese
If you like this, you'll love my recipe for Roasted Vegetable & Mascarpone Lasagne
Love Sanjana