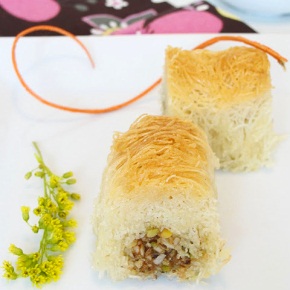 I'm in the mood for something sweet. Not sickly sweet, but slightly sweet, nutty and deliciously crunchy. The kind of sweet that has a delicate spice and fruitiness, so much so that when you take a bite it sings through your veins.
Kataifi (also known as konafi, kanafeh, kunafah and a whole range of other names in various languages) is a Middle-Eastern and Mediterranean shredded filo pastry. It is a little fiddly to work with but worth every second of the time it makes to create luxurious pastries, whether they are sweet or savoury. With this one, patience is most certainly a virtue.
Middle-Eastern and Mediterranean pastries are famously known for their use of nuts, spices and syrups, but the varieties of these ingredients differ from country to country, and region to region. Some of these ingredients include almonds, pistachios, rose, cinnamon, honey, fruits and sugar syrups. The list of possible combinations for pastries is endless, and they can be every bit as indulgent as your imagination dares to allow.
The fine threads of kataifi are massively delicate and resemble angel hair pasta which, when drizzled with golden streams of butter crisp up divinely in the heat of your oven. Syrup is poured on once the kataifi has finished baking and is still warm and able to glug up all of its sweetness and moisture.
Indeed, kataifi is very versatile and provides an amazing crunch to lots of dishes. It can also be filled with savoury ingredients such as cheeses like sharp fetas or also fruits like spiced mashed avocado. It can be baked and deep fried, although when you bake it, you must agree to add lots of butter. It's wholly necessary.
You'll have never tasted anything crispier. That's a promise. And I always keep my promises.
Fun Fact: Palestinians made the largest kanafeh [kataifi] in an attempt to get into the book of Guinness World Records. The plate of the Palestinian delicacy measured 75 meters in length and two meters in width with a weight of 1,350 kilograms.*
Sadly, they never saved a piece for me.
*Source: Wikipedia, http://en.wikipedia.org/wiki/Kanafeh
Cinnamon & Orange Blossom Kataifi Rolls
(Yields 35-45 pieces depending on their size)
Ingredients
500g kataifi pastry (I used a Syrian brand of frozen pastry, defrosted)
250g salted butter, melted
For the filling
240g ground nuts (I used a combination of equal amounts of pistachios, almonds and walnuts)
2 tsp cinnamon powder
60g granulated sugar
For the syrup
400g sugar
360ml water
1 tsp vanilla extract
2 tsp orange blossom water
Method
1. Combine all of the ingredients for the filling and set aside.
2. On a large, clean surface separate the kataifi pastry carefully until it is as thin as it will go without having large gaps in it. Make sure the strands are left whole.
3. Cut the pastry into 6X10inch rectangles and working quickly on the longest edge, butter the pastry all over with a pastry brush. Then place 2-3 tbsp of the filling in a horizontal line across the pastry an inch from the bottom.
4. Carefully and tightly roll the long edge of the pastry from the bottom, making sure the filling doesn't fall out. Place in a buttered baking tray and brush the top all over with more butter. (Note: Next time I roll the kataifi I will be using a sushi mat to get a perfect roll as the method of rolling kataifi is very similar to rolling sushi maki).
5. Repeat the above process for the rest of the pastry. Tightly pack each roll into the baking tray, one next to the other.
6. Bake the kataifi at 140 degress Celsius for around an hour. If you find it is burning then brush on more butter and bake at a lower temperature for longer.
7. Meanwhile, combine the sugar and water in a pan and bring to the boil. Continue to boil on a moderate heat until the syrup is of a one-string consistency (the soft ball stage on a sugar thermometer). Remove from the heat and add the vanilla and orange blossom water. Carefully swirl in the pan and set aside.
8. Once the kataifi is golden brown all over, remove from the heat and gently ladle on the warm sugar syrup. Cover the tray with a piece of foil and allow to rest and absorb for a minimum of 8-12 hours, although 24 hours would be ideal.
9. When rested and cooled, cut the pastry logs into 1 inch pieces and place on greaseproof paper. Serve with Arabic coffee (qawah) or espresso.