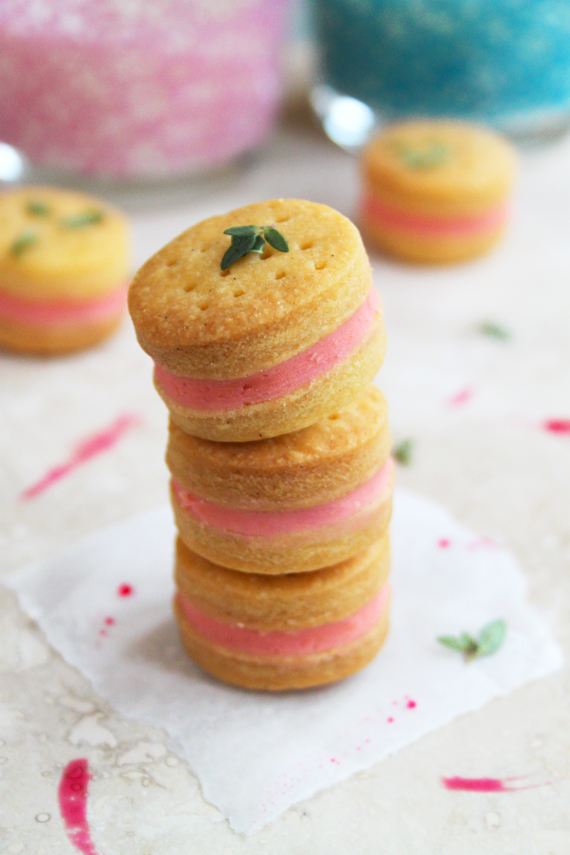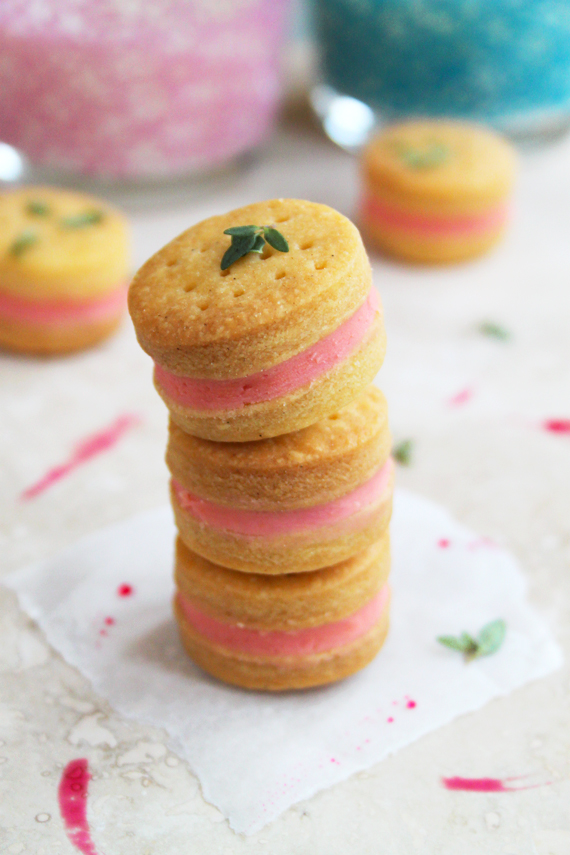 I remember the days my brother and I would raid the biscuit selection box, grabbing our favourites before the other one could get their paws on them. In our house, it was always the jammy dodgers, bourbons and custard creams that went first.
I first spotted this recipe on The Boy Who Bakes, Edd Kimber's website whilst doing some last-minute baking for a party. Short, delicate butter biscuits with a hint of vanilla sandwiched with that sweet custard flavour I've loved since I was a kid. To say Edd's recipe is heavenly would be an understatement.
For me, milk and cookies has always evoked memories of ice cold rose milk and shortbread in the summer sun at my aunt's house. My brother would complain and demand chocolate Nesquik, meaning I got to guzzle down his share of bright-pink rose milk too. Winner.
Combining the two flavours of my childhood was a no brainer – adding a hint of lemon thyme was a last-minute addition which worked a treat.
These make lovely gifts for Christmas (they have that sweet Turkish Delight-feel about them) or are great with tea or coffee after dinner. But my favourite way of serving them is with a glass of cold milk. There's nothing like a bit of nostalgia around this time of year.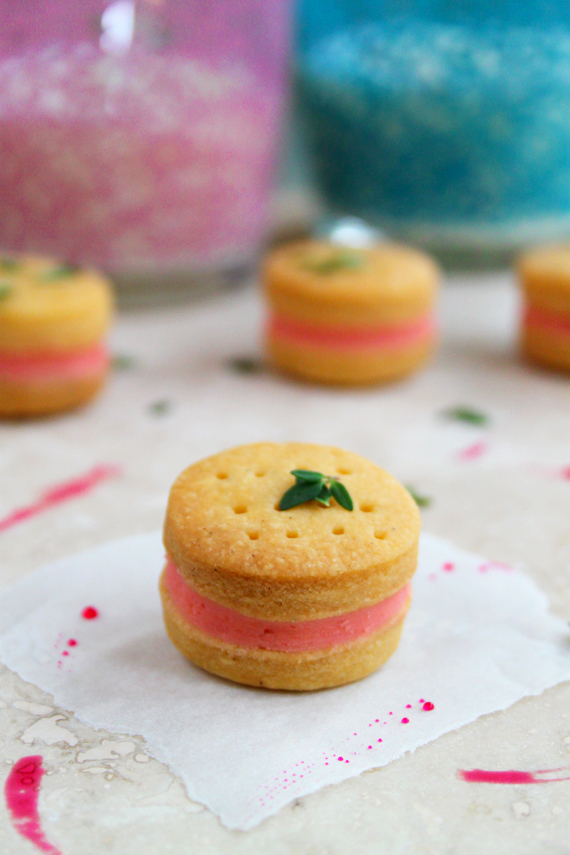 Eggless Rose Custard Creams
Adapted from Edd Kimber's Custard Creams recipe
(makes 20-25)
Ingredients
225g plain flour
50g custard powder
30g icing sugar
170g butter, cold and cubed
½ tsp vanilla bean paste
For the filling:
40g butter
1 ½ tsp rose syrup
120g icing sugar
2 tbsp custard powder
Lemon thyme for sprinkling
Method
1. Pre-heat the oven to 180°C.
2. For the biscuits: Combine the flour, custard powder and sugar. Lightly and quickly, rub in the butter until it resembles coarse breadcrumbs. Add the vanilla bean paste and bring together using your hands. If the mixture seems too dry, wet your hands a little and bring together to form a dough. Try to work quickly.
3. Wrap the dough in cling film and allow to rest in the fridge for 30 minutes.
4. Meanwhile, whip together all the ingredients for the filling. Set aside in a cool place.
5. On a floured surface, roll out the chilled dough to about 3-4mm in thickness. Use a round cutter to cut out the dough. Place the discs on a lined baking tray and allow to rest in the fridge for 20 minutes.
6. Make a few holes in the top of the biscuit dough to prevent it from rising. Bake in the pre-heated oven for 12-14 minutes or until lightly golden. Remove from the oven and allow to cool completely.
7. Take small amounts of the filling and roll into balls. Take a few leaves of lemon thyme (don't overdo it) and sandwich the biscuits with the balls of rose filling and thyme, pressing gently and being very careful not to break them.
Merry Christmas!