Never will I be a girl who orders a salad in a restaurant. I may be vegetarian but my appetite longs for more than a few pesky leaves. I'm usually the one who eats around the salad that comes with a meal, pushing it to the edge of the plate after it's been wilted to mulch from the heat of the real food. Often, I need nothing more than carbs in a creamy sauce. Fast.
The simplicity of this pasta is exactly what makes it so special – take just seven ingredients and fifteen minutes and you'll have an indulgent dinner with a touch of class. Your date, friends or family will believe you really pushed the boat out for them. For best results, don't admit the truth.
Without a doubt, the star of the recipe is the saffron; simmered in double cream until the cream becomes a pale yellow with a delicate flavour. You'll only need a tiny pinch for a heap of deep muskiness. It's important not to go overboard with the saffron; it's there to lightly infuse the cream – not to make it bitter and turmeric-yellow.
Crisp courgettes give the dish just enough bite to break up the silkiness of the pasta and sauce. For an extra kick, you can add a sprinkle of chilli flakes but I really love the simplicity of the dish without.
I use Gigli pasta for this dish – the flower-like shape envelopes the sauce and the pasta becomes stained with the sunset-yellow colour, making it even more like a plate of ruffled daffodils, speckled with strands of saffron. Having said this, I've also tried it with fettucine, tagliatelle and linguine – all are fine.
15 Minute Saffron and Courgette Pasta
(Serves 2)
Ingredients
150g dried Gigli pasta, cooked according to packet instructions
1 large courgette, halved and quartered lengthways, then chopped into 1cm pieces
1 tbsp butter
1 clove garlic, peeled
300ml double (heavy) cream
½ tsp salt
Small pinch saffron
Method
1. Heat the butter in a large saucepan until foaming. Add the whole garlic clove and courgettes. You want the garlic to flavour the sauce ever so slightly. Sauté for a minute.
2. Add the cream, and saffron and bring to a gentle simmer. Allow to reduce for five minutes. Remove the garlic.
3. Add the cooked pasta and combine until coated. Serve piping hot.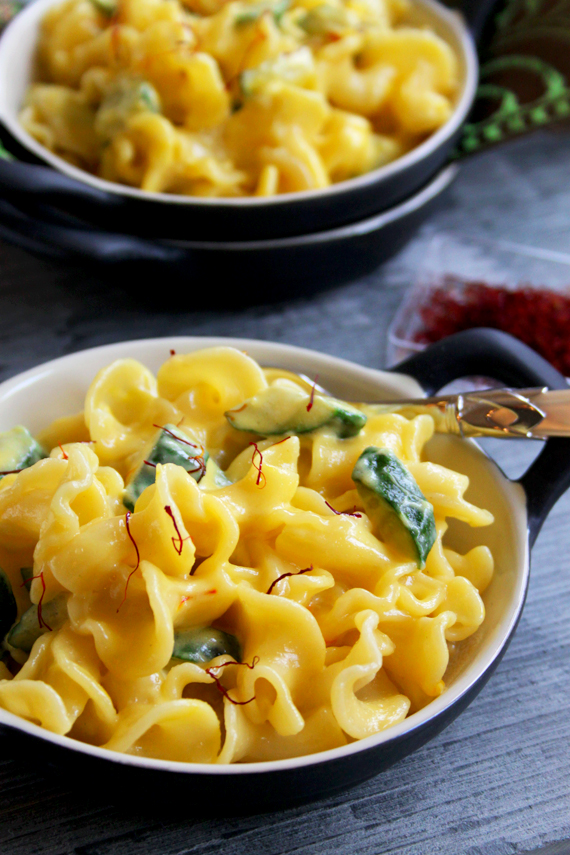 Love Sanjana