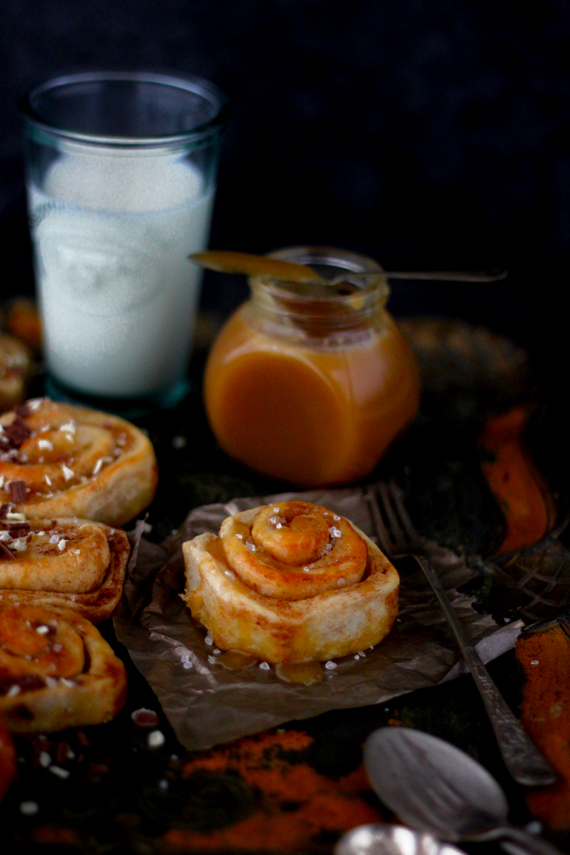 Life is sweet. Three weekends ago, my fiancée and I had our Hindu engagement ceremony. It was a big, beautiful blur of family, friends, flowers, faith, and food. After all the commotion of planning the event, all I feel like doing is putting on my lion-print onesie, staying home and baking something sweet.
These eggless cinnamon rolls can be made with pretty much any filling you like. I've even used the recipe to make this Cardamom Wreath with Rose Drizzle and Candied Lemon Peel. You can add chocolate, dried fruit, nuts and any spices you fancy, making it as simple or as complicated as you like.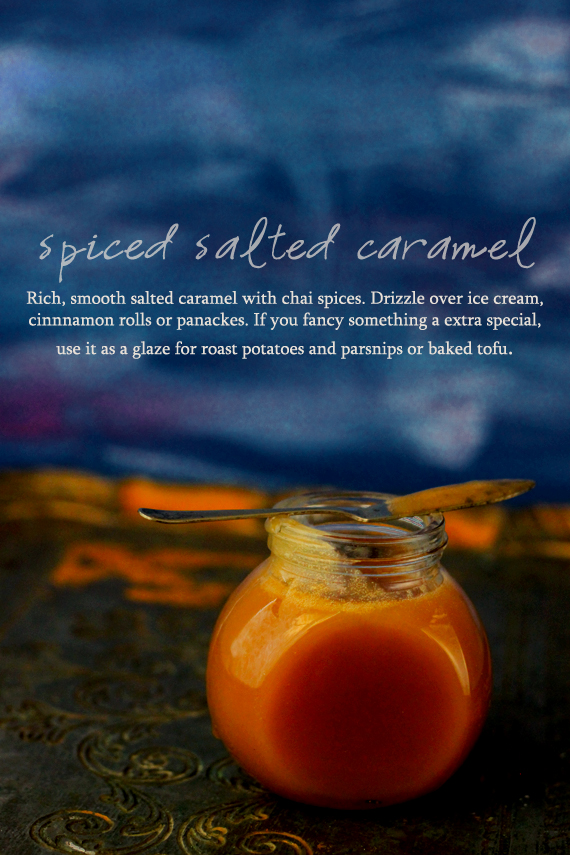 My colleague at Food Network UK and fashion blogger, Jo's Clothes is the biggest baked goods fiend I've ever met – no lie. After asking her thoughts on what I should bake this weekend, she mentioned our favourite cinnamon roll recipe from Lotte Duncan. It's so easy and utterly delicious. I fell asleep last night thinking about how I could put my own spin on it and here's what I came up with.
Pillow-soft, buttery cinnamon rolls, encased around rich salted caramel infused with chai spices, fleur de sel and baked until golden on the outside. Drizzle with extra salted caramel, allowing it dribble into the swirled craters and down the sides. They're gorgeously sticky and incredibly moreish. Serve with a glass of cold milk.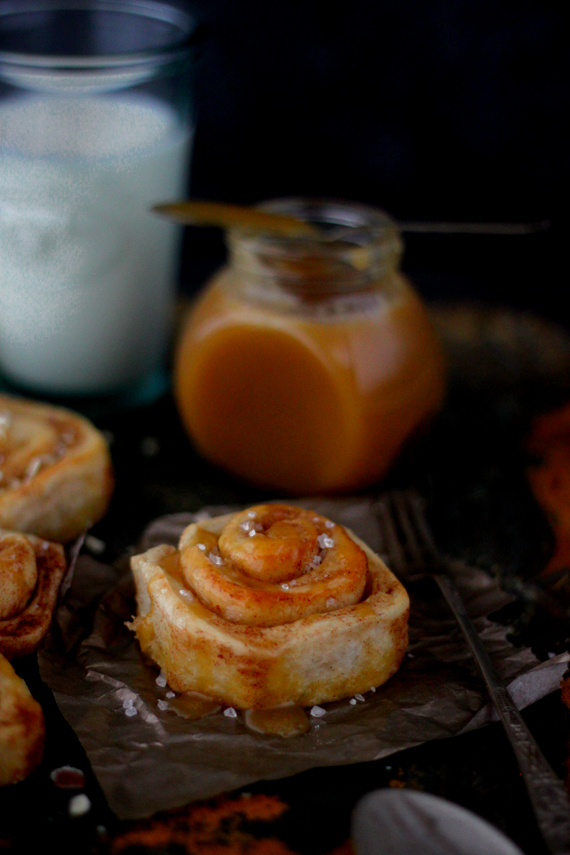 Salted Caramel Cinnamon Rolls with Chai Spices
Makes 20
Ingredients
For the salted caramel sauce (adapted from Nigella Lawson):
75g salted butter
50g soft light brown sugar
50g caster sugar
50g golden syrup
200ml double cream
1 teaspoon fleur de sel
½ tsp chai masala
For the cinnamon roll dough:
450g strong white bread flour
2 tsp sugar
2 tsp dried yeast
275ml lukewarm water
2 tsp groundnut oil
For the filling:
175g very soft butter
4 tbsp light brown sugar
2 tsp ground cinnamon
1/2 quantity of the salted caramel sauce, cooled
To garnish:
Extra salted caramel sauce
Pinch fleur de sel (not table salt!)
Chocolate shavings, optional
Method
For the cinnamon roll dough, combine all the ingredients in a large bowl and bring together using your hands. Knead for 10 minutes. Place into a greased bowl and cover with a damp cloth. Leave to rise in a warm place for 90 minutes.
Meanwhile, make the salted caramel sauce by melting the butter, sugars and syrup a small pan until melted. Bring to a gentle boil and cook for a few minutes, making sure the bottom of the pan doesn't scorch and swirling the pan carefully from time to time.
Add the cream, fleur de sel and chai spices and stir. Cook for another minute or two and then remove from the heat and allow to cool completely.
To make the filling, combine the softened butter, cinnamon, sugar and half of the cooled salted caramel sauce. Beat well.
Heat the oven to 180C and line a large tray with baking paper.
Once the dough has risen, knock it back and give it a good knead to remove all the air bubbles. This will ensure an even rise in the oven, maintaining the shape of the rolls. Half the dough as you'll be repeating the rolling process twice in order to make smaller rolls.
Take one half of the dough and on a lightly-floured surface, roll the dough into a large rectangle until it's about 1/2cm in thickness. Spread the filling mixture all over the surface. From the longest side, tightly roll the dough into a log shape. Cut the dough into 1cm-thick rounds. I find the easiest way to do this is using a pizza cutter – this avoids any snagging. Place the rolls into the baking tray, keeping them close to each other and snug. Repeat this process for the other half of the dough. Note: this will get messy!
Bake the rolls in the preheated over for around 20 minutes or until risen and golden.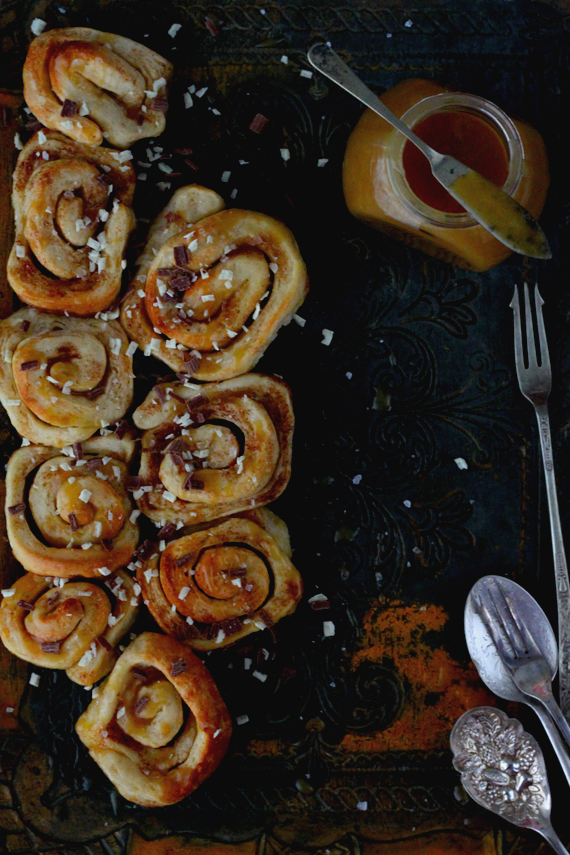 Drizzle with extra salted caramel sauce, a tiny pinch of fleur de sel and grated chocolate. Serve warm with a glass of cold milk.
Love Sanjana