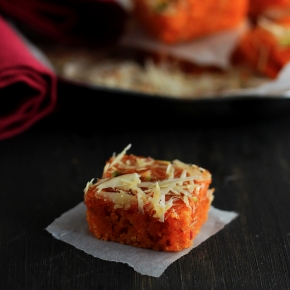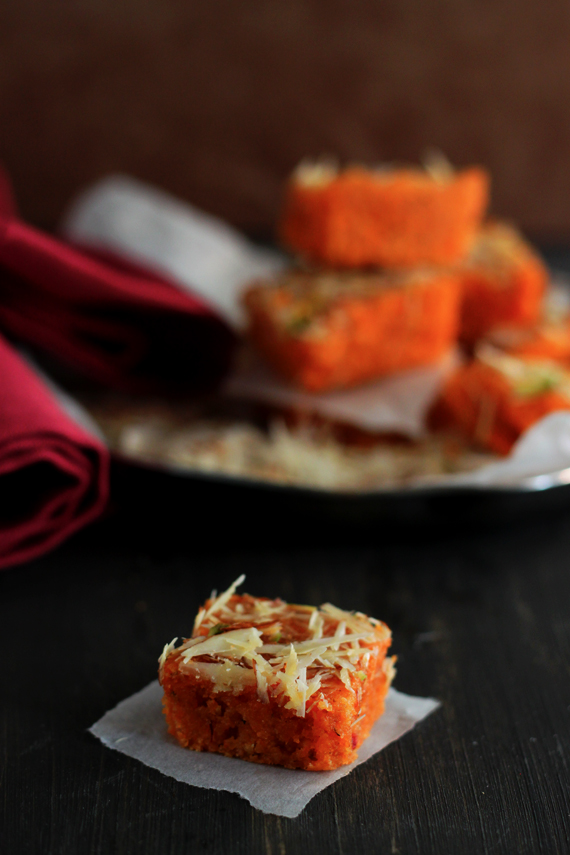 Okay, round two. Not only is this our second Diwali sweet of the week – it's also my second time making this Gujarati favourite for my blog. Mohanthal (pronounced: moHanTHaal) are squares of mace-laced butter fudge made with chickpea flour. A staple in homes during festivals, these sweet pieces of fudge are studded with crunchy pieces of chickpea flour 'crumble' or 'dhrabo'.
Mohanthal can be served in two ways: In pieces like the kind here, or loose as a lava-like liquid gold you scoop up with a spoon and nothing more. There's a time and a place for both. Pieces of Mohanthal are perfect for gifting to friends and family during Diwali. The loose kind is more of a hot dessert served after a traditional Gujarati meal. My favourite way to have it is right after a meal of Aakhu Shaak (whole vegetables stuffed with peanut masala), daal, rice, rotli and sambharo (stir-fried cabbage and carrots with mustard seeds). Heaven.
Shop-bought Mohanthal will often be brown in colour but I like my mine to be bright orange – the dish is after all, named after Lord Krishna. Orange is said to be his favourite colour so there's no better colour than this for my Mohan's thali.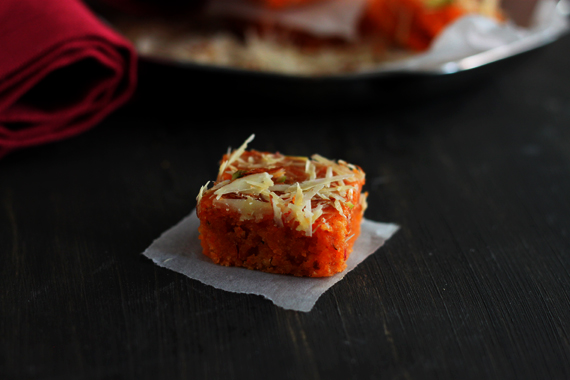 Everything I know about making Mohanthal, my mum taught me. She teaches with a wonderful fervour that's so infectious, I become immersed like rasmalai in a pool of sweet milk. That's the only way I can describe it. Having her as a mentor means I've never been afraid of trying anything new and this Mohanthal is no different.
Handling burning hot sugar syrup, scorching ghee and flour isn't easy but confidence, a steady hand and heaps of patience is key. Like a beautiful cake, you can't rush Mohanthal so take some time out and master this classic Gujarati sweet. With this recipe, I promise you'll never buy shop-bought Mohanthal again. Especially at Diwali.
Classic Gujarati Mohanthal
Makes 20-24 pieces
Ingredients
For the Dhrabo (this is the bit that ensures your Mohanthal has those essential crunchy pieces):
320g gram flour/chickpea flour
1 tbsp melted ghee
2 tbsp milk
For the Mohanthal:
250ml melted ghee
90g milk powder
1 tsp cardamom powder
2 tbsp slivered almonds
2 tbsp slivered pistachios
A pinch of saffron
1 tsp mace powder (javantri)
A pinch of orange food colour (optional)
For the Sugar Syrup:
400g sugar
250ml water
Method
1. To make the dhrabo place the gram flour in a bowl and add 1 tbsp melted ghee and 2 tbsp milk. Rub the mixture in between your fingers until it resembles breadcrumbs. Allow this to sit for 30 minutes.
2. Sieve the dhrabo mixture through a medium-holed colander rubbing any large pieces between your fingers and pushing it through the sieve. Be patient. Set aside.
3. In a pan, add the ingredients for the sugar syrup and simmer until it is of a one-string consistency (this is the 'soft-ball' stage if you have a candy thermometer). Keep this hot but do not let it go past the soft ball stage.
4. In a large, wide, no-stick pan add one cup of ghee and the dhrabo mixture you have passed through a sieve. Cook this on a medium heat until it becomes a golden almond colour. Keep stirring. Remove from the heat and allow this to cool until it is just warm. Add the cardamom powder, saffron, milk powder and mace powder. Don't be impatient – let this cool properly or your mixture will seize up and become hard and crumbly as the mixture will become too hot.
5. Pour the hot syrup over the cooled flour mixture and stir until fully incorporated. Add some orange food colouring if you wish.
6. Pour the mixture into a greased thali or wide dish with sides. Sprinkle with almonds and pistachios.
7. Allow this to set for 24 hours at room temperature.
8. Cut into pieces.
9. Making liquid Mohanthal? At step 5, add an extra 250ml water after you've mixed in the syrup and colour and serve hot with vanilla ice cream and sprinkled with almonds and pistachios.
One more Diwali sweet treat coming up tomorrow.
Love Sanjana