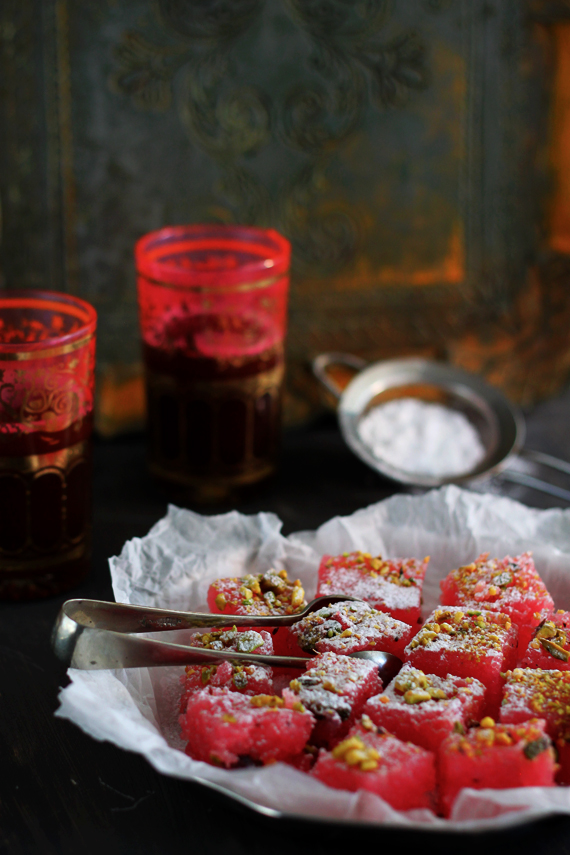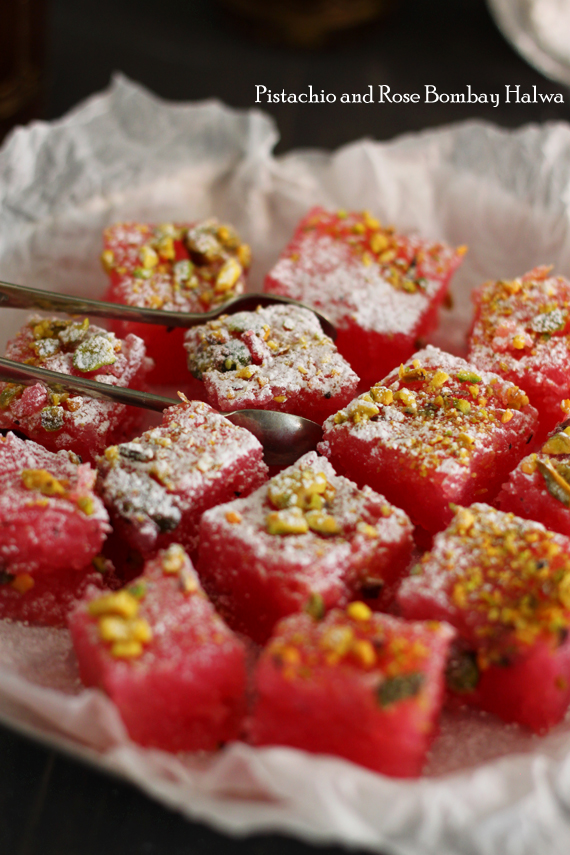 I used to love going into Indian sweet shops as a little nipper, especially around Diwali. Wide-eyed and full of wonder, the shop keepers would see me peering through their glass cases at the majestic displays of endless halwa, burfi, penda, jalebi, kaju katli, mohanthal gulab jambu, rasmalai and everything in between. I very quickly became an expert at getting free samples.
My dad would always ask me what I'd like in my special box of sweets. I'd think long and hard about which ones would make the cut – it was a very important decision. To this day, he still buys me my own box of sweets and even if I'm not there to choose them, he somehow always picks my favourites.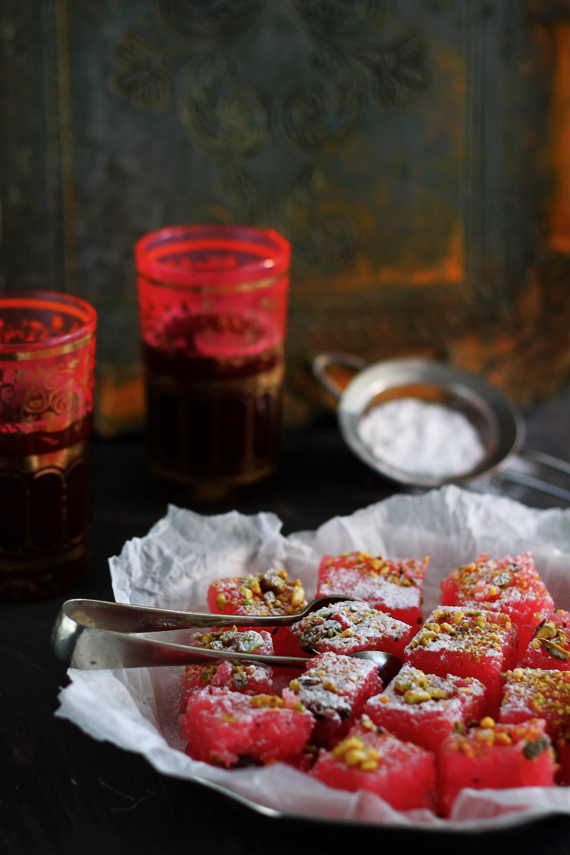 The one that always stood out was the Bombay Halwa. It's one of the only sweet that comes in lots of different colours – and they're SO bright. Rows of translucent pink, yellow, green and orange jellies studded with jewel-like pistachios and cashews. They were bright and beautiful and I was a magpie, attracted to anything colourful.
For me, it was always the pink ones. As an avid fan of C.S. Lewis's The Lion, The Witch and the Wardrobe, it reminded me of the White Witch's wicked Turkish delights that were conjured up to encourage Edmund's betrayal. Of course, the only things I betrayed were my poor teeth. It was so worth it.
I learnt much later that Bombay Halwa is really easy to make. The jelly-like texture is achieved by mixing cornflour and sugar syrup – very much like making Turkish delight. Next, you slowly add ghee until it's glossy and thick. And that's pretty much it. So simple but make sure your arm muscles are ready. There's loads of stirring involved.
You can make pretty much any flavour or colour you like. I love rose and pistachio but saffron and cashew and simple lemon and cardamom are also great.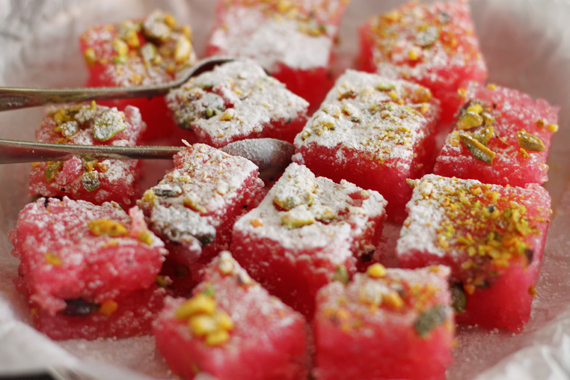 Pistachio and Rose Bombay Halwa
Makes 18-20 pieces
Ingredients
160g cornflour
140ml water
400g sugar
250ml water
4 tbsp rose syrup
100g ghee, melted
50g roasted pistachios, lightly broken
½ tsp cardamom seeds, ground
Method
1. Grease a 6×8 rectangular tin with ghee.
2. First, mix together the cornflour and 140ml cold water.
3. In a large pan (I use a wok with a large handle), add the sugar and 250ml water. Bring to the boil and wait for all the sugar to melt.
4. Once all the sugar has melted, in a slow and steady stream, add the cornflour mixture, stirring all the time. Keep the mixure boiling all the time and keep stirring. It will thicken and look a lot like wallpaper paste.
5. When you've added all the cornflour mixture, add the rose syrup.
6. Next, start adding the ghee – slowly at first. Keep stirring to ensure there are no lumps. Then add the rest of the ghee and incorporate. Cook again, mixing all the time until thick, glossy and translucent.
7. Mix in the cardamom and pistachios.
8. Pour the mixture into the greased pan, decorate with crushed pistachios and allow to set at room temperature for 12 hours or overnight.
9. Cut into pieces as big as you can fit in your mouth.
I have two more of my favourite Diwali sweets coming your way this week. Keep an eye out.
Love Sanjana