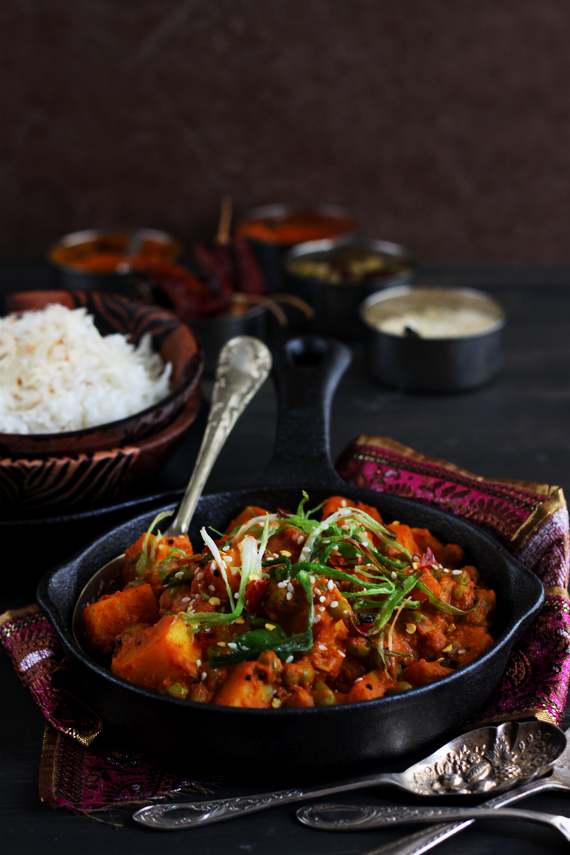 One of my favourite quick dinners growing up was pea and potato curry. It's a simple staple in every Gujarati home and perfect with just rice and/or Homemade Chapattis – Gujarati Rotli depending on how hungry you are. Not forgetting the obligatory dollop of natural yoghurt, which brings any dinner together. My brother wouldn't even touch his dinner unless there was a pot of yoghurt on the table. He still doesn't.
This was one of those after-school meals that, when scooped up with garam garam rotli would give you the same feelings as you get when you cuddle your mum, curl up in your cosy bed and hear your favourite song all at the same time. For me, it's always been the epitome of comfort food.It can be done with just tomato sauce and whole cumin seeds but I've injected a little more richness and flavor into the sauce with a touch of coconut milk and some sesame seeds. I love the flavour combination of sesame seeds and potatoes.Silky soft potatoes simmered in turmeric water until tender, sweet petits pois that just burst in your mouth, and a rich and spicy coconut milk sauce. I top this with crispy spring onions. To make these, I sliced six spring onions into long, super-thin strips lengthways, dusted them with a teaspoon of cornflour and fried in really hot oil until crispy and golden.Even though this is a slight upgrade on the comfort food of my childhood, all the basic elements are the same. You can't beat the heavenly combo of peas and potatoes. But I'm a Yorkshire lass at heart, so I would say that.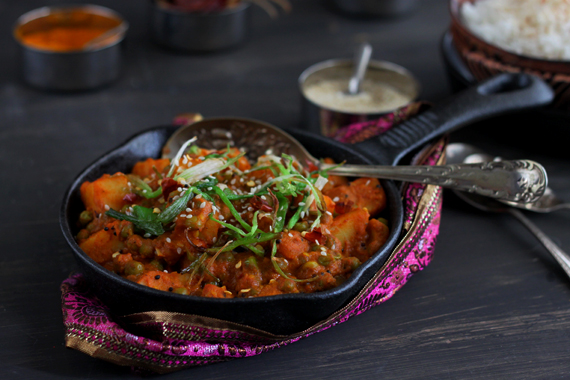 Potato and Pea Coconut Milk Curry
Serves 6
Ingredients
6 medium potatoes, peeled and diced in 2cm cubes
½ tsp turmeric
1 x 400g tin chopped tomatoes
2 tsp ground cumin seeds
2 tsp ground coriander seeds
1 tsp garam masala
2 red chillies, chopped finely
2 tsp salt
1 tbsp oil
2 tsp black mustard seeds
1 tbsp sesame seeds
3 large cloves garlic, crushed
2 tbsp concentrated tomato paste
1 tsp ground fennel seeds
1 x 400ml tin coconut milk
350g frozen peas
Fried spring onions, toasted sesame seeds and fresh coriander to garnish.
Method
1. Parboil the potatoes in a pan of hot water with ½ tsp of turmeric. This will give them a lovely yellow colour. When they're almost fully cooked but not all the way, drain ad set aside.
2. In a large bowl, whisk together the chopped tomatoes, cumin, coriander, garam masala and salt.
3. In a large saucepan, heat the oil and add the mustard seeds. Wait for them to pop, and then add the sesame seeds, garlic, chillies and tomato paste.
4. Next, add the chopped tomato mixture and bring to the boil. Cook on a medium heat with the lid on for 20 minutes, stirring occasionally.
5. Add the coconut milk and whisk. Next, add the potatoes and stir to combine. Simmer with the lid on for another 10 minutes until the potatoes are tender. Add the peas and ground fennel seeds6. Bring to the boil again and cook with the lid on for a further 5-8 minutes.
7. Serve with rice and hot Homemade Chapattis – Gujarati Rotli.
I love how simple ingredients come together so perfectly in this dish but if you want to jazz it up, try adding steamed cauliflower and broccoli, or roasted aubergines and peppers.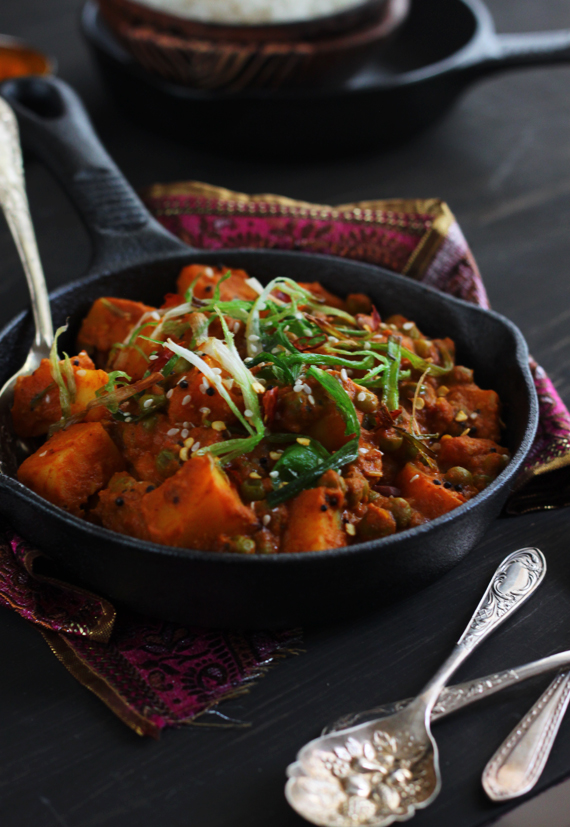 Btw. This is 100% vegan.
Love Sanjana