Hot, sour, sweet, salty and spicy are the famous characteristics of perfect Aloo Chaat. As well as having what's known as "chatpata" flavour, the potatoes must be crispy on the outside and fluffy on the inside. It's the law.
Aloo Chaat is a spud-packed street food dish that's traditionally served in a bowl and enjoyed on the go, right? Not today. I've got a fun little treat for you and it constists of swapping the traditional plastic or banana leaf chaat bowl for a crispy potato skin bowl you can devour along with the mouth-watering aloo chaat inside.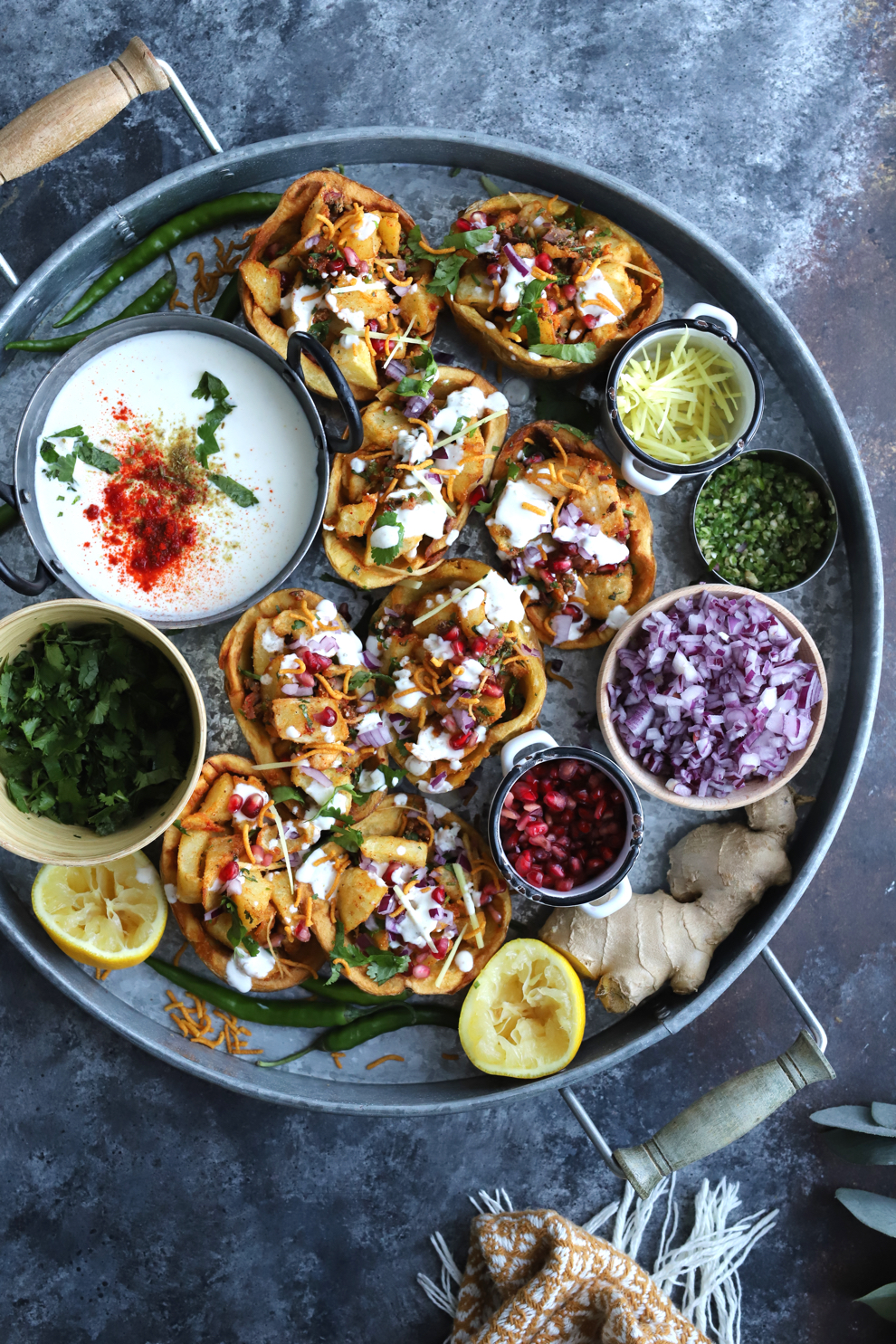 This Aloo Chaat Potato Skin platter is a sharing feast that will be a hit at parties and celebration meals alike. Create an explosion of flavours with just a handful of spices and fresh herbs, topped off with sweet pomegranate seeds and a cooling yoghurt drizzle.
The best thing is that it's a great make-ahead dish you can prep the day before if you like. I like to cook the potatoes fully and keep them covered in the fridge so they're nice and firm when it comes to cutting the flesh and prepping the skins. You can also make the yoghurt, prep the pomegranate seeds, chop all the herbs, onions, ginger and chillies, keeping them all covered in bowls in the fridge. The next day all you need to do is fry the potatoes and assemble right before serving. The only rule is that this must be eaten hot, as soon as it's ready.
I pick the biggest potatoes I can find for generous potato skin portions in which I can fill lots of crispy aloo and flavoursome toppings. I'm just greedy like that. You could also make cocktail-sized Aloo Chaat Potato Skins this serve as canapés.
Ingredients
4

large potatoes

1

medium red onion

finely diced

2

green chillies

finely chopped

50

g

fresh pomegranate seeds

1

tsp

chaat masala

2

tbsp

fresh coriander

chopped

1-

inch

fresh ginger

peeled and julienned

1

tsp

coriander seeds

toasted and ground

1

tsp

cumin seeds

toasted and ground

1

tsp

Kashmiri red chilli powder

Juice of 1/2 lemon

Salt

Sev

to serve (optional)
For the masala yoghurt:
100

g

plain yoghurt

1

tsp

cumin seeds

toasted and coarsely ground

1

tsp

fennel seeds

toasted and coarsely ground

Salt

Sugar

Lemon juice
Instructions
First, the potatoes need to be cooked. I recommend either microwaving or baking them. To microwave, pierce the potato several times all over, place on a microwave-safe plate and cook on High power for 10-12 minutes. To bake, individually wrap the potatoes in foil and bake at 200°C/400°F for 1 hour. In both cases, allow the potatoes to cool completely.

In the meantime, combine all the ingredients for the yoghurt, cover and refrigerate.

Once the potatoes are completely cold, cut them in half lengthways. Use a spoon to scoop out the middles, leaving a 2cm border around the potato to keep the skins sturdy for filling later. Try not to break the flesh of the potato too much. The skins need to remain whole and 2cm thick as these will be cooked again and then filled.

Set the skins aside and cut the flesh of the potato into 2cm cubes. They don't have to be perfectly shaped as the craggy ones will crisp up beautifully once fried.

Fill a large, deep pan or wok with sunflower oil. Once the oil reaches 200°C/400°F, fry the potato skins over a medium-high flame until crispy and golden. Set aside to drain on a tray lined with absorbent kitchen paper.

Next, the potato cubes until golden and crispy. Set aside to drain on a tray lined with absorbent kitchen paper.

Toss the fried potato cubes with the toasted cumin and coriander seeds, ginger juliennes, chopped fresh chilli, chopped onions, lemon juice, chaat masala, pomegranate seeds, Kashmiri chilli powder, freshly chopped coriander and salt.

Fill the crunchy potato skins with the hot, sour and spicy aloo chaat. Serve with the masala yoghurt and sprinkle over the sev if using.
Pin it for later!