Crispy, flaky Aloo Paratha (Potato-Stuffed Flatbread) are an emblem of soulful Indian home cooking. Almost every home has their own unique recipe and technique for making this delicious North Indian stuffed flatbread at home. Of all the stuffed breads India is famous for, Aloo Paratha is the one loved in every family kitchen. Here's how I make Aloo Paratha for my family.
How to Make Aloo Paratha
Walk through the entire process for making Aloo Paratha with me. Watch me make the lightly-spiced potato filling, bind a soft but sturdy dough and roll them out so the filling doesn't burst. Finally, join me as I cook them on the tawa until puffy, layered and beautifully golden on the outside.
How do you make parathas soft?
Use a combination of wholewheat atta, chickpea flour, oil and ample water. If you are familiar with making other types of Indian bread, check that your dough for Aloo Paratha is soft, like that which is used for making naan or roti. It should not be as hard as poori or samosa pastry. Knead it well and allow it to rest before you roll it. I like to add oil or ghee 2 minutes before the kneading process is complete. This final step ensures a smooth, soft dough every time. That really is it.
How do you make parathas that don't tear?
Firstly, be sure your dough is soft and elastic. Does it spring back only very slowly when you press it? This is a good indication of well-made Paratha dough. Secondly, check your filling is dry enough to roll into a ball without falling apart. These are the foundations of fabulous Aloo Paratha.
Ultimately, the Aloo Paratha must be rolled gently and carefully, not straight down the middle, but in a circular motion, around the centre rather than straight over it. Once it reaches your desired size, the rolling pin can be used to even the surface out without causing cracks. Don't be afraid to use your hands to pat it into shape either.
Why don't you cook the filling first?
It's not necessary. The potatoes are already cooked. Indeed, the potato filling is spread so thinly inside the entire surface of the Aloo Paratha that the spices will cook out in a matter of minutes.
Why do you add chickpea flour to the dough?
This is a homestyle trick canny grandmas use to give their Aloo Parathas that wholesome flavour and crispy texture. Ever wonder why you can never replicate grandma's Aloo Paratha? This could well be the missing ingredient.
How to cook Aloo Paratha (Potato-Stuffed Flatbread)
Time needed: 1 hour and 10 minutes.
How to cook Aloo Paratha
Use a hot tawa or pan

Use either a steel, aluminium or cast iron tawa for the most authentic, Punjabi dhaba (roadside cafe) flavour. Deep smokiness from the combination of heat, fat and flour coming together will send your tastebuds straight to a Punjabi kitchen. If none of the above are available, a non-stick pan is absolutely fine to use. For beginners, it's also an easy way to ensure your parathas cook evenly and of course, don't stick to the pan.

Pre-heat the pan

Always pre-heat the pan for a few minutes before cooking Aloo Paratha (or any Paratha, for that matter). You don't want to slap your beautifully-crafted flatbread down onto a tepid pan — it will render the outside overcooked and hard, yet leave it unspotted with those iconic char marks.

Dry roast both sides of the paratha first

Don't grease the pan before cooking. First, dry roast both sides of the Aloo Paratha. This will dry out the surface of the Aloo Paratha just enough so that you can turn it and spread with ghee/oil without it cracking or breaking. Secondly, this "sukha" roast or dry roast will result in the most amazing, even brewing over the surface of the Aloo Paratha.

Apply oil or ghee to make it puff up

Spread the surface of the roasted paratha with ghee or oil. This will ensure a puffy, crispy golden finish.
Don't boil the potatoes
Boiling the potatoes will make them absorb too much water. The filling should be slightly dry and able to form into a ball when rolled. Either microwave, steam or bake the potatoes until tender for a perfect texture. I prefer to microwave my potatoes. Do do this, pierce the skins and cook on high power for 8-10 minutes until soft.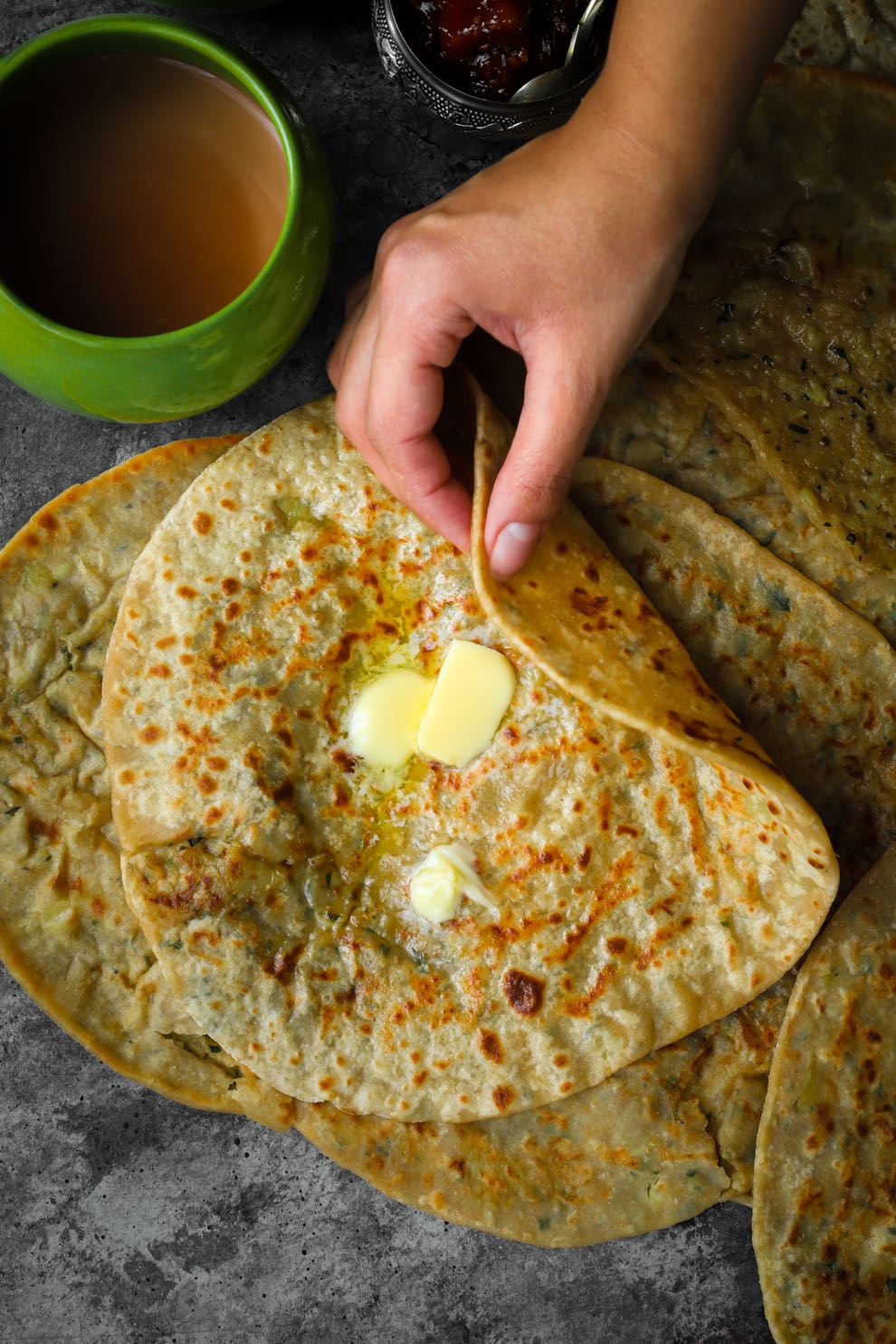 Ingredients
For the filling:
5

medium-sized potatoes (800g)

steamed, microwaved or baked with their skins on until tender, cooled

1-

inch

piece ginger

grated

1

green chilli

finely chopped

1/2

tsp

garam masala

1

tsp

ground cumin

1/4

tsp

red chilli powder

1/4

tsp

ajwain

1/4

tsp

amchur

1/2

tsp

salt

2

tbsp

finely chopped coriander leaves
For the dough:
350

g

wholewheat chapati atta

2

tbsp

chickpea flour

besan

1/2

tsp

salt

260

ml

warm water

1

tbsp

oil
You will also need:
3

tbsp

ghee or oil

for spreading whilst cooking

4

tbsp

additional wholewheat chapati atta

for rolling out the paratha
Instructions
To make the dough:
In a large bowl or thali, mix together the wholewheat atta (chapati flour), chickpea flour and salt. Make a well in the centre and gradually add the water. Use your hands to bring the mixture together. Once it starts looking like a shaggy mixture and more like a dough, knead for 1-2 minutes. Add the oil and continue to knead for a further 2 minutes until smooth and soft. Cover with a damp tea towel and allow the dough to rest for 15 minutes.
To make the filling:
Peel the cooked and cooled potatoes. Grate them into a bowl. Add all the remaining ingredients for the filling and use clean hands to mash everything together. The mixture should hold its shape when rolled into a ball. Divide the mixture into 10 large balls.

Next, divide the dough into 10 balls, about the same size as the potato filling. Cover again.

Pre-heat the tawa or frying pan.

Roll or pat the dough out to about 8cm in diameter. Place a portion of potato filling on top and pinch the dough together to fully enclose it inside. There should be no gaps or holes the filling could escape from during rolling.

Working on a bed of additional wholewheat atta, gently use your middle three fingers (palm-side down) to pat the dough into a thick round disc, starting from the centre and working your way outwards. This will help distribute the filling evenly.

Now, place the disc on a rolling board or clean work surface and use a rolling pin to gently roll the Aloo Paratha in a circular motion, between the centre and edges, but not too much over them. You can use your hands to turn it as you roll. Once it reaches the desired size, carefully roll up and down a few times to even out the surface. The Aloo Paratha is now ready to be cooked.

Slap the paratha down onto a preheated tawa and cook over a medium heat for 30-40 seconds. Flip it over with a spatula and apply a small amount of oil all over the surface of the paratha. Allow this side to cook for a minute before flipping it over and applying oil on the second side. Well rolled Aloo Paratha should puff up slightly. Once it is golden brown all over, remove from the tawa. Keep warm on a plate lined with a kitchen towel. Repeat for the remaining parathas.

Serve hot with your favourite pickle, plain yoghurt and/or masala chai.
Pin this Aloo Paratha (Potato-Stuffed Flatbread) for later!
If you like this recipe, you'll love my Spinach Roti