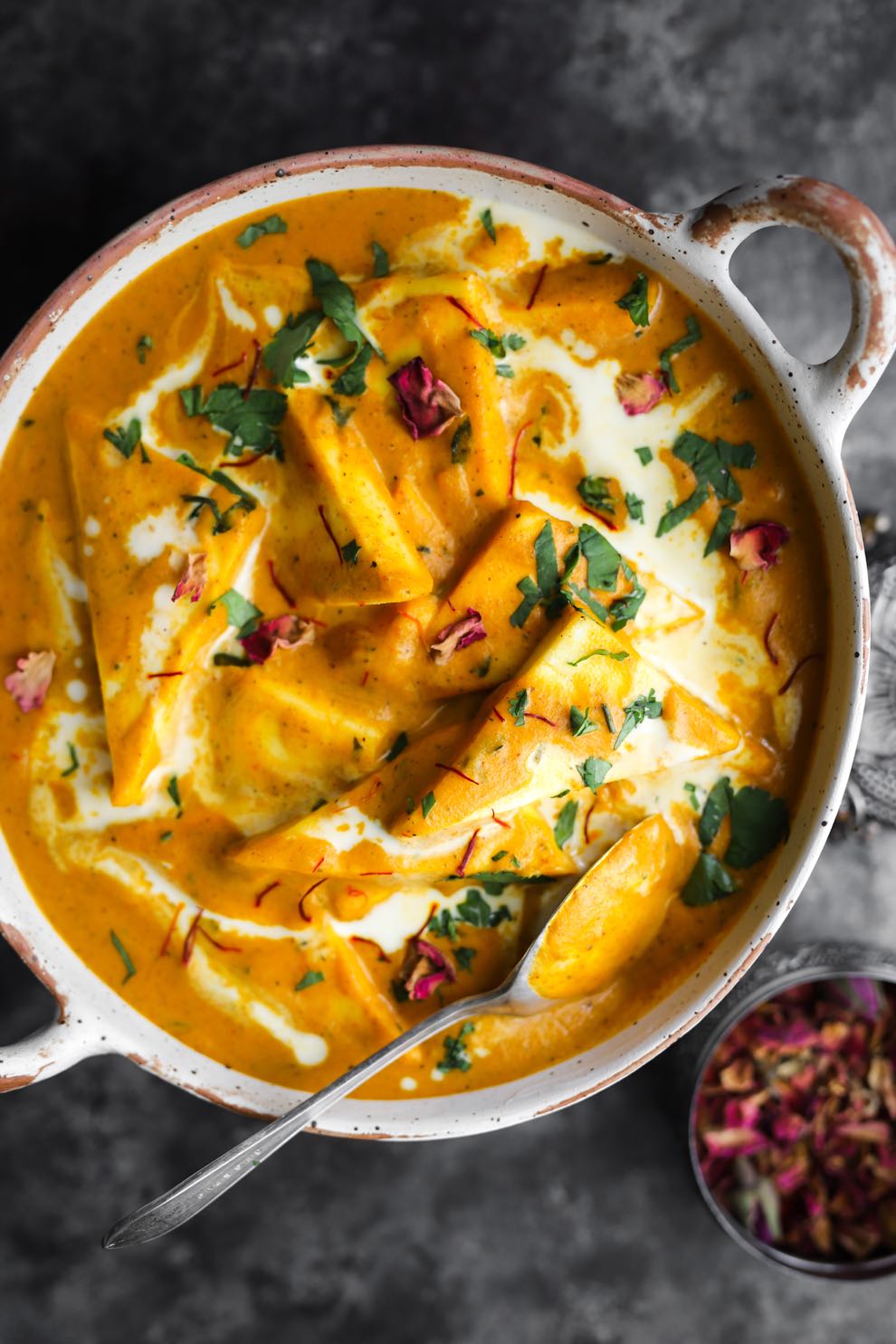 Soft, creamy Mughlai Restaurant-Style Shahi Paneer is a true celebration of rich flavours and treasured spices. Scoop this vegetarian curry up with hot paratha, naan or roti.
If you're not a bread lover, this Shahi Paneer also pairs beautifully with rice, should you wish to opt for a simple curry and rice bowl for dinner.
Make it as a stand-alone hero dish, or as a spectacular addition to any North Indian-style thali.
What's in Shahi Paneer?
There's a world of different recipes for Shahi Paneer and everyone has their own favourite way of making it. My version is made with aromatic spices like cardamom, saffron and cloves, nuts, dried mango and butter-soft paneer.
What's the difference between Shahi Paneer and Paneer Makhani, Paneer Butter Masala, etc?
Meme culture has made a joke out of the similarities between these dishes for years. Shahi Paneer, Paneer Butter Masala, Paneer Makhani, Paneer Tikka Masala, Paneer Lababdar, Kadai Paneer, Nawabi Paneer, the list goes on.
Some restaurants generally tend to serve one of the aforementioned paneer dishes.
However, many will serve them all. It's when the menu lists 10 similar-sounding paneer dishes that brain melt occurs and choices become difficult.
Which one do you go for?
Of course, each restaurant will have its own takes on these dishes, but there are some subtle differences that can help identify one paneer dish from another. Here are a few of them:
Shahi Paneer
A right royal affair. Expect nuts, fruitiness, saffron, cardamom and copious amounts of cream. Khoya (milk solids) may even be added. Fewer tomatoes than its counterparts — the sauce is often more yellow than orange. Some preparations can also be white in colour.
Paneer Makhani
The clue is in the word "Makhani". In Indian cookery, "makhan" refers specifically to white butter.
White butter is different to the more commonly-sourced yellow butter we use in our homes today.
It's made from the "malai" or uppermost fatty layer of boiled and cooled milk, i.e. The cream.
This cream is churned clockwise and anti-clockwise to separate the whey and butterfat. What you're left with is a white butter that is free from the same sodium and preservatives found in yellow butter.
However, the two types of butter are used interchangeably these days and are the reason why makhani dishes are so luxuriously silky.
Expect lots of tomatoes, mild spices and of course, a great deal of makhan or butter.
Paneer Butter Masala/Butter Paneer
Paneer Butter Masala is the yellow butter sister to Paneer Makhani. Again, the focus is on butter in this dish.
Usually yellow butter is used but each recipe and preparation will vary. The finished dish is a burnt orange colour, similar to makhani gravy.
Generally speaking, the spices are mild and the gravy is rich in tomatoes. The final tadka (tempering) is prepared in butter. Find my Paneer Butter Masala here.
Paneer Tikka Masala
True Paneer Tikka Masala should include *drumroll please* paneer tikka. That is, paneer that has been marinated in spices and grilled in a tandoor (for restaurants), oven or pan (if you're cooking it at home).
After grilling, the tikka pieces are folded into a silky reddish-orange makhani-style sauce. Expect smokiness, sweetness and tangy tomato goodness. Find my Tofu Tikka Masala recipe here.
Finally, one thing all of these dishes have in common is that they are all typically finished with cream and kasoori methi (dried fenugreek leaves).
How to make vegan Restaurant-Style Shahi Paneer
Simply switch the paneer with medium-firm tofu, use oil instead of butter/ghee and finish with oat cream for a silky finish.
Since the bulk of the creaminess in my Shahi Paneer recipe comes from the cashews and almonds, it can easily be made vegan with delicious results!
Can I use something else in place of paneer or tofu?
Of course. Feel free to substitute any cooked vegetables or protein in place of the paneer in this recipe.
Indeed, some delicious options include: Cauliflower, pumpkin, courgette, mushrooms, turnips, chickpeas, white beans or tempeh.
Why do you use dried mango in your recipe?
Mughlai cuisine is rich in many ways. Hero ingredients include nuts, fruits, cream and spices. Most recipes for Restaurant-Style Shahi Paneer will include a sweetening element (often sugar) to balance the heat of the spices, and compliment the richness of the dish.
As dried fruits are such an integral part of recipes from India's historical royal kitchens, it makes sense to include them.
My preferred options are either soft dried mango or apricots, for they lend sweetness as well as a subtle, yet welcome tang.
If you have neither of these options to hand, you can use the same measure of golden sultanas (not raisins), or simply add a tablespoon of sugar to the dish. I don't use raisins as they will affect the colour of the Shahi Paneer.
How to make the most of your saffron
Make your saffron work harder. It's expensive stuff and a little goes a long way if you try this nifty trick. Simply dry roast it in a pan or microwave it for 30 seconds.
This will make it brittle enough to grind into a powder. When you add this saffron to your dish, the colours will be a beautiful shade of sunflower, and the flavours as intense as can be.
How to make Shahi Paneer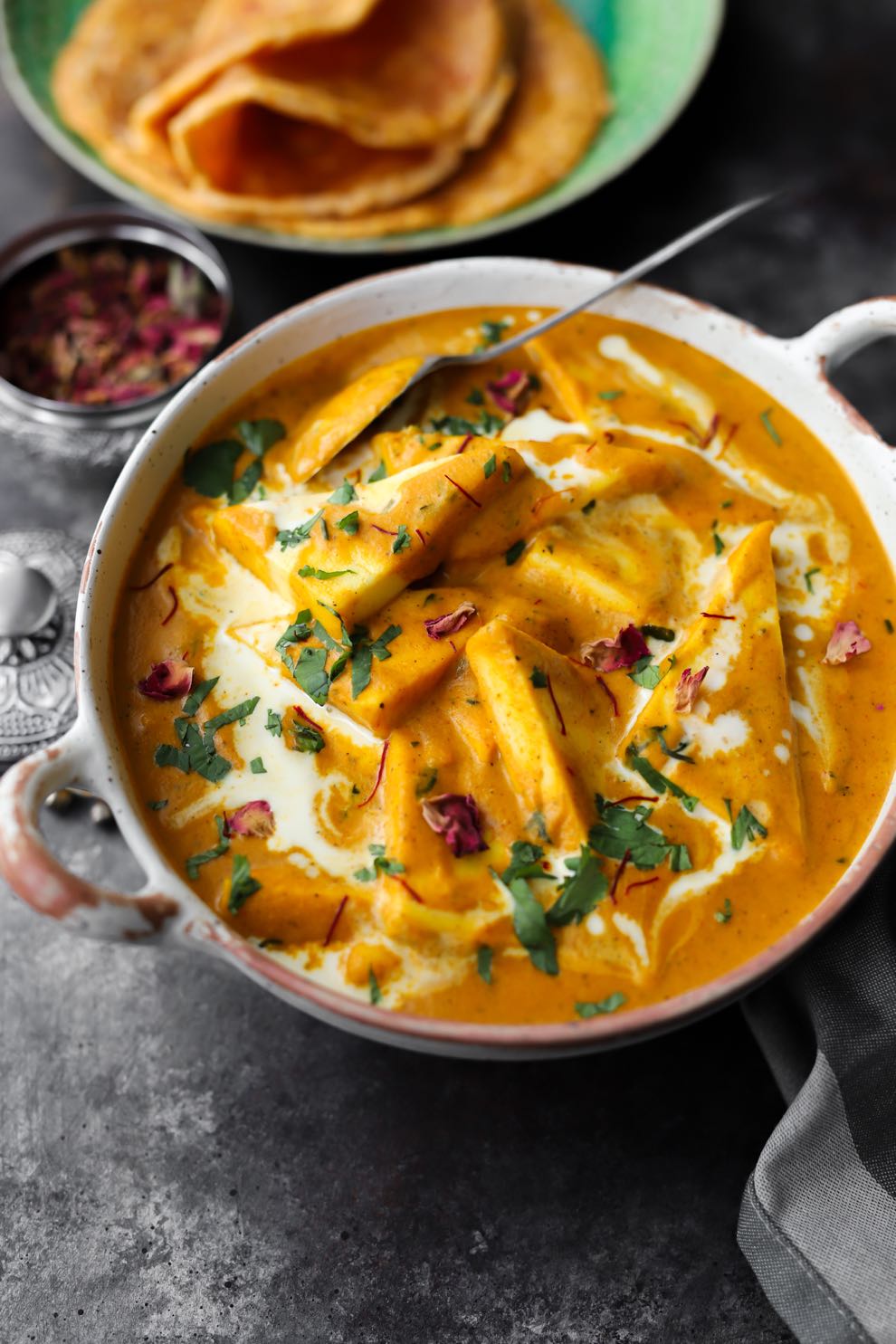 Ingredients
450

g

paneer

cut into triangles or cubes
For the sauce:
10

cashews

(30g)

10

almonds

skins removed (30g)

3

tbsp

chopped soft dried mango or apricots

(60g)

1

tbsp

butter, ghee or oil

(I use butter)

1

tsp

cumin seeds

1

tsp

coriander seeds

1/2

tsp

fennel seeds

2

cloves

2.5

cm

cinnamon stick

3

green cardamoms

cracked

1

black cardamom

1

dried bay leaf

2

red chillies

slit lengthways (use 1 if you prefer mild head)

1/4

tsp

ground turmeric

2

red onions

cut into wedges (150g)

2

large cloves garlic

crushed

2

cm

piece ginger

grated

1/4

tsp

turmeric

1

small pinch saffron

8-10 threads

4

tomatoes

cut into wedges (300g)

1.5

tsp

salt

250

ml

water

+ 150ml extra
For the tempering:
1

tbsp

butter

2.5

cm

piece ginger

julienned

2

tsp

Kashmiri chilli powder

80

ml

cream

1

tsp

kasoori methi

crushed

2

green cardamom pods

seeds finely ground

2

tbsp

chopped coriander leaves

Saffron strands, dried rose petals, chopped coriander leaves and cream

to garnish
Instructions
Heat 1 tbsp butter, ghee or oil in a large pan. Add the whole spices (cumin seeds, coriander seeds, fennel seeds, cloves, cinnamon, green cardamom, black cardamom and bay leaf). Allow to sizzle for 20-30 seconds and then add the chillies, onions, ginger, garlic, nuts, apricot or mango pieces, tomatoes, saffron, turmeric, salt and 250ml water. Stir well and cover with a lid. Simmer on a medium-low heat for 10-15 minutes until everything is soft. Allow to cool down. Remove the bay leaf, black cardamom and cinnamon stick and discard.

Blend the mixture until completely smooth and creamy. I use a NutriBullet and give it a good 60-90 seconds.

Pass the mixture through a sieve to remove any unwanted skins and seeds from the tomatoes and spices. Add the remaining 150ml water to the blender jar and swish around to catch the rest of the sauce. Pass this through the sieve and into the sauce too.

In the same pan, heat up the butter until melted and bubbling. Add the ginger juliennes, chopped coriander and Kashmiri chilli powder. Return the strained sauce to the pan and stir well. Fold in the paneer. Cover and cook over a medium heat for 5 minutes.

Switch the heat off and stir in the cream, kasoori methi and ground cardamom.

Serve hot, garnished with optional saffron strands, chopped coriander leaves, dried rose petals and cream.
Sanjana's Notes
Serve with laccha paratha, naan roti or rice.
For Punjabi dhaba-style Shahi Paneer, reduce the sauce by half (simmer over a low heat, stirring often) until thick and creamy. Add the paneer along with an additional 2.5cm ginger juliennes. Heath through and serve. This thick-style is popular in roadside cafes and pair beautifully with roti or paratha for a rib-sticking vegetarian dinner.
Leftovers can be kept in an airtight container and refrigerated for up to 3 days. Re-heat thoroughly before serving.
This Shahi Paneer is suitable for freezing. Keep in an airtight and freezer-safe container for up to 3 months. Defrost at room temperature and heat through until piping hot. Freezing may affect the texture of the paneer. If you like, you can make the sauce and freeze, ready to add the paneer later.
Pin it for later!
If you like Shahi Paneer, you'll love this recipe for Tofu Tikka Masala
Love Sanjana