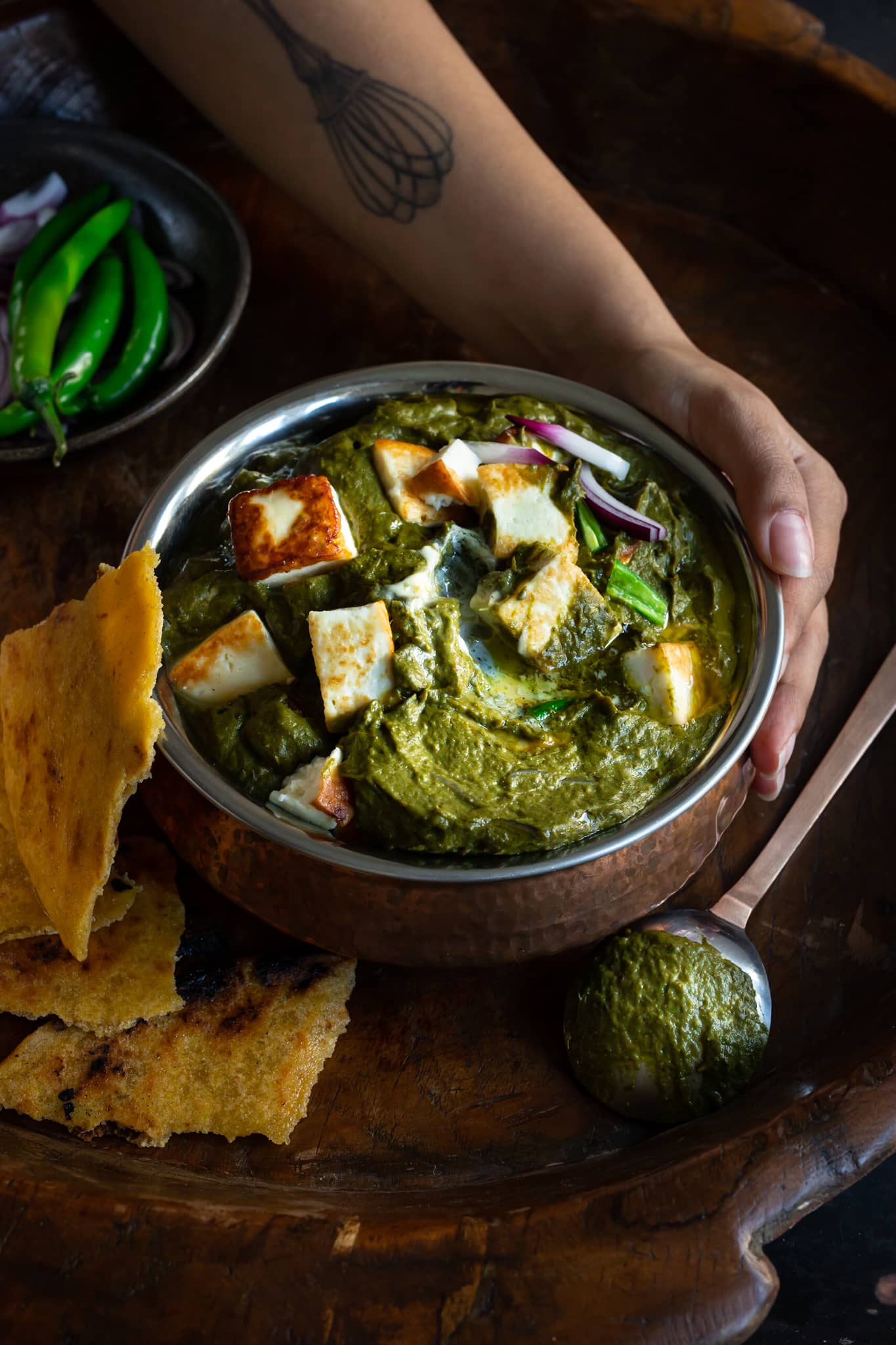 The Ultimate Saag Paneer recipe is pure MAGIC! Soft paneer chunks in a creamy mustard greens & spinach curry. Every bite will melt in your mouth.
The velvety texture and subtle spicing of this recipe for Saag Paneer ensures the peppery mustard leaves and juicy paneer are the true stars of the show.
What's the difference between Saag Paneer and Palak Paneer?
You may or may not know that Saag Paneer and Palak Paneer are two completely different dishes. The names are often used interchangeably which is misleading.
Indian restaurants and big supermarkets are usually the worst offenders when it comes to making this mistake. Let me explain the difference here.
Greens used for Saag
Saag is a dish is made from a combination of leafy greens. It usually includes mustard leaves but can also feature bathua (goosefoot), chaulai (amaranth) and chane ka saag (chickpea leaves). Each one has a distinct flavour.
A dish is made from only spinach leaves and paneer is called Palak Paneer.
Saag Paneer vs. Palak Paneer. Why does it matter?
You know how people always confuse Shepherd's Pie and Cottage Pie? Well, many mix up Saag Paneer and Palak Paneer in the same way. Each is made using different ingredients which means they have very unique flavours.
Not all greens taste the same so the combination of leaves used can make a HUGE difference in the finished dish. I'm always disappointed when I order Saag Paneer and am served a bowl of Palak Paneer.
What do mustard leaves (sarson ka saag) look like?
Palak Paneer definitely doesn't have the same peppery kick from the mustard greens as Saag Paneer does.
Can I use shop-bought paneer?
The short answer is yes. In fact, I encourage it. You don't have to make your own paneer for this recipe unless you really want to.
If you do want to make your own paneer, head on over to my Homemade Paneer video for an easy step-by-step tutorial.
A bit about pressure cookers
I adore my pressure cooker. I've had one since I can remember because it's so handy for making everyday Indian food. I use my pressure cooker for daal, curry, khichdi and more. It's definitely one of my most prized possessions in the kitchen!
In this recipe, the pressure cooker breaks down the saag and aromatics in just 10 minutes. If you have an Instant Pot the saag takes around 5 minutes to cook on high power.
If you don't have either, bring everything to the boil in a large stock pot and cover with a lid. Cook for 30 minutes until everything is tender.
How to make vegan Saag Paneer
Simple! To make vegan Saag Paneer, switch the paneer for fried firm tofu cubes. Replace the butter in the recipe with your favourite plant-based spread and substitute any plant-based cream for the single cream.
Do I need a blender to make Saag Paneer?
My recipe calls for a blender because it makes quick work of creating a smooth sauce. For that reason, I use a high-powered NutriBullet. However, you can use any blender you have, including a stick blender.
It's also fine to serve the Saag Paneer chunky if that's what you like. In Northern India (where Saag Paneer comes from), people chop all the greens and aromatics finely before cooking the saag low and slow.
The pot of saag is constantly beaten with a long spurtle (basically a wooden stick) to break everything down. You need serious arm power to make Saag under the Indian sun.
The finished dish is hearty and dark green.
How to make Saag Paneer
Jump to Recipe
Step 1
Boil all the leafy greens and aromatics (ginger, garlic and onions) along with some water in a pressure cooker until tender. A pinch of baking soda will help the greens cook quickly!
This should only take 10 minutes, or 4 whistles in the cooker. Let it cool slightly.
Step 2
Transfer everything to a blender and add the cornmeal. The cornmeal thickens the saag up nicely. As a result, it has a nice, velvety texture. I like to add a knob of butter to the blender to help everything emulsify to a silky sauce.
Step 3
Pan fry the paneer in until golden and then soak in hot water (I just use kettle water) for 5 minutes. After a soak, the paneer will be juicy and squidgy.
Step 4
Give the inside of the pressure cooker a quick wipe. Heat butter in the pot and add the black cardamom, onions, garlic, and chillies. Cook for 10 minutes over a med-low heat. The onions should be lightly golden and soft.
Step 5
Add the saag mixture and stir. Cook for 5 minutes over a low heat, stirring all the time. Be careful as it will bubble and spit. Allow to thicken slightly. Stir in the salt and garam masala.
Step 6
Add the drained paneer to the saag and stir well. Heat through and serve piping hot with your favourite roti, paratha or naan.
What to serve with Saag
Serve this Saag Paneer the traditional Punjabi way with Makki ki Roti (thick cornmeal rotis), butter or ghee, onions and chillies. It might be a little non-traditional but I love Saag Paneer with rice.
How to make The Ultimate Saag Paneer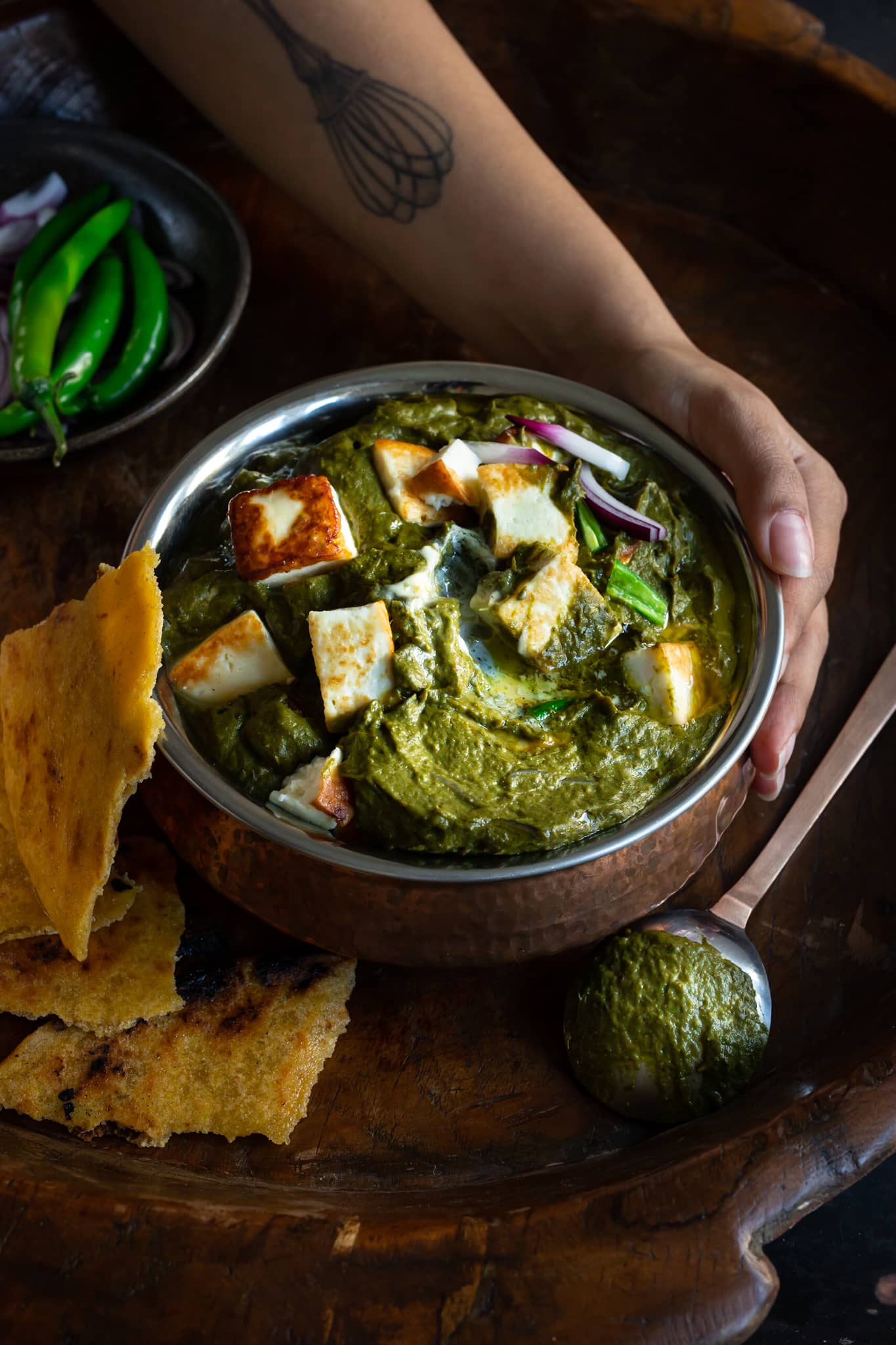 Ingredients
300

g

mustard greens

washed, roots trimmed

300

g

spinach leaves

washed

2

large onions

cut into chunks

8

large cloves garlic

peeled

6

cm

piece ginger

peeled and cut into chunks

Small pinch baking soda

2

tbsp

fine cornmeal

100

g

butter

1 1/2

tsp

salt

2

tsp

garam masala

50

ml

single cream

450

g

shop-bought or homemade paneer

cubed

2

tsp

oil
For the tadka:
50

g

butter

1

black cardamom

whole

1

large onion

finely sliced

3-4

green chillies

chopped

4

large clove garlic

finely sliced
To serve:
Red onions

finely sliced

Chopped chillies

Extra butter

Paratha

makki ki roti or wholewheat roti, to serve
Instructions
In a large pressure cooker, add the mustard greens, spinach, onions, garlic, ginger and baking soda. Fix the lid onto the pot and cook for 10 minutes (4 whistles).

While this cooks, pan-fry the paneer on all sides until golden. Once golden, put the paneer in to a large bowl and add enough boiling water to cover. Soak for 10 minutes and then drain. This will make the paneer chunks extra soft and remove any excess oil.

Carefully release the steam from the pressure cooker and remove the lid. Allow to cool slightly. Add the cornmeal and butter, then blend to a smooth purée. The butter will help it emulsify for a smooth finish.

Melt the butter in the same pot and add the black cardamom, sliced onions, chopped chillies and sliced garlic. Sauté over a low heat for 10 minutes until the onions are lightly golden brown and then add the blended saag. Cook for 5 minutes until slightly thickened. Stir in the salt and garam masala. Cook for a further 5 minutes.

Finally, add the paneer chunks and cream. Heat through. Serve immediately, garnished with red onions, extra butter and optional chillies.

This pairs perfectly with paratha, makki ki roti (cornmeal roti) or wholewheat rotis.
Sanjana's Notes
Store leftovers in an airtight container. Reheat thoroughly before serving.
Freeze the Saag Paneer in a freezer-safe container for up to 3 months. Defrost at room temperature and ensure food is piping hot before serving.
For a vegan option: Replace the paneer with firm tofu, use vegan butter and any plant-based cream of your choice.
Pin The Ultimate Saag Paneer recipe for later!
If you like this, you'll love my recipe for Tofu Dopiaza
Other recipes you might like
Homemade Paneer recipe
The Best Homemade Paneer (Softest-Ever Cubes!)
Soft and squidgy homemade paneer for curries, paratha fillings, chilli paneer, samosas and more. This simple recipe includes tips for making fresh paneer that tastes like it just came from the dairywala.
Check out this recipe
Restaurant-style Shahi Paneer recipe
Paneer Tikka recipe
Paneer Tikka
Juicy chunks of Indian cottage cheese marinated in homemade tandoori paste and grilled until charred. Perfect with naan, roti or paratha.
Check out this recipe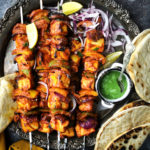 Love Sanjana