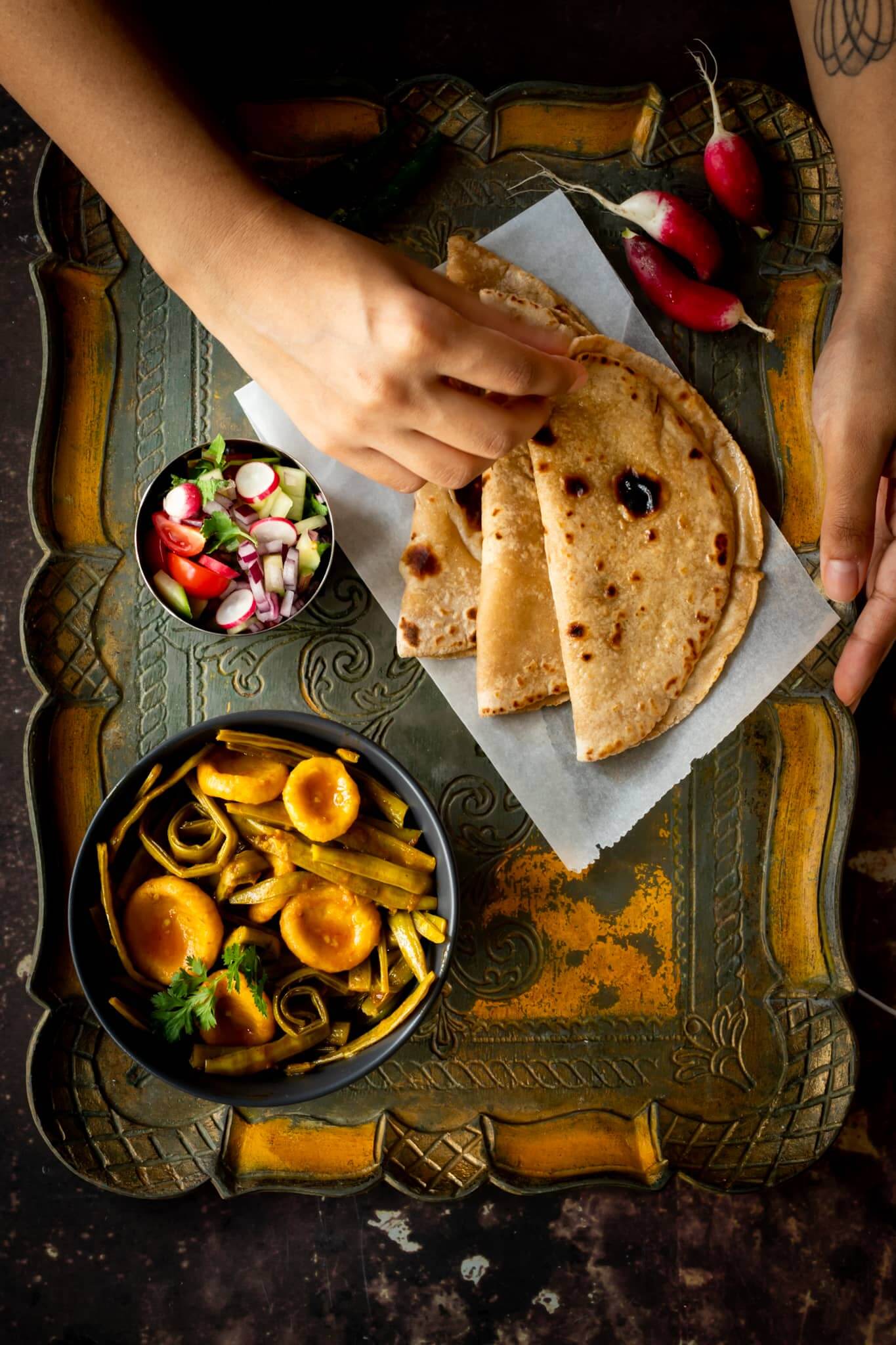 Guvar Dhokli nu Shaak is a cluster bean and dumpling curry enjoyed in most Gujarati homes. This easy version can be made in the Instant Pot for a speedy weeknight dinner alongside Rotli and Kachumber.
The delicate beans pair beautifully with bouncy dumplings ("Dhokli") made from chickpea flour, turmeric and ajwain (carom seeds). Each little Dhokli has an indentation in the middle to catch the sauce, just as Orecchiette (the ear-shaped pasta) does.
Video: How to make Guvar Dhokli nu Shaak
What is Guvar in English?
Cluster beans. These long, flat beans are also called "guar", "gavar" and "gawar" depending on regional language and dialect.
It's a legume from which which "guar gum", a commercial thickener (similar in application to xanthan gum) is extracted. You will find guar gum in anything from ice cream and baked goods, to salad dressings and soups. These beans are big business.
India produces around 80% of the world's guvar and it's especially popular in northern and western parts of the country.
How do you clean cluster beans?
It's extremely simple! Once I bring a bumper crop of Guvar home I follow these steps:
Wash the cluster beans in plenty of cold water.
Dry them thoroughly in a clean tea towel.
Top and tail the beans.
Cut very long beans in half.
It's important to note that young beans make preparation very simple as they don't contain many fibrous strands.
What if you have mature beans?
If your cluster beans are more mature (large and wide), you can boil them until tender and then peel off the fibrous strands that run down the long edge of the beans.
In this recipe, I choose young beans and cook them from their raw state. If your beans are large and mature, you will need to add the pre-boiled and cooled Guvar towards the end of the cooking time.
How to cook Guvar
Cluster beans require a longer cooking time in comparison to other green beans. They can be slightly tough so be sure to cook them for an ample amount of time.
Guvar and Digestion
Important! Guvar can sometimes be difficult to digest so Ayurvedic teachings almost always advocate the addition of ajwain (carom seeds) and hing (asafoetida) alongside.
Don't forget these two Guvar partners. They're like the Spongebob, Patrick, and Squidward of Gujarati curry!
What is Dhokli?
Lightly-spiced wheat and sometimes gram flour dumplings. To put it simply, they're thicker than most pasta shapes but not as robust as gnocchi.
Dhokli can be rolled in many shapes. From long strips, squares and diamonds, to discs, buttons and logs.
How you roll your Dhokli is down to personal preference and the type of dish you happen to be cooking at the time.
How to serve Guvar Dhokli nu Shaak
My preference is to eat this Gujarati curry with Rotli (chapati) and salad or simply with plain rice. I often eat Guvar Dhokli nu Shaak with a dollop of yoghurt and nothing more. Since the carbs are already there in the form of Dhokli, you really can just eat this one-pot wonder with a spoon.
The thickness of this curry depends on personal preference. for example, if you're eating it with rice, ensure it has a little more sauce. If you serve it with Rotli, you can get away with evaporating some of the water off at the end.
How to make Gujarati Guvar Dhokli nu Shaak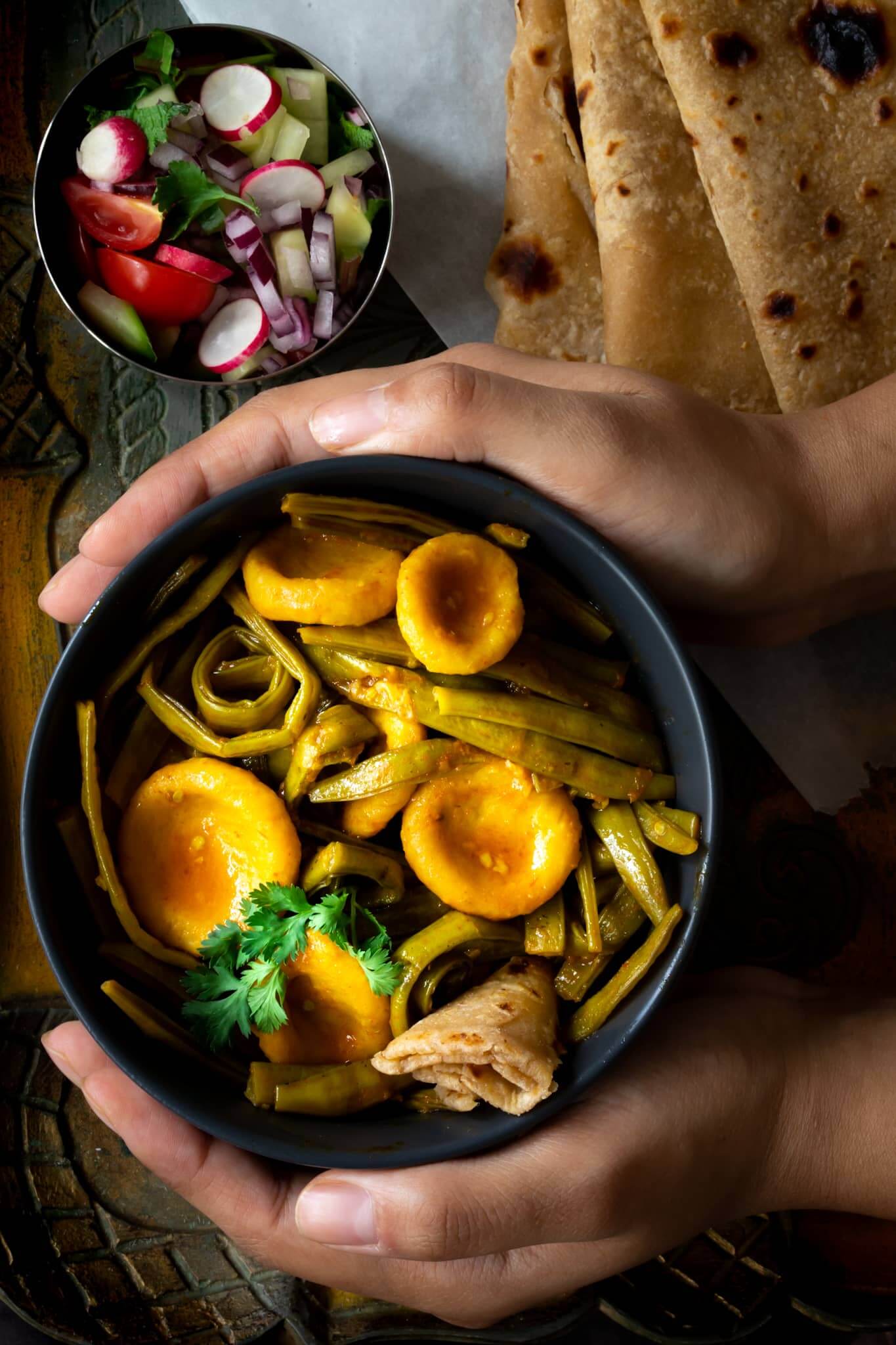 Ingredients
100

g

chickpea flour

(gram flour/besan)

50

g

plain flour

(all-purpose flour/maida)

15

g

coarse semolina

1/2

tsp

ajwain

(carom seeds)

1

tsp

crushed garlic

1/2

tsp

chilli powder

1/4

tsp

ground turmeric

1/4

tsp

fine salt

1/8

tsp

baking powder

2

tbsp

oil

(any cooking oil)

60

ml

warm water
For the shaak:
400

g

guvar

(cluster beans)

2

tbsp

oil

(any cooking oil)

1/2

tsp

ajwain

(carom seeds)

1 1/2

tbsp

tomato purée

1

tsp

crushed garlic

1

tsp

chilli powder

1/2

tsp

ground turmeric

1/2

tsp

asafoetida

1

tsp

salt

1/2

tsp

sugar

500

ml

water

2

tbsp

chopped coriander leaves

to serve
Instructions
To make the Dhokli (Dumplings):
In a large bowl, mix together all the dry ingredients (including garlic). Make a well in the centre and add 1 tbsp oil. Pour in the water and mix to form a shaggy dough. Use your hands to knead the dough for 5-6 minutes. It should be slightly stiff. Add the remaining 1 tbsp oil and knead it in to the dough. Cover and allow the dough to rest for 20 minutes.

Once rested, divide the dough into two equal parts. Cover the portion you're not going to work on again so it doesn't dry out.

Roll the dough into a long sausage shape. It should be around 2cm/0.7-inches in diameter.

Cut the ends of the dough off and set aside. Now cut the trimmed log of dough into rounds, about 1/2cm thick. Roll the dough portions into rounds between your palms and use your thumb to make an indentation in the centre of the dough. They should look like little buttons. Set the aside and repeat this process until all the dough has been used up.
For the curry:
Top and tail the guvar, cutting any very large beans in half.

Put the Instant Pot on sauté/browning mode and place the in the pot. Add ajwain and garlic. Cook for 30 seconds and then quickly add the tomato purée. Cook the paste out for 1 minute. Next, add the chilli powder, turmeric, asafoetida, salt and sugar. Stir well to combine.

Add water and bring to the boil.

Throw in the trimmed guvar and stir to coat. It might seem watery but remember the dhokli will need water to cook properly.

Once the guvar has been stirred, add the dhokli and give them a very gently fold. Don't stir too much or they will break.

Place the lid on the pot and cook on high pressure for 17 minutes exactly.

Carefully release the steam after the cooking time is up. Open the lid and stir well. The dhokli should be cooked through and the guvar tender. Place back on sauté mode to evaporate some excess water but not too much as the dhokli will continue to absorb the water as it sits. If you remove too much, the curry will become dry.

Garnish with fresh coriander and serve.
Sanjana's Notes
Alternative cooking methods
Cooking instructions for other conventional pressure cookers remain the same.
To cook this curry in a regular pot/pan, follow the same instructions as above but instead of pressure cooking, the curry will need to be simmered over a low heat for 35-40 minutes. Stir often to avoid sticking. Top up with water if necessary.
Freezing
This Guvar Dhokli is suitable for home freezing. Pack the cooled curry into an airtight container and freeze for 3 months.
I like to double the Dhokli recipe and freeze the raw dhoklis on a tray. Once solid, they can be packed into a container or freezer-safe bag to add to curries from frozen.
Pin it for later! Guvar Dhokli nu Shaak
If you love this, you might also enjoy my Gujarati Daal Dhokli recipe
Other recipes you may like
Gujarati Ravaiya (Stuffed Aubergine Curry)
Ask any Gujarati and they'll rave about their mum or gran's Ravaiya (stuffed aubergine curry). It's in our nature. There is no love greater than the love you feel when you eat these hand-stuffed baby aubergines.
Check out this recipe
Gujarati-Style Okra & Potatoes
Gujarati-Style Okra & Potatoes (Bhinda Bateta nu Shaak) is an everyday comfort food in many Gujarati homes, including mine. It's usually scooped up with soft, hot rotlis (chapattis), which is our daily bread. This curry is delicately flavoured with cumin seeds, turmeric, garlic and lemon juice for a fresh vegan dish that eats more like a stir fry than the heavy restaurant curries one might be used to.

Check out this recipe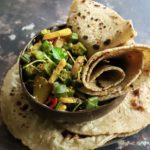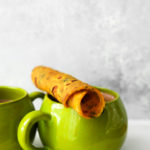 Gujarati Khandvi (Patuli/Paturi)
Tightly rolled, bite-sized snacks made using chickpea flour and yoghurt. They're hot, sweet, sour, salty and so delicious. Khandvi, also known as Patuli is a popular snack from Gujarat, western India. Serve with chai for a tasty breakfast or snack.

Check out this recipe
Gujarati Koru Bateta nu Shaak
A tried and true recipe for Koru Bateta nu Shaak (Gujarati-style dry potato curry). This is my mother's exact recipe and the only way we make it at home. She has a few fabulous tips for achieving intense flavours and the perfect dry bhaji-style texture every time. This shaak pairs perfectly with Masala Poori and dahi (plain yoghurt).
Check out this recipe
Gujarati Dudhi Muthiya – How to make Gujarati Steamed Dumplings
Super tender vegetable and rice dumplings, first steamed and then sautéed with crackled mustard seeds, sesame seeds and curry leaves. These Gujarati muthiyas are my family's favourite way of using up leftover cooked rice and veggies.
Check out this recipe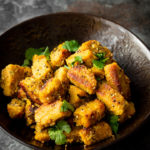 Love Sanjana