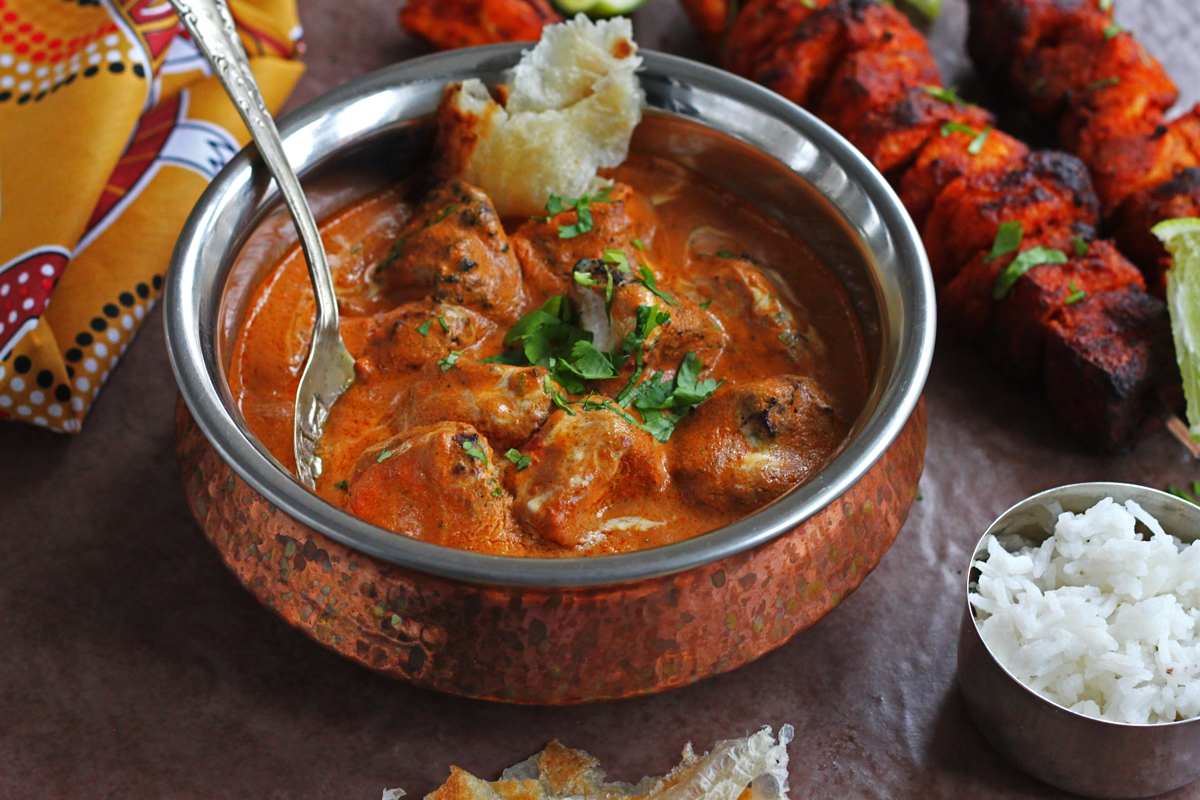 Tandoori Tofu Tikka Masala is my ultimate guilty pleasure dish. Juicy chunks of puffy tofu, a smoky tandoori marinade and creamy vegan curry sauce.
It carries the flavour of an excellent Makhani sauce, with extra tandoori tofu. Indeed, it's a vegan take on Britain's favourite curry.
In my book, anything served on a stick is a winner. It seals the deal if what's on the stick is smothered in a charred tandoori paste, restaurant style.
Here's my take on a British-'Indian' dish. It's loaded with homemade tandoori spices, garlic, lemon, ground almonds and coconut cream. The best thing about it is that it's 100% vegan.
How to make Tandoori Tofu Tikka Masala
Yeah, yeah, yeah, I know it's not an "authentic Indian recipe" and have heard far too many times, "Ask any Indian what tikka masala is and they won't know.". Wrong. It's delicious and you must try it.
What type of tofu is best for Tandoori Tofu Tikka Masala?
I've been obsessed with tofu puffs for as long as I can remember. I like to think of them as sailboats for any sauce or spice you add. They soak in flavours like there's no tomorrow and you don't have to marinate them for hours.
Tofu puffs are pre-fried tofu cubes you can find in your local Chinese supermarket. If you can't get these, substitute them for firm tofu. Drain it and pan fry it until golden.
How to cook with tofu puffs
A lot of the time, we make our weeknight stir fries in a matter of minutes and thanks to these spongy little fellas, they're filling and seriously flavoursome.
In this recipe, tofu puffs the perfect carriers for my homemade tandoori paste and creamy vegan tikka masala sauce.
If you like a mild curry that still packs a punch in terms of being aromatic, this one's for you.
How to make Tofu Tikka Masala
As compromised as I feel for not owning my own tandoor (I keep telling myself it will happen one day), this works just as well in the oven. Whack the temperature up as high as it goes and cook your skewers for about 8-10 minutes or until slightly they carry a slight char.
It's also worth noting that while it's not exactly traditional to add tomato puree to a tandoori masala paste, I do. However, if you don't like tomatoes, go ahead and add some red food colouring. This is your dish.
What if I don't have tofu?
If you can't get tofu puffs (I get mine from our local Chinese supermarket), try this with regular firm tofu, cauliflower florets, baby potatoes, paneer, mushrooms, idli pieces or anything else that will hold its own on a skewer.
If you still want to use tofu but can't get the puffed kind, try using firm tofu, weighted and pressed for a few hours to remove excess water, cubed and lightly pan-fried. I'm afraid that medium or silken tofu won't cut it on the kebab skewer for this recipe.
What kind of skewers should I use?
I use flat metal kebab skewers. They get really hot so be careful if you're using them too. If you only have bamboo skewers, soak them in cold water for an hour to ensure they don't burn in the oven.
How to serve Tandoori Tofu Tikka Masala
Finally, serve with flaky paratha, rice and lime wedges. It's also delicious with garlic and coriander naan.
Tofu Tikka Masala recipe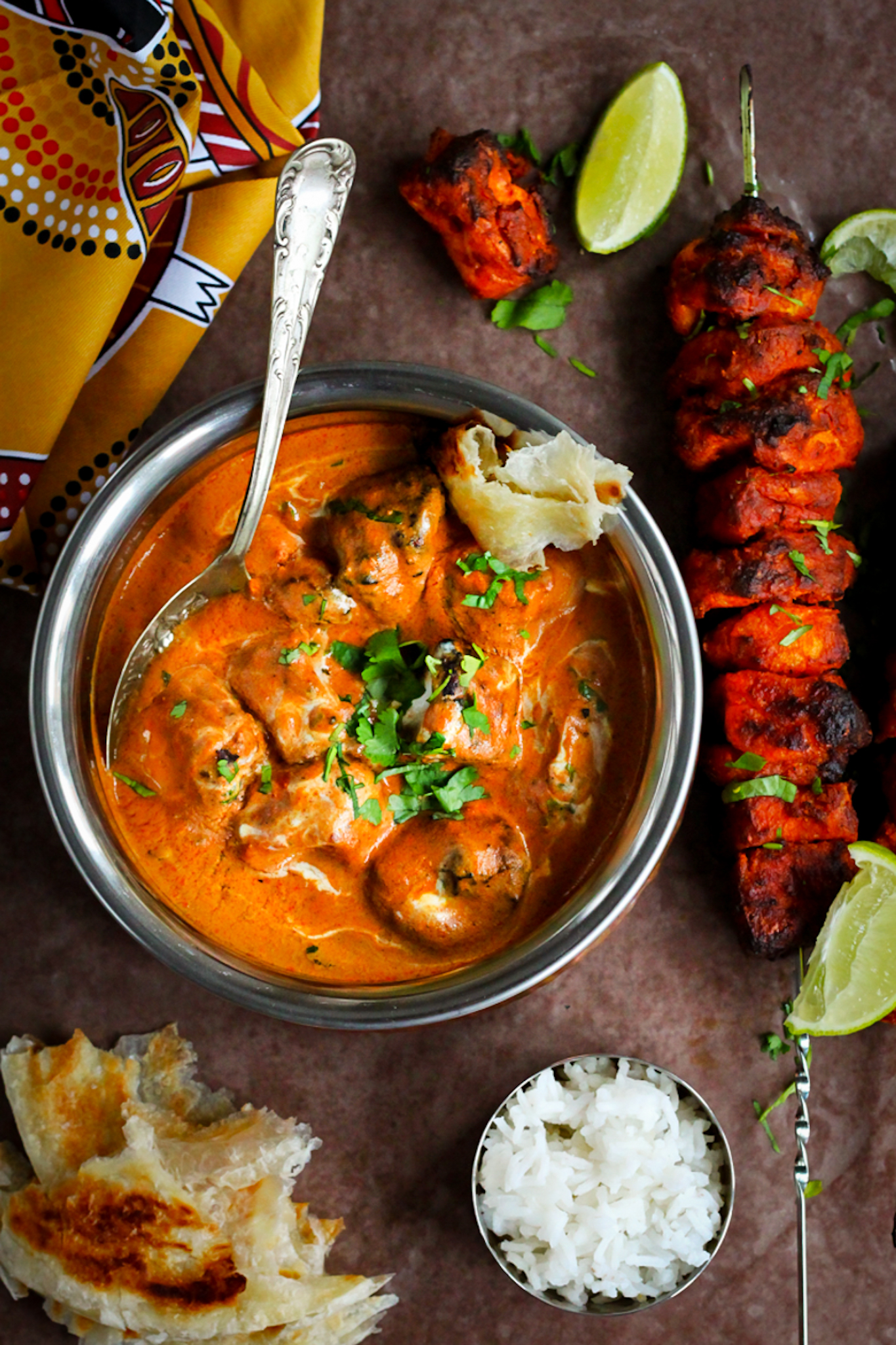 Ingredients
300

g

tofu puffs

(I get mine from my local Chinese supermarket)

Fresh coriander

chopped, to garnish

Lime or lemon wedges

to garnish

Paratha or naan

to serve

Basmati rice

to serve
For the homemade tandoori paste:
1

tsp

whole coriander seeds

6

black peppercorns

2

dried red chillies

or fresh if you like

2

inch

stick cinnamon

1

tsp

cumin seeds

1

star anise

4

cloves

Seeds of 4 green cardamom pods

1

black cardamom

optional

1

tsp

fennel seeds

1

tsp

turmeric

2

tbsp

concentrated tomato puree

2

tbsp

coconut cream

1

tsp

salt

1

tbsp

lemon juice
For the sauce:
1

tbsp

oil

4

cloves

fresh garlic

chopped

1

tbsp

grated ginger

3

red chillies

chopped (or to taste)

1

tbsp

concentrated tomato puree

400

g

passata

1

tbsp

ground coriander

1/2

tbsp

ground cumin

2

tsp

garam masala

2

tbsp

ground almonds

2

tsp

ground green cardamom seeds

2

tsp

ground fennel seeds

400

ml

coconut milk

1

tsp

kasoori methi

optional

2

tbsp

light brown sugar

Salt

to taste
Instructions
To make the tandoori paste, heat a dry frying pan until hot. Add all the spices apart from the coconut cream, lemon juice, salt and concentrated tomato puree. Toast until aromatic, a couple of minutes but don't leave it unattended because it can burn very easily.

Place all the spices in a high-powered blender or coffee grinder. I use my NutriBullet. Once ground to a fine powder, stir in the lemon juice, coconut cream, tomato puree and salt.

Add the tofu puffs to the paste and give them a good mix, taking care not to break the tofu pieces up. Set aside while you make the vegan tikka masala sauce.

Pre-heat the oven to 200°C.

To make the vegan tikka masala sauce, heat the oil in a medium, non-stick pan. Add the garlic, ginger and chillies. Sauté for a few moments before adding the concentrated tomato puree. Cook for 5 minutes on a medium heat, stirring all the time. Add the passata, followed by the rest of the ingredients. Give it a good whisk, cover and cook on a low heat for 20-30 minutes, stirring often.

Lightly grease a non-stick oven tray. Skewer the tofu pieces onto your kebab sticks. Arrange on the baking tray and pop into the oven for 8-10 minutes, turning them halfway to ensure even browning. Remove from the oven.

Serve immediately, bringing the kebabs and sauce to the table, letting everyone mix their own sauce and tofu pieces for a bit of fun and drama. Garnish with chopped coriander, lime or lemon wedges and extra coconut cream. Serve with

jalebi paratha

or garlic and coriander naan and rice.
Pin it for later!
If you like this, you'll love my recipe for Kadai Tofu & Vegetables
Love Sanjana