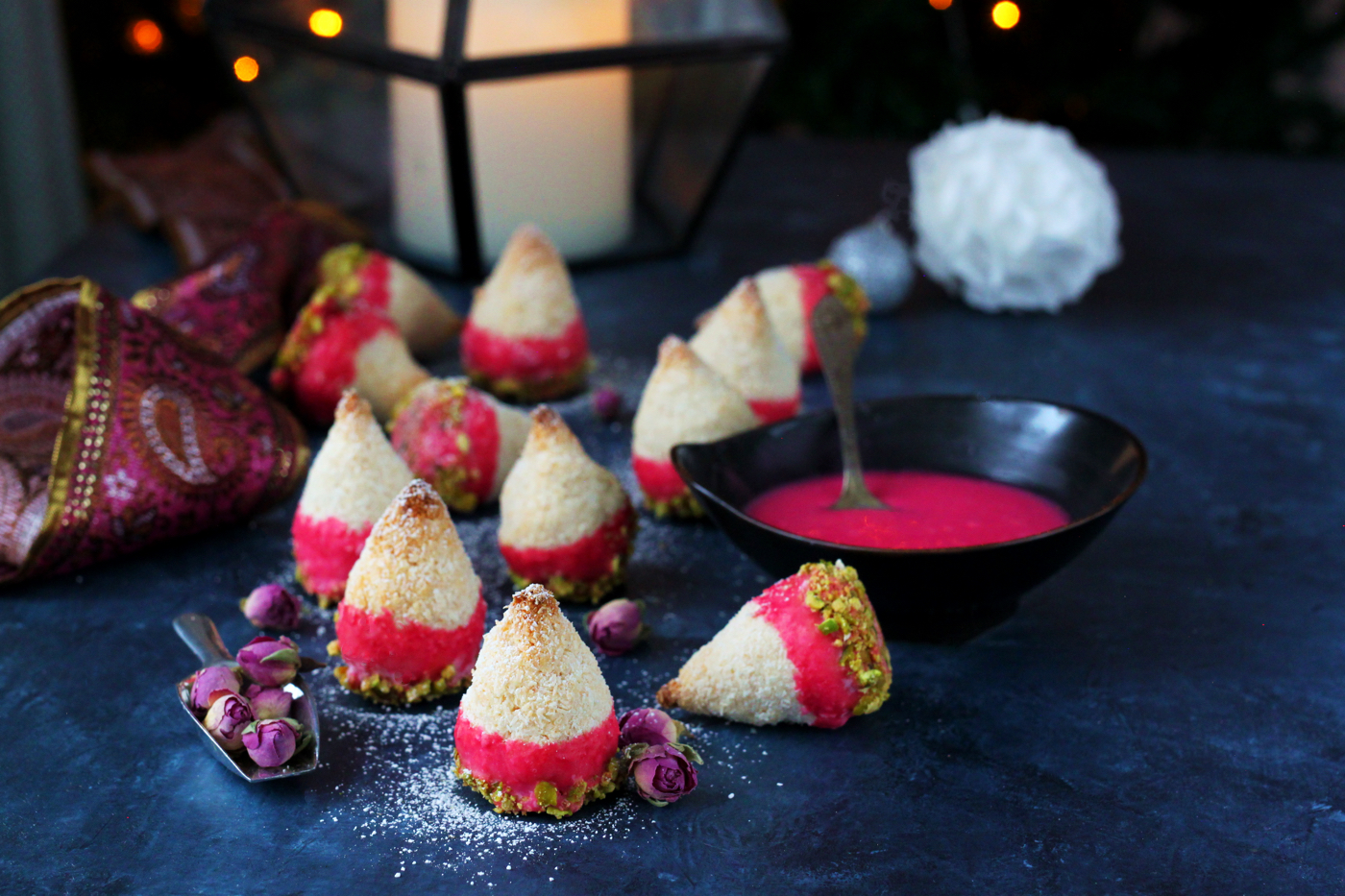 Hand me a rose-flavoured dessert over a bouquet of roses any day. I'm a sucker for rose-flavoured everything. It all started back when I was around seven years old when my dad would take our family to our favourite Indian restaurants. Even before looking at the menu I'd know what I wanted to drink – classic Falooda. A sweet rose milkshake with basil seeds, grass jelly and vermicelli noodles. Some may argue that it's a dessert and not a drink you'd have with a full three-course meal but that never stopped me. My dad would laugh and always made sure I got one, even ensuring it came with cocktail umbrellas for added pizzazz. I still love an ice cold falooda to this day but I can no longer get away with ordering one with my dinner.
These days I love to add rose to lots of dishes from sweet to savoury, but mostly sweet. I've got a tonne of rose recipes on the blog, some of my favourites being Strawberry Cheesecake Falooda, Eggless Rose Custard Creams, Pistachio and Rose Bombay Halwa, Cardamom Wreath with Rose Drizzle and Candied Lemon Peel. A dash of rose water also doesn't go amiss in biryani, ice cream and of course, cake.
Here I've dunked chewy toasted coconut macaroons in a simple rose icing made with icing sugar and rose syrup – the bright pink kind you find in Indian shops. One of my pregnancy cravings has been rose milk reminiscent of my falooda-crazy days. I add a dash to cold milk and stir for a strawberry pink milkshake that's so refreshing without the faff of having to make a true falooda.
The macaroons are eggless, switching in a trusty can of sweetened condensed milk instead of egg whites. The result is a delicious, toasty coconut cookie with a coconut ice-like centre. After they've cooled, the bottoms get dunked in the rose icing and chopped toasted pistachios. Pistachio and rose are a flavour combo I'd like to eat every day for the rest of my life – I'm obsessed.
If you're looking for a quick and easy 6-ingredient cookie that's both egg and gluten free, this one's for you.
Dust with icing sugar for a pretty snow-topped peak. So pretty!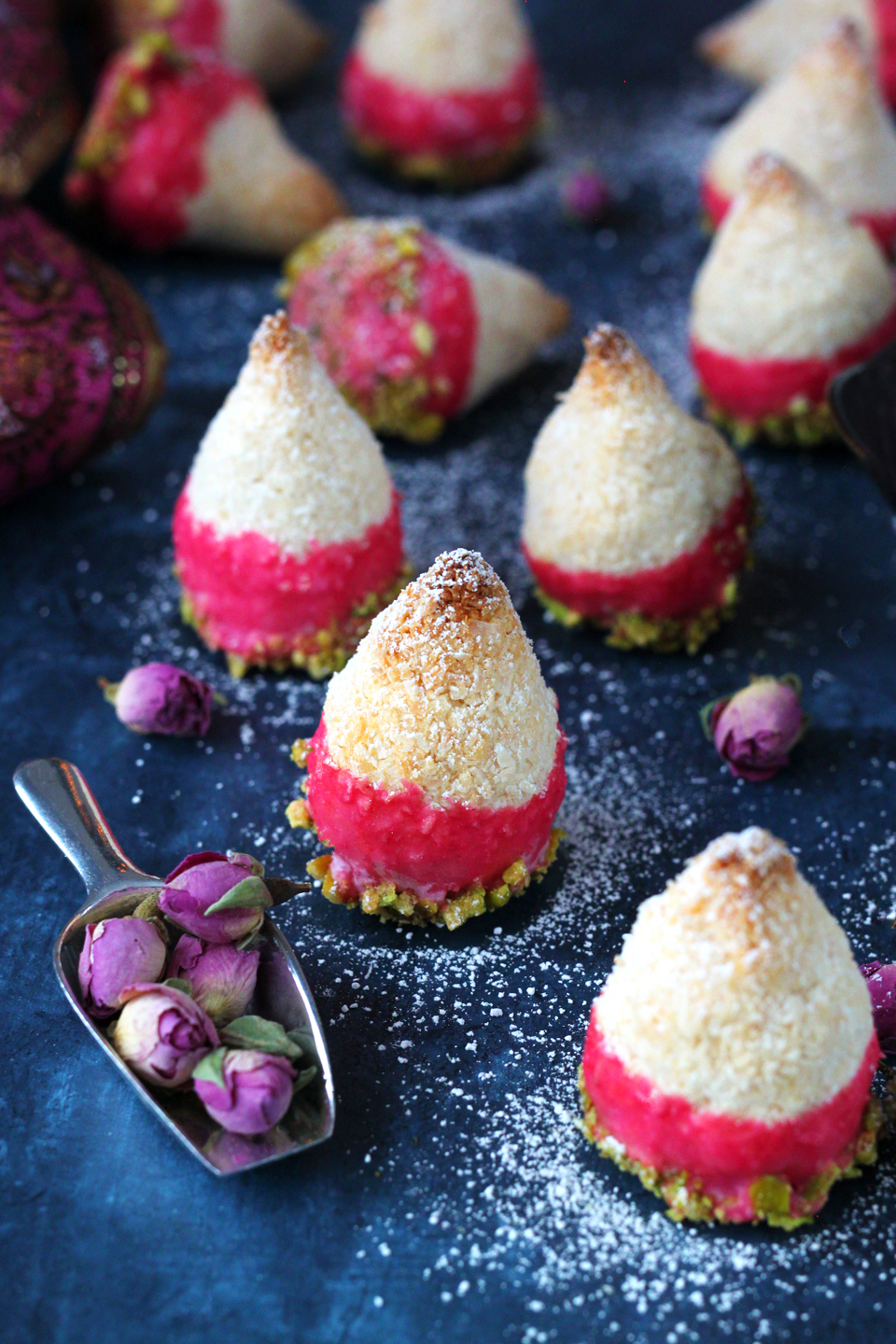 Eggless Pistachio-Rose Macaroons
Makes 25 macaroons
For the macaroons:
1 x 397g tin sweetened condensed milk
300g sweetened desiccated coconut
1 tsp vanilla extract
1/4 tsp bicarbonate of soda
For the rose icing:
140g icing sugar
4 tbsp rose syrup
Icing sugar to dust, optional
Method
1. Pre-heat the oven to 200°C/320°F. It's really important you do this. The oven needs to be HOT or the cookies will melt into flat puddles. Grease and line 2 large baking trays with greaseproof paper and butter.
2. In a large bowl, combine the coconut, sweetened condensed milk, vanilla extract and bicarbonate of soda until you have a thick pliable mixture.
3. Divide the mixture into 25 equal balls and shape each one into a teardrop shape. Arrange on the pre-lined baking sheets and bake for 10-12 minutes, until golden and toasted on the outside. Remove from the oven and allow to cool.
4. To make the icing, mix the icing sugar and rose syrup until you have a thick, drippy pink icing. Dip the bottom of the cooled macaroons in the icing and then into the chopped pistachios. Sit them back onto a lined baking tray. Allow to set at room temperature for a few hours.
5. Dust with icing sugar and serve.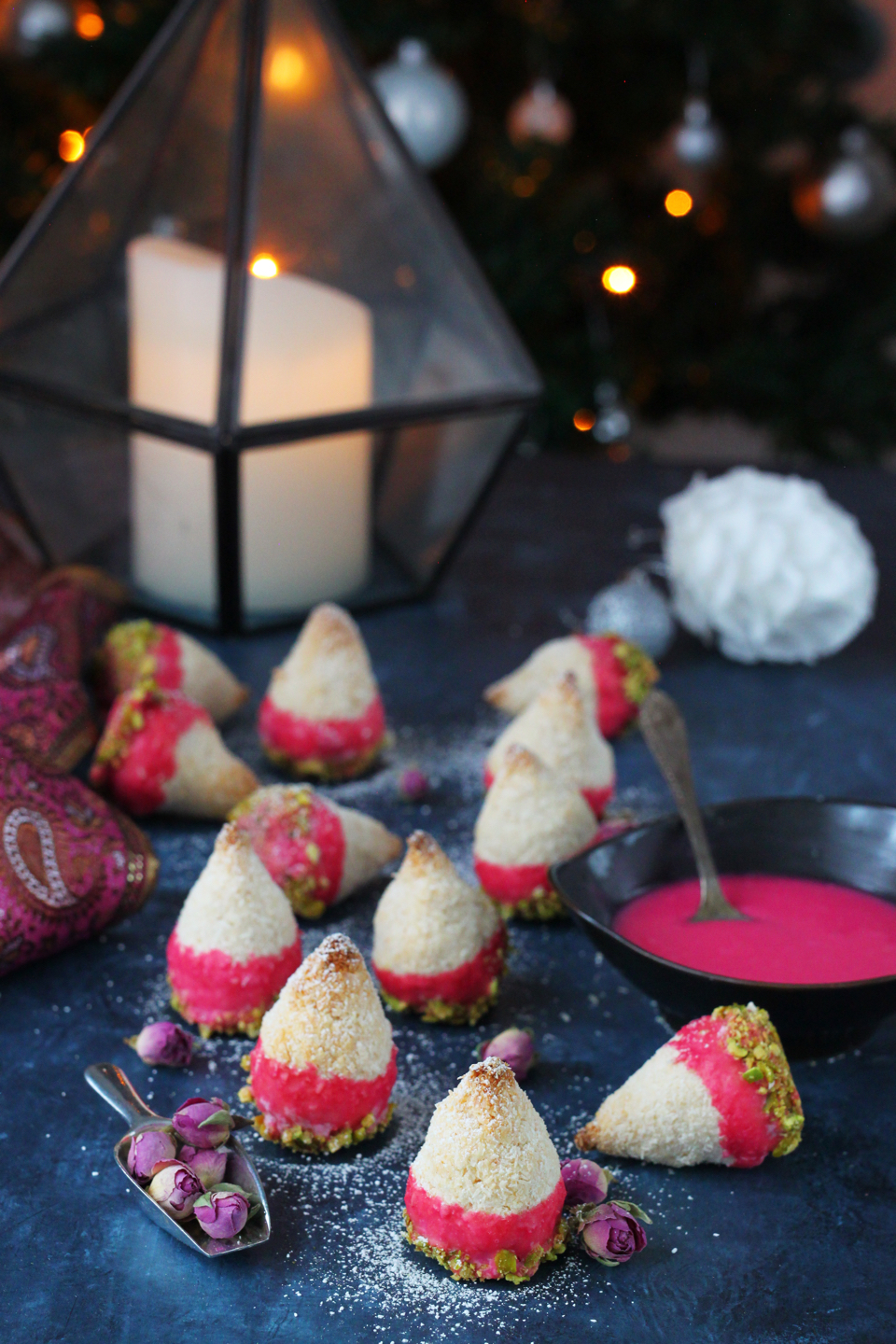 The macaroons will keep in an airtight container at room temperature for a week. Although I doubt they'll last that long.