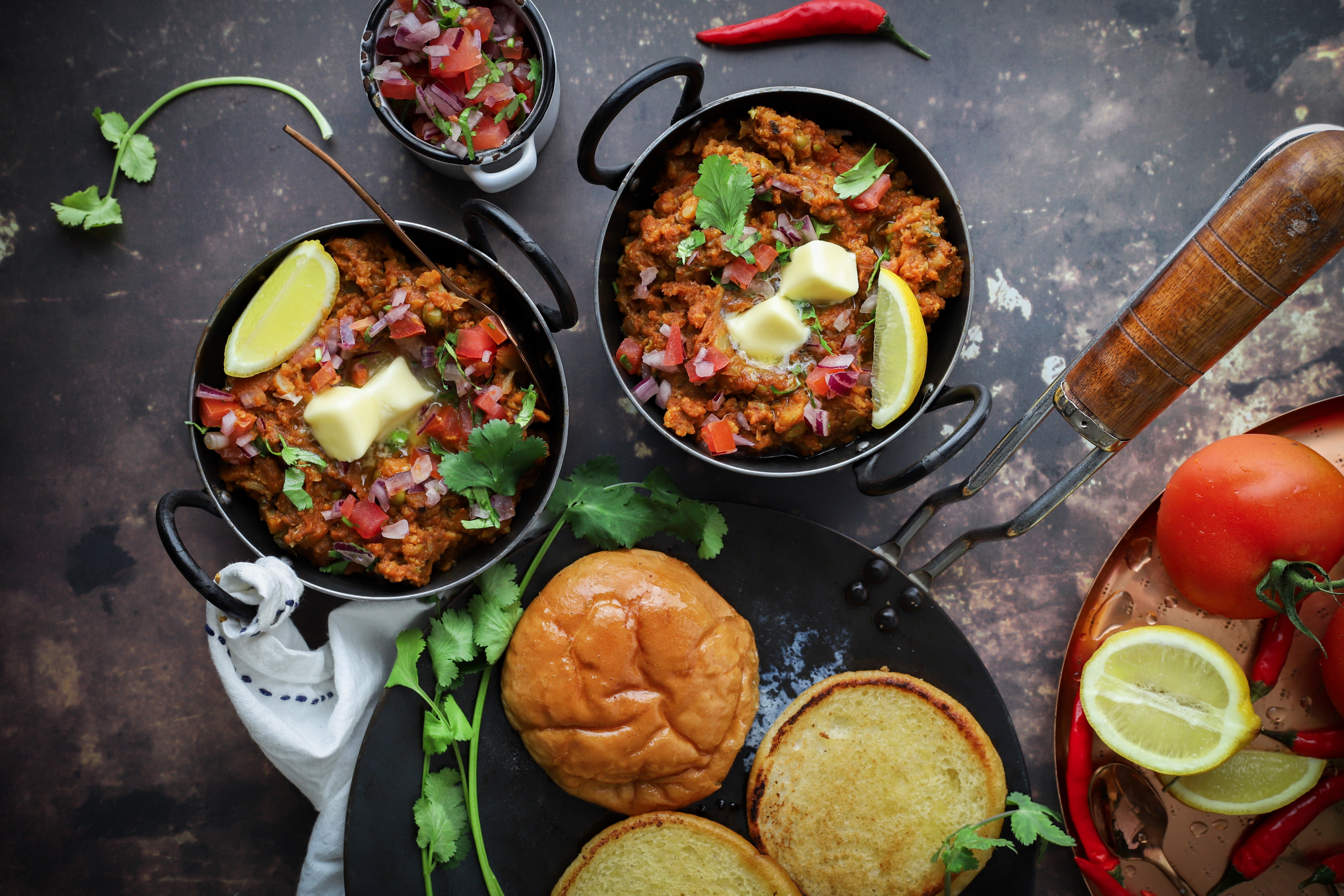 "Tak-tak-tak-tak-tak" went the metal potato masher against the tyre-sized pan. The fire beneath it was roaring and the smell of kerosine in the air was only making the lava-like Pau Bhaji smell more delicious. The skilled street vendor was hand pounding the spicy vegetable curry within an inch of it's life whilst juggling another giant cooking vessel to his left. On top of the second pan was foaming butter, ready to become one with the fluffy white rolls, known locally as Ladipav. After a few seconds, they would be sporting a crisp, golden crust ready to be served with yet more butter, finely-diced onions, tomatoes and coriander. A wedge of lemon would complete the dish. I was about to dive in to my first Pau Bhaji on the streets of Old Town, Mombasa. With the bustling crowds and honking horns of oncoming traffic, I could have easily been in a buzzing Mumbai back street.
For me, the Indian food of East Africa is some of the most delicious food that exists. There's no shying away from scorching hot chillies and the tang of lemon. This combo seasons everything you eat, wherever you go and whatever you order. From raw mangos on the beach, to fire-roasted maize and fried cassava chips on the salty-aired streets, it's the typical seasoning Kenya's rustic coastal towns. I hope to visit India to enjoy street-style Pau Bhaji in its birthplace of Maharashtra, India, but my first experience of eating this iconic street dish was in Kenya, the home of my Indian immigrant grandparents.
Pau Bhaji is a great dish to make for big get-togethers. It's easy to scale the recipe up to feed more, since the rolls (pav) are almost always shop-bought and making more curry (bhaji) simply requires doubling up the veggies and sliding in some more masala.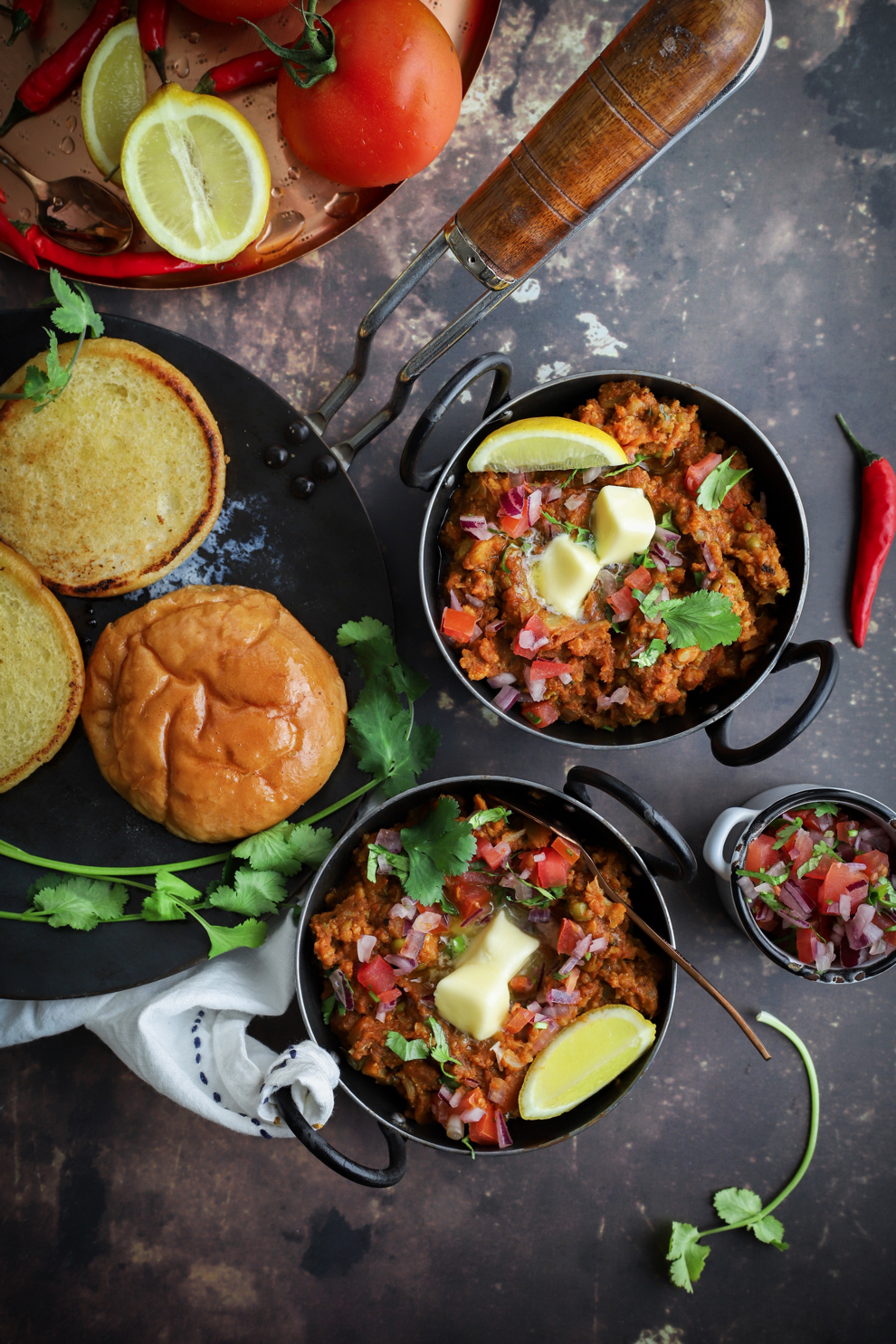 My Pau Bhaji masala is magic dust. Not only is it a beautiful blend for this buttery vegetable dish, it also makes daal more delicious and peps up any Pulao (Indian fried rice). I often make up a triple batch of the masala recipe below and store it in an airtight container for using in other dishes. For this recipe, just work with the measurements below and use it all in the Bhaji recipe. It might look excessive but trust me, your buttery veggies are crying out for some spice.
The beauty of Pau Bhaji is that you can use any vegetables you like, since they're all getting mashed like crazy anyway. The most common ones are potatoes, cauliflower, peas and carrots. This also happens to be my favourite combination but feel free to add red peppers, aubergine and green beans if you like those. I typically add in some sweet potatoes for colour and sweetness without having to add sugar or food colouring. It's very common for some street vendors to add red food colouring to their Bhaji for a rich appearance. I find a combination of tomato passata (sieved tomatoes), sweet potatoes, turmeric and Kashmiri chilli powder do a great job of giving my bhaji a deliciously-deep colour without having to do that. Use your judgment and add it if you like though.
This is one of those dishes where the garnishes are as important as the main component of the food itself. Don't skip the lemon wedges, finely diced red onions, tomatoes and coriander topping. And don't skip the extra butter on top either. It adds the special, indulgent touch that separates good Pau Bhaji from average Pau Bhaji. Nobody likes average Pau Bhaji.
Lastly, the bread must be soft, white and most importantly, cheap rolls. Don't get fancy with artisan rolls from a French bakery. The rolls are going to get bathed in salty butter anyway (the best kind of bath, IMO). In the end, they're a crispy carrier for spicy, melt-in-the-mouth vegetable lava and erm… even more butter.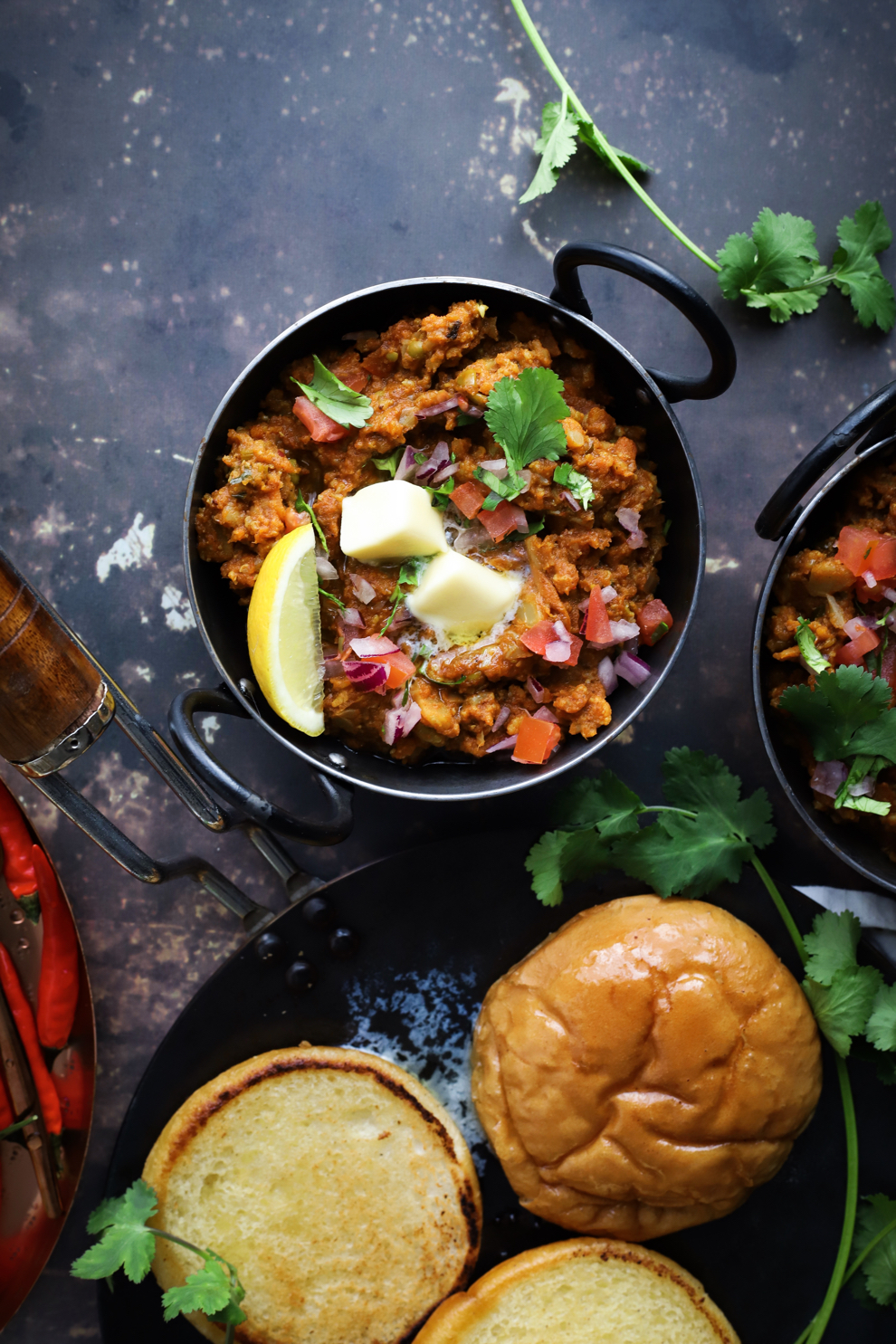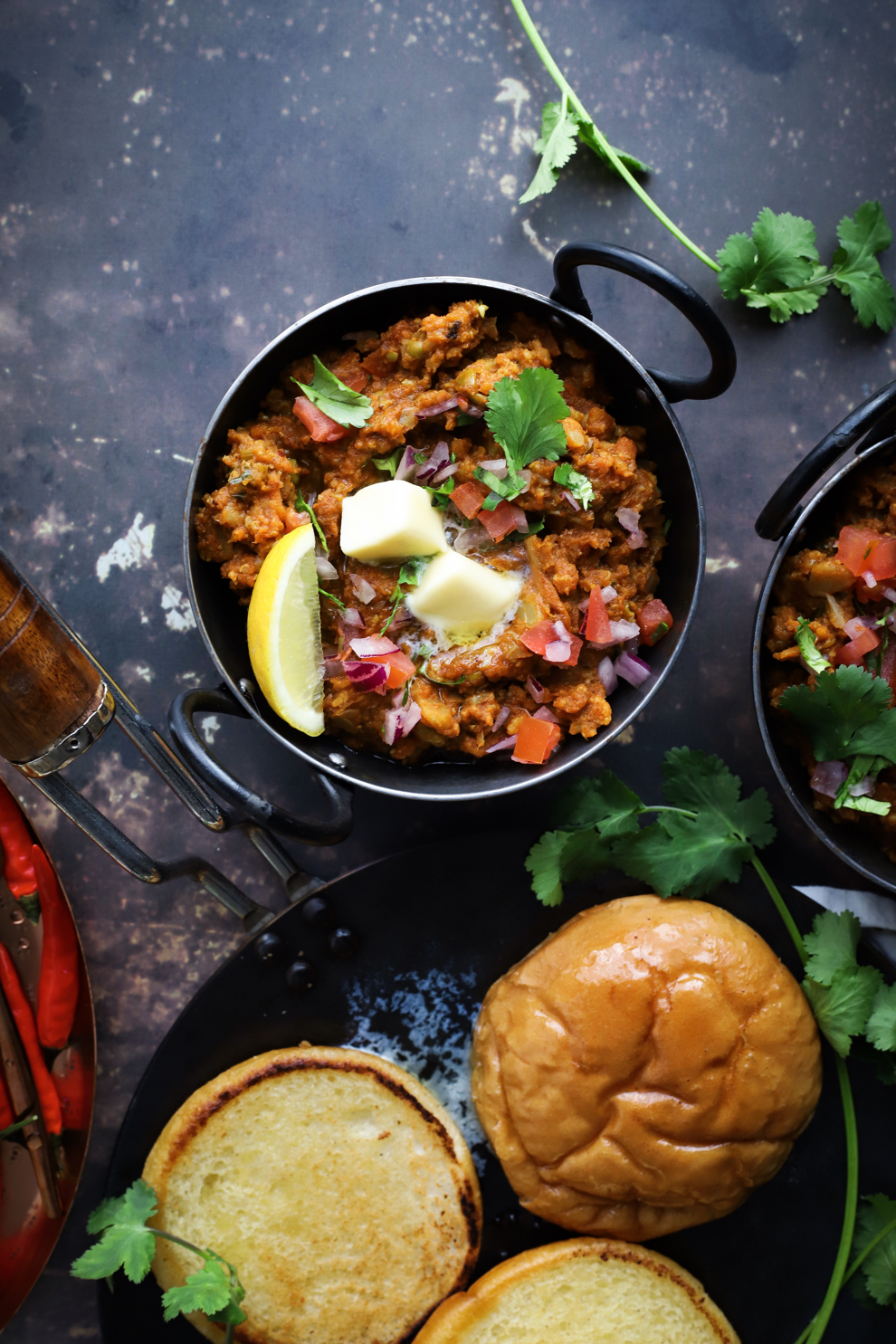 Ingredients
250

g

potatoes

boiled, peeled and roughly cubed

200

g

cauliflower

stalks removed and chopped

150

g

sweet potato

boiled, peeled and roughly chopped

100

g

carrots

peeled and finely diced

100

g

peas

500

g

passata

100

g

salted butter + 50g for mashing in once cooked

2

dried bay leaves

1

large red onion

finely diced

4

cloves

garlic

finely chopped

500

ml

water

Juice of 1 lemon

2

tsp

salt
For the pau bhaji masala:
1

tbsp

garam masala

2

tsp

red chilli powder

1

tsp

ground cinnamon

1

tsp

ground fennel seeds

1

tsp

ground coriander

1

tsp

ground cumin seeds

1

tsp

ground turmeric

2

cardamom pods

seeds crushed
To garnish:
1

red onion

finely diced

2

large vine tomatoes

finely diced

50

g

fresh coriander

chopped

Lemon wedges

for serving

50

g

salted butter

Fresh chillies

chopped (optional)
For the pau:
12

soft white bread rolls

100

g

salted butter

softened
Instructions
For the bhaji:
In a small bowl, mix together all the ingredients for the pau bhaji masala. It will look like a lot but you will need to use it all, trust me.

Melt the 100g butter in a large, heavy-based pan. Add the onions, bay leaves and salt and sauté until slightly browned, about 10 minutes. The salt will draw out moisture from the onions and help them to brown quickly.

Add the garlic and sauté briefly, about 30 seconds. Next, add in the passata, cauliflower, cooked potatoes, cooked sweet potatoes, carrots, peas, pau bhaji masala and water. Give everything a good stir and cover with a lid. Cook over a medium heat for 20 minutes, stirring frequently. If it starts to dry out, add more water and continue to cook until everything is very tender.

Switch the heat off and allow to cool for 5 minutes. Now, add the reserved 50g of butter, grab a potato masher and give everything a good mash until it resembles a coarse purée. Adjust the consistency by adding more water if necessary. It should be slightly runny, like lava. Add salt and lemon juice and continue to mash until well incorporated.

Return the pan to the heat with the lid on and simmer over a low heat for 15-20 minutes.
To prepare the pau:
Slather both sides of the rolls with butter and toast in a frying pan until golden all over.
Sanjana's Notes
Sprinkle the onions, tomatoes and coriander over the top of the pau bhaji. Serve with more onion, tomato and coriander, as well as extra butter, lemon wedges and the toasted pau. Chilli lovers can also top with chopped fresh chillies if they dare.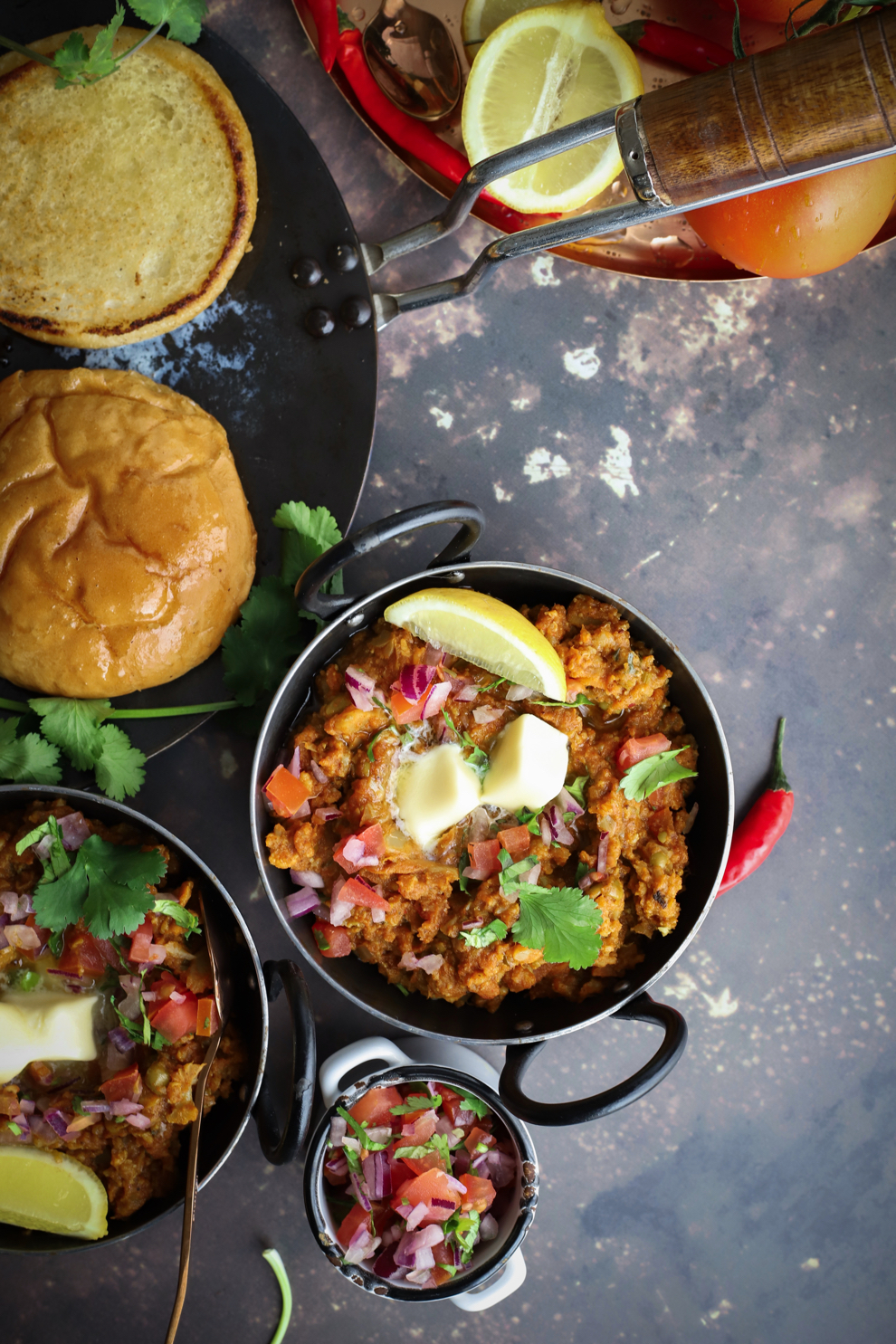 Love Sanjana